Stellar Phoenix Repair for Zarafa
The Zarafa database recovery software that recovers seemingly lost mailboxes from severely corrupt/damaged Zarafa Server
Stellar Phoenix Zarafa Recovery is an immensely useful utility to recover all your mailboxes as well as the data in them from corrupt Zarafa Server database files. This power packed software has been designed with highly advanced algorithms that can repair the damaged Zarafa database and thus helps in restoring the data in them.
Retrieves all the mailboxes containing Emails, Notes, Contacts, Calendar, distribution list etc. from corrupt Zarafa Server database files (.frm and ibdata1)
Repairs severely damaged Zarafa database and restores them
Generates and saves detailed log report of the ZCP recovery process
Designed to work on Windows 8, 7, Vista and XP
Supports upto v6.40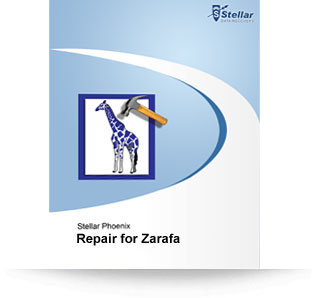 Some of the important features of Stellar Zarafa Recovery software:

Recovers Mailboxes from Corrupt Zarafa Files
Recovers all user mailboxes and the data within them, including emails, attachments, contacts, notes, calendar entries, distribution list etc. from the corrupt .frm and .ibdata1 files of Zarafa Server. The software recovers all the data with their original format intact.

Log Report of Recovery Process
View and save the detailed log report of the entire recovery process. The Log report contains beginning of the process, end of the process, name of the Zarafa Server database files and the number of records recovered through the process.

Repairs & Restores Damaged Zarafa Files
Optimally repairs the severely damaged Zarafa Server database and successfully restores all the mailboxes as well as the data in them
Windows Compatibility
Though Zarafa runs on LINUX, you can run this Zarafa Server recovery software only on your Windows operating system-based computer and recover the mailboxes. The software is completely compatible with all major Windows versions, including Windows 8, 7, Vista and XP.
* Free download of the product allows you to preview all the recoverable mail items. To save those items, you need to purchase the software.
The Highest Standards. The Happiest Customers.
FAQ's
Previous
Next
What is Zarafa Server used for?

Answer:

Zarafa is an email sever that provides mail storage on the server side and has its own Ajax based mail client, WebAccess. With Zarafa, you can perform all usual operations, like sending/receiving Mails, Calendar entries, Task management, Contact storage etc. It runs on LINUX systems and is treated as an alternative to Microsoft Exchange Server.

What is the role of 'ibdata1' file?

Answer:

'ibdata1' is the data file that contains the structure of tables using InnoDB engines inside 'MySQL' database. Without this file, the MySQL will not even start.

Is it necessary to have 'MYSQL' installed and running on my computer while using 'Stellar Phoenix Zarafa Recovery'? Why?

Answer:

Yes it is necessary to install MYSQL before starting the recovery process using Stellar Phoenix Zarafa Recovery. As Zarafa Server stores its database files in a MySQL database, while recovering, the software needs the MySQL running in order to fetch the data.

At which location of my computer, the recovered Zarafa files get stored?

Answer:

In your computer, the recovered Zarafa database files are saved at C:Program FilesMySQLMySQL Server 5.0dataRecovered Folder (day date).
You May Be Interested in These Items
Editors Review
Editors Reviews for this product is not available currently. However you can check Editors Reviews for others product Here.