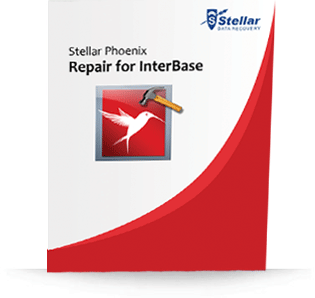 Stellar Phoenix Repair for InterBase
Professional Interbase recovery software that repairs corrupt Interbase database ('.IB') files and restores all the database objects to a newly created blank database.
Recovers tables, views, indexes, keys, constraints
Saves queries of indices and views in '.txt' files
Restores Blob data to a separate folder
Lucid and interactive user interface
Provides preview of recovered objects before saving
The Interbase repair tool enables you to easily diagnose and fix corruption in your Interbase databases, thereby eliminating all the possibilities of data loss. Listed below are some remarkable features of this software:

Repairs Interbase Database '.IB' Files
The software allows dealing with the most intricate cases of Interbase database corruption (hardware glitches, server crashes, mismatched connection strings, change in table metadata) and recovers your precious database objects absolutely intact. The tool can safely recover tables, indexes, triggers, constraints, etc.
Recovers Queries of Indices and Views
With Stellar Phoenix Repair for Interbase, you can conveniently repair Interbase databases and restore all inaccessible database objects. The software allows recovering queries of various indices and database views and saving them in '.txt' files in your system. You can also restore all Blob data in your database to a separate folder.

Searches for '.IB' files in the Specified Drive
The software can quickly locate your corrupt Interbase database by performing a comprehensive scan of the entire system. You can specify a logical drive to get a list of all '.IB' files in this drive. You can then search the list to select the desired Interbase database for repair.

Preview of Recovered Objects
The Interbase recovery software provides preview of all recovered objects in the main interface before saving them to a newly created blank database. This feature helps you verify data and get a glimpse of the efficacy of this user-friendly tool. You can preview tables, table properties, constraints, indexes, keys, and other user metadata.

Simple and Interactive GUI
The software is enriched with a highly interactive and self-explanatory user interface. With simple instructions at each step of recovery and a streamlined approach, the software facilitates an easy, risk-free operation to ensure good user experience.
* Using the Free Download of the software, you can preview the recoverable database components. To save the repaired Interbase database file, buy the Full version of the tool.
FAQ's
Previous
Next
What features are provided in the Demo version of Stellar Phoenix Repair for Interbase?

Answer:


The Demo version of the software allows previewing all the recovered database objects. In order to save the recovered data to a new database, you need to register the product.

Will this Interbase repair software make changes to the original database file?

Answer:


No, the software does not modify the database structure or makes changes to the data stored inside the file while doing the repair. Stellar Phoenix Repair for Interbase is extremely safe and risk-free tool that can recover databases without compromising their integrity and other key attributes.

Do I need to install Interbase on my computer before starting the database repair process using Stellar Phoenix Repair for Interbase?

Answer:


Yes, you should have Interbase pre-installed on your computer prior to using the software for database repair. Before starting the process, you need to create a new database in Interbase for storing all data recovered by the software.

How much time is taken by the software to repair Interbase databases?

Answer:


The time taken by the software is directly proportional to the size of your database file. Typically, a bigger database will consume more time in scanning than a comparatively smaller one.
You May Be Interested in These Items