Stellar PDF to Image Converter for Mac
Professional PDF to Image Converter for Mac converts individual pages in a PDF file into standard image file formats, such as '.JPEG', '.BMP', '.PNG', and '.TIFF'. The image files converted by the software carry high resolution and excellent quality.
Efficiently converts your PDF document to images
Displays preview of images after conversion
Supports all popular digital image formats: JPEG, BMP, PNG, TIFF
Facilitates selective conversion of all odd or even numbered PDF file pages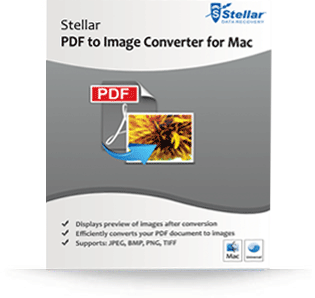 The Convert PDF to Image Mac tool empowers you to easily convert a PDF document to images of specific type, preserving the text, auto shapes, graphics, diagrams, and other elements in your PDF document.

PDF to Image Conversion
The PDF to JPEG Converter Mac allows for safe and risk-free conversion of PDF documents to images that can be viewed in a number of other applications, such as image viewers. This particularly helps in document management systems where workflow processes are image-oriented or in situations wherein you require displaying images on the web.

Searches PDF Files in Selected Drive
Using this PDF converter software, you can peek into a specific drive in your system to quickly list out all PDF documents. The software enables you to search for PDF files and choose the desired file for conversion from the search results. This makes your conversion facile and less laborious.
Preview of Images Before Saving
With this PDF to BMP Converter Mac tool, you can preview all the converted images in the main interface prior to saving them to your system. The feature is best applicable when you need to verify data for consistency. You can get assured of a successful and satisfactory conversion before saving the scan results.

Option to Convert Even- or Odd-Numbered PDF Pages
This PDF to TIFF Converter Mac utility enables you to opt for conversion of either only even-numbered pages or odd-numbered pages in your PDF document. With the help of this functionality, you can easily save much time and effort by customizing the process according your requirement.

Intuitive Graphical User Interface
The PDF to Image Converter for Mac tool features a lucid and interactive interface. The software provides a gamut of user-friendly options to make your overall experience a breeze. You can easily install and operate the software in just a few clicks and get highly-consistent results within the least expected time.
Support for Popular Image File Formats
The Convert PDF to JPEG Mac tool has a knack of delivering the converted images in your desired file format. The software supports all common digital image file types, including JPEG, BMP, PNG, and TIFF. You can choose to get the results that are best suited to your workflow environment.
* Free Download - Free Trial version of the PDF to Image converter tool allows converting of a .pdf file into images and previewing all the converted pages in the selected image format. For saving these converted pages, you need to purchase the product.
FAQ's
Previous
Next
What is the difference between the 'Full' and 'Demo' version of this PDF to JPEG Converter Mac utility?

Answer:


With Demo version of the software, you can preview all the converted images in the main interface. For saving these images to your system, you need to purchase the Full version of the tool.

How much time does the software take to convert a PDF document?

Answer:


The time taken for performing PDF to image conversion depends on the size of the PDF document.

Can I save specific pages in my PDF file through this Convert PDF to image Mac software?

Answer:


Yes, you can perform selective saving of pages in your PDF document. To do this, you can select the desired images in the preview window and click the 'Save' button.

Does Stellar PDF to Image Converter modifies the PDF document during conversion?

Answer:


No, the software does not make any changes to your original PDF document
You May Be Interested in These Items