Stellar Drive Monitor
Robust application to monitor Mac hard disk status
Professional Mac System Monitoring software that constantly administers and checks different parameters of your hard disk against their threshold values to examine the overall health status of the disk at any given point in time
Regularly monitors disk activity and displays its fitness level
Extensive 'Surface scan' to detect bad sectors on your hard disk
Option to view and email drive/volume performance report
Gives Temperature warnings to warn you of impending disk failures
Supports backups of data on available disk partitions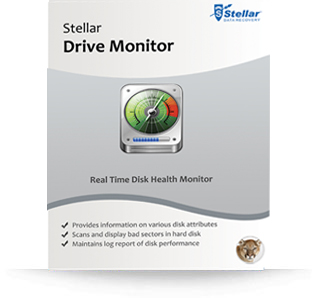 This System Monitor for Mac utility verifies all possible parameters of disk reliability to make sure you have enough time for backing up crucial files before a disaster strikes. Mentioned below are some salient features offered by the software:

S.M.A.R.T. Status
The software has the ability to read SMART attributes to perform an overall health assessment of your hard disk. You can check individual disk parameters to determine when a risk of failure lurks in your system. The tool can display SMART information for all internal hard disks.

Displays Real-Time Disk Information
The software automates the process of hard disk health monitoring. This Drive Monitor Mac utility is designed to smartly run behind the scenes and take control of the disk activity. If the disk parameters deviate from their threshold values or a problem surfaces, it gives warning messages. You can manually verify the disk information by navigating to the software shortcut on your System Tray

General Description of Disk/Volume
The System Monitoring software gives you a summarized report of the disk analysis performed in the background. It displays general information about your hard disk or individual partitions on this disk, including drive title, size, free space, SMART Status, and more. You can choose to save this report as a text file in your system.

Surface Scan to Detect Bad Sectors
The software goes through a detailed block-level scanning of the hard disk to scout out bad sectors by marking them with a distinct color. By default, all the bad sectors on your disk will display as 'red' in color. You can change this color scheme according to your convenience to easily identify sector corruption on the disk.

Option to Set Desired Preferences
This System Monitor for Mac software is a great advantage to those who want the tool to function in accordance with their requirements. You can set desired preferences in the software (such as temperature warning limit, startup option, system shutdown) to make sure you are well aware of the current state of your hard disk at any given point.

Measures Disk/Volume Performance
The software incorporates a feature 'Drive Performance' to allow checking the performance levels of any selected disk or volume by the process of sequential read/write or sustained read/write. You can see the minimum, average, or maximum performance levels using a bar graph, line graph, or Raw data representation.
* Free Download enables you to access all features of the software excluding Drive Performance and Backup for only a period of 30 days. After that, you need to purchase Full version of the software.
FAQ's
Previous
Next
Can I view the SMART status of an external disks using this tool?

Answer:


No, Stellar Drive Monitor displays SMART status for only internal hard disks.

Can I use Stellar Drive Monitor for examining hard drives in a RAID array?

Answer:


No, the software does not support RAID hard drives.

Which parameters in the SMART status are more critical in determining the overall health of the disk?

Answer:


Albeit each attribute in the SMART status is an indicator of hard disk health, you can give more importance to these: Raw read error, spin up time, reallocated sector Ct, and Hardware Ecc Recovered.

If I have bad sectors on the disk and the overall health status is displayed as 'OK', what should I do?

Answer:


This means you have minor sector corruption on your disk. You should back up as much data as possible, format the disk, and fix bad sectors.

Can I diagnose disk problems using Stellar Drive Monitor?

Answer:


The software helps you monitor Mac hard drives and determine their current condition. You can resolve issues or fix bad health of the disk using Stellar Drive Monitor.
You May Be Interested in These Items