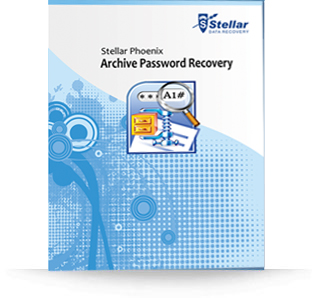 Stellar Phoenix Archive Password Recovery
Easily recovers Archive passwords set to WinRAR and WinZIP files
Professional Archive password recovery software that safely recovers lost or forgotten passwords of your important WinRAR and WinZIP archive files.
Facilitates easy and facile password recovery
Inbuilt dynamic dictionary to store recovered archive passwords
Masking techniques to quicken process and save precious user time
Supports password recovery for WinZip 8.x to 15.x
Supports password recovery for WinRAR 3.x and 4.x
The software strives to give you optimum performance by quickly searching the lost Archive password using 'Brute-Force' attack and ensuring no damage is inflicted to your compressed file. Let us have an overview of some salient features of this utility:

Accurately Recovers Archive Passwords
The software has best-in-class techniques to smoothly recover Archive password and unlock a password-protected RAR and ZIP files. Brute Force Attack scans the archive file with different search criteria applied to perform a reliable recovery of your lost Archive password.

Saves Recovered Passwords in Dictionary
This Archive password recovery software has a dynamic dictionary to keep all your recovered Archive passwords. The software looks for the lost password in this dictionary before initiating the usual recovery process. This saves precious time when you search for the same password that has been earlier recovered using the software.

Specifying Password Length
The software enables you to specify the maximum and minimum length of your Archive password. By providing the possible range of password length, you limit the password search criteria and pave the way for a more speedy recovery.

Masking Option to Minimize Recovery Time
This ZIP password recovery tool allows you to minimize your recovery time using various masking options. You can specify a few starting characters of your Archive password. You can also mask the characters you do not remember correctly with the symbol '?'.

Defining Character Set
Using 'Character Set' feature, you can build a possible character set that will be used to search the lost Archive password. The RAR password recovery tool makes various combinations of these characters to crack down the lost password.

Dynamic Process Dialog Box
The software displays a dynamic process dialog box during the recovery process, which shows the recovery status and other valuable information, such as process start time, expected completion time, and recovery speed.
FAQ's
Previous
Next
Does this password recovery software allow me to add self-defined passwords to its dictionary?

Answer:


No, this software does not allow you to add customized passwords to its dictionary.

Would I be able to add a self-created dictionary with the in-built dictionary in the software?

Answer:


No, you cannot add or replace your own dictionary in the software.

The password of my archive file is of four characters but the software is searching for seven
characters, hence taking more time than required. What can I do to reduce the time?

Answer:


To reduce the number of characters of the password to be searched, you should modify the settings from the 'Password Length' section.

This archive password recovery tool is taking a long time to recover password. Is there a provision
wherein I can pause this searching and, later, resume from the same position.

Answer:


Unfortunately, there is no such feature in this software at the moment.
You May Be Interested in These Items