What is hard Drive Bad Sectors and How can I Recover Data using Stellar Phoenix Windows Data Recovery Pro?
Author : Creative Team on June 27, 2011
Bad sectors in your hard disk lead to complete inaccessibility of the drives, causing data loss. If your hard disk has some bad sectors, that first thing you should do is to immediately backup your data by creating an image of the disk using the software. You can later use this image to restore all your lost or inaccessible data. The 'Imaging' feature of Stellar Phoenix Windows Data Recovery (Pro) enables you to create an image of the entire hard disk drive or any selected region of the disk.The software processes all sectors on your hard disk to create the image file and is capable of recovering data from the image created, except the severely corrupt ones.


What causes bad sectors on hard drive
?
Hard drive storage elements or so called '
Platters
' is divided into sectors and blocks. These sectors is used to locate the desired data by read/write head. After continuous hard disk usage, it started getting rough and looses its magnetic nature and thus, started failing. Besides that, there are various other reasons that leads to bad sectors on your hard disk drive and some of them are mentioned below:
Overheating
causes internal hard drive equipments to fail soon. Doesn't matter if you've pretty new hard drive, overheating can damage it too.
Over-aging
is bad for almost any electronic device and after certain span of time, electronic devices will continue to fail or even die. Being an electronic device, hard drive equipments will start failing and so as the hard disk platters.
File System Error
is one of the most common causes of bad sectors on hard drive. It'll make your data permanently damaged and non recoverable.
Virus/Malware Attack
is created to malfunction the operating ability of computer system. However, sometimes it does damage the platters of the hard drive and other CPU equipments and may cause it to fail permanently.
Identifying bad sectors on hard drive
Once the bad sectors on hard drive has been developed, it can't be removed or replaced. The best thing you can do is, replace the hard drive immediately after taking backup of all your important data and purchase a new hard drive.
However, it is important to first spot the bad sectors to get roughly idea about how much times still been left to keep using the drive. There are various hard drive monitoring and health status check utility available such as
S.M.A.R.T.
through which, you can easily identify the bad sectors and various other crucial details.
For the shake of simplicity, below are the common problems that anyone could face if the hard drive is failing or developed large number of bad sectors:
Freezing


Hangs


Corrupt or inaccessible files and folders


System taking too much time to load, reboot or shutdown


Unwanted shutdown

Follow the procedure to retrieve data from hard drive with bad sectors:
1.
Create an
Image
of the entire hard disk drive using the software.
2.
Recover data from the image created. (You can also recover data from this image later at any later point of time using the '
Resume Recovery
' option)
1. Steps to create image of HDD Using Partition Recovery:
Start Stellar Phoenix Windows Data Recovery. On the main screen, select the 'Advanced Option' tab.




You can image an entire hard drive or a logical volume. Below 'Create Image' button, select the drive or volume to be imaged.




A flying pane appears on the right. Click 'Select Range' option on this pane to specify a particular region of the storage media. You can drag the two pointers to specify the starting and ending sector. Click 'OK'.

Click 'Start Imaging' on the flying pane to start the imaging process.

In the 'Save As' dialog, provide the desired destination and name for the image file. Once the process is completed, the image is saved as a '.img' file to your system.

You can click '
Next
' at the bottom-right and continue with the process of recovery from the image.
2. Steps to recover data from the image created
of bad hard driveIf you need to perform recovery at a later time, follow the given steps:
Run Stellar Phoenix Windows Data Recovery. Click 'Recovery from Image' tab in the main interface.



All the recently created images will be displayed in the upper pane. In case your image is not listed here, click 'Browse' at the bottom to manually select the image.

After you select the image file, choose the corresponding drive or volume ( the one which was imaged) under 'Select Volume to Recover Data' section. A flying pane appears on the right.

Choose the desired scan method on the flying pane to recover data from the image file.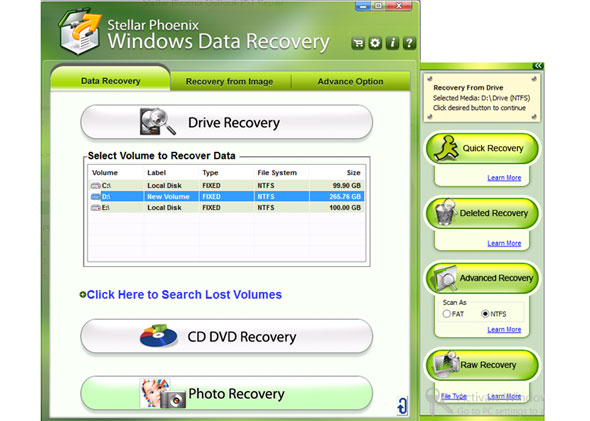 Was this article helpful?