Every video has a certain codec that is used to convert raw data into digital format, which is compatible with most media players. In addition to data encoding, codecs are also used to compress gigabytes of raw data into megabytes, which is a manageable size for storing and streaming videos.
MxPEG and H.264 are two popular video codecs used in video compression and streaming. Though they're similar, they still have a few basic differences which users should know if they're dealing with videos encoded with these codecs.  
What is MxPEG?
MxPEG is a video codec and also an audio/video container format. It was developed by MOBOTIX in 2000, with the main objective of having an encoder that could work with underpowered CPUs without the need for dedicated video compression hardware.
What is H.264?
H.264 is a video codec jointly developed by the International Telecommunications Union and International Electrotechnical Commission Moving Picture Experts Group. It is the most widely used codec with significant penetration in broadcast, optical disc, and streaming video markets.
Difference between MxPEG and H.264
Though MxPEG and H.264 are popular video codecs, the main difference between them lies in the way video frames are delivered in each of them.
The MxPEG video codec divides the video feed into frames known as I-frames (high quality) that take considerable bandwidth. H.264, on the other hand, divides the video feed into I-frames and subsequent P-frames that help reduce the bandwidth. The H.264 video feed often has more P-frames than I-frames. 
H.264 is ideal for watching as most people are not capable of differentiating the loss of quality between frames. However, you'll see a noticeable difference when you pause videos encoded with it. They might appear blurry or fuzzy. In comparison, MxPEG videos appear crystal clear.
Now that you know the difference between MxPEG and H.264, let's take a look at some common problems related to these codecs.
Common Issues related to Video Codecs & their Reasons
Both MxPEG and H.264 are software encoders that bind video and audio frames together in a feed and compress it to reduce its size so that it can be easily transmitted over a network. But sometimes after compression, the video codecs end up getting corrupted, which makes the video unplayable causing the media player to throw an error.
Why does the codec corruption happen? Let's try to find out.
A virus or malware infection in the system can corrupt all kinds of file stored on the hard drive, including documents and media files.
Sudden interruption during file transfer, editing, viewing, saving, or uploading can damage the files.
The sectors on the storage media can sometimes become unusable due to several reasons. If you transfer the video file to storage media with bad sectors, it may get damaged.
If there's a sudden power cut while working on videos, the video file and the codecs may become corrupt.
If the media on which the video file is stored is physically damaged, there are chances the media player won't be able to play the video file.
If you are unable to play your MxPEG or H.264 video file, it's probably due to one of the above mentioned reasons. In such a case, you will need to repair the video to make it playable.
How to Repair Damaged/Corrupt Videos?
1. Rename the File
Appropriate file naming convention needs to be followed when naming video files. If the file name is too long, you can shorten it. Often renaming the file makes it playable.
2. Repair Headers
The header of the file refers to the part of the video which contains important information about it. If the header is corrupt or damaged, the media player can't play the file. In that case, you need to repair the header of the file to make it playable.
3. Switch to a Different Codec
If the existing codec of the file is damaged or your media player doesn't support it, you can switch to a different codec to play the video. 
4. Repair Videos with Video Repair Tool
If trying the above fixes hasn't worked, the only option is to repair the file with a competent video repair tool. We recommend Stellar Repair for Video for the purpose.
Stellar Repair for Video is a comprehensive video repair tool that can repair corrupted, broken, or unplayable video files. It can work smoothly with 17+ video formats, including MKV, AVI, MOV, MP4, MxPEG, H.264, H.263, H.265, HEVC, MPEG4, 3GP, Windows Media 8, QuickTime, JPEG 2000, etc.
The software can repair multiple VR, 4K, 360°, and 8K video files simultaneously. It allows users to preview the files before saving. It is easy-to-use, and you don't need video editing expertise to repair corrupt or damaged video files with it.
Here are the steps to repair video files with Stellar Repair for Video:
Go to the official website and download the tool's executable for free.
Right-click on the setup file to install the software with recommended options.
Once installed, launch the software.
From the home screen, click on the Add file option to import the files you want to repair.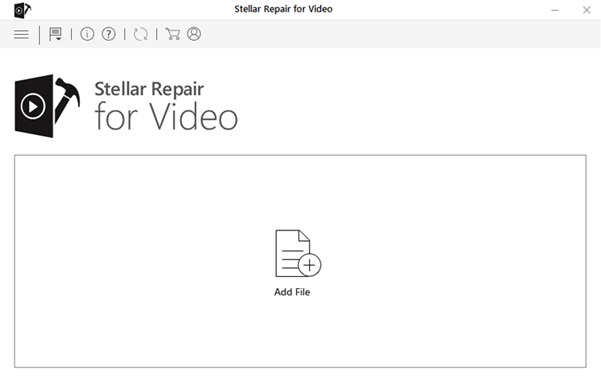 After the videos have finished importing, select them and click on the Repair button.
The software will start the repair process. The repair time depends on various factors, like the number of files, video file size, intensity of the codecs damage, etc.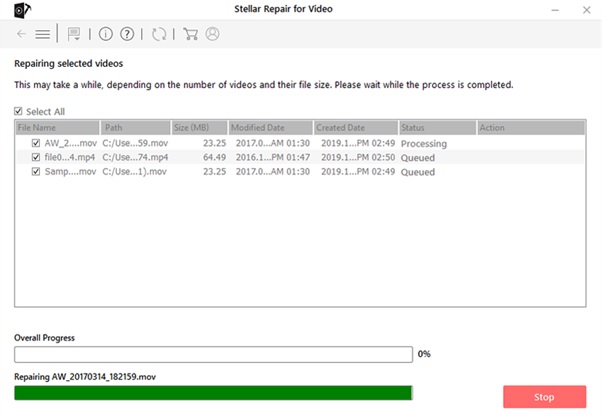 After the repair process is completed, the software will present you with a preview window that will list all repaired video files. You can double-click on any video to play it and verify that it has been repaired.
Finally, select the files you wish to save and click on the Save Repaired Files button to save the repaired files to a desired location.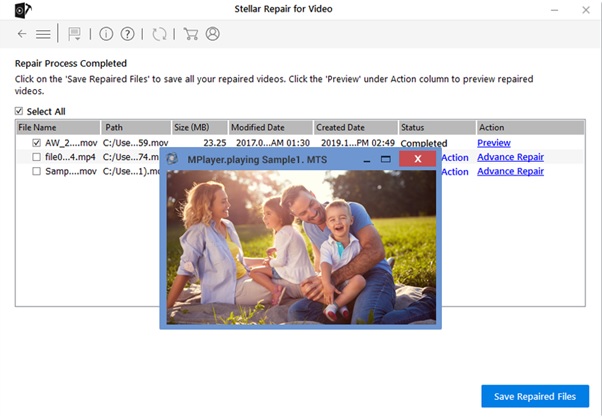 Wrapping Up
MxPEG and H.264 are two popular video codecs used for file stream encoding and compression. Codecs are important components of video files. If they get damaged, they make the videos unplayable. If your videos have been damaged or corrupted due to any reason, you shouldn't worry. Just follow the solutions given above and repair your videos almost instantly.