Summary: In this guide, you will learn steps to export mailboxes from Exchange 2013 database files (EDB) to PST by using the Exchange Admin Center (EAC). You will also learn a way to export Exchange 2013 mailboxes to PST when the Exchange database (EDB) file is either offline or hosted on the Exchange server.
Exporting EDB to PST format is a great way to backup Exchange 2013 database. It is also used to migrate or move the Exchange mailboxes from one server to another or a different forest. In Exchange server 2013, you can either use the Exchange Management Shell (EMS) or Exchange Admin Center (EAC) to create mailbox export requests in a variety of ways. We have already covered the steps to export Exchange mailbox to PST by using EMS in previous guides. Thus, in this guide, we are going to discuss the steps to export the Exchange 2013 mailboxes to PST by using the Exchange Admin Center (EAC).
NOTE: When it comes to Exchange mailbox export to PST, EAC features limited options. For instance, you can't select the mail items, can't filter out certain emails or mailbox items, can't suspend, resume, or remove the mailbox export requests, etc. Thus, mailbox export can take longer than expected if you need to export only certain items from the mailbox for example, based on a date range. Also, if the request get stuck, you won't know unless manually check via EMS. Thus, the best option is to use an EDB to PST converter software, such as Stellar Converter for EDB. It features a graphical user interface that enables any user convert and export mailboxes from Exchange database files in PST and various other formats.

About the Exchange Admin Center (EAC)
In Exchange versions older than 2010, utilities such as ExMerge were used to export mailbox to an Exchange PST file. In Exchange 2010, PowerShell cmdlet New-MailboxExportRequest was introduced to achieve this purpose. Administrators also used the Exchange Management Console (EMC) and the Exchange Control Panel (ECP) to manage and export the database.
In Microsoft Exchange 2013, more enhanced features and security options were introduced. Most importantly, the way to export EDB to PST in Exchange also underwent a major change. In MS Exchange 2013, a service called the Exchange Admin Center (EAC) was introduced to manage the Exchange server, databases, and mailboxes via interactive Graphical User Interface (GUI). The EAC, a web-based service, replaced the EMC and ECP for database management.
So now Exchange admins can use the EAC service to complete several tasks such as,
Manage user mailboxes and public folders in an organization on the Exchange server
Mailbox migration to PST format or another server
Detect devices possibly connected to the Exchange server
Specifying and setting up policies for Outlook Web Access
In short, the EAC is an online management console designed for on-premise, online, and hybrid Exchange server setups.
Steps to Export Exchange 2013 Mailbox to PST
Following are the steps to export Exchange 2013 mailbox to PST by using EAC:
Step 1. Login to Exchange Admin Center
To start working with the EAC, open the EAC URL in the browser and enter administrator credentials to log in. To find the Server URL for login, open Command Prompt and type the following command:
Get-ECPVirtualDirectory | Fl InternalURL,ExternalURL

Note down the URL displayed after 'Internal URL' in the command output and enter the URL manually in the web browser to access the EAC.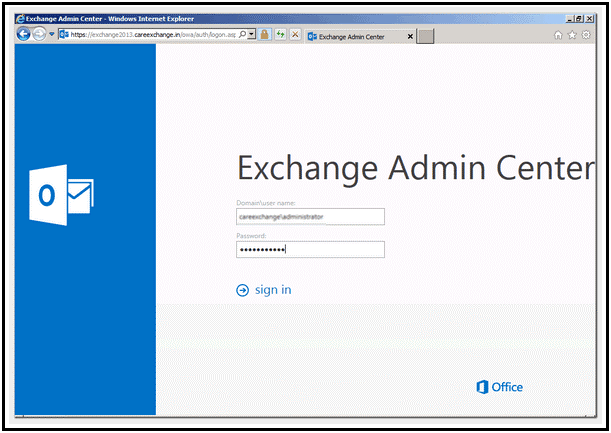 Important Note: This link cannot be opened in just any web browser. Supported browsers include Internet Explorer versions 8 through 10 and later, Firefox version 11 and later, Safari version 5.1 and later, and Chrome version 18 and later.
Step 2. Create a Shared Network Folder
Now create a new shared folder on the network drive with necessary read/write permissions. This folder location will be used to save the exported PST file. However, ensure that this folder is on the drive different than operating system drive (i.e. different than C: /). Once the folder is created, assign full access control to the Exchange Trusted Subsystem (ETS) for it by following these steps,
After creating the folder, right-click on the folder
Click on 'Permissions'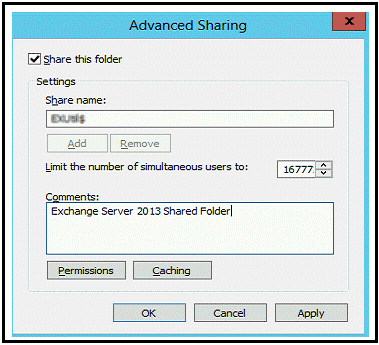 Click on 'Shared' and 'Security' levels and set required permissions
Step 3. Assign Mailbox Import Export Roles to User Account
Now you need to assign the Mailbox Import Export role to the administrator account that you've used to login to EAC. By default, Mailbox Import Export permission (role) is not assigned to any user account, not even to the administrator account. Thus, you may log in to EAC by using any account. However, you need to assign the Mailbox Import Export role to the user account to export Exchange 2013 mailbox to PST in EAC. Follow the given steps:
Open EAC and click on the 'Permissions' tab from the left-hand side panel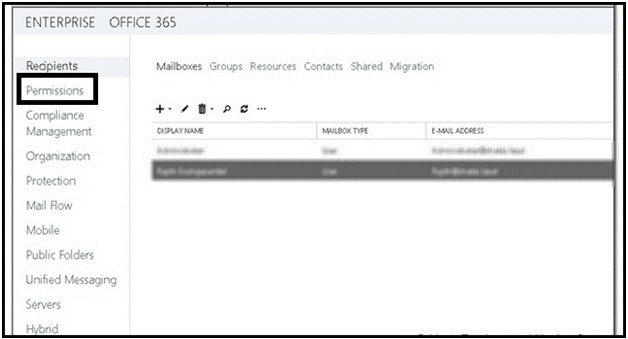 From the Admin Roles section, choose 'Recipient Management'
From the roles section in the upper section of the screen, choose to "Add" role with the + button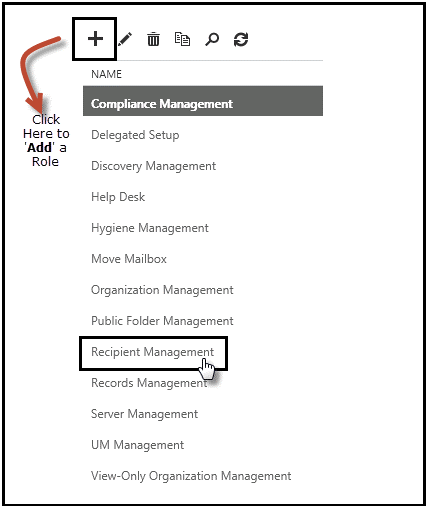 In the 'Select a Role' page that appears next, click 'Mailbox Import Export'
Click on 'Add ->' button and then click on OK
Click on + button to add mailboxes for the export process
Step 4. Export Exchange 2013 Mailboxes to PST via EAC
Now that everything is set up, you can export mailboxes to PST files at the shared network location. The steps are as follows,
Open EAC, navigate to 'recipients' and then click on the 'mailboxes' tab. This will display all the mailboxes in the database
NOTE: This method won't work if the Exchange database file that contains the user mailbox is offline. If the desired mailbox is not displayed or the Exchange database file is offline, you won't see any option to export such mailboxes to PST. In such cases, you can use an EDB to PST converter, which is discussed below as an alternative method.
DOWNLOAD BUTTON

Then select the mailbox you want to export to PST and right-click on the mailbox
Choose the 'Export to a PST File' option. This opens a new Export to a .pst file wizard window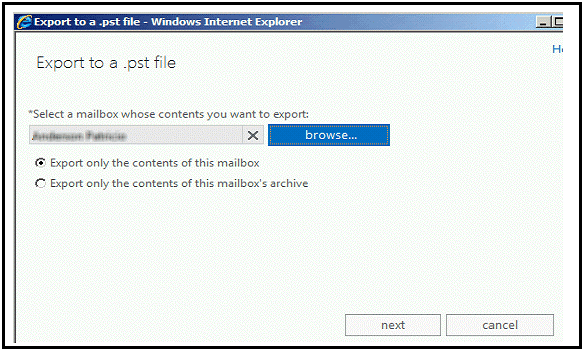 On the page that pops-up next, the mailbox you selected will be displayed. If the name is incorrect, browse to select the mailbox account you wish to export
Then select if you wish to 'Export only the contents of this mailbox' or '…of this mailbox's archive' and then click Next
Now enter the path to the shared network folder that you created earlier and enter the PST file name ending with .pst extension. For instance,
\\MySharedFolder\PSTFolder$\MyMailbox.PST
Click Next and specify a recipient who will receive a notification when the Exchange 2013 mailbox to PST export process completes
Click Finish
This starts the mailbox export process. Once this process completes, the resultant PST file can be found in the shared folder location. This PST file can be imported and opened in any Outlook to access mailbox data.
Alternative Solution
The above-mentioned steps are quite easier than executing the PowerShell cmdlets in Exchange Management Shell (EMS). However, if the export does not complete or you find missing items in the exported PST file, you can use an advanced EDB to PST converter tool, such as Stellar Converter for EDB. The software exports mailboxes from both hosted and offline Exchange database (EDB) files in a few clicks.
This software efficiently converts all mailbox items such as emails, attachments, contacts, notes, calendar items, etc. within the EDB to equivalent PST files in minimum time and with great accuracy. It also restores accidentally deleted offline mailboxes from the Exchange 2013 database files.
In addition to PST format, this tool allows you to save the converted data in other formats, such as MSG, EML, HTML, RTF, and PDF. Further, if you need, you can also export mailboxes from Exchange 2013 EDB to Live Exchange or Office 365 accounts directly. And it is compatible with all Exchange Server versions.
Overall, it is a must-have utility for Exchange administrators. It is highly recommended by several MVPs and IT administrators.
Conclusion
The Exchange Admin Center (EAC) is a great utility to export Exchange 2013 mailbox PST. However, EAC does not work if you need to export mailboxes from an offline or dismounted Exchange database file. If you can't export a mailbox by using EAC or EMS, use the Stellar Converter for EDB software. You can download the free demo version of this EDB to PST converter software and try it yourself.