Summary: This article explores 7 free and premium Mac file recovery software to recover your deleted, formatted, or lost data from Mac or Mac-based external hard drive.

Download the best free Mac data recovery software for unlimited free drive scanning and free file preview, plus 1 GB free file saving.

Looking for a free Mac file recovery software online? Or a premium software that offers broad data recovery capability across all your Mac (MacBook Air, iMac, Mac mini, or their Pro models) and Mac-based storage drives? Here's where to begin.
Free Version: Recover files up to 1 GB for free with Stellar Data Recovery Free Edition for Mac.
Premium Version: Upgrade to Stellar Data Recovery Premium for Mac and get unlimited data recovery capability and advanced features including create recovery drive.
Honestly, if you wish to get the best GUI with extensive data recovery capability on your Mac running on macOS Catalina or earlier, Stellar Data Recovery Free Edition should be your first choice.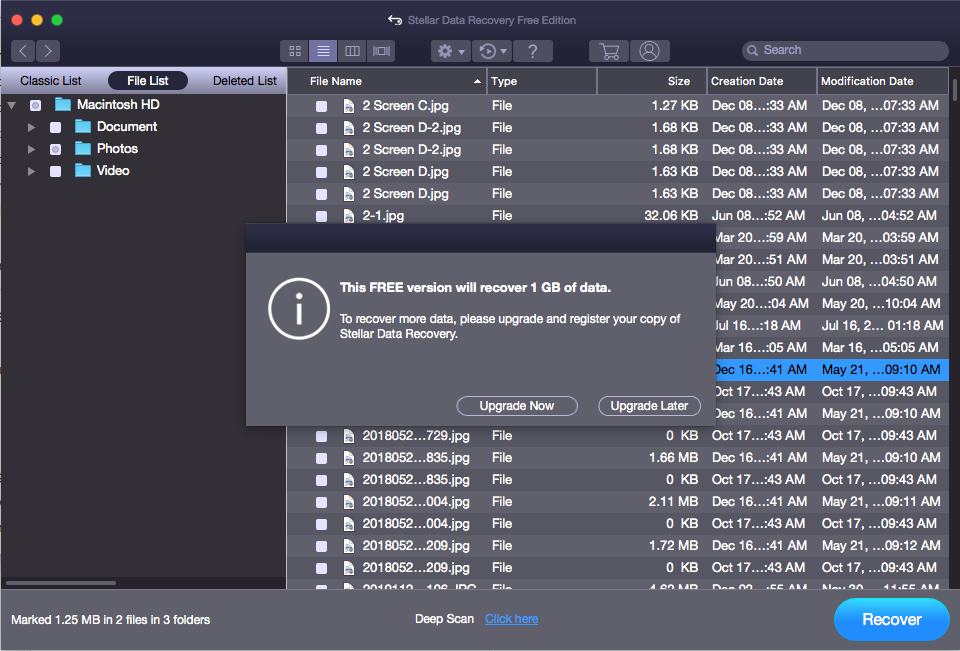 The DIY software recovers lost, deleted, formatted, inaccessible, or encrypted data from MacBook Air/Pro, iMac (Pro), or Mac mini. Plus, the software salvages data from external SSD, hard drive, Boot Camp Partition, Time Machine backup drive, and fusion drive.
The best part is that you can save the scan result and load it anytime to avoid rescanning of drive, customize your recovery, set software preferences, and use Deep Scan to scan your drive based on file signatures for comprehensive recovery. And why wait? Activate the software for premium benefits, and unlimited data recovery.
Free Version: Available, with no data recovery limit
Premium Version: Not available
If you are comfortable with the character-user interface, TestDisk for Mac will help you boot your unbootable Mac, recover lost partitions or deleted data, and repair the corrupt file system of a storage drive.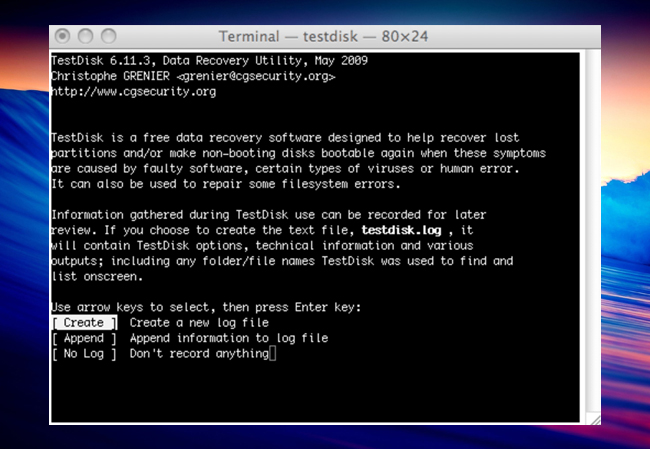 Being a free and an open-source software, TestDisk for Mac doesn't give you the seamless experience that you may get from a professional data recovery software. Features such as Deep Scan, File Preview, customization, etc. But, you can learn some instructive Terminal commands to use it well. The software is compatible with macOS Mojave or earlier.
Free Version: Available, with no data recovery limit
Premium Version: Not available
A companion program to TestDisk, PhotoRec is a free and open-source file recovery software that recovers lost photos or files from memory card, hard drive, iPod, and CD.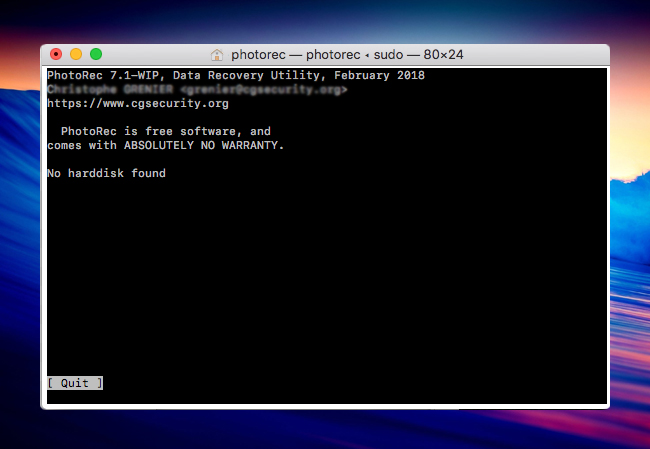 The software is safe to use as it doesn't write on the drive from where data is being retrieved. It runs on macOS (Mojave or earlier) and supports FAT, NTFS, exFAT, HFS+, and Ext2/3/4 file systems. One drawback, the recovered files don't retain their original file names.
Free Version: Available, along with free file preview
Premium Version: Available
Use this GUI-based software to retrieve all your photos, videos, music files, and other data from Mac, iOS/Android device, or Mac-based external hard drive even if it's corrupt.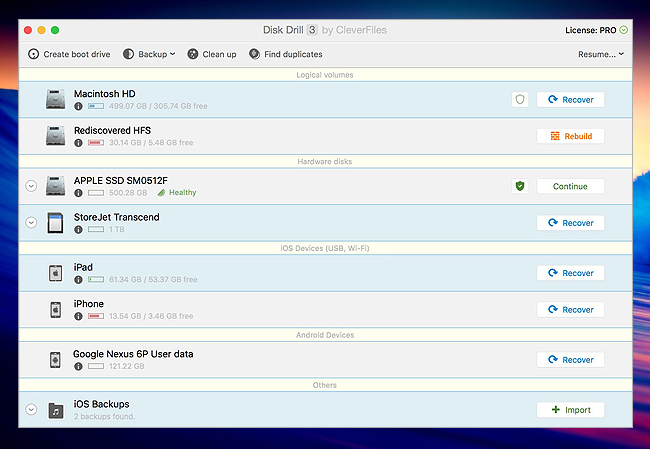 Doing a lot more than data recovery, the DIY software helps you find duplicate files, clean up Mac, back up data, protect data with recovery vault, analyze disk, and monitor the health of Mac drive.
The software is compatible with macOS Catalina and supports APFS, HFS+, HFS, FAT, ex-FAT, NTFS, or EXT3/EXT4 file systems.
Free Version: Available, with 1 GB recovery limit
Premium Version: Available, with encrypted APFS drive recovery and non-bootable Mac recovery
Reliable, safe & professional, M3 Data Recovery for Mac has all the data recovery utilities that help you recover your lost data effectively. But don't expect the software to retrieve overwritten files or salvage data from a physically damaged drive.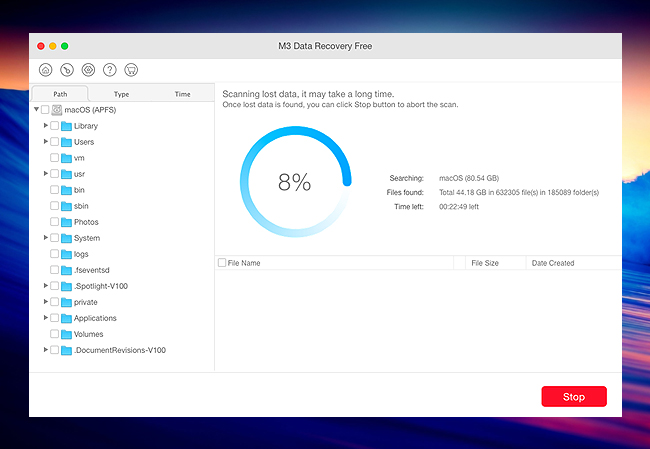 Use the software on your Mac to recover your lost files from emptied Trash, Macintosh HD, external hard drive, SD Card, USB flash drive, etc. The software tackles all data loss scenarios with ease. Notable features of the software include quick or deep scan and file preview before recovery.
Free Version: Available, with unlimited JPEG recovery capability
Premium Version: Not available
If you are looking for a free photo recovery software that can recover lost or deleted JPEG photos from your Mac, look no further than Exif Untrasher.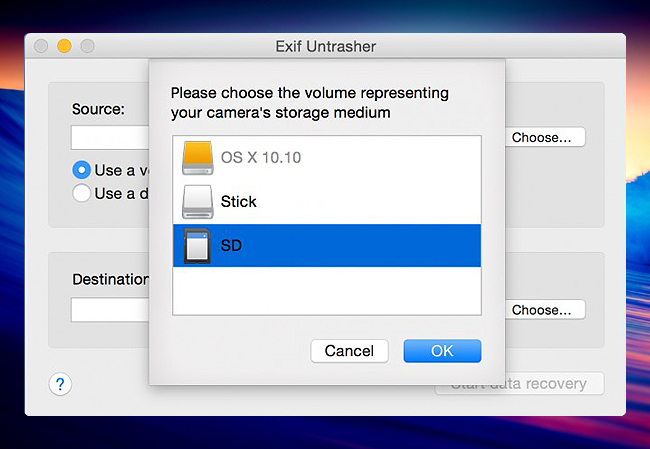 The software allows you to recover your JPEG files in case you deleted them or formatted your SD card, hard disk, or memory stick accidentally. You can use the software to retrieve photos from a variety of cameras, smartphones, and tablets.
The software doesn't alter any content from the storage medium so it is safe to use. Also, you may need to mount your SD card manually to recover your lost JPEG photos from it. Besides, the software doesn't support RAW image recovery or video file recovery.
Free Version: Available, with 100 MB recovery limit
Premium Version: Available
The GUI-based file recovery tool from Wondershare, Recoverit Data Recovery Software can help you get back your deleted or lost documents, photos, videos, audio, outlook files, and archive files from a variety of storage media with different data loss scenarios.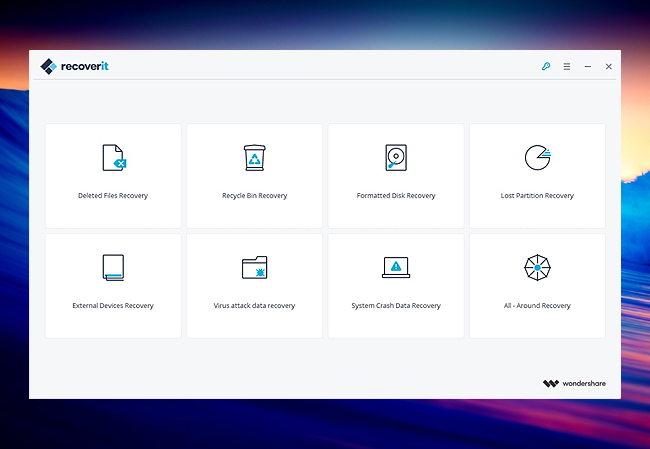 Use the tool to salvage data from RAW, damaged, or formatted partitions, and even preview your files beforehand to be certain of the data recovery result.
The software supports macOS Catalina and earlier. It also recovers data from storage drives formatted in APFS, HFS+, NTFS, FAT, exFAT, and Ext2/3/4 file systems.
Conclusion
If you are held back in choosing the best data recovery software due to its limited data recovery capability, don't worry, use the free edition to recover only your critical files then later recover all your files by activating the premium version of the software.
We recommend going with Stellar Data Recovery Free Edition due to its easy-to-use GUI, advanced features, and broad data recovery capability for all logical data loss situations in Mac.