Summary: In this article, we'll share a variety of methods to recover all your deleted files on Mac for free. We'll cover:

Undo the deletion
Put back from Trash
Restore from Time Machine
Restore Files from iCloud
Restore from Apps
Download the free Mac data recovery software to salvage up to 1 Gigabyte of data for free.

"Hi friends, I'm a videographer by profession. I used to store all my client's videos and photos on my Mac after a shoot. But, last night, by mistake, I deleted the folder containing the client's files from my Mac. Please help me recover my deleted files. Thank you."
Deleting files on Mac is one of the most important tasks that you may need to do time and again. But if the deletion is accidental, then you must know how to reverse the deletion process and save yourself from losing your data permanently. First off, you should see all the free options provided in your macOS to undelete files. If such solutions don't work, then look for any third-party free software to salvage the deleted files.
The next sections describe various free methods to help you regain your deleted files on macOS.
1. Free macOS methods to restore deleted files
macOS provides various free Mac file recovery solutions to recover your deleted files. All you need is to perform the following steps:
Undo the deletion

: After the accidental deletion of files, immediately press

Command

+

Z

keys to undo the deletion. The files will restore to the original location in a flash.

Put back from Trash

: Go to Trash and find the deleted files. Select the files, secondary-click, and choose

Put

Back

. The files will restore to the original location. You can also drag and drop the files from Trash to Desktop or anywhere else in Finder.

Restore from Time Machine

: If you've backed up your Mac startup disk by using Time Machine, then you can easily restore the deleted files from the backup drive. From the Apple menu, go to Time Machine and Enter Time Machine. Use Timeline or arrow keys to navigate to the date when the files weren't deleted. Select the files and click

Restore

.

Restore Files from iCloud

: Login to

iCloud

.

com

, go to

Settings

>

Restore

Files

(available at the bottom under

Advanced

). Select the deleted files (which remain there for 30 days) and restore. Your files will restore to iCloud Drive on Mac.

Restore from Apps

: Check the built-in data recovery facility provided in macOS applications-say Photos, Mail, etc. that has Trash to restore your deleted data.
Read More: Free Recover Deleted Data from MacBook Pro & Air.
2. Free software to recover deleted files from Mac
If the preceding solutions for data recovery are of no avail, then you need a free software method to recover your deleted files. Stellar Data Recovery Free Edition for Mac is one of the world's most trusted software that you can use to recuperate your deleted data. Now the question arises:
Is Stellar Data Recovery for Mac free?
The answer to the question is that Stellar Data Recovery for Mac is a freemium software, which means you can download the tool and use its basic features without any cost. For instance, you can use the software to free scan your Mac and free preview all the deleted files. But to save the recoverable files, you need to activate the software at a nominal price.
Stellar Data Recovery Free Edition for Mac
For the benefit of users, Stellar Data Recovery Free Edition for Mac is also available that allows you to save up to 1 GB files. This can help you recover your critical files without paying any buck.
Steps to recover your deleted files are as follows:
Step 1. Download and install Stellar Data Recovery Free Edition on your MacBook, iMac, or Mac mini.

Step 2. On the 'Select What To Recover' screen, toggle on the required file types then click Next.
For instance, if you wish to recover your lost multimedia files, toggle on the photo and video file types. To recover your business documents, toggle on the document file type.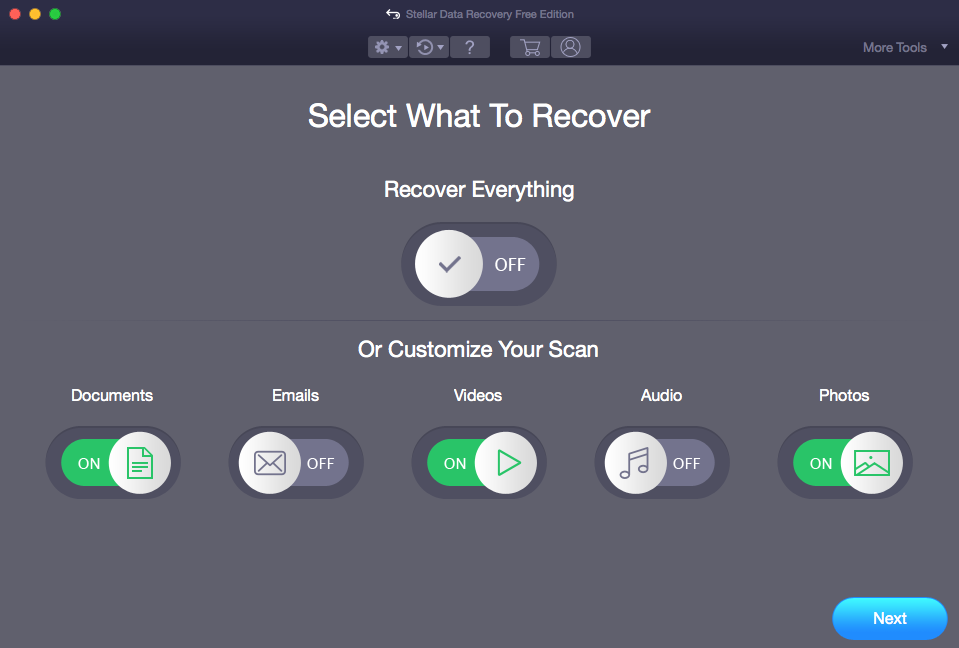 Step 3. On the 'Recover From' screen, select Macintosh HD, turn on Deep Scan, and click Scan.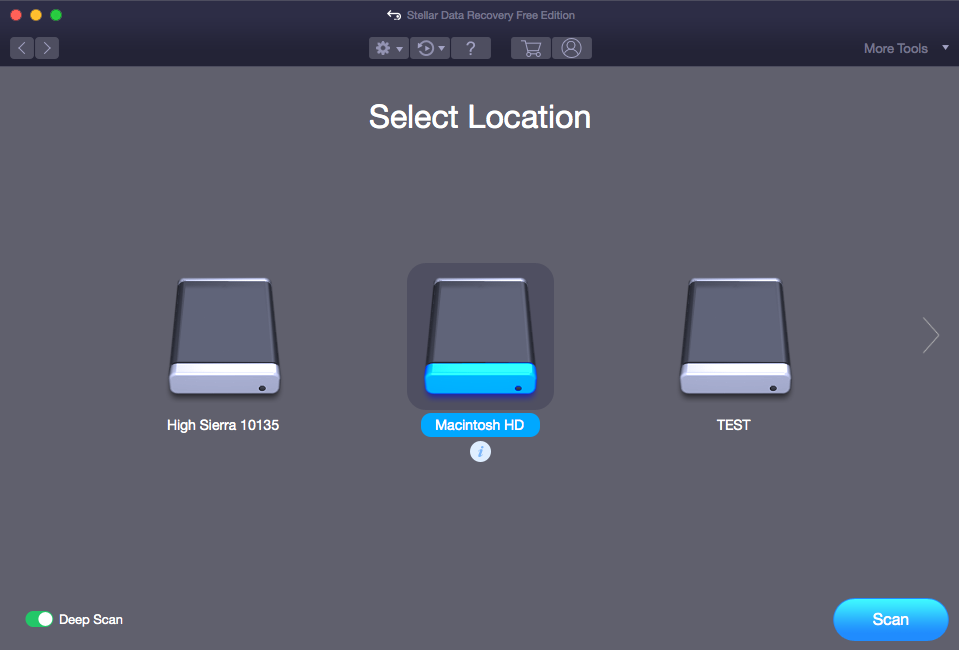 Step 4. After the scan, select Deleted List then preview your deleted files to check their accuracy.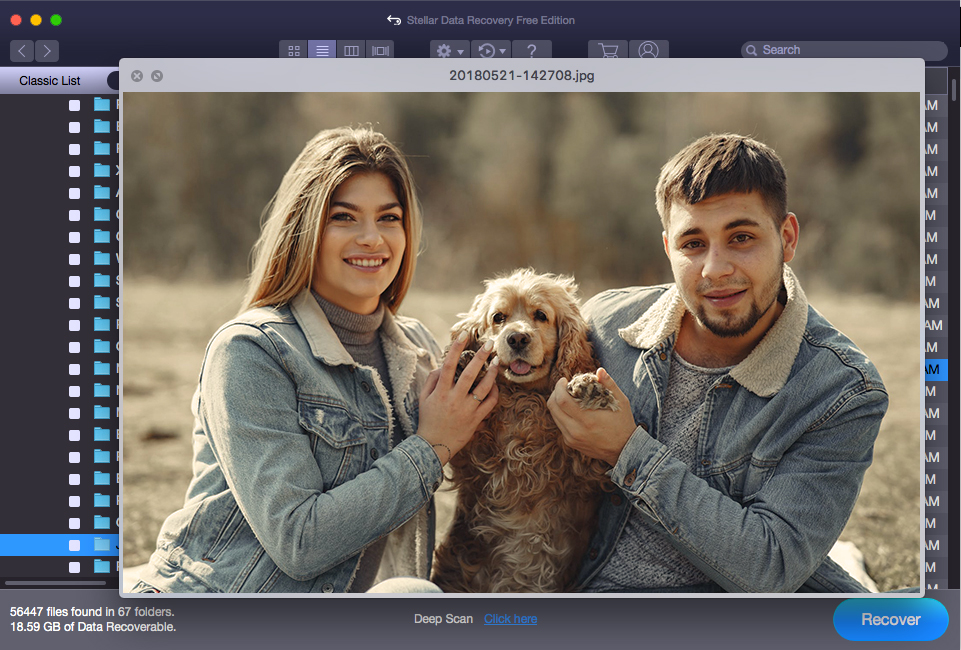 Step 5. Select the requisite files then click Recover. Click Browse to specify a different storage volume. Finally, click Save. Go to the volume wherein you saved your recovered files.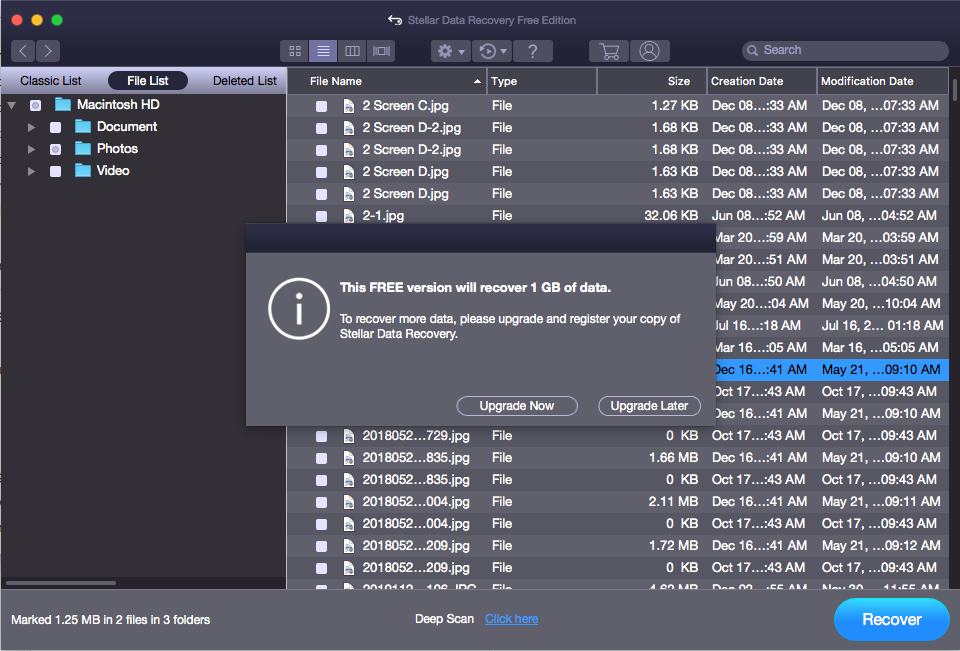 Upgrade from free version to Professional to recover unlimited files from your system.
Conclusion
Stellar Data Recovery Free Edition for Mac is the most reliable way to recover your deleted files in case the free native macOS methods fail to restore your data. The software can save your most important files that are not more than a gigabyte. In case you are satisfied with the scan and recovery result, go for the activation to unlock unlimited recovery capability.