Summary: In this article, we'll share how to recover deleted data for free from your MacBook Pro or MacBook Air running on macOS Big Sur or earlier. We'll cover:
Download the free Mac data recovery software to recover up to 1 GB of data.

So, you've deleted data from your MacBook then emptied the Trash, or used the Option + Command + Delete hotkey to delete your data permanently. Later you realized, you've removed some important data unknowingly. Plus, you don't have a Time Machine backup to restore your deleted data. This type of logical data loss situation is irreversible and using macOS native commands won't help in such cases. Therefore, you are at the risk of losing your important data forever from your MacBook.
Don't worry! We can help you retrieve deleted data from your MacBook provided you stop using your machine immediately after data loss. This is necessary to prevent any data overwriting on the Mac hard drive or SSD. Also, for instant data recovery, use a third-party data recovery software such as Stellar Data Recovery Free Edition for Mac. Once the data is recovered, you can use your MacBook Air or Pro as usual.
The next section describes how to use the free data recovery software on your MacBook Pro or MacBook Air in few simple DIY steps.
1. Free MacBook Data Recovery Software
When you've permanently deleted data from your MacBook and you don't have a backup, use Stellar Data Recovery Free Edition to rescue your deleted data. The software recovers data from all logical data loss situations including deletion, formatting, encryption, and inaccessibility. Download the free software from here:

Now, install and launch the software. Next, perform the following steps-Select, Scan, and Recover-to get back your deleted data in macOS on MacBook.
STEP 1: Select: In the "Select What To Recover" screen, turn on the required file types, then click Next. In the "Select Location" screen, select the drive from where you deleted your data.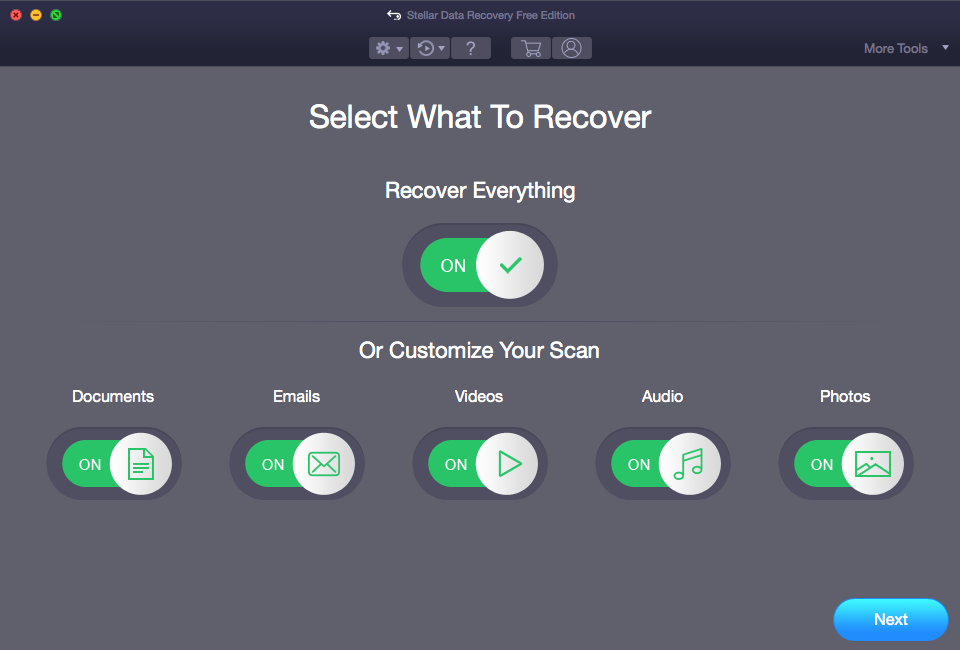 STEP 2: Scan: Turn on Deep Scan switch present at the bottom-left corner, then click Scan. After the scan, select the Deleted List tab, then preview your deleted data for integrity.
Also Read: Recover Files from Big Sur, Catalina, Mojave & High Sierra Startup Disk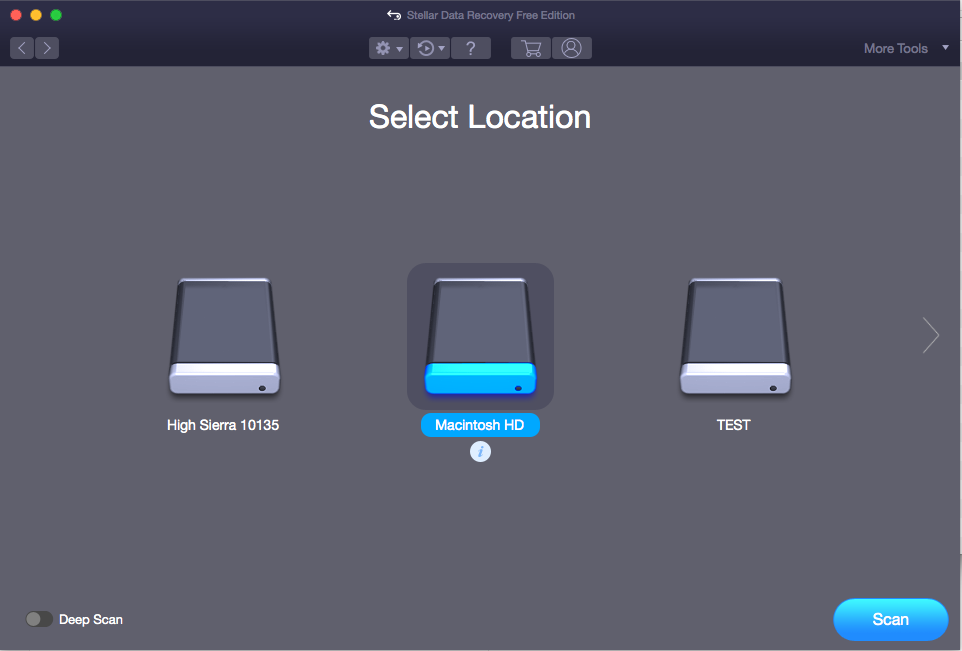 STEP 3: Recover: Select the requisite data, then click Recover. Click Browse to specify a different storage volume, then click Save. Go to the volume to validate your recovered data.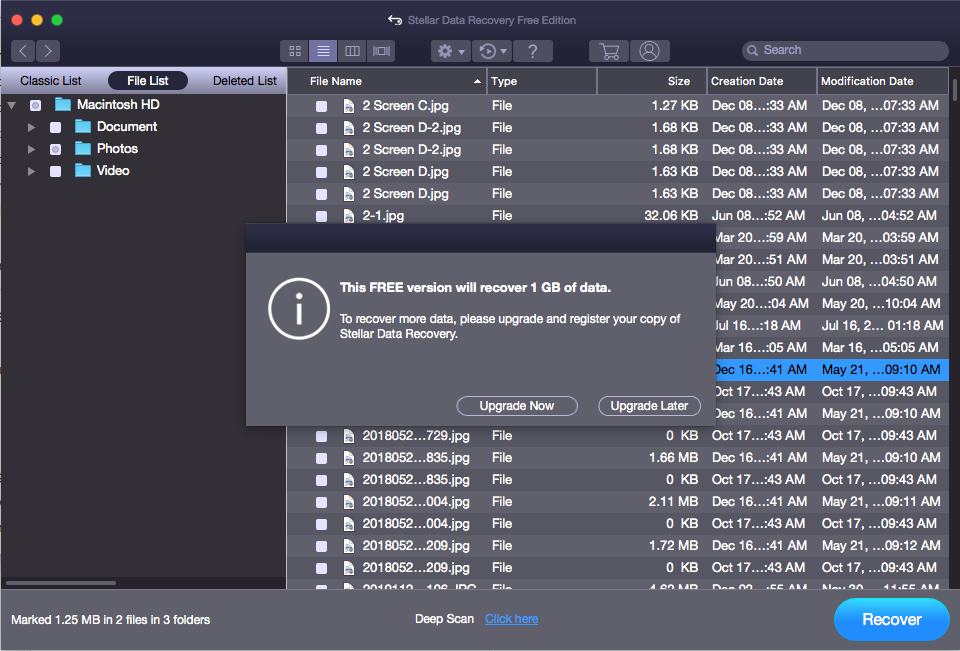 2. Upgrade for Unlimited Data Recovery
Stellar Data Recovery Free Edition allows you to save up to 1 Gigabyte of data for free. Plus, you can free scan any APFS, HFS+, HFS, exFAT, FAT, or NTFS drive, and free preview scanned files any number of times. In case you wish to unlock the unlimited data recovery capability, activate the software by keying in its activation key.
That's not all. The software provides an upgrade feature that allows you to upgrade your free software to Professional, Premium, or Technician Edition whenever required. These editions have specific advanced features that you should look at before buying the software.
Compare Editions - Professional, Premium & Technician
3. MacBook Data Recovery Service
You can't access your stored data on a damaged or dead MacBook. The hard drive may have undergone the following physical damages:
Crashing of the read-write head on the hard drive's platter due to mishandling, jerkiness, or dropping of MacBook
Failure of the hard drive motor or other physical components
Bad sectors on the platter due to aging or usage
Damage of electronic components owing to liquid spills
Burning of the hard drive on account of a power surge or fire
In physical data loss situations, you need a MacBook data recovery service to reclaim your inaccessible data from a damaged or dead Mac hard drive or solid-state drive.
Stellar Data Recovery is one of the best data recovery service company that meets all the quality parameters that one should trust, such as:
ISO certified service centers
Class 100 Clean Room
Secure & reliable service
Guaranteed data recovery after analysis
Data confidentiality
No recovery no charge policy
Free shipping of storage drive
4. MacBook Data Recovery Tutorial
Stellar Data Recovery software is 100% safe and recovers your data from any logical data loss situations in macOS. To understand the MacBook Data Recovery process without difficulty, watch the following video tutorial.
If you face any challenge while using the software, you can avail of 24x5 free technical support. The support team will resolve your issues in no time.
Conclusion
In this article, we've shared the best free DIY software to recover your deleted data from MacBook Pro or Air running on macOS Big Sur 11 or earlier. So, if you've deleted your treasured photos, videos, or documents, then trust Stellar Data Recovery Free Edition for Mac to get your data back in no time. By using the free software, you can recover up to 1 GB of your most critical data without paying any money.
And if you want to get unlimited data recovery capability, activate the software or upgrade it to any higher edition. Stellar Data Recovery software is compatible with macOS Big Sur or earlier and has a 30-day money-back guarantee in case you are not satisfied with the product. So free download the software now to recover your important data in minutes.