Common Causes of Data Loss
Today, data loss is almost like a natural disaster. If you want to be sure of the safety of your data, we advise you not only to store it in a safe place but also to pay attention to the most common causes of data loss and ways to recover them. Let's figure out what circumstances can deprive you of important files.
Accidental File Removal
Human inexperience or inattention often causes data loss. When the user attempts to restore them manually, it often complicates the situation further, so it's best to use special programs for easy file recovery.
Malware Threats
Malware threat is the most common cause for losing important information. Users often underestimate the effect of cyberattacks. Remember to use a good antivirus and respond to its warnings. Also, do not forget to update the virus database.
Data Overwrite
When you try to read&write on a failed MacBook drive after a data loss, you are at risk of permanent data loss. It overwrites old data and reduces data recovery chances.
Software Failures
The most common problem is data loss during a system update or when the system crashes, such as during a power outage.
Disk Failures
One of the most challenging cases is physical problems with the disk. If it is damaged or there are malfunctions in its sectors, you may lose data forever. It is almost impossible to foresee such breakdowns, especially if the utility program that processes the tasks of this device has failed.
How to Choose Data Recovery Software
Since the information is deleted directly on the user's device, it is essential to understand the incident's circumstances and, based on this information, decide which recovering application to choose:
Operating system of the device.
OS version and bitness.
Supported file systems.
Presence of backup.
Preserving the partition structure.
Hardware failure (e.g., disk errors, malware threats).
Partition/directory with user files encrypted or not.
It is necessary to build on each of these factors or their combination. Some versions of programs are designed exclusively for Mac. Some apps may be cross-platform, for example, Stellar Data Recovery Professional, which runs on macOS and Windows. Some allow you to create standalone boot disks and can run without an operating system (which is preferable).
Top 5 Mac Data Recovery Software
Here is a list of the five best Mac data recovery software solutions.
Stellar Data Recovery Professional for Mac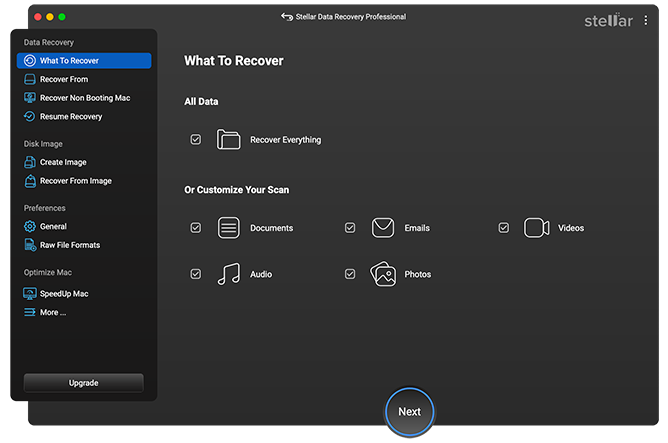 Stellar Data Recovery has been on the market for more than 20 years, and the software has been recovering damaged and lost data. As a result, it places a high value on the users' needs.

The user-friendly interface makes it extremely simple to use. Furthermore, it performs admirably with large amounts of storage.
As a result, you can recover all of those large files in a short period of time. It also allows you to select and add the most recent file headers. Besides, you can improve the software's features and use it to solve advanced recovery problems.

Pros:
Compatibility with the most recent operating systems including macOS Ventura.
Quick scanning expedites recovery.
Data is recovered from a crashed or non-booting Mac.
Recovers files that have been lost due to USB errors, partition loss, or from an unrecognized drive.
Compatible with Macs with M1, M2, and T2 chips.
Cons:
Deep Scan feature might run slow from time to time.
Conclusion:
Stellar Data Recovery Professional for Mac is a powerful tool for recovering almost any deleted or lost file, including images, videos, audio files, and documents. If you accidentally deleted important files from your Mac or your data disk was damaged, Stellar Data Recovery will almost certainly recover them.
Easeus Mac Data Recovery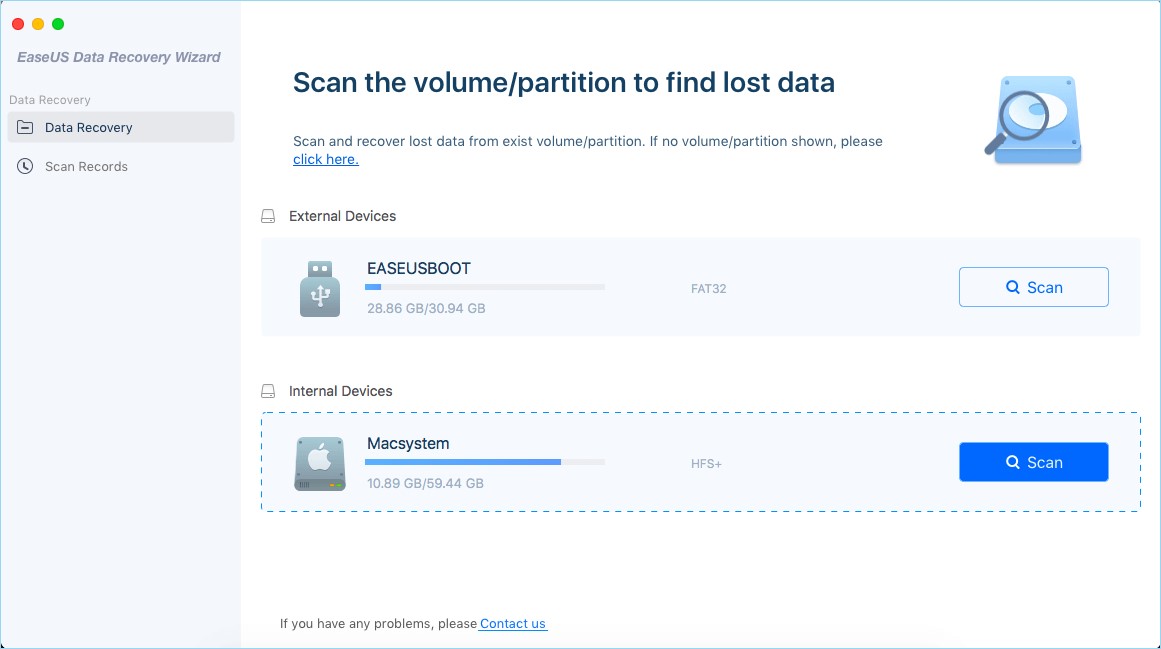 The goal of modern data recovery software is convenience. As a result, EaseUS data recovery focuses on improving user-friendliness by adapting to user needs.
The scanning process is one of its most intriguing aspects. It recovers all deleted files from your internal and external storage devices. Afterward, you can sort the files in various orders to select the ones you want to retrieve.
It is primarily intended for recovering lost files due to unintentional deletions or drive formatting.
Pros:
A quick scanning process quickly recovers lost data.
Scan results are neatly organized, making it simple to find the items you want to recover.
Cons:
Not all commonly used file formats can be viewed.
Disabling the default collection of user data is difficult.
Conclusion
EaseUS, a free data recovery software, is a useful app for unintentional file deletions.
Cleverfiles Mac Data Recovery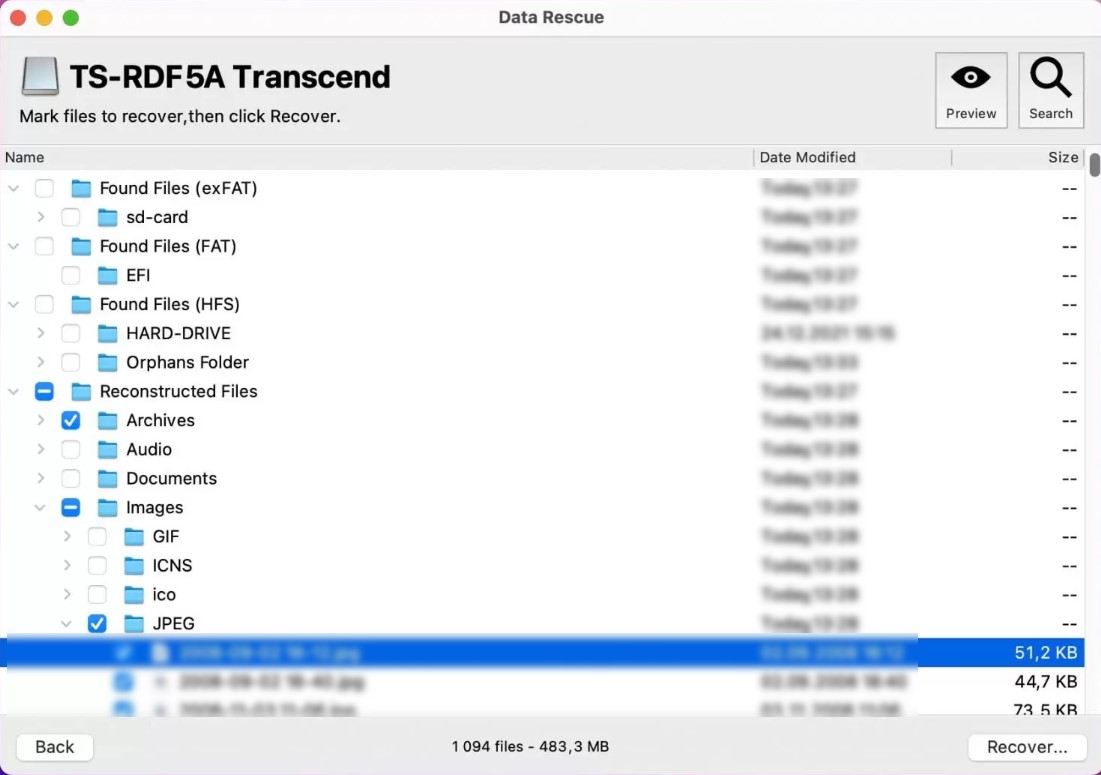 Scanning a large amount of data can take a long time. As a result, Cleverfiles Mac Data Recovery guarantees you great speed. Furthermore, it allows you to customize the scanning process to your liking.
Additionally, you can use the software on three devices with a single registration. Unlike other data recovery software for hard disks, it runs in the background.
It also detects potential threats, safeguards data, and generates backups. As a result, you get a complete solution for securely storing your data.
Pros:
Compatible with macOS and Windows.
Protects and keeps the vault data safe.
Cons:
No phone support.
Doesn't repair damaged partitions.
Conclusion
Disk Drill is a program that can scan, recover, and protect data from various storage devices, including internal and external hard drives, cameras, USB flash drives, etc.
WonderShare Mac Data Recovery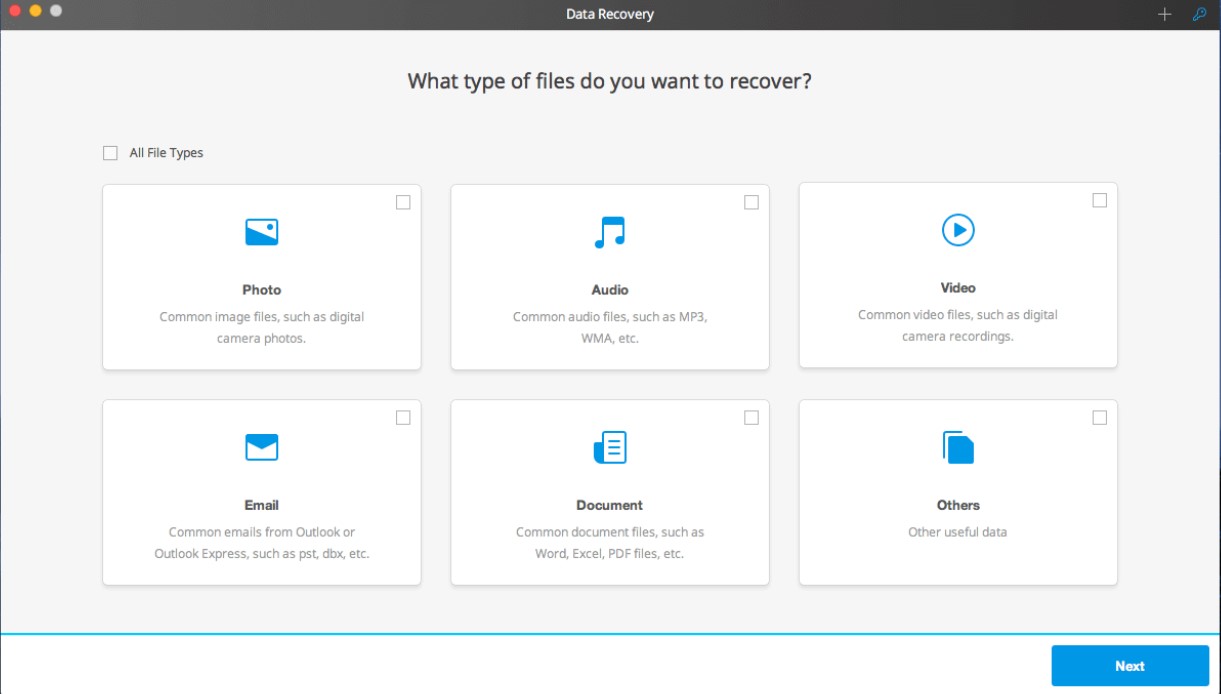 Wondershare Recoverit for Mac can restore lost or deleted graphic photos, videos, office documents, email attachments, and other files.
Recoverit Mac Data Recovery only recovers lost data from Mac for free up to 100MB, which is usually insufficient. However, this Mac data recovery software could be useful if we only accidentally deleted a few photos or documents. For large-sized lost videos or files and advanced corrupted video repair and recovery options, subscriptions are required.
Pros:
Data recovery from a crashed Macintosh HD.
Mac advanced video recovery and repair.
T2 and M1 Mac compatible.
Before recovering, preview thumbnails.
macOS 13 - OS X 10.10 compatibility.
Encrypted APFS, encrypted HFS+, FAT32, exFAT, ext2, ext3, and ext4 file systems are supported.
Cons:
The NTFS file system is not supported.
Free Mac data recovery up to 100 MB.
Conclusion
Wondershare Recoverit recovers Mac data lost due to accidental deletion, formatting, virus infection, improper operation, unexpected power outage, and other unknown causes.
Tenorshare 4DDiG Mac Data Recovery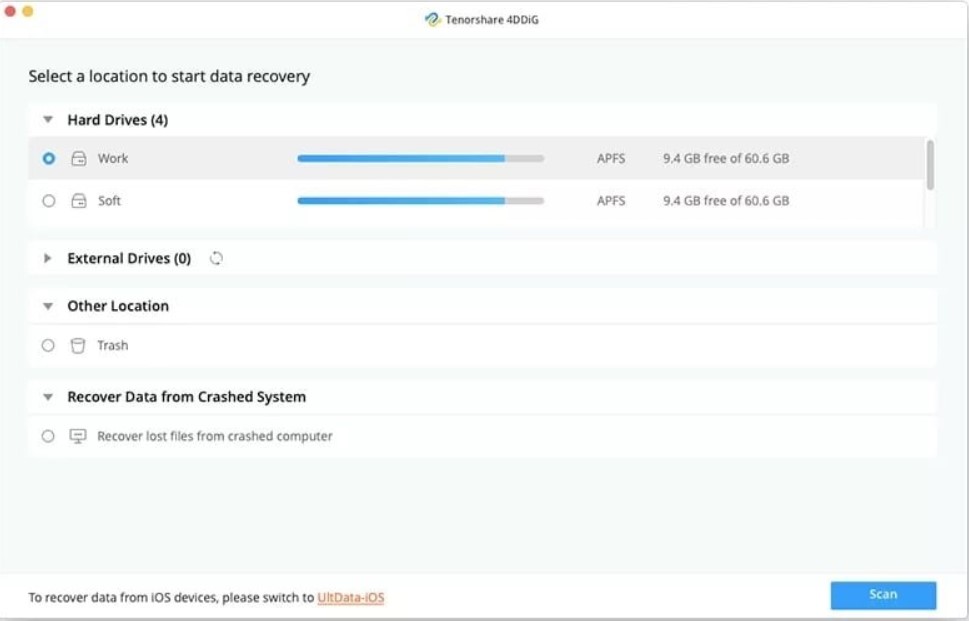 4DDiG is a file recovery program that can restore any lost file in seconds. 4DDiG can recover all your files, whether they were deleted accidentally or lost due to partition recovery, virus attack, formatted drive, or crashed computer.
Another factor that makes 4DDiG a good data recovery solution is the Data Integrity Guarantee, which ensures that your data is recovered in its original format and size.
Similarly, 4DDiG allows you to stop scanning for lost files in the middle and resume any other time. So you don't have to worry about scan time.
Pros:
Technical assistance.
It works on both Mac and Windows OS.
Cons:
Large file recovery takes longer.
No free trial.
Conclusion
All external and internal drives are compatible with 4DDiG. All of the drives and folders on your computer can be recovered. Additionally, You can restore data from external hard drives, music players, drone cameras, digital cameras, memory cards, and other devices. It supports the NTFS, exFAT, and FAT file systems.
Quick Comparison Table
| | | | | | | |
| --- | --- | --- | --- | --- | --- | --- |
| Application Name | Supported OS | Supported File Types to Recover | Data Recovery from Crashed Mac | Drawbacks | Demo Version | Price |
| Stellar Data Recovery | macOS Windows iOS | photos  videos audio libraries music files PowerPoint decks PDFs  Word documents Excel workbooks email files other | Yes | Deep scan is slower | 1 GB free | 1 year - $89.99 |
| Easeus Mac Data Recovery | macOS Windows iOS Android | photos  videos music files documents  emails other | Yes | Scan of large files is slow | 2 GB free | 1 year - $119.95 |
| Cleverfiles Mac Data Recovery | macOS Windows | documents music photos videos other | Yes | No live support | 500 MB Free | 1 year - $89.99 |
| WonderShare Mac Data Recovery | macOS Windows | photos  videos music files documents  other | Yes | Not all file types can be previewed | 100MB Free | Most Popular 1 year - $99.99 |
| Tenorshare 4DDiG Mac Data Recovery | macOS Windows | photos  videos music files documents  emails web files other | Yes | Limited functionality in free version | Free Preview | 1 year - $49.95 |
What to Do if Recovery Software Didn't Help?
If you haven't restored all the needed files using the restoring software, you can try to get your files back using Time Machine.
To do that: 
Open the Utility window.
Click Command + R if you have an Intel-based Mac.
Press and hold the Power key if you own Mac with Apple Silicon.
Choose Restore from Time Machine backup > Continue.
Select the disk you want to restore your files from.
Select a needed backup date.
Choose the destination disk on your Mac and click Restore. 
Finally, restart your Mac.
How to Avoid Data Loss?
Data loss prevention begins with taking the necessary precautions to safeguard your data. Here are several steps you can take right now to avoid data loss in the future:
Keep your Mac clean and dust-free.
Make sure your computer does not get overheated.
Regularly save and back up your files to multiple locations with encryption.
Make a disk backup before you notice the first signs of a hard drive failure.
Maintain the most recent version of your anti-virus software.
Never open any suspicious emails or attachments.
Only delete files you're sure about, especially system files.
Wrapping Up
Each of the programs mentioned above performs, in fact, the same task. What is the best and most universal solution? We recommend Stellar Data Recovery Professional software if you want an easier and more effective way to recover your deleted or lost data. It quickly scans the system for lost information on laptops and desktops. It works with external hard drives and other media, regardless of file type. All other apps on our list that are worthy of use can attract with their interface, additional options, and the ability to work without installation in the system.