This Mac file recovery tutorial finds possibilities of recovering deleted files on your Mac comfortably. Read to know more…..
Your Mac is everything for you! It's your personal theatre, video-creator, audio mixer, database container, video-player, file editor, and perhaps your best companion.
Aren't your files on Mac your lifeline? The digital videos, pictures, songs, documents, emails, archives, and spreadsheets empower your life and your work. Without your precious files, your digital life is meaningless. Usually, things go smoothly on macOS but sometimes our life gets hit by rock bottom. Yes, we are talking about losing important files on Mac either with accidental though permanent deletion or by formatting a storage drive. On Mac, losing important video, audio, or documents files are like getting robbed on the highway. In a robbery, you can dial 911 and call the cops to grab the robbers. If you are lucky you might get back your robbed items. Society has a standard method to deal with thieves and robbers. But did you know there are a few very easy DIY Mac file recovery methods to recover deleted or lost Mac data? No? Let's see how you can recover lost Mac data with your own DIY (Do-it-yourself) hacks:
Let's do the investigation first:
#1 Is Your File(s) Really Deleted or Lost?
Lost files are either deleted permanently or they might have moved to some other location. The best method is to search your file(s) in the Trash folder and on its original location. However, if both the actions result negative, then use the Spotlight app to find your missing file.
Press Command + Spacebar simultaneously.

Enter the filename and press Return.

Identify your file from the Spotlight's result.

Double-click the file to launch.

Go to File > Properties to check the new location.
This way you can recover your missing files if it was moved to some new location.

#2 Confirmed: Files were Permanently Deleted. Now what?
We just learned how to locate a missing file on Mac with the help of the Spotlight tool. Let's consider an advance case where we are doubly sure that files were deleted permanently from the Mac.
DIY methods to recover lost files:
#1 Time Machine – The Best Free DIY Tool for Mac File Recovery
The concept of a Time Machine is simple. We have always fantasized about going back in time and change the events accordingly. This sounds adventurous. So far, a Time Machine type travelling gadget looks far from reality; however, Apple Inc. already managed to create one such Time Machine for its Desktop and Notebook Mac machines.
Introduced with Mac OS X 10.5 (Leopard) the Time Machine is a backup utility mounted on an external hard drive. Time Machine works for iMac, MacBook Pro, MacBook Air, Mac Mini, Mac Pro, Hard Drives, SSDs, Network Volumes, etc.
Upon file deletion on macOS; the user can navigate to the Time Machine utility and restore the last backed up version to a chosen destination. Time Machine works perfectly when you have deleted a file permanently or even overwritten it.
Go to top-right menu bar and right-click on the Time Machine icon.
Click the 'Enter Time Machine' option.
In the Time Machine window, use Upward & Downward arrows to navigate to a recent Time Machine snapshot.
Right-click the file you wish to restore and paste the item to its original location.
By the way, Apple's Time Capsule works with more than one Mac systems and can back-up the data using WIFI or a network.
#1.1 Can I Recover Deleted Mac Files without Time Machine Backup?
Let's go back to our example where you got robbed on a highway. You called out cops who investigated your robbery case but unfortunately, they made no progress in finding the robbers and your beloved items; you are disappointed! Now you hired a private detective agency to look for your items and identify the robber and bring them to justice.
Here, you know that cops won't be finding your robbers anytime soon hence you hired private detectives. You found an alternative to get back your items. Now, let's relate this to Mac file recovery.
In the absence of a Time Machine backup copy, you have only one choice i.e. a Mac file recovery application!
#2 Stellar Data Recovery Professional Software - The Best DIY Mac File Recovery Software
You just need to download & install the free trial version of Stellar Data Recovery Professional for Mac software & scan the Mac hard drive for possible file recovery. In fact, the process of finding lost and deleted files on Mac with this application is quite simple. Watch this video to understand the software well:
Or follow the steps:
Step 1: Visit the website and download the software.

Step 2: Next, install the software in the Application folder.

Step 3: Double-click the software to launch.

Step 4: In the first screen – customize the data recovery scan or let it be with default settings.

Step 5: In the second screen – choose the hard drive or the USB from which you wish to recover the deleted files.

Step 6: Next, in the second screen itself; press Scan and allow the software to complete the scan. Don't interrupt the process of scanning.

Step 7: When the scan is over, the software will show you all the recoverable files in a structured tree view.

Step 8: Finally, you can recover the data after you are satisfied with the preview results of the recoverable videos, audio, docs, and other files.
Note: The trial version previews the recoverable files.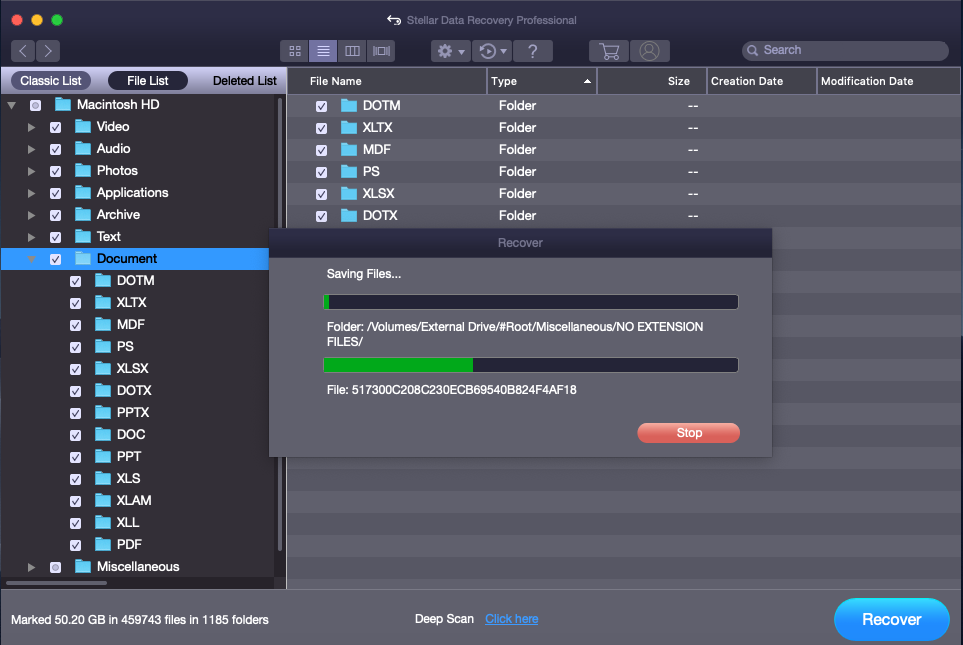 Further, Stellar Data Recovery Professional for Mac application is best suited when the files are permanently deleted from the trash, or formatted from a drive. You can leverage the application in several cases of file recovery on macOS.
Comparing Two D-I-Y Data Recovery Methods
| Time Machine | Mac Data Recovery (Get DMG for Trial) |
| --- | --- |
| Backs up Macintosh HD to External HDD | Recovers data from Macintosh HD and external hard drives |
| It can restore deleted files from Trash | The software recovers deleted files from trash |
| Can restore files that got overwritten | Can't recover overwritten files |
| Can't restore deleted data from an external hard drive | Can recover deleted files from an external hard drive |
| Supports HFS and HFS+ | Supports APFS, HFS, HFS+, NTFS, FAT, and ex-FAT |
| Time Machine backup media can get deleted or corrupted like any other external storage drive | Stellar Data Recovery Professional for Mac application can recover deleted backup files from a Time Machine medium |
| | |
Concluding the Article
We can state that Time Machine is the #1 DIY procedure for recovering deleted files from Mac. It's free and convenient. Next, #2 is the best DIY method when file deletion took place in an environment where no Time backup was created. The files can't be recreated and must be recovered by any means. Hence, software such as Stellar Data Recovery Professional for Mac is the best alternative to Time Machine. Remember: Alternative solutions work best in situations when there seems no hope of recovery; be it a case of robbery or the case of Mac file recovery.