It is frustrating to lose your valuable pictures from TF card of your camera or mobile phone. But like other memory cards, TF cards are susceptible to data loss from it.
However, there is no need to worry. You can retrieve deleted photos from TF cards in most photo loss situations.
Here we will share the powerful TF card recovery software that can recover lost pictures after deletion, formatting, or corruption.
What is TF card?
Sandisk and Motorola first launched TransFlash or TF cards to meet the portable storage requirements. Also known as T-flash cards, they are considered as a replacement of SD cards. TF cards are smaller but have all the specifications of an SD card. You can say it is a kind of microSD card but with a different name. You can use a TF card slot for microSD card as well.
TF cards are available in various capacities from 1GB to128GB.
Why are photos missing or deleted from TF card?
The tiny TF card is used in a smartphone, digital camera, nanny cam, MP3 Player and other portable devices. You may mistakenly delete media files on it, or if not managed well the chances of getting TF cards corrupted increase. Corruption can result in data loss.
General causes that can lead to loss of TF cards:
Accidental deletion.
Formatting of TF card.
Virus-infection or corruption that can result in bad sectors.
Using TF card in multiple devices.
Removing TF card abruptly from the devices.
Sudden disconnect during file transfer.
How to recover photos from TF cards?
Regardless of the cause of photos lost from TF cards, an advanced photo recovery software for TF card can rescue you from the photo loss situation.
However, you are in a safe situation despite deleted photos if backup is available. Restore deleted photos from backup drives.
Use the best TF card recovery software
Get a professional TF card recovery software to recover deleted photos from TF cards. Stellar Photo Recovery software offers support for all TF cards from Kingston, SanDisk, and others. You can quickly restore lost or deleted photos, videos and music files of any format. The software can retrieve JPEG, TIFF, PNG, RAW, DNG, and other image file formats.
You can successfully recover photos lost due to formatting or corruption of TF cards with the help of software. It can restore deleted photos with original file name and date timestamp. The smart TF recovery software lets you customize photo recovery to restore only the desired file types.
Stellar Photo Recovery has both the Windows and Mac versions. The software has a free version that offers free recovery up to 10 photos from TF cards.
Key features ofTF card recovery software for PC and Mac
Recovers photos with original name and date timestamp.
Restores from corrupt and formatted TF cards.
Supports recovery from TF cards of digital cameras and Android.
Provides 'Deep Scan' that ensures greater effectiveness.
Plus, recovers videos and audio files.
Steps to recover deleted photos from TF card
Download and launch Stellar Photo Recovery.
Connect your TF card to computer.
On the software main screen, select the TF card letter. Click Scan.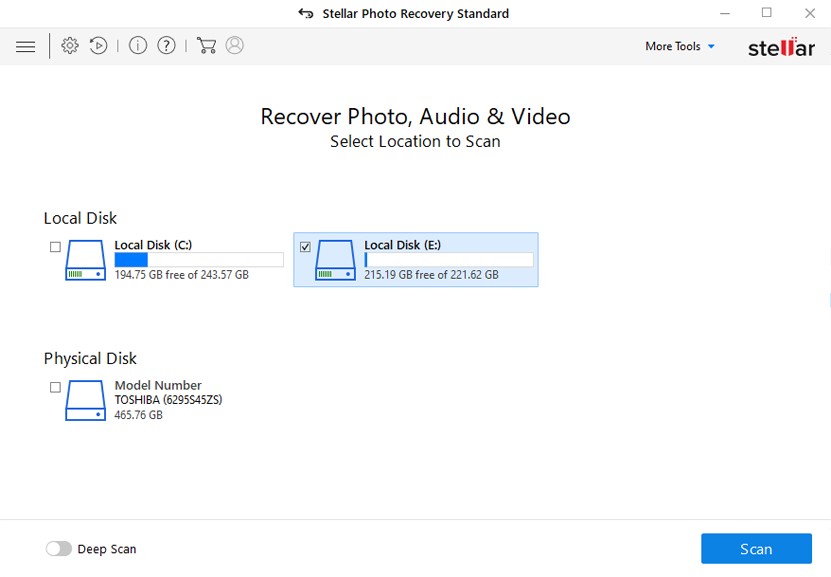 Preview the found photos. Select the ones that you want to restore and click Recover.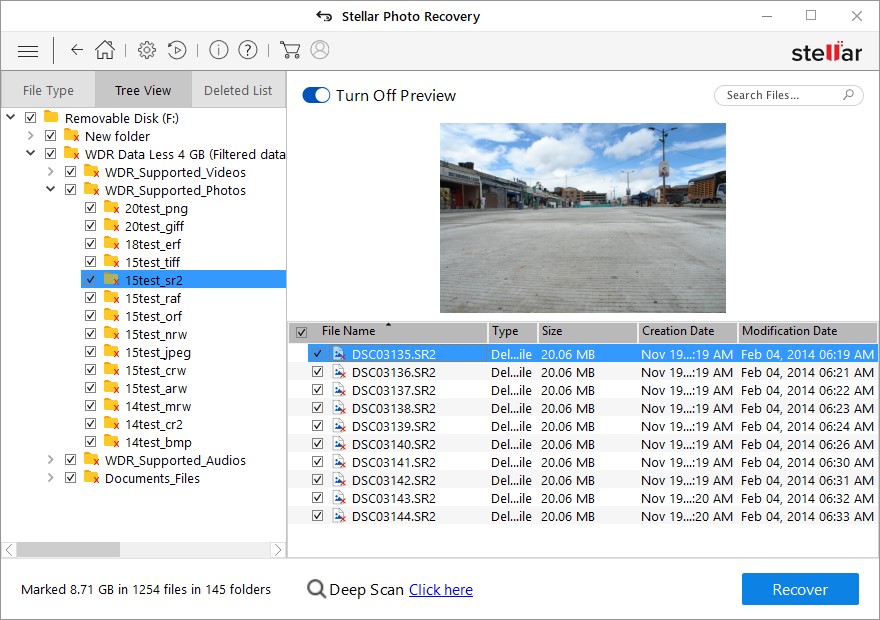 Don't mishandle your TF card to prevent photo loss
Digital data loss is unavoidable. But careful usage of your TF card can protect you from any such file loss situations. Here are some helpful tips:
Don't use your TF card in multiple devices or computers.
Always connect to a system that has anti-virus installed.
Properly insert/ remove TF card from any device.
Use TF cardholder to store them.
Keep your TF cards in dry space at room temperature.
Conclusion
The professional TF card recovery software — Stellar Photo Recovery ensures you retrieve lost photos safely without losing quality. It can recover pictures of all file types from any portable device.
However, it is advisable first to use the free trial of the software. It helps to evaluate the recovery in your data loss scenario.