Problem #1
My MOV video file fails to open on QuickTime media player. Tried to play it on Mac and Windows version of QuickTime but .mov video simply doesn't play. I receive a QuickTime black screen every time I double-click my .mov file. What should I do?
Problem #2
I recorded an HD MOV video, but soon my DSLR begin to run out of power. In a hassle, I tried hard saving the video file and got success seconds before DSLR shut down. When I ran my HD MOV video after DSLR fully charged, I noticed the video was able to run but partially. It opened up with audio and video distortion. It runs for not more than 10 minutes but has a total size greater than 150 MB. I am sure my file can play for a longer period if its sound/video and header components get fixed. How may I repair this corrupt HD MOV video file?
QuickTime Error
You may have encountered above mentioned errors while launching yours .MOV HD file via QuickTime media player. Usually, the error it throws back is - QuickTime Player can't open it. Alternatively, the QuickTime media player comes up with a black screen while attempting to play the damaged MOV video.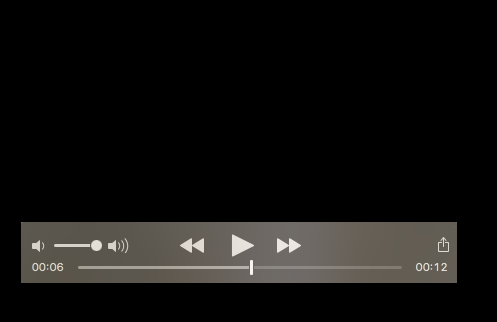 QuickTime Black Screen? Not a good sign.

Note – QuickTime will not play such videos and hence don't attempt a shortcut to perform video recovery. But don't you worry since a fine solution is just within this article.

How an MOV video goes Corrupt?
Possible reasons are listed below:
Corruption of header file resulting in QuickTime media player screen going black

Corruption of the MOV slider

Corruption of the MOV video-duration

Corruption of the video movement (MOV blurredness)

Corruption of the sound (no sound, distortion)

Hardware problem with the source device (i.e. low battery of DSLR, Smartphone)

Erroneous transfer of the HD MOV videos

Problem with the desktop's media player (outdated media player version)

Inaccurate video file conversion (inaccurately converting the MOV to MP4 etc.)

Trojans, malware and viruses (unsafe MOV file storage on the hard drives)
Can I repair MOV video file when QuickTime can't play it?
Stellar Repair for Video Software helps you fix corrupt videos of file formats – AVI, ASF, WMV, MKV, FLV, DIVX, WEBM, MJPEG, MPEG, AVCHD, MTS, MOV, MP4, M4V, 3G2, 3GP, and F4V. The said video repair application supports the reconstruction of SD (standard-definition) videos and HD (high-definition) video files. You can import your corrupt SD/HD videos files from Drone cameras, digital camera, memory cards including many DSLR. 
Please go through the below steps to repair a corrupt SD or HD MOV media file -
1. Free download the HD video repair software on your macOS or Windows computer. (Use the above download buttons to get the software instantly) 
2. From the software, click the action button – "Add File."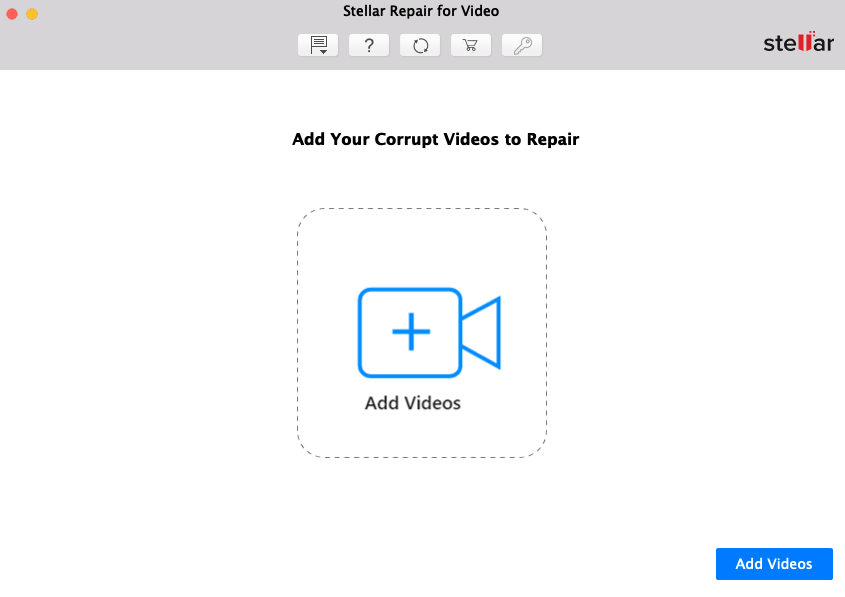 3. Upload the corrupt MOV videos from your computer's hard drive.
4. Hit the "Repair button".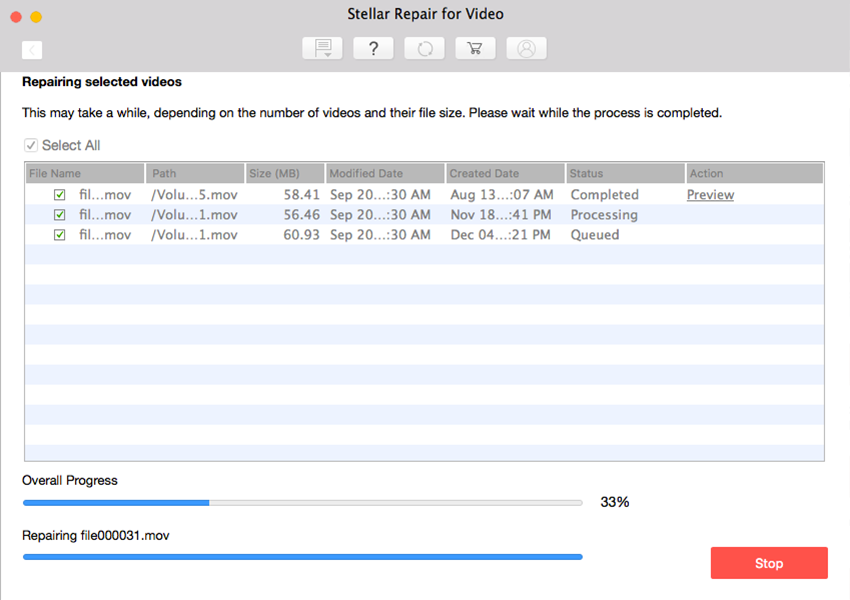 5. Let the repair process gets over successfully. You can monitor the repair process with the availability of the progress bar.
6. Get set for the preview of repaired MOV video files.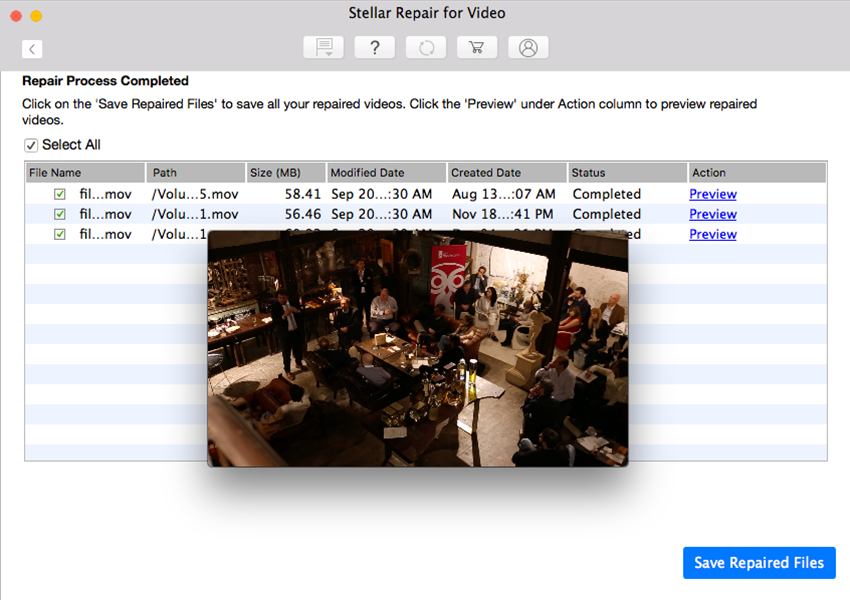 7. Now, save the playable MOV videos to your computers hard drive.

Note: After the corrupt MOV files get repaired with Stellar Repair for Video application, you can export them to your computer's hard drive and further to an iOS and Android devices using cloud storage, iTunes and 3rd-party file transfer application.
Other important tips
How to handle corrupt HD MOV videos with care?
Take some necessary precautions when you detect that your important HD MOV video formats have gone corrupt. Below is the list of action that you must adhere to handle damaged high definition video files correctly:
File

Extension

- Don't change or mess the video file(s) by updating its file extension.

Backup

MOV

- Do backup your corrupt HD MOV video(s) to iCloud or an external hard drive. With the backup of your corrupt HD video files, you can quickly restore a least corrupt copy if the original HD MOV becomes damaged severely.

Don't

Convert

- Avoid converting the damaged HD MOV using a video converter application. Remember, only a sound video file will get converted successfully to another video format.

Save it from Malware

- Avoid saving your corrupt HD video files on computers that have got intruded by malware/viruses or has bad sectors.
Important Articles
Repair WMV Video: Quick Fix your Corrupt WMV Files