Drive Formatting in Windows refers to preparing a storage media for data storage. Formatting defines a selected file system database on the drive, which is recognized and supported by the operating system. For instance, Windows OS supports NTFS, FAT (FAT16/FAT32), exFAT, and ReFS file systems—any other file system is recognized as RAW and can't be accessed in a Windows PC.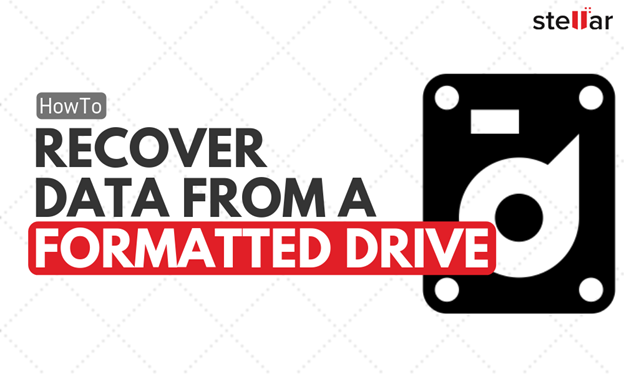 What Happens During Drive Format?
When a drive partition is formatted, the existing file system database that contains the pointers (address) to the data on the drive is overwritten by the new. When that happens, all data from the drive is permanently lost.
FAT file systems such as FAT16, FAT32, or exFAT uses the File Allocation Table (FAT) database while the NTFS file system uses the Master File Table (MFT) database.
The data lost after formatting can't be accessed or recovered without the help of Windows data recovery software. In this guide, you will learn how to recover data from a formatted partition in 3-Simple steps.
Steps to Recover Data from Formatted Partition
To recover data from a formatted partition, follow these 3-steps:
Step 1: Select
Download, install and run Stellar Data Recovery software on your Windows PC. Then select which files you wish to recover. You can choose 'All Data' or specific file types from the given options and then click 'Next.'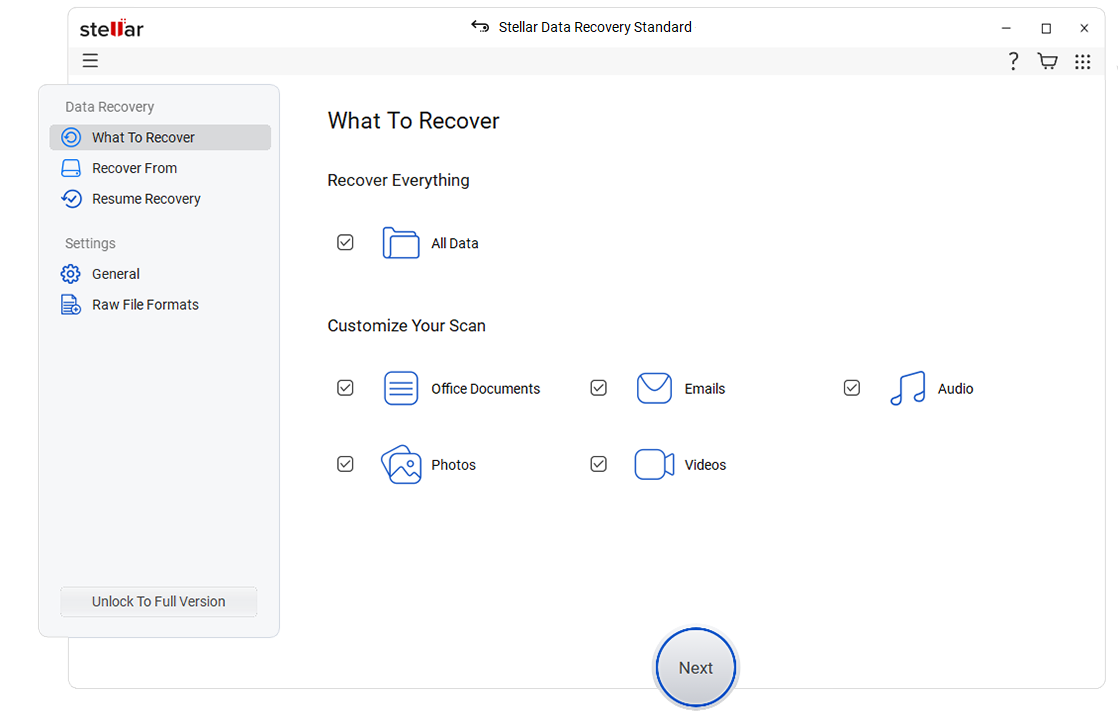 Step 2: Scan
Select the formatted drive partition listed under 'Connected Drives,' turn on 'Deep Scan' toggle switch at the bottom left and then click the 'Scan' button.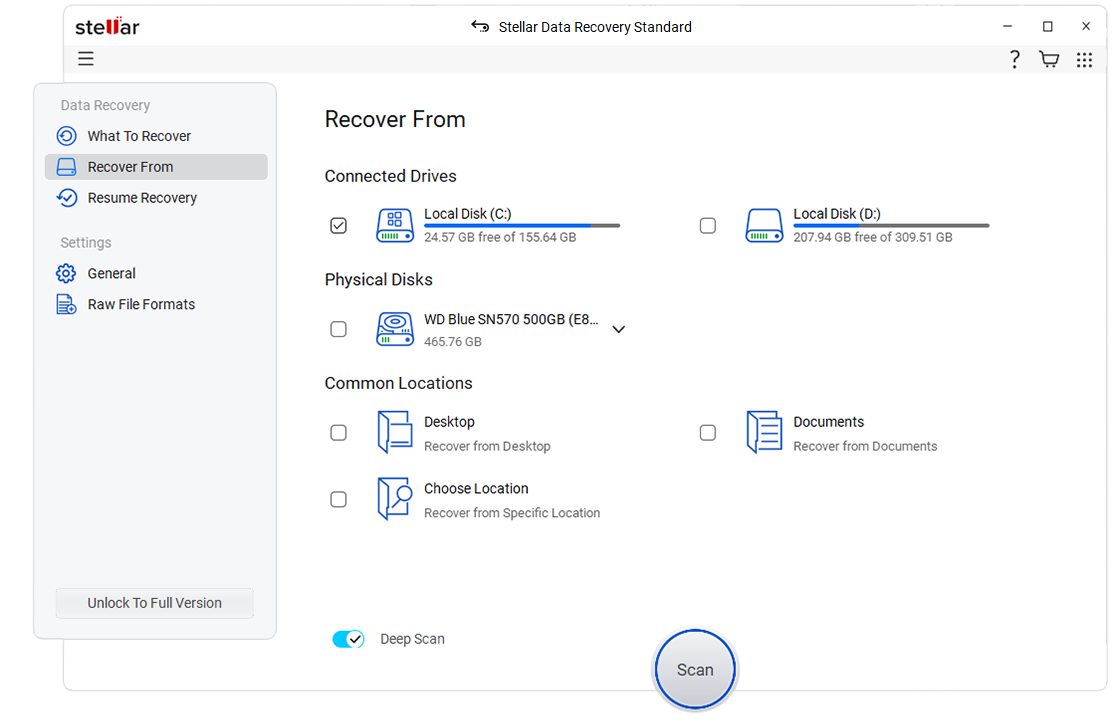 Step 3: Recover
After the scan is finished, you can sort the scan results according to file types from the left pane; preview recovered photos, videos, documents, audio files, etc. and select files that you wish to save.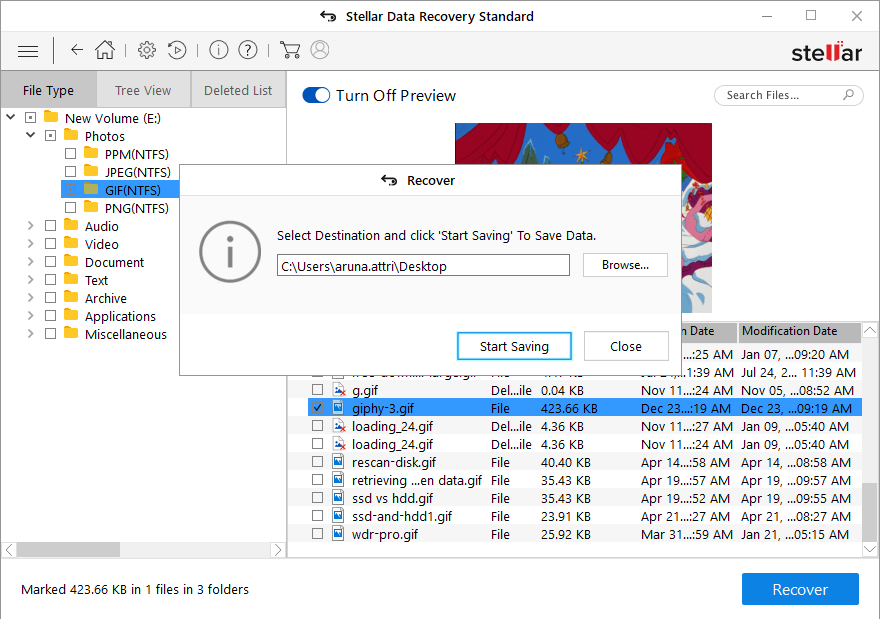 Click the 'Recover' button, select location, and then click 'Start Saving.' That's it!
Tips to Prevent Permanent Data Loss
Keep a regular backup of your critical files on an external drive and cloud storage
Always eject and safely remove external drives before unplugging
Get a reliable antivirus, anti-malware, and web protection
Stop using the storage media and the system after data loss to prevent overwriting
Immediately use Stellar Data Recovery software to recover lost, deleted, and formatted files when the backup isn't available
Monitor hard drive's SMART status with tools such as Drive Monitor and CrystalDiskInfo
Defragment hard drive regularly and run

CHKDSK

scan once in a while to keep storage media error free
Conclusion 

Accidental formatting is common. It usually happens when a drive partition gets corrupt, and the user gets a prompt that the drive isn't recognizable and needs formatting. Also, when a user tries to manage disk partitions using Disk Management tool or any other third-party software.
After format, one loses access to all the data that was on the drive or partition. However, with a DIY data recovery software such as Stellar Data Recovery, one can quickly recover data from formatted partition. The software lets you recover your lost, deleted, and formatted files in just 3-steps.