Regardless of whether you use a Windows machine or a Mac, data can get deleted accidentally or intentionally owing to a number of reasons. If the data is of little importance, losing it won't bother you much, however, if the data is of crucial nature, you'll need to act swiftly to regain it back. But is it really possible to recover deleted data without any modification to original content? Indeed, it is!
Hang on with us as we explore some of the easiest ways of file recovery and suggest trustworthy file recovery software for Windows and Mac that'll help you catch hold of all data that you thought you had lost.
Let's Begin – Reasons Behind Data Loss
Before we jump to the solutions, let's take a brief look at the primary reasons for data loss in Windows and macOS. If nothing else, this knowledge will help you in preventing human errors that can lead to data deletion.
Unplanned system format without having a recent backup
Accidentally emptying the Windows Recycle Bin or macOS Trash without restoring needed files
Development of bad sectors on your computer's hard drive
Virus or Malware attack on your hard drive
Physical damage to external media containing your data
Power surges causing your hard drive to crash
File system corruption leading to data erasure
Accidentally deleting data while clearing space on the hard drive
The list is actually quite long. As is evident from the reasons pointed out above, data loss is a very common phenomenon that can happen to anyone in any way. The slightest of glitch on your part could cost you loss of vital personal or professional data. Thus, you should know some easy ways to try and catch hold of it at your end before rushing off to the service center.
Now, here are the 6 free ways to perform deleted file recovery: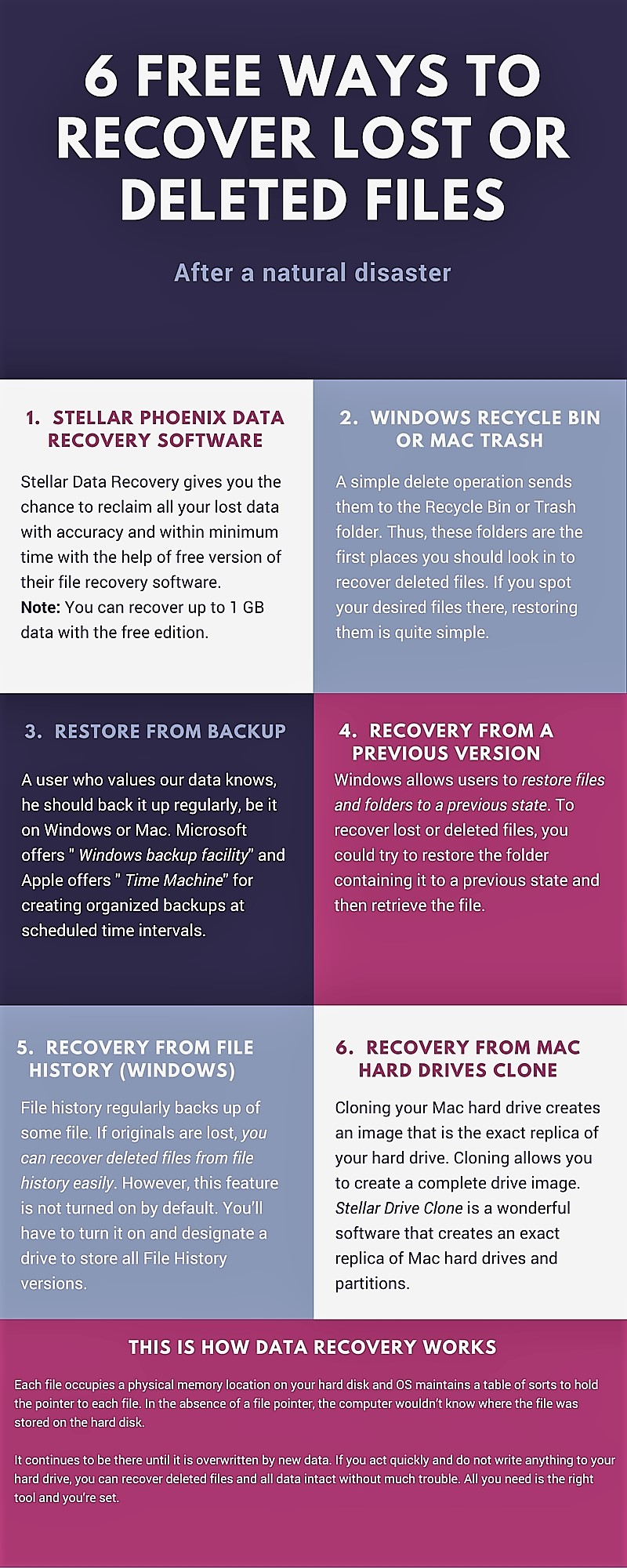 1. Stellar Data Recovery Software Free Trial for Windows and Mac
Stellar Data Recovery software gives you the chance to reclaim all your lost data with accuracy and within minimum time. These recovery software for Windows and Mac operating systems shows you the preview of the recovered files before recovery and then data can be saved at the desired location on the hard drive or external media. The products have interactive GUIs that make working with them very simple and are loaded with impressive features to fight data loss in complex scenarios. You can download the free trial version of Windows and Mac data recovery software from below links:
Stellar Phoenix Windows Data Recovery Professional is a one-stop solution for all your data recovery needs. This advanced tool offers a variety of recovery solutions that incorporates Drive Recovery, CD/ DVD Recovery, Photo Recovery, Email Recovery, Advance Recovery Options and Recovery from an Image file. It also provides the facility to clone corrupt drive. Lost emails from popular desktop mail clients such as Microsoft Outlook and Outlook Express can also be recovered using the tool. Apart from providing assistance in partition recovery operations, the tool is compatible to recover more than 300 file formats. Watch the below video tutorial of the Stellar Phoenix Windows Data Recovery tool in action.
Stellar Phoenix Mac Data Recovery Professional allows accessing inaccessible data files from multiple file systems that include HFS, HFS+, FAT, NTFS, Ex-FAT etc. The advanced recovery components proficiently scan encrypted files systems to undelete and restore data back on the device. RAW file recovery on lost volumes is supported. Also, the tool offers recovery of data from Time Machine Backup drive and is compatible with MacBook Pro, iMac, MacBook Air and Mac Mini. The tool can recover data from encrypted or password-protected hard drives. Watch the below video tutorial of the Stellar Phoenix Mac Data Recovery application in action.
Note: You can recover an unlimited amount of data with the registered version of Stellar Data Recovery software.
2. Windows Recycle Bin or Mac Trash Free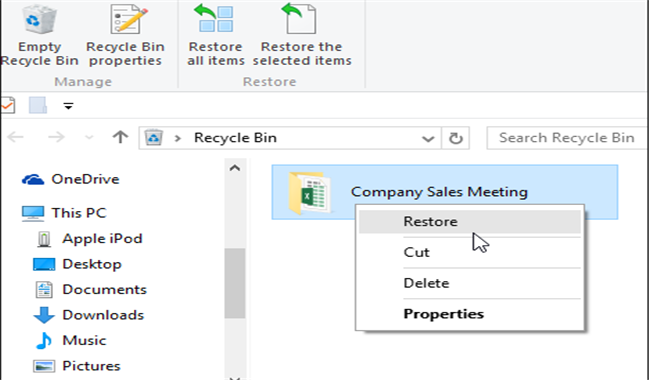 If you've not deleted files permanently (Shift+Del on Windows and Ctrl+Shift+Delete on Mac), a simple delete operation sends them to the Recycle Bin or Trash folder. These folders hold deleted files until they are emptied. Thus, these folders are the first places you should look in to recover deleted files for Windows. If you spot your desired files there, restoring them is quite simple.
On Windows:

Right-click on the file to be restored and click on "

Restore

"
On Mac:

Drag the file to the desktop and then to any desired location on the hard drive
3. Restore from Backup (Windows and Mac) Free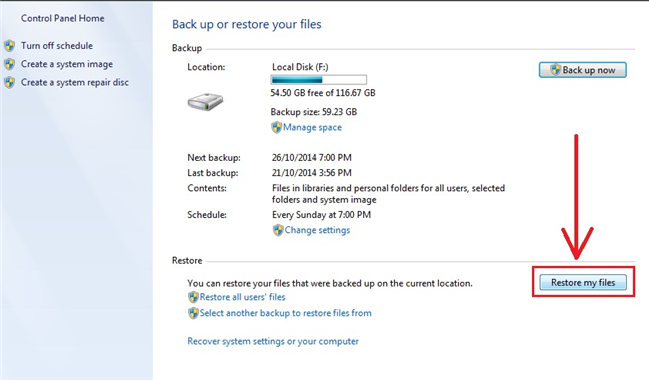 A user who values our data knows, he should back it up regularly, be it on Windows or Mac. Microsoft offers " Windows backup facility" and Apple offers " Time Machine" for creating organized backups at scheduled time intervals. Thus, if you cannot find deleted files in Recycle bin or Trash, consider restoring them from a recent backup.
Connect your backup drive to your system
On Windows:
Go to Start -> Control Panel -> System & Maintenance -> Backup & Restore
Click on 'Restore my files' and follow the subsequent steps as shown in the wizard
On Mac:
Click on 'Enter Time Machine' from the menu bar
Find your backup on the Time Machine drive
Double-click on a file to preview it and confirm that it is the one you wish to retrieve
Select the file and click on 'Restore' to restore it to its original location
4. Recovery from a previous version (Windows) Free
Windows allows users to restore files and folders to a previous state. To recover lost or deleted files, you could try to restore the folder containing it to a previous state and then retrieve the file.
Go to Start -> Computer
Navigate to the folder that originally contained the file and right-click on it
Click on 'Restore previous version' from the pop-up menu that appears
You'll see a list of available versions of the file as well as restore points (if available). Double click on a version that contains the file you wish to recover
Drag the file to the desktop or to another drive location
5. Recovery from File History (Windows) Free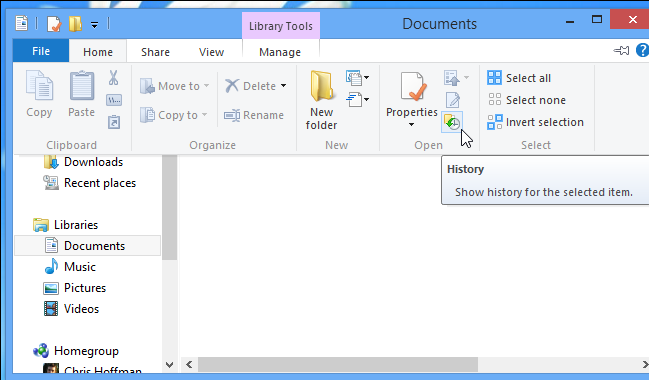 File history regularly backs up versions of Documents, Music, Pictures, Videos, and Desktop files. If originals are lost, you can recover deleted files from file history easily. However, this feature is not turned on by default. You'll have to turn it on and designate a drive to store all File History versions. Once done, you can rely on this feature to help recover lost files.
Type 'Restore your files with file history' in the search box
Enter the name of the file you're looking for
Select the file you wish to retrieve and then click on 'Restore'
6. Recovery from Mac hard drives Clone Free
Cloning your Mac hard drive creates an image that is the exact replica of your hard drive. While trying to recover file from your Mac hard drive, to avoid further damage, recovering files from a disk image is much less risky. Cloning allows you to create a complete drive image and then perform intensive data recovery operations on the image, rather than the original disk. This also helps make the process faster since reading from a faulty hard drive is more complex than reading from a disk image.

Both Stellar Phoenix Data Recovery for Windows and Data Recovery for Mac enable users to clone boot drives to external hard drives. In the case of hard disk failure, the clone copies can be utilized as the primary drive. It also serves as a backup of entire data existing on the drive. The process to clone the hard drive is simple;
Click on the 'Clone Drive' option available under 'Advance Recovery' tab

Provide 'Source Disk' location as well as 'Destination Disk' location.

Wait till the process is accomplished.
Similarly, in Mac Data Recovery, the clone drive process can be followed to replicate startup volume to external storage media.
This is How Data Recovery Works
If you've ever wondered how data recovery works, this section is where you'll find the answer.
When a file is deleted from a computer, it is not physically removed. Only the pointer to it is deleted. Let us explain this in a simpler way. There's a ton of data stored on your computer in the form of documents, photos, music, video files etc. Each file occupies a physical memory location on your hard disk and the operating system maintains a table of sorts to hold the pointer to each file. This table helps the operating system to find files and load them into the memory whenever you request access to them. In the absence of a file pointer, the computer wouldn't know where the file was stored on the hard disk. In other words, if the pointer to the file was deleted, the computer wouldn't know if the file existed on the hard disk or not. Data deletion/formatting erase this file pointer.
So basically only the operating system's knowledge of the file's location is erased, not the file itself. It still resides on the hard drive after being deleted. And it continues to be there until it is overwritten by new data. Once the file pointer is deleted, the operating system regards the storage space occupied by the file as "fit to be overwritten" by something else. So whenever you write new data to the disk, it is written on top of the "deleted" data. That's when data is actually lost beyond recovery.
Hence, after accidentally deleting data or formatting your hard drive, if you act quickly and do not write anything to your hard drive, you can recover deleted files and all data intact without much trouble. All you need is the right tool and you're set.
Want to Recover Deleted Files from SD card?
The first and foremost thing you must do is,
If the SD card is already in use, then do not pull it out in the middle as it may lead to corruption in the SD card.

Remove the affected card from the device you are using and turn off the write-protected switch to prevent any overwriting.

Mount your SD card to your computer as a drive through an SD card reader or USB cable

Ensure that you have enough free space on your system's drive to accommodate your deleted files of SD card

Once your SD card is successfully mounted to your system as an external drive, Download and run

Data Recovery Software

On your system and follow the three easy steps to scan, preview and recover your files straight on your drive.
To Sum it up
So the next time you face the loss of your crucial data immediately stops using the hard drive to avoid writing anything to the drive. Apply the easy solutions we've mentioned above and if nothing works you can always rely on Stellar Data Recovery software to help you out.
Things to Remember!
Always shut down the computer properly

Do not handle any internal and external storage devices harshly

Abrupt shut down leads to physical and logical damage

Be alert while downloading ay third-party apps

Protect your system from external threats by installing a reliable antivirus program

Always download apps from reliable resources to avoid virus intrusions
Frequently Asked Questions:
Q: Can I save recovered files to the hard drive same as the source?
Answer: Yes, Stellar Phoenix Data Recovery for Windows allows you to restore the recovered file at any desired location on the machine. Although the original file remains untouched, new files are created and can be stored at user defined location.
Q: Have successfully recovered my deleted files but now when I try to open them they won't open. What to do now?
Answer: If your recovered files are still inaccessible, you can preview them using the trial version of Stellar Phoenix Data Recovery software. If you enable to access the recovered files, you can purchase the licensed edition of the tool to restore the recovered files on the machine.
Q: Have tried free tools to recover my deleted files but no success, what can I do now?
Answer: Stellar Phoenix Data Recovery software is developed with advanced algorithms that make a difference. The freeware edition scans the existing files and folders on the machine and generated a preview of the lost and deleted files within the tool panel. You can test the freeware to preview the lost data and if you are fully satisfied with the performance of trial edition, you can proceed to purchase the licensed version for full recovery of deleted data.
Q: Accidentally hard drive dropped from my hands and now it is not accessible. Is there a way to recover files from the inaccessible hard drive?
Answer: Inaccessible hard drives can be accessed by utilizing the Stellar Phoenix Data Recovery tool. You need to download and install the Home edition of the software and follow instructions thereafter to accomplish the data recovery procedure.
Q: How to recover files if I have accidentally modified or deleted them from a folder?
Answer: The software is integrated with powerful scan algorithms that undelete accidentally deleted or mistakenly altered files. Even deleted as well as formatted files can be recovered and restored back to the machine.
Q: Have deleted my files about a year ago and now I need them back. Is it possible to recover them with your software?
Answer: Yes, Data Recovery software helps to recover data from a specific time period. All you need to do is to provide the date details to recover only specific files that have deleted within the specified time range.
Q: Is it possible to recover files from a dead hard drive?
Answer: Although the tool is proficient enough to recover data from corrupted or formatted hard drives, the only requisite is that the hard drive has to be in a working state in order to recover every bit of lost information.
Q: Unable to access the hard drive, it has many important files how to get them back.
Answer: Stellar Phoenix Data Recovery software scans the inaccessible hard drives and fetches all recoverable data out of it. The drive Recovery option will help you recover deleted data from all existing volumes.
Download, install and launch the tool

Next, select 'Drive Recovery' mode among the given tabs

Select a logical volume that needs to be recovered and click on the 'Scan Now' button

The tool will initiate scan process to generate the preview of the lost data

Once the scan completes, click on the 'Filtered Tree' option from the left pane

From the enlisted files, you can either select files that need to be recovered on a priority basis or you can select to recover the entire drive. Click on 'Recover' button

Next, in then appeared 'Select Destination' dialog box, click on the 'Browse' button to provide the destination path for storing the recovered file and click on 'OK'

The tool will then generate and display the live status report of the recovery process
Q: Deleted files are not available in recycle bin for restore, how to restore deleted files from recycle bin?
Answer: If the files are permanently deleted they do not appear in the Recycle Bin. However, temporarily deleted files can be restored back to the machine.
Launch Recycle Bin

Then double-click on the file that needs to be restored

Click on the 'Restore' button and then click on 'OK'