Summary: If you have accidentally deleted the QuickTime video containing precious photos of your kids, your marriage video, or other clips that hold deep sentimental value, then you have come to the right place. We will help you recover deleted QuickTime videos in a jiffy.

Free Download & Recover Deleted MOV Videos from Mac Anytime.


Some of the common problems associated with QuickTime videos on Catalina and Mojave are accidental deletion, formatting errors, media corruption, external drive not mounting and so forth. For efficient QuickTime video recovery on macOS Catalina, we have shared tips and tools in this article.
Also, don't delay the video recovery process especially when you have TRIM enabled SSD on your Mac. Or, you are about to overwrite the deleted video files mistakenly.
Recover QuickTime Videos from macOS Catalina, Mojave & High Sierra

Videos form a major section of the content on the Mac storage drive. The importance of videos has never more emphasized than it is at this point in technological evolution. Therefore, it is pivotal that you take the right measures to recover lost or accidentally deleted QuickTime .mov video files. You can follow one of the methods shared by us below to recover deleted QuickTime videos.
Powerful Data Recovery Software for QuickTime MOV Videos
Stellar Data Recovery Professional for Mac is an extremely reliable software for digital media recovery. The software consists of an easy-to-use interface coupled with a powerful engine that makes the recovery of deleted MOV QuickTime Videos quick and reliable. This professional data recovery software for Mac is capable of recovering MOV videos emptied from the Trash, deleted from external hard drives, Time Machine backups, encrypted hard drives, USB flash, and more. The software effectively helps you to recover lost videos if the Time Machine backup gets deleted or corrupted.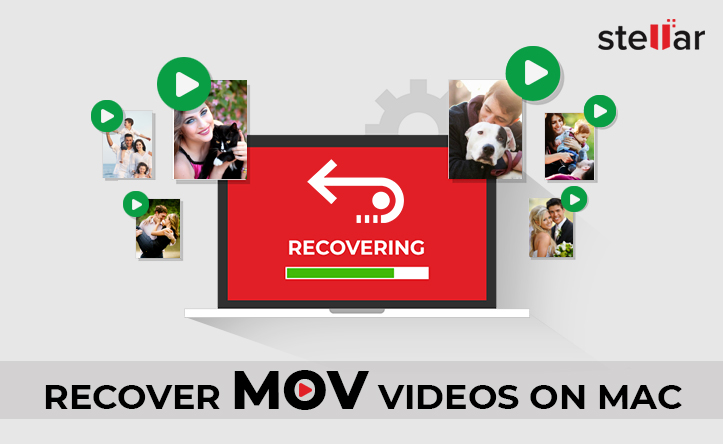 Below are the two methods users can leverage to recover deleted QuickTime videos on Catalina, Mojave, High Sierra:
Method 1: Recover QuickTime Videos from Unmounted Drive Quickly
By following the step by step guide, you can recover your deleted QuickTime video:
I. Download Stellar Data Recovery Professional for Mac.

II. Install and Run the software.
III. Customize your scan in the "Select What To Recover" interface and click Next.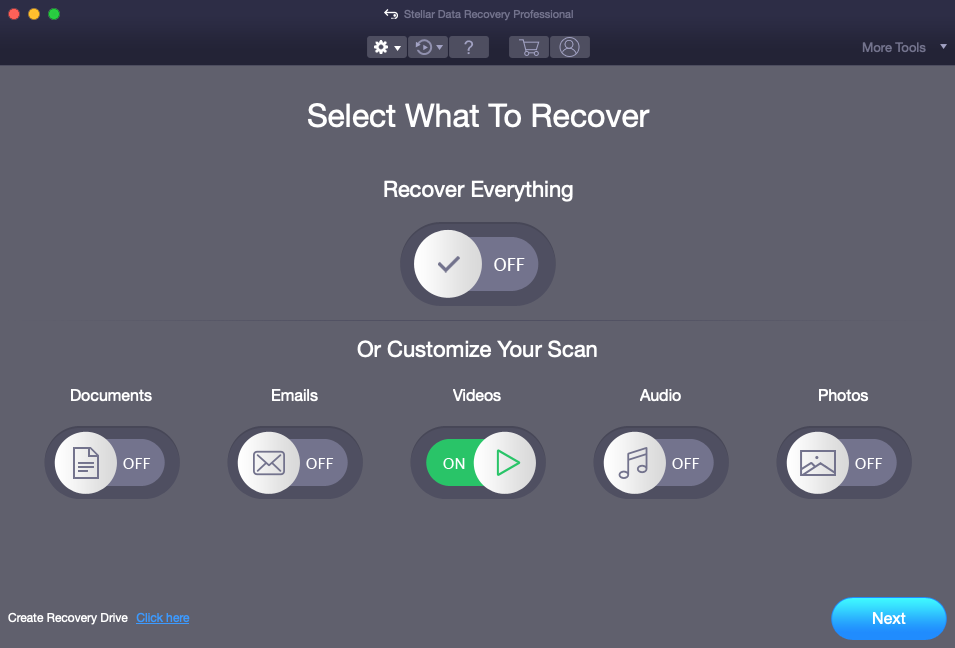 Further, navigate to the software settings and uncheck all the other video file formats except .mov files. This way you will save a good amount of time and recover just the deleted MOV videos.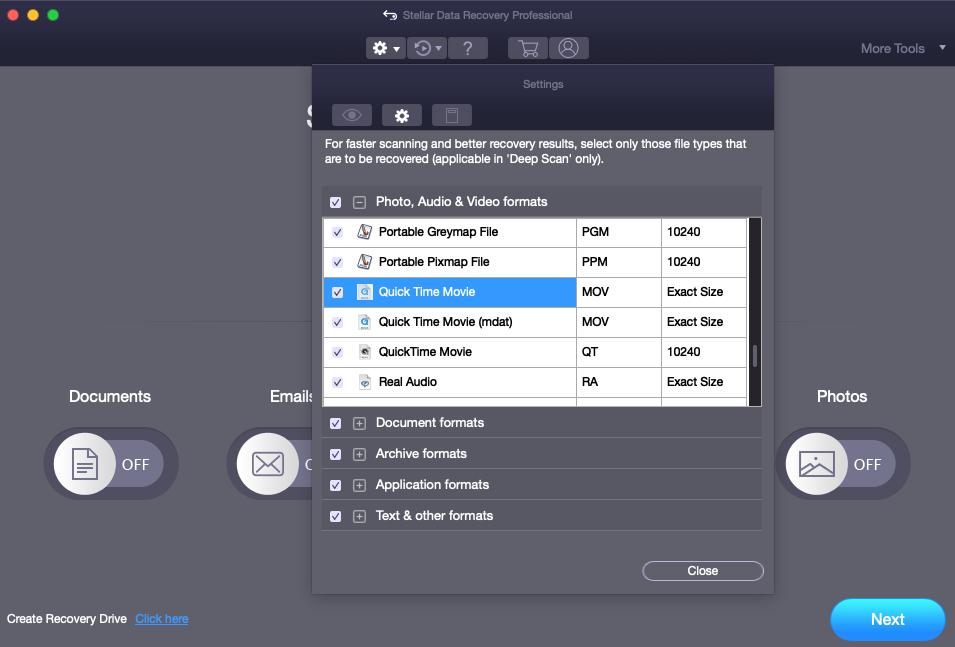 IV. Select the recovery drive from the "Select Location" interface and click Scan. [Herein, you can select an external USB drive which contains your .mov videos.]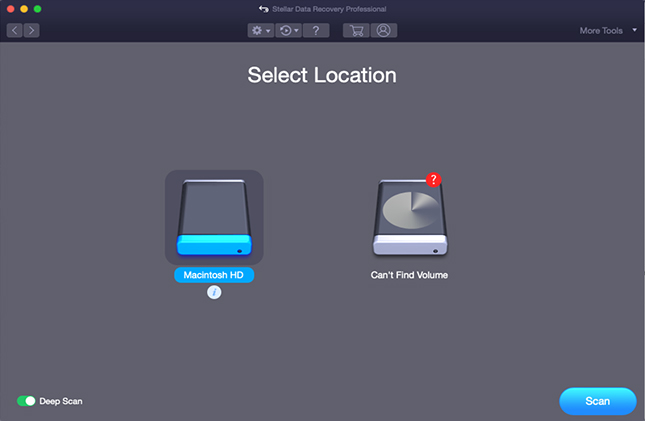 V. After the scanning process completes, the software displays all the files in a tree structure. You can choose to view files in Classic List and File List.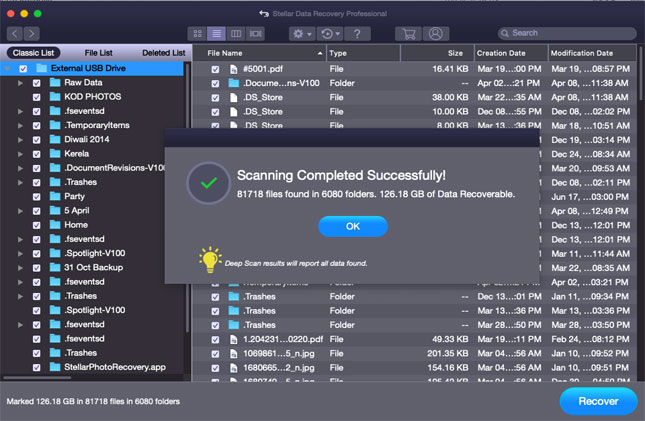 VI. After selecting the files to recover, click Recover. [You will be prompted with a dialogue box asking to select a location to save the recovered file. Any location other than the recovery hard drive can be chosen.]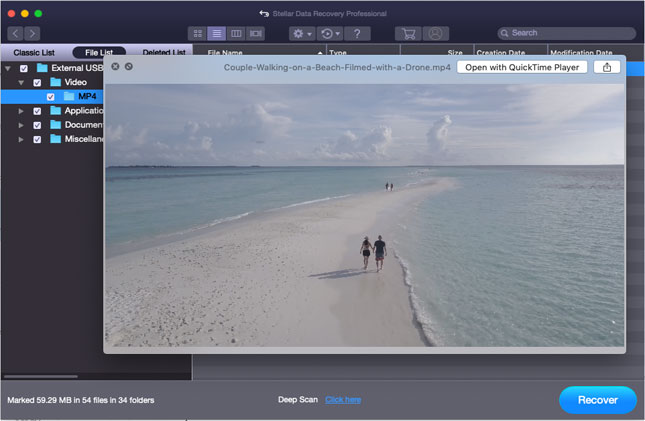 VII. Select the desired location and click Save.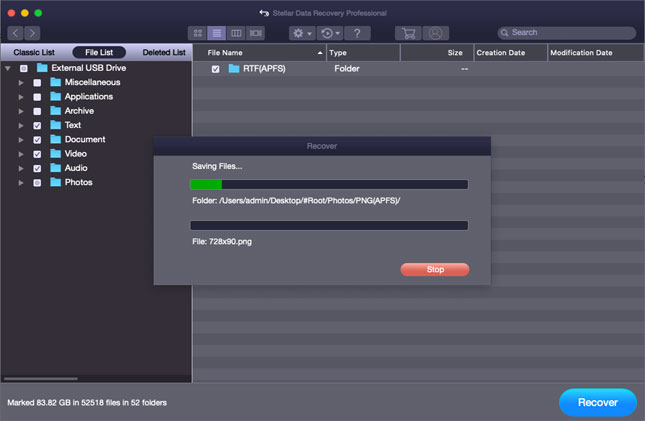 Method 2: Recover QuickTime Videos from Deletion or Formatting
Deep Scan is an integral feature of the Stellar Data Recovery Professional for Mac software that offers video recovery from Mac's internal as well as external storage devices. It facilitates a thorough scan of the drive for restoring deleted or erased video files. By turning on Deep Scan option, you can even recover QuickTime videos from an internal/external or logically damaged Mac drive. The Deleted List view of files is only available if you turn on the Deep Scan feature. Below are the steps to recover QuickTime videos from corrupt volumes using Deep Scan feature:
I. Launch the software and choose Videos from "Select What To Recover", then click Next. 
II. Select the recovery drive from "Select Location", then toggle on Deep Scan at the bottom left corner of Location interface and click Scan.
III. Follow the subsequent steps as mentioned in the first method and effectively recover your corrupt QuickTime videos.
Pros of Stellar Data Recovery Professional:
Video recovery
Supports many video files
Supports data recovery as well
Stellar Data Recovery Premium for Mac supports repairing corrupt videos including .mov file and photos on Mac.
Cons:  

Not free
In Conclusion
Hopefully, the article has successfully resolved all your queries related to MOV video file recovery on Mac. Stellar Data Recovery Professional for Mac is a useful software to have as it can help recover your deleted video files from various storage mediums. A couple of methods to recover deleted QuickTime videos have been discussed in this article. One helps you quickly recover deleted videos from an unmounted external drive; while the other helps recover QuickTime videos from permanent deletion. You can download the Free trial version to experience the software's functionalities.