Data loss is one of the most inconvenient and potentially disastrous events for a computer user. When confronted with such a situation, it's easy to get into a state of panic. The only thing you can do to get your data back is to perform data recovery with the help of tools especially designed for the purpose.
Now if you have a Windows computer, you can restore your data with the help of Recuva File Recovery tool. Recuva for Mac hasn't been developed yet. Thus, an alternative to Recuva File Recovery for the Mac platform is the need of the hour.
Here, we introduce you to the best Recuva for Mac alternative. But before that, let's take a look at the features provided by Recuva and then evaluate if this alternative can offer the same.
Recuva File Recovery for Windows – A Brief Overview
When it comes to data recovery for Windows PCs, Recuva is often regarded as a must-have tool. Its easy-to-use capabilities might come in handy whenever files get accidentally deleted, formatted, or are lost from your Windows PC or portable media.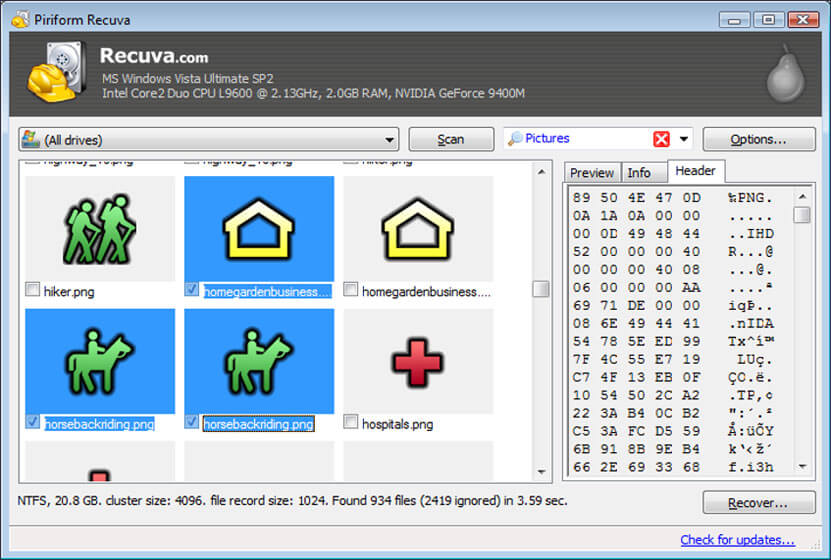 Here's a sneak peek at the features of Recuva:
You can breeze through data recovery tasks by using the Recuva wizard. It guides you through all the steps and clarifies any ambiguities.
You need not install the software to perform recovery tasks. It's pretty much a plug-and-play tool.
You can search for deleted files using a quick standard scan or a more thorough deep scan.
In order to locate documents that contain a specific text string, Recuva scans inside the files.
You can recover files from corrupted or recently reformatted hard disks, USB drives, memory cards, BD/DVD/CDs, and MP3 players.
You can restore the whole folder and file structure by enabling the settings.
It is possible to get Recuva in both 32-bit and 64-bit versions.
It's compatible with drives up to 3 TB of storage.
Many Mac users post queries across technical forums looking for Recuva for Mac. However, the truth is that Recuva is not available for Mac and neither do its makers have any plans of developing a version in the near future.
So then, which software can Mac users trust for impeccable Mac data recovery?
Stellar Data Recovery Free Edition for Mac – The Best Recuva Alternative
Stellar Data Recovery Free Edition is among the most popular and efficient alternatives to Recuva. It helps users recover lost or deleted data on Mac in an extremely safe and simple manner. It has made data recovery for Mac feasible with a sophisticated recovery engine and straightforward user interface. Many free Mac data recovery tools only recover data from removable media, however, this one recover files from both Mac devices as well as external backup drives.
What makes Stellar Data Recovery such a great Recuva Substitute?
Here are some benefits of using Stellar Data Recovery for recovering data from Mac:
You can recover all types of files including documents, images, videos and audio files.
You can scan and find files and folders in a variety of formats, like PDFs, CSV, PNG, etc.
You can preview photographs, documents, emails, and archives before saving them. 
When a scan is running, you can halt/pause it as soon as you locate the items you want. This can save much of your time.
It's fully compatible with APFS, HFS+, HFSX, FAT16, FAT32, exFAT, and NTFS file systems.
It has a free complete version to assist you recover files on Mac for free. However, there is a limit on the files size to be recovered.
How to Perform Data Recovery with Stellar Data Recovery Free Edition?
Head over to Stellar Data Recovery's official website and download the installer. Thereafter, install the software by double-clicking the file.
After the software has been installed, launch it to view the home screen. From here, select the kind of data you wish to recover and click on Next.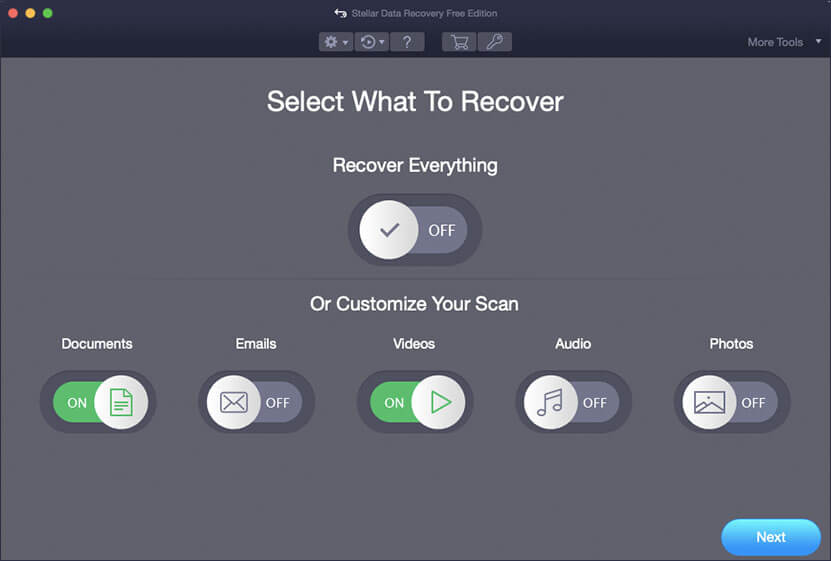 Choose Macintosh HD as the recovery drive. Also toggle on the Deep Scan option and proceed by clicking on the Scan button.
Once the scan completes, all recoverable files will be displayed in a tree-view format in the left-hand sidebar of the software interface. From here, select any file for preview and then save it to the desired location.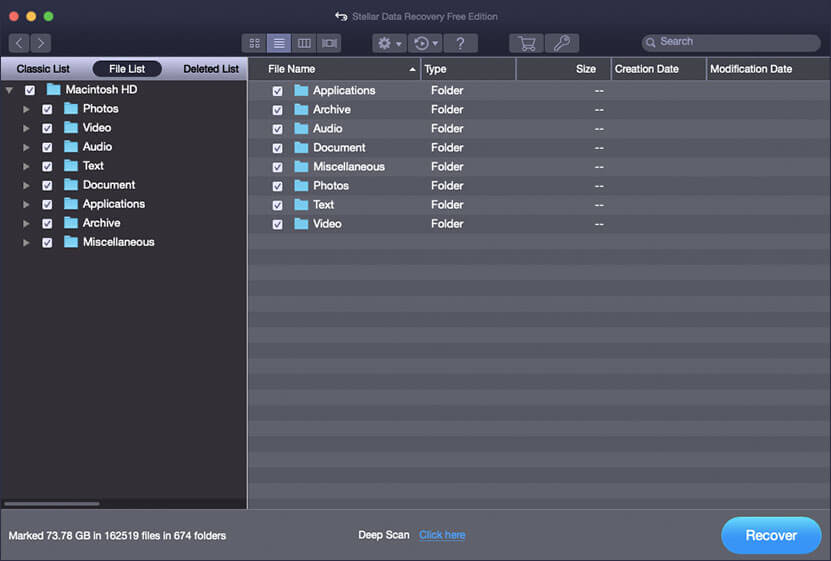 Without a doubt, that's the easiest Mac data recovery process you can come across. But if you'd like, you can try some other Recuva File Recovery alternatives listed in the next section.
Other Alternatives for Recuva
1. PhotoRec
At first, PhotoRec may appear to be a poor alternative for Recuva due to its lack of graphical user interface, but the two tools actually have a great deal in common. They both, for example, provide a recovery wizard that helps you through the data recovery process and restores your files with the least amount of effort possible. It supports hundreds of file formats like Recuva. It can recover data from Windows (NTFS, FAT, exFAT), Mac (HFS+), and Linux (ext2/ext3/ext4) file systems.
Pros:
It is a free and open-source tool.
It provides functionality over multiple platforms, such as Linux, macOS and Windows.
Cons:
You can't preview recoverable files on the screen.
It has a very mundane command-line user interface.
2. R-Studio
When it comes to data recovery software, R-Studio appeals to both power users and IT professionals. While Recuva can retrieve files only from the internal storage devices, R-Studio has the ability to retrieve data from users connected to a local server or the internet. The tool comes with features that regular PC users may or may not appreciate, but IT professionals surely admire it for its advanced features, like hex editor, disk imaging, or RAID reconstruction.
Pros:
It has powerful features that can handle large volumes of data.
It can run on Windows, Mac, and Linux.
It has advanced recovery algorithms.
It can recover data over the network.
Cons:
It is not suitable for regular PC users since it has a few features that are too technical.
3. DiskWarrior
This is a Mac drive repairing and data recovery application that can fix typical file system errors that may prevent users from accessing macOS files and documents with a single click. It can analyze hardware problems and let you know when it's time to buy a new hard drive. DiskWarrior falls behind the other Recuva alternatives when it comes to file recovery because it can only recover files that have become inaccessible due to permission issues. You can use a different solution if you want to retrieve irreversibly erased files.
Pros:
It can repair faulty sectors in hard drives.
It can monitor the health of hard drive.
Cons:
It cannot recover irreversible erased files and data.
Conclusion
Since Recuva for Mac isn't available right now, you can look for reliable Recuva alternatives such as Stellar Data Recovery Free Edition for Mac. The software can recover files from macOS or any external media, like SD cards, USB flash drives, HDD, etc. with ease.