SD cards have gained immense popularity as the preferred media for storing photos, videos, and audio recordings in digital cameras, tablets, smartphones, drones, security cameras, etc. Compact, high-capacity SD cards with faster read/write speed are convenient for saving large-sized images, videos, movies, music files, and podcasts etc.
Nonetheless, the surge in SD card usage has also increased the risks of data loss, as they are the vulnerable to corruption and damage. SD cards may get corrupt, infected by virus, or physically damaged if not handled carefully.
The most-effective way to recover lost data from SD cards is with the help of specialized SD card recovery software. But, which is the best SD card recovery software for recovering deleted photos, videos and audio files? Not an easy question. With tons of different SD card recovery tools tooting their horns, it's confusing to pick the right one.
This article shares knowledge on how to determine the best SD card recovery software for your needs.
Look for the following key 'attributes' while selecting a photo, video and audio recovery tool for your SD card.
Essential checks while buying the SD card recovery software
1. SD card compatibility
SD cards come in various sizes, capacity, and Class. It's essential to buy the recovery software that offers widest support for different make and type of SD card. Great, if it can also recover photos and videos from other types of storage media such as hard drives, flash storage, etc.
2. Support for cameras/imaging devices
Photos, videos and audio files can come from any source — DSLR, camcorder, GoPro, drone, smartphone, iPhone, iPad, surveillance camera etc. The ideal SD card recovery software should be able to recover the media files shot with any of these devices.
3. Recovers all media file types
There are hundreds of media file types. In fact, DVR manufacturers of security cameras come up with their own video file formats regularly. Thus, it is essential that your SD card recovery software should be able to restore maximum file formats for photo, video and audio files. It's best to choose a software that can recover RAW camera files along with JPEG, TIFF, MP4, 3GP, AVI, MP3, WAV, and OGG files (of course).
4. SD recovery software for any situation
You may have lost your photos due to deletion, formatting, reformatting, corruption, bad sectors, virus infection, or during transfer of files etc. An advanced SD card recovery tool would work, irrespective of the cause of loss. It's important to note that many recovery software don't work in case of media formatting or severe corruption.
5. Repairs corrupt photos and videos (good to have)
The SD card recovery software that also repairs your media files would be a better pick from an overall value standpoint. There are several complaints related to photos and videos found to be damaged or corrupt after recovery.
Recovery of multimedia files – photo, video and audio –is different from documents recovery. Media files may hold more than one codecs and data in their containers. The videos may be of 1080p 4k resolution. You definitely don't want to deteriorate the visual and audio quality or compress the photos after recovery.
So, choose the SD card recovery software that recoups lost media files without compromising their original quality.
Note: Immediately stop using your SD card once you lose files on it, else the continuous usage will result in overwriting, which reduces the chances of recovery.
Snapshot of SD Card Recovery Software from Stellar®
Stellar Photo Recovery is a powerful DIY software for recovering lost photos, videos, and audio recordings from all types of SD cards.
It effectively restores lost pictures, videos, movies, podcasts, music, security camera recordings etc. from microSD card, macroSD cards, SDHC, SDXC, CF cards, memory sticks and others.
The software supports photo and video recovery from the SD cards used in DSLR, drone, digicam, GoPro, CCTV, car dash cam, mobile phones, and other devices. Further, it can recover any file format of images, videos and audio.
Advantages of using Stellar SD Card Recovery Software
User-friendly GUI
Quick to recover thousands of photos, videos and audio files
Works with all leading brands, type and size of SD cards
Supports recovery of all multimedia file types
Recovers camera RAW image files
Recovers photos with original name, date, and timestamp
Step-by-step Guide: Recover photos, videos, and audio files from SD card
Download Stellar Photo Recovery on your Windows PC or Mac
Connect the SD card to the computer via card reader
Launch the Stellar SD card recovery software

On the home screen of the software click the checkbox 'Everything' & press 'Next'
Select the SD card from the 'Select Location' window

3. Click 'Scan' and wait until the scan process finishes

The scan results appear. Select and Preview the found photos, videos, and audio
Select the files that you want to recover. Click 'Recover'

In the dialog box, click on 'Browse' to select the location for saving the recovered multimedia files. Never save the recovered files on the original storage media (here SD card) from where the files were deleted or lost. Choose a different location to save them.
Other methods to recover photos, videos and audio from SD cards
Sometimes you cannot access the photos, videos, and audio files stored in SD card because the card is either not detected by the computer or it prompts a Format disk message before opening.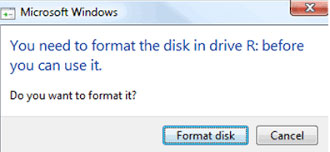 Figure: Error messages prompts to format the SD card
Errors like 'SD card is damaged. Try reformatting it' may pop up while trying to access the storage card. Such situations can be primarily dealt by performing Chkdsk command in PC. You can assign a new drive letter, if the SD card letter is not visible in the connected drive list. These methods often work and you may be able to access the media files in SD card.
Summing Up
SD cards are widely used to store photos, videos, and music in cameras, tablets, MP3 players, mobile phones, drones etc. Since SD cards are prone to corruption and damage, users might face loss of their important videos and photos. So, it's essential to have an effective SD card recovery software by your side to address such situations.
In this post, we shared a few important attributes of SD card recovery software to help you make an informed decision.
We also outlined Stellar Photo Recovery software— an advanced, reliable, and fast SD card recovery tool for lost photos, videos, movies, and music. It's popular for delivering high success rate, ease-of-use, and comprehensive support for SD cards and file types. The software works in all loss case scenarios like deletion, formatting or corruption etc. It also ensures that your photos, audio, and videos are protected from corruption.
Take a free trial of Stellar SD card recovery software to ascertain its capabilities.
For any query, feel free to comment below or contact our customer support via phone, email or live chat.