Data is undoubtedly important to us. And, accidentally losing your crucial files, be it your official documents, project presentations, personal photos, or videos, could land you in serious trouble. Luckily, there are quick and effective data recovery methods to recover your lost files in seconds. But, when you want to do just the opposite and purposely want to get rid of some confidential or unwanted data, you try to find out how to delete it permanently.
When it's about deleting data, you may opt for dumping the files into Recycle Bin, use the Shift + Del key, empty the recycle bin, or entirely format the hard drive. Attempting all these methods will surely delete the data, but deleting data doesn't make it unrecoverable. It only makes the data' inaccessible.' How? Let's understand.
How Data Deletion Process Works
Each file or folder on your hard drive contains a 'pointer,' which lets the OS (Operating System) know where the file starts and ends. It also keeps track of a file being accessed. When you permanently delete a file, the pointer gets removed, but the file remains there, though inaccessible. It is because the OS makes the space consumed by deleted file available for storing new data. If you add new data in that space, the deleted data will be overwritten. But if you stop using the hard drive immediately after deleting the file, you can recover the inaccessible data with the help of a data recovery software.
What if I destroy the entire device?
Don't think of simply destroying the device. Some of you may be like – okay, I don't need the data, and drive is also getting old, it's better to destroy the device, so l won't have to worry about my data at all. Again, don't do that! Throwing away your device or physically destroying it will not help wipe data. It may become an even bigger problem for you, if not treated carefully. Moreover, keep in mind that discarding IT devices irresponsibly also causes serious damage to the environment.
Additionally, you're putting your data at risk by destroying the device. Several technically sound data recovery experts can restore data even from partially burnt, water-damaged, or physically broken hard drives.
If you genuinely intend to get rid of your confidential/unwanted data, just deleting it isn't going to weed it out. You have to 'erase' the data indeed.
What Does Data Erasure Mean?
Erasing data or data erasure means permanently wiping it from all storage drives, such as HDDs, SSDs, Windows systems, USB drives, and more. The purpose of data erasure is to overwrite data on every sector of the hard drive with ones and zeros or some random patterns to make sure nobody gets access to it.
How to Erase Data beyond recovery scope?
To ensure that the data is completely wiped, use a powerful yet easy-to-use file erasure software, such as BitRaser File Eraser. It is a DIY (do-it-yourself) software that can efficiently erase Word documents, Excel files, photos, videos, audio files, etc., from PCs/laptops and external storage drives, such as HDDs, SSDs, or USB drives. The software uses different data erasure algorithms approved by the US Department of Defense. It can also erase browser history, internet traces, system and application traces, and more. Additionally, it lets you schedule the data erasure task to run automatically at a given time and date.
Steps to Perform Secure Data Erasure
Visit the official BitRaser File Eraser and click

on Buy Now

button.
Now, install and launch the software on your system from the shared exe, and from the main interface, you can select Erase Deleted Data > Erase Now (it will erase the data deleted by emptying the Recycle Bin or with Shift+ Del key.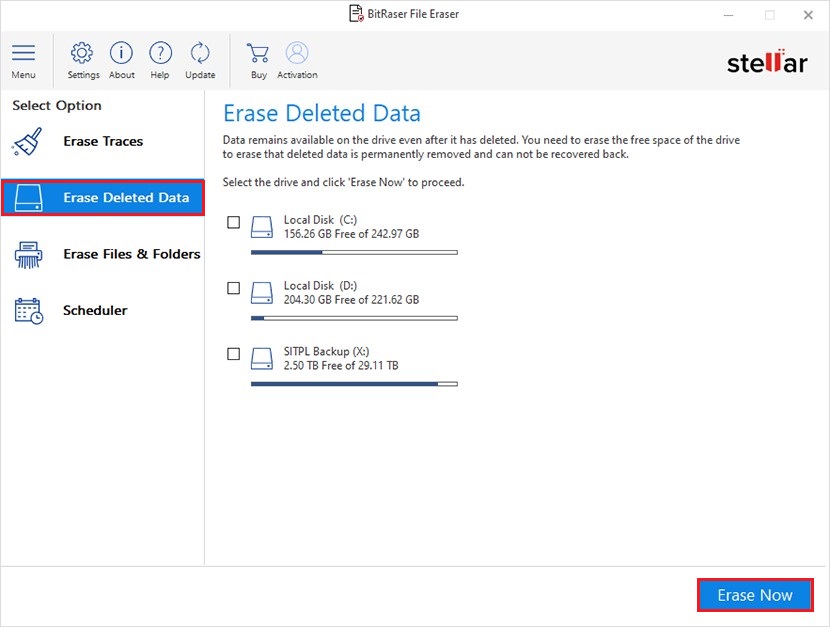 Select 'Erase Files & Folders' to wipe some specific files and folders securely.
Next, add the specific files and folders by clicking on the + icon, and click 'Erase Now.'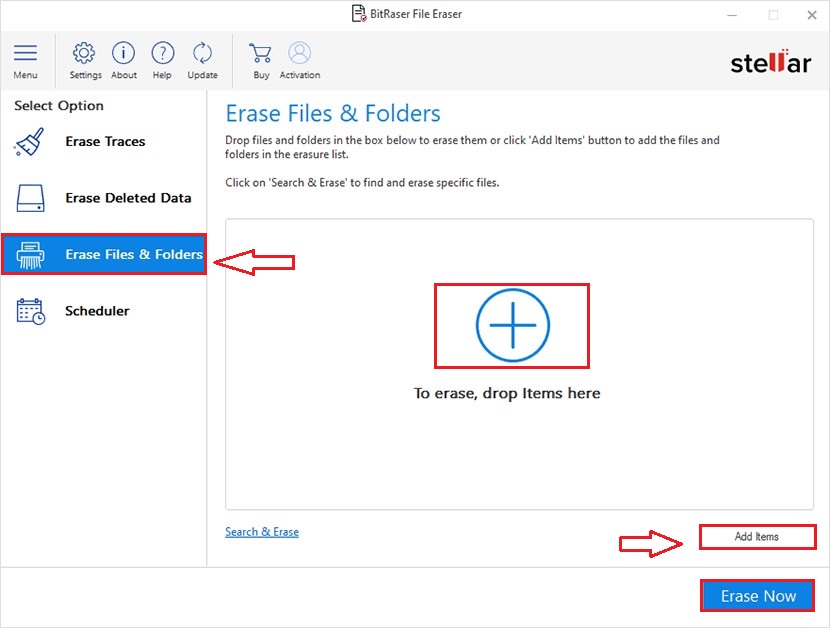 Once the process is done, the software will confirm that the data has been erased.
Pro-Tip: Use the Scheduler feature to define a specific time and date to run the data erasure task automatically.
EndNote
So, simple data deletion is of no use when you want to get rid of your confidential or unwanted data. Only the file pointers get deleted in the data deletion process, making data inaccessible, which can be easily retrieved using a data recovery tool. Hence, always opt for data erasure. It will help you overwrite the data with zeros and ones or some random patterns to wipe your data gone forever. You can take the help of a reliable and robust data erasure tool, such as BitRaser File Eraser. This DIY software efficiently erases data beyond the scope of recovery.