4 Ways to Recover a Failed Internal Mac Hard Drive
A dying or already failed Mac hard drive is a nightmarish however an inevitable course of action. That is why Apple facilitates a built-in backup application called 'Time Machine' to keep an updated and exact copy of files from Macintosh internal hard drives. However, Murphy's law states that things will go wrong in any situation, or whatever can go wrong will go wrong. Having said this, many users are unable to fully utilize the benefits of the Time Machine application or at times, in the most unfortunate situations, even the Time Machine external hard drive requires data recovery utility to save the day. Hence, a failed Mac hard drive recovery in the absence of Time Machine backup becomes a Mission Impossible task. (Update – 13 Feb) Below video shows Stellar Phoenix Mac Data Recovery cloning/imaging the bad hard drive for data recovery.
4 Ways to Recover Failing Mac Hard Drive are as Follows:
Note – Will suggest repairing the corrupt hard drive by using macOS utilities and a third-party software such as Stellar Phoenix Mac Data Recovery for files extraction. Here, we go:
Fix 1) Fix the hard drive with FSCK command
You can repair a failing Mac hard drive using a non – GUI mode on OS X and macOS. To do it successfully, follow the below procedure:
Make sure your Mac is turned off.
Press the power button to start up the Mac and press hold the Command and S button (i.e. Command + S).
This will bring you the Single User Mode from where you can repair the failing Mac hard drive and access all files from it.
Now, you must enter the command line – /sbin/fsck – fy.
Press Return (Enter).
The command line will begin analyzing your Macintosh HD volume and will return message as per the action performed.
When the Mac HD is healthy, it will display the message: "The Volume (name) appears to be OK".
When FSCK repairs the damaged volume, it shows the message: "File System Was Modified". Repeat the FSCK run again until the file system is corrected and the message in step (vii) is displayed.
Fix 2) Target Disk Mode and File Recovery from a Failed Internal Mac hard drive
Target Disk Mode is a mighty method to mount and access a faulty hard drive using accessories, which includes a Firewire or a Thunderbolt cable that connects the 2 Macs (Healthy Mac and Unhealthy Mac) for file transfer. How to connect 2 Macs using the cables?
Make sure uninterrupted power supply is provided to both the Macs.
Use a Firewire 800 or Firewire 400 cable to connect both the Macs through USB ports. You may also use a Thunderbolt for the same.
Start the Mac with failing/failed hard drive and immediately press the keyboard button "T".
The Mac should boot into the Firewire mode. Once it does, you will see a large Firewire icon the Mac screen.
On a healthy Mac, you will see the troubled hard drive icon showing on the Desktop. The 'Macintosh HD' will have a Firewire symbol mounted on its icon. In case of Thunderbolt cable, the Macintosh HD will have the Thunderbolt icon mounted on it.
Once Macintosh HD is mounted, you can perform disk repair and copy files from the hard drive to a healthy HDD or an external hard drive.
Mounting, accessing and copying files from an unhealthy hard drive to a healthy disk seems to be easy with Target Disk Mode facility. However, if the disk is unmounted or unrecognized then you might have to consider running 'Stellar Phoenix Mac Data Recovery' tool to transfer files from the unmounted hard drive.
What to do when the hard drive is failing to get the mount on another Mac? [Try fix #3]
Fix 3) Convert Internal Macintosh HD into an External Hard Drive
Converting the internal Macintosh HD to an external hard drive for recovering files could possibly be an alternative solution of Target Disk Mode. But how should you make an external drive out of an internal HDD?
Safely take out the internal Macintosh HD out of your Mac system. There are plenty of D-I-Y videos which can help you remove the Mac HD safely.
Prior to removal of the internal HD, you must also order an external hard drive enclosure from an online seller. Hard drive enclosures these days are cheap and can be acquired by spending $10 or $15.
Open the plastic cover of the enclosure and place / slide your internal hard drive in the matching context. Once done, turn over the hard drive and put in the screws that came up with the enclosure. Tighten all the screws with the help of a screwdriver.
Put back the front-back plastic cover to cover-up the hard drive.
Now connect one and another tip of the USB cable to the ports the hard drive and Mac OS X for mounting and accessing files.
A badly damaged hard drive may fail to get access on Mac even after being converted to an external hard drive? [Try fix #4 for an absolute Mac hard drive recovery (when none of the solution works)]
Fix 4) Go for Mac Hard Drive Recovery Software
This particular point of the entire article deals with the situation when failed Mac hard drive recovery is to be done at all costs and above solutions (FSCK, Target Disk Mode, Drive Enclosure) have resulted negatively.
Mac Hard Drive Recovery Software to Rescue your Files
Stellar Phoenix Mac Data Recovery is an advanced hard drive recovery software that can help you recover a failing or dying Mac. You can run below-mentioned recovery tasks using Stellar Phoenix Mac data recovery program:
Recover files from a partially corrupt Mac hard drive Read More
Recover files from an unmounted partition of a Mac hard drive Read More
And not just this but you can run the Mac hard drive recovery software in Target Disk Mode as well. It will recover files from the targeted hard drive once launched and run that way.


1. How to recover files from a partially failed Mac hard drive
RAW Recovery (through Deep Scan) is an inside feature of the software that can perform Mac drive recovery on a corrupt hard drive with HFS, HFS+, FAT/ex-FAT or NTFS file system. It performs recovery of files on a corrupt Mac hard drive using file-signature based recovery.
Run the software. Select your failing drive and run Deep Scan. The Deep Scan will recover all the data including – Emails, Docs, Pictures, Videos, Audio and other data.
Start the scan and preview all files
Preview and Recover your files to another drive
2. How to recover files from an unmounted Mac hard drive?
If your Internal Mac hard drive partition isn't mounting then perform steps using Stellar Phoenix Mac Data Recovery to recover files:
Run the software. Select your files for recovery.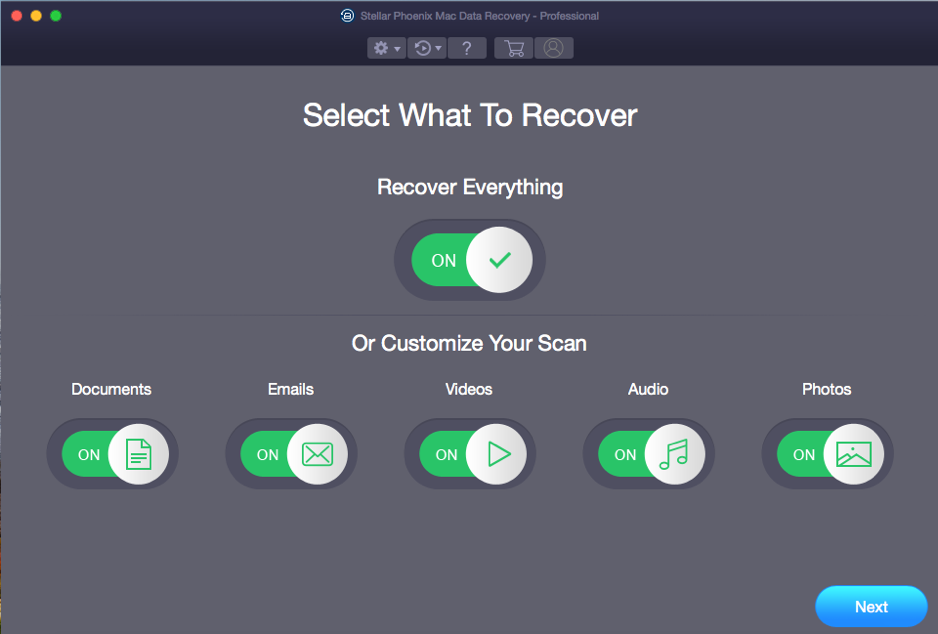 Select the unmounted drive or partition from the 'Select Location' window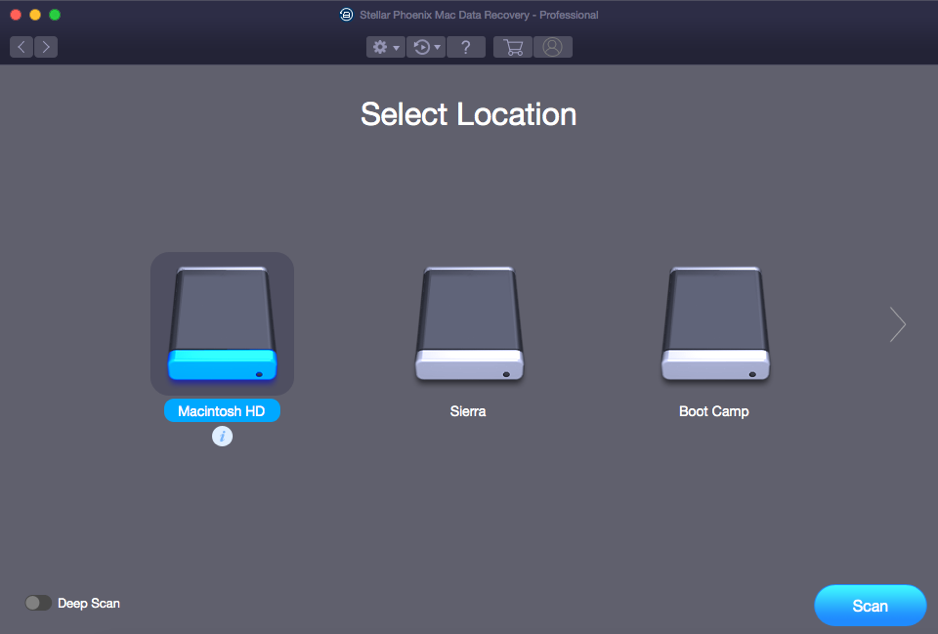 Recover your files to another drive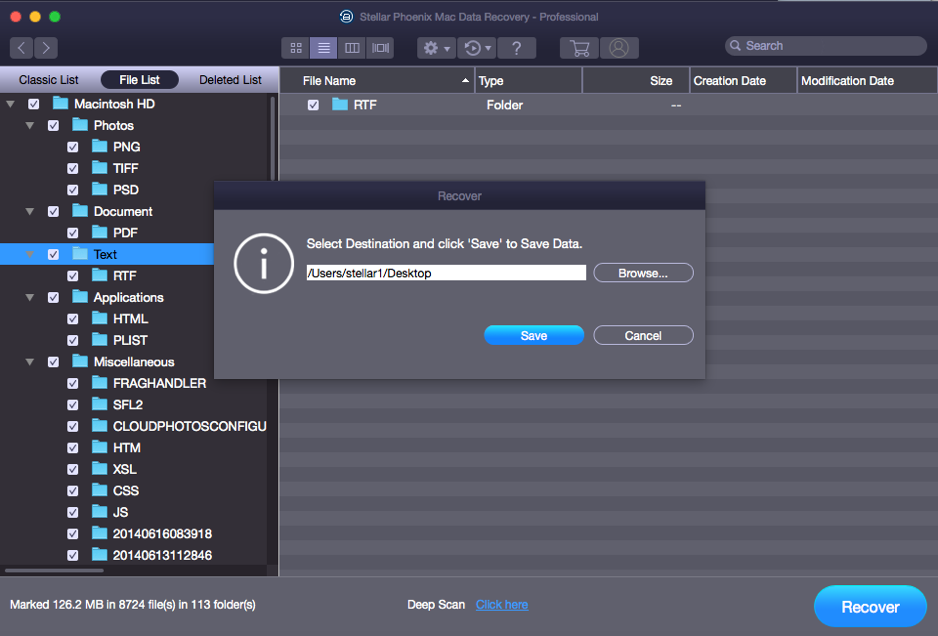 Benefits of Mac hard drive recovery software:
With Stellar Phoenix Mac Data Recovery software at your side, you can perform SSD recovery, external hard drive recovery, SD/CF recovery, Time Machine & Time Capsule recovery and further you can restore lost files from a password-protected hard drive. Being a free download it allows you to evaluate all data recovery features on your hard drive before you decide to make an order.