Summary: iTunes error 53 appears when trying to update or restore iPhone using iTunes. Although the problem is fixed in the iOS 9.3 update, many users are still facing the error in iOS 11 and iOS 12. This post shares 8 best methods to fix iTunes error 53.

'I tried to install iOS 12.0.1 with iTunes but got error 53. My iPhone 6s was working great but now stuck in restore mode! Last month I changed my battery at the iPhone care center. What can I do to get out of this situation?'
iTunes error 53 usually appears when you try to update or restore iPhone by using iTunes on computer.
Apple declared that it fixed the problem in the iOS 9.3 update, but many users continue to face the error in iOS 11 and iOS 12.
The exact cause of iTunes error 53 is not conceded but complaints indicate that Apple users faced the problem after they made some kind of hardware change in their device. Many were related to Touch ID or Home button replacement.
So can you fix iTunes error 53?
Yes. This post shares the best eight methods that successfully resolve iTunes error 53 problem.
Methods to Fix iTunes Error 53
These methods are applicable for all the iOS versions. You can attempt them on any iPhone including iPhone 6, iPhone 6s, iPhone 7, iPhone 8, iPhone X, iPhone XR, iPhone XS and others.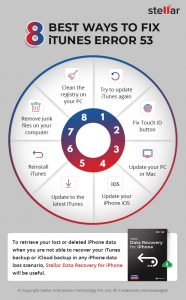 1. Try to update iTunes again but differently
Apple says whenever you receive error 53 in iTunes while updating or restoring, try to do it again. And this time follow the below steps:
Quit iTunes on your computer
Unplug your iPhone from your computer
Check and update iTunes to the latest version
Again connect your iPhone to computer with an original Apple USB cable
Open iTunes and select your iPhone
When you see the option in iTunes to Restore or Update, click Update. iTunes will try to reinstall iOS and restore iPhone, without erasing your data.
However, during the update process you may face any of the below situation. Here's what you can do in each case:
If you can't get past the Apple logo screen during the process:
Force restart your iOS device
When you see the option to Restore or Update, click
If you see the Hello screen on iPhone:
Follow the onscreen steps to set up your device. If you previously backed up your iPhone, you can set up from your backup.
Note : If you are unable to recover from iTunes or iCloud backup, download Stellar Data Recovery for iPhone on your computer and restore lost or deleted iPhone data.
Try the demo version now:
If you see the Touch ID screen:
Tap Set up Touch ID later
2. Fix Touch ID button
Since iTunes error 53 is mostly related to Touch ID on iPhone, ensure the function is working. The error could be because of the failure of the security feature on your device.
Fix Touch ID by contacting Apple Support and know the best service options.
Remember, replacing any iPhone hardware with a third-party repair can harm your device. Let the Apple authorized support centers do the repair and replacements.
 3. Update your PC or Mac
Updates can relieve you from many problems in the device. Ensure you are using the latest operating system, when troubleshooting error 53 in iTunes.
Windows users can update by following Control Panel > System and Security > Windows Update. Choose Install if any update is available.
If you use Mac, click on Apple icon. Under System Preferences, select Software Update.  If any updates are available, click Update Now.
4. Update your iPhone iOS
With iPhone updates, Apple usually fixes bugs and improves performance. Update your iOS. It may fix error 53 as well.
Turn on Internet on your iPhone. Go to Settings > General > Software Update and tap Download and Install.
5. Update to the latest iTunes
Resolve error 53 by updating iTunes to its latest version.
If you use Windows PC open iTunes. In the menu, go to Help and select Check for Updates.
Mac users can update iTunes from App Store. In App Store, click Updates and select Install, if you see any update is available. You can also click on Apple icon on desktop. Select System Preferences followed by Software Update.
6. Reinstall iTunes
Sometimes, reinstalling iTunes can fix error 53. First, uninstall and then   reinstall iTunes on your computer.
Follow the given steps to uninstall and then reinstall iTunes as per your Windows OS.
iTunes can't be modified or deleted from Mac. Trying to do it with the help of third-party software may affect your Mac performance.
Note : iTunes can't be modified or deleted from Mac. Trying to do it with the help of third-party software may affect your Mac performance.
7. Remove junk files on your computer
Junk files create files conflict along with occupying extra space on your hard drive. Junk files could be one of the reasons for iTunes error 53.
Ideally, you should regularly clean your system off the junk, cache and temporary files.
Steps to clean junk on Windows:
Type disk cleanup in the Windows search box
Select Disk Cleanup
Select the drive to clean up. Click OK
Select the files under Files to delete you want to remove
Click OK
Steps to clean junk files on Mac:
In Finder menu, under Go choose Go to Folder
Type: ~/Library/Caches in the Go To Folder dialog box
Select files in the Cache folder. Right click and choose Move to Trash
Next, empty the Trash
Repeat the above steps. This timer replace Library/Caches with ~/Library/Logs to clean unused files
8. Clean the registry on your PC
Windows registry stores crucial information about all applications installed on your computer. Wrong or invalid entries can generate error messages and stop applications to perform properly.
If your iTunes shows error 53 when trying to update iPhone, it could be due to invalid Windows registry.
So clean up your computer's registry. You can do it either manually or by using a registry cleaning software.
Manual cleaning is not recommended for non-technical users. You shouldn't attempt it unless you're familiar with the registry entries.
Instead, it is best to use a registry cleaner software such as CCleaner, Wise Registry Cleaner, JetClean etc.
Hope you found this post helpful.
If any other method helped you to fix iTunes error 53, do share with our readers in the comments section below.