Best free file shredding software
Summary: In this blog, you will read about the importance of file shredding and learn about BitRaser File Eraser , one of the best free file shredding software available. You will also discover the easy steps by which you can use BitRaser File Eraser to shred files
In order to safeguard your data privacy, you need to erase your sensitive files, folders and drives from your PC or Mac. This is crucial because any sensitive information such as your social security number, tax records, personal health records, photos and videos, etc. if leaked, can get into the wrong hands and cause you lot of trouble.
There are many scenarios where your data can be leaked. Some of them include browsing the Internet without the necessary protection, selling off or exchanging a used computer, handing over a laptop for an upgrade or repair, or even when disposing your PC or Mac.
The files stored on such systems can be extracted even if you had deleted them or formatted the storage drive. This lab report outlines a study of world's largest sample of total 311 used hard drives, phones & SD cards, revealing that 7 out of 10 devices are at risk of data breach and leakage! Conducted in the year 2019 by Stellar, this study proved that a majority of used devices are at risk of data theft due to lack of awareness and use of incorrect methods for safe removal of the data.
What is the difference between file deletion and file shredding?
Data deletion seems like an easy task. You just need to use the delete function in your PC or Mac and the data gets removed. After you had performed the deletion, you see that the data you deleted isn't there and you feel assured that the job is successfully done.
In reality, that data is still there in your system; it's just that you are not able to see it. A data recovery software (even the free ones available online) can restore your previously deleted data and make it accessible to the public.
In order to safeguard your privacy and be assured of permanent deletion (erasure), you need to use a file shredding software. A file shredding software "overwrites" the files to delete them permanently, ensuring that the deleted data cannot be recovered by using any tool or method.
How does a file shredding software work?
A file shredding software works by overwriting your existing data. You choose the file(s) you want to erase and the file shredding software overwrites the selected files using specialized technique, which it can do once or multiple times based on your preference. This procedure ensures that the original data cannot be recovered. Your files are permanently deleted and you are completely protected against any mishaps that might occur if your data were to be compromised.
Now that you have a better understanding of how a file shredding software can help you erase (permanently delete) the data and keep it beyond the reach of data thieves, let's understand the best choices of file shredding tools.
First thing to consider is that even though there are a lot of file shredding tools out there, not all of them perform the job effectively, are difficult to use, or do not offer any assurance on the effectiveness of shredding action. Only a few trusted file shredder tools can permanently delete files and offer you peace of mind against data theft. And one of the best file shredding tools is BitRaser File Eraser, here's why?
File Shredding Software
BitRaser File Eraser permanently wipes files, folders, Internet usage history, cookies and unused space on the drives in your Mac or PC. It is a DIY file shredding tool with an easy-to-use interface. This way, it also protects you from online breaches that might have occurred if anyone could have gained access to your Internet activity information
Key benefits of BitRaser File Eraser are listed below:
1) Secure file and folder erasure from PC, laptop, Mac and server
2) Option to schedule data erasure tasks
2) Permanently erases cookies, browsing history, downloaded data, emails, log files and application traces
3) Erases logical drives or partitions without disturbing the applications and operating system files
4) A DIY software that is very easy to operate
5) A certificate of erasure to offer you peace of mind
BitRaser File Eraser is free for 30 days. Download now to enjoy its benefits.

Devices Supported
The software works on all key systems and devices. The full list is mentioned below:
Windows Laptop and Desktop, Microsoft Surface
MacBook Air, MacBook Pro, iMac, Mac mini, etc.
External hard drive, USB drive, SD card
How to use BitRaser file eraser to perform file shredding in your PC and Mac
Install and launch the software
The main software interface screen will list all your connected drives
You can Select the file from the required drive to erase
Then click Erase Now option to start erasure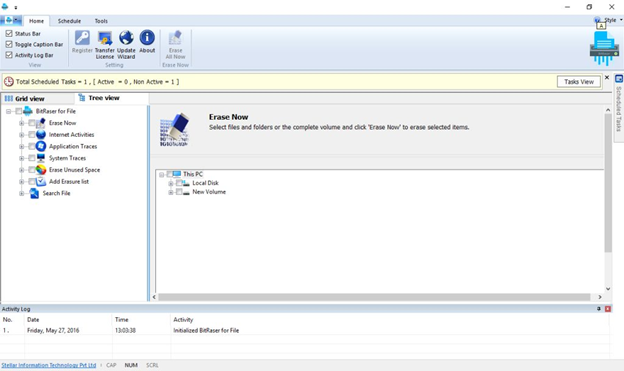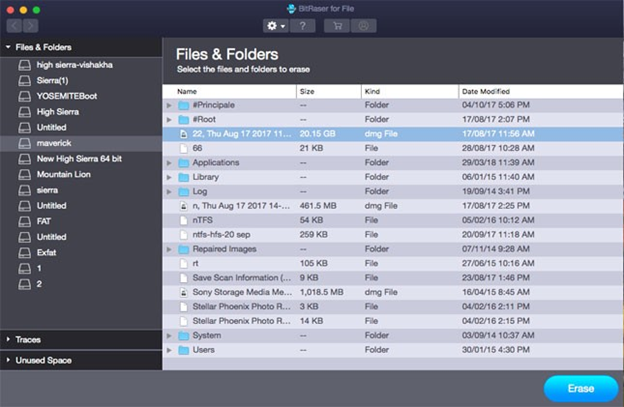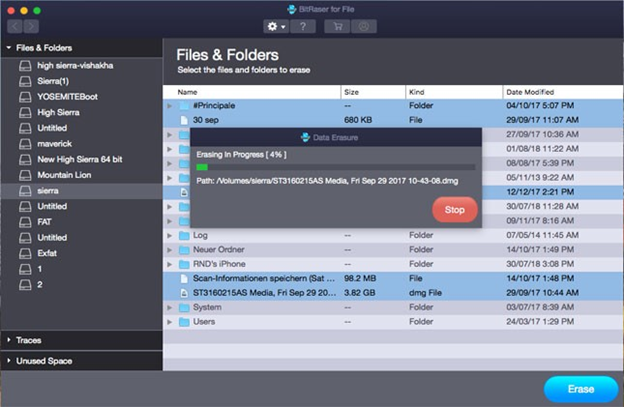 Conclusion
File Shredding is important as it safeguards your data privacy. Your data must be protected against intrusions as they can lead to economic and emotional damage. Only a reliable file shredding tool like BitRaser File Eraser can protect your privacy by efficiently shredding the files and rendering them unrecoverable. It is a highly specialised, DIY tool which permanently deletes any type of file on your PC, Mac or even server.
Download now and avail 30-days free trial of the software.
BitRaser File Eraser for Windows