Microsoft Outlook is one of the most used mailing platforms around, particularly by Windows users. And it offers a convenient interface and storage hub to save emails (and inherent contents). This storage hub is technically known as PST – Personal Storage Table.
However, for some reasons, the PST is somewhat vulnerable to errors or damage, which typically occurs when an Outlook file(s) becomes corrupted. And while there are several methods to repair and recover such (corrupt) files, many Outlook users are oblivious of these methods. In this post, we'll be showing you the best ways to repair Outlook (2019, 2016, 2013, 2010, 2007 or 2003) PST files for free:
ScanPST: The Inbox Repair Tool
Microsoft Outlook comes with an in-house repair tool, known as Inbox Repair Tool for Outlook or Scanpst.exe. This tool is meant to serve as the first line of action (the first tool to run) in fixing any kind of corruption or error encounter in Outlook, and it is absolutely free to use.
Basically, minor file errors (or corruptions) caused by system or app glitch can easily be repaired by the Inbox Repair Tool (Scanpst.exe), and recovered in quick time. So, if your PST file(s) becomes corrupted, don't get ahead of yourself; try and run the built-in repair tool, before running any advanced fix.
To repair a corrupt ".pst" file with the Inbox Repair Tool, follow the steps below:
Exit MS Outlook.
Open Windows Explorer (or File Explorer): click on the "Windows" key and the "Letter – E" key at the same time.
In the Explorer's window, locate Microsoft Inbox Repair Tool (Scanpst.exe).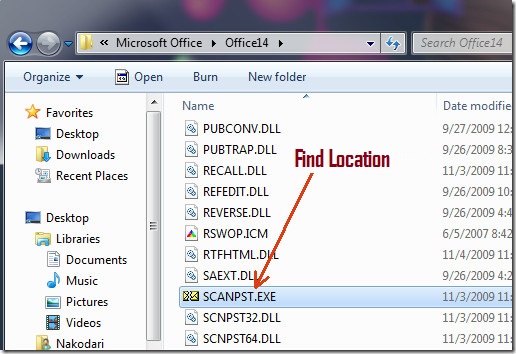 In the next window, type in the path of the file you want to repair, or simply click on "Browse" to locate and select the target file.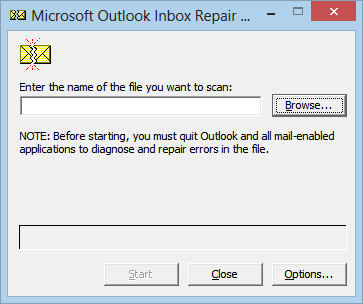 Now, navigate to the base of the window and click "Start" to initiate scan.
Allow the scan to run: the scan results would display any file corruption or error that needs repair.
Proceed and select "Repair" to repair/fix the corrupted file(s).
Once the repair is finished, open your Outlook and follow the command prompts to recover the repaired file(s).
This should get the corrupt PST and your Outlook profile (and program) back in shape.
What to Do When Scanpst.exe Fails to Repair Corrupt PST ?
Normally, the Inbox Repair Tool (Scanpst.exe) is all you need to repair and recover corrupt Outlook files. However, in the event that the corruptions are too severe or a file is permanently deleted, the Inbox Repair Tool is practically useless in repairing/recovering such files.
Basically, the most notorious cause of severe corruptions, which scanpst.exe can not repair, is the issue of "large PST". This is typically when the storage limit of a PST is overstretched, resulting in the compromise and disintegration of inherent files. Also, if an email, journal, attachment or calendar is accidentally deleted, the Inbox Repair Tool cannot be employed to recover such. Ultimately, to repair severe corruptions in PST and/or recover hard-deleted Outlook files, an advanced repair/recovery program is required. And the best obtainable Outlook repair/recovery package out there is Stellar Repair for Outlook.
How Does this PST Repair Tool Work?
Stellar Repair for Outlook is an advanced Outlook repair and recovery tool, which serves as the ultimate solution to fix all kinds (and degrees) of corruptions in Outlook, and recover deleted Outlook PST files. The program hosts an advanced engine, which is standard enough to repair and recover severely corrupt/damaged PST files. In fact, it guarantees a complete recovery rate, irrespective of the size of PST file and level of corruption.
Furthermore, you don't really need a high-end PC to install and run Stellar Repair for Outlook. It hosts support for Microsoft Outlook 2019, 2016 and earlier versions on notable Windows versions (old and new), from Windows 10, all the down to Windows XP. So, whether your PC is running on the old WinXP or the latest version of Win10, you can easily use this free PST Repair tool.
To repair and recover corrupt/damaged PST file(s) using Stellar Repair for Outlook, follow the step-by-step guidelines below:
Download and install the trial version for free.

Open the program, and click on Browse to select the corrupt PST file(s), or simply use the Find option to bring up all the files that need repair.
Once you've selected the corrupt file(s), proceed by clicking on the Repair icon.
After the repair, go to the home menu, and click on the Save Repaired File option.
In the pop up dialog box – Save options – select a desired format: "PST, EML, PDF, MSG, HTML, or RTF". While the technician version directly saves repaired data of PST to Office 365 and also provides saving options as MBOX and DBX.
Click on the Browse option and save the repaired file(s) in its original (or designated) location.
Launch Outlook and recover/retrieve repaired file(s).
And you are all set!
Note: This tool is offered for free for scanning corrupt Outlook PST and repairing it to check the preview of the complete data. After verifying the PST data in the preview window, if you want to save then you'd have to purchase the licensed version.
Conclusion
As pointed out in this article, Outlook PST corruptions are primarily repaired by the Inbox Repair Tool, which is otherwise referred to as "Scanpst.exe". The free PST Repair tool serves as the first line of action in fixing various forms of errors/corruptions in Outlook.
However, at times, when these corruptions are too severe, the in-house repair tool may be futile in repairing them. In this case, a third-party repair/recovery program would be the saving grace. And of all advanced Outlook Inbox repair methods out there, Stellar Repair for Outlook stands out.