Summary: There are multiple software and solutions available in Market to repair JPEG files, but do you know which ones are the best? What are their features?In this post, will share the best jpeg file repair software available in the market.
JPEG stands for Joint Photographic Expert Group, and JPEG is the most common file formats of this standard. That is the best file format for photographers because it is higher in contrast, sharper, suitable for printing, able to manipulate without losing the data and, automatically processed by the camera. JPEG files have the large compression ratio, and it makes the file transfer time shorter. With this, it is also readable by any image program available in the market.
As we know JPEG is highly prone to corruption & in JPEG file, corruption is not same every time. It depends on the file structure, which consists APP (Application Marker Segment), Quantization tables, etc. If corruption consists in the header or any other critical section of a jpeg file, then repairing online become harder.
With lots of features, JPEG/JPG format has some disadvantages like,
The image is split into blocks of 8×8 dimension after squeezing the image and because of this, the image quality becomes harsh.
JPEG format is not suitable for monochrome graphics.
It is not so suitable to the web designer to draw template etc.
Compression in image degrades the quality.
Highly prone to corruption
Stellar Repair for Photo Software- the Best Software to Repair Corrupted Photos
If you have jpeg photo corruption you can trust on Stellar Repair for Photo for repairing the corrupted and damaged JPEG/JPG files. This professional photo repair software can easily repair damaged or corrupted jpeg files captured from any camera and smartphones models. This Image Repair Tool has some very interesting features which make it the best jpeg repair software till date.
See how easy it to use:
Repairs Corrupted JPEG file: This Photo Repair Tool can easily handle any level of corruption. After fixing the corrupt photos, it serves the option to save file at default or user specified location. Completely unreadable photos, blurred photos by corruption, header corruption, the invalid file structure of photos etc. issues are also possible to fix by this tool. The software will save your work and reproduce the beauty of the photo.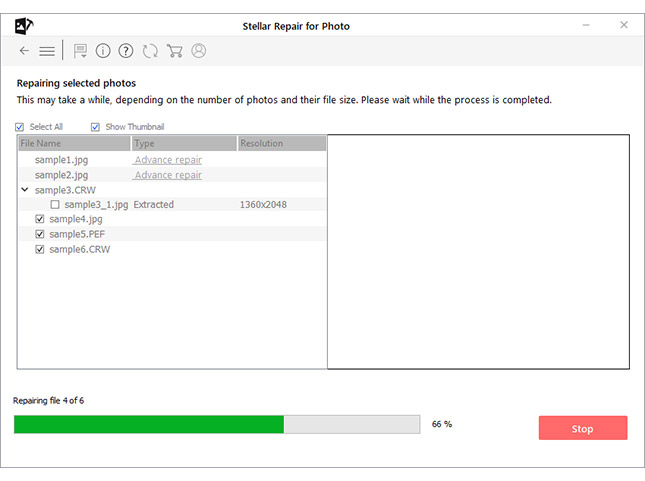 Repairs Multiple JPEG Files: This is the award-winning feature of this software. Not two or three, you can repair several corrupt JPEG files by using this professional JPEG repair software. In other words, you can fix all the photos in a single cycle. No repetitions are required to repair multiple photos.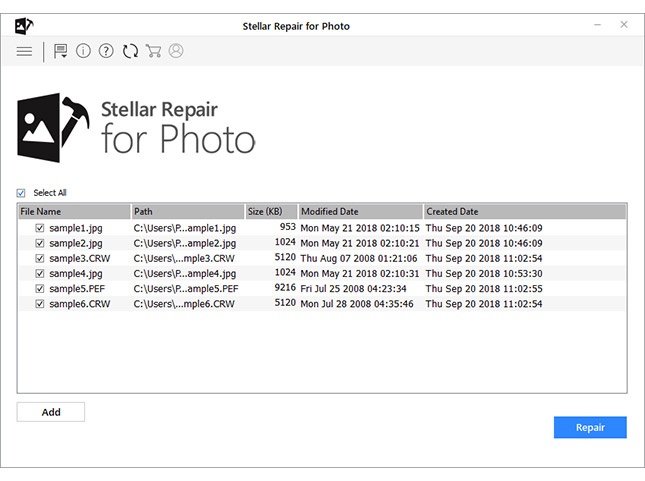 Extraction of Thumbnails: If the corruption is beyond the limit of repairing then, this JPEG recovery software can extract the thumbnails embedded with images and doesn't compromise with visual fidelity. In this case, you can consider yourself lucky because the severe level of corruption cannot repair by any other tool present in the market but, our software extracts the thumbnails for you.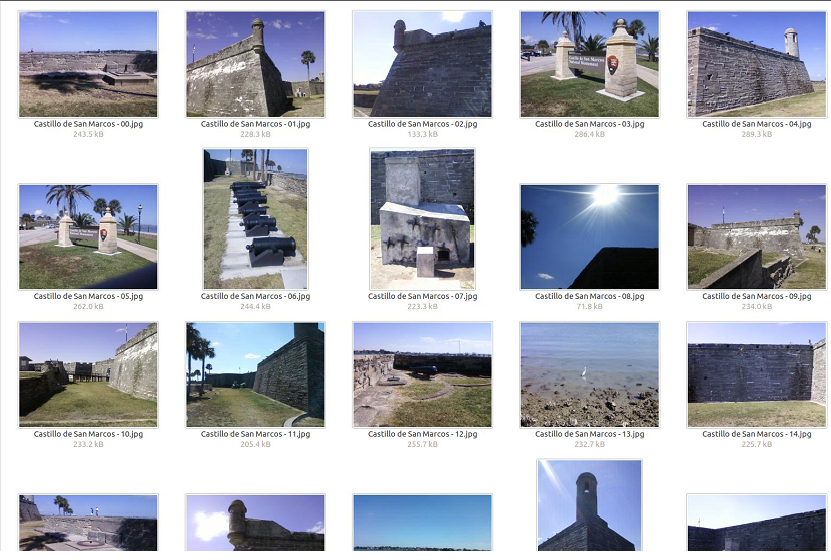 Preview facility for Repaired photos: Stellar Repair for Photo software has the preview facility for repaired photos. Before saving the images, you can see the preview of repaired JPEG file and obviously, this is the best way to ensure that photos are repaired successfully by this software. No matter how large the corrupted photos is, it can preview all photos in the preview pane.
Save file at any location: The software comes up with a flexible saving option. After completion of repairing process, you can choose any location to save the repaired photos. The most amazing thing is that; it saves the thumbnails of the photos in a separate folder. You don't require further searching to find the thumbnails and photos.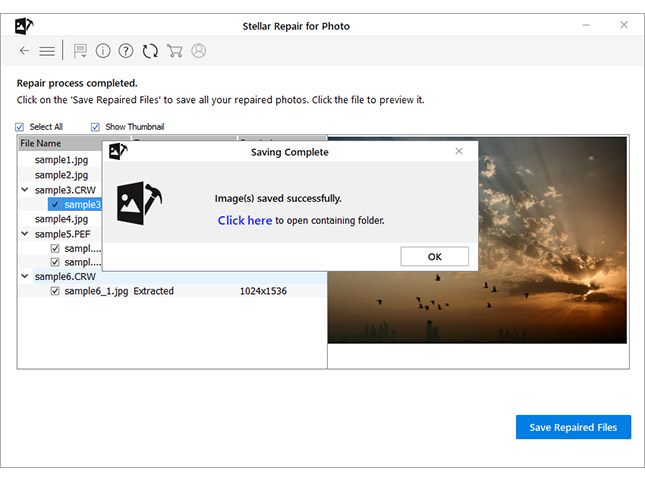 Fast and interactive GUI: The GUI of this JPEG repair tool is designed for all users whether you are a professional photographer or layman user. Every instruction is very clear on the interface itself. The software can conveniently scan all the corrupted photos and provide the best result in minimum time duration. In the scanning result, you can see the details of your photos.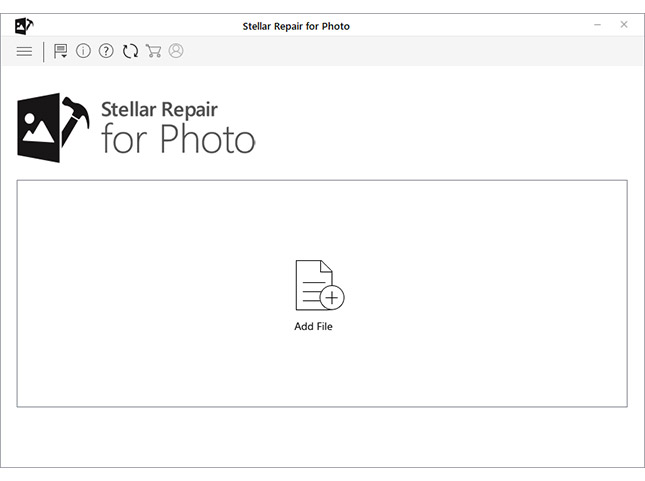 Why Customers make it Number 1?
With the lots of positive user reviews over the internet, this software became the best JPEG repair software till the date. Here are some excellent reviews of this software:
CNET: The software has 4 stars out of 5 and lots of positive reviews. Users also repaired the corrupted photos after using the data recovery program. Most of the users have given 5 out 5 to this tool.
Softonic: Users appreciate this tool so much for its interface and performance. Here is the review from a user who repaired the photos successfully.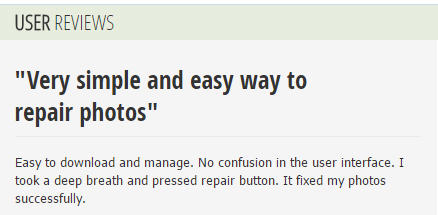 Techtree.com: The reviewer is satisfied with the program result and said "The user interface is very simple and easy to use due to the absence of complexities. It does recover files with ease and the success rate was found to be higher than its competitors."
Techradar.com: The reviewer Mark Williams reviewed lots of photo repair tools and give the first position to Stellar Repair for Photo software. He said "first place has to go to Stellar Repair for Photo. It almost matched Picture Doctor's recovery rate for less than half the price, with a far less intrusive watermark, and some useful extras, and this sheer all-round excellence makes it a worthy winner."
Softpedia: a user repaired around 900 photos by using this tool and share the experience. It means that the software also fixes the huge amount of corrupt pictures. Read the review below: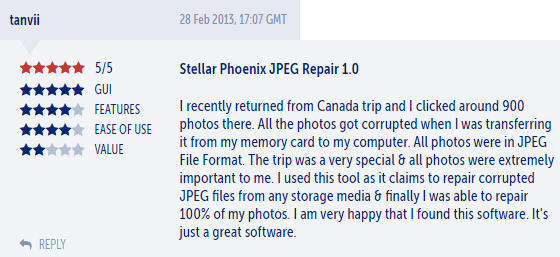 Support and compatibility
Stellar Repair for Photo is a lightweight software and requires only 50 MB free space on the system. It works on Windows 10, 8,8.1,7, Vista and, XP operating system. It is entirely DIY software. A separate version of this software is available for Mac users as well.
Working Process
Download and install the software.
Open it and click on the Add File icon.
Choose the location from where you want to select the corrupt JPEG files.
Click on the Repair button.
After completion of the repairing process, you can see the preview of photos.
Click on Save button to save the repaired photos.
Why should you Purchase Stellar Repair for Photo Software to repair corrupted JPEG/JPG files?
Try before buy: The software has the free demo version for all users. You can try this version on multiple corrupt photos.
Money-back guarantee: Stellar Repair for Photo software has a 30-day money back guarantee. If you are satisfied with the result or software doesn't repair your photos, then you can claim for money back policy.
100% Secure: Virus or malware are very harmful to your system. Some tools specially created for the hacking purpose. Stellar Repair for Photo software is fully secured and virus free.
Types of JPEG/JPG File Corruption:-
Let see few types of corruption in JPEG files:
A grey area in Image: Sometimes the bottom half portion of the image become grey. Corruption in SD card or CF card can be the reason of it.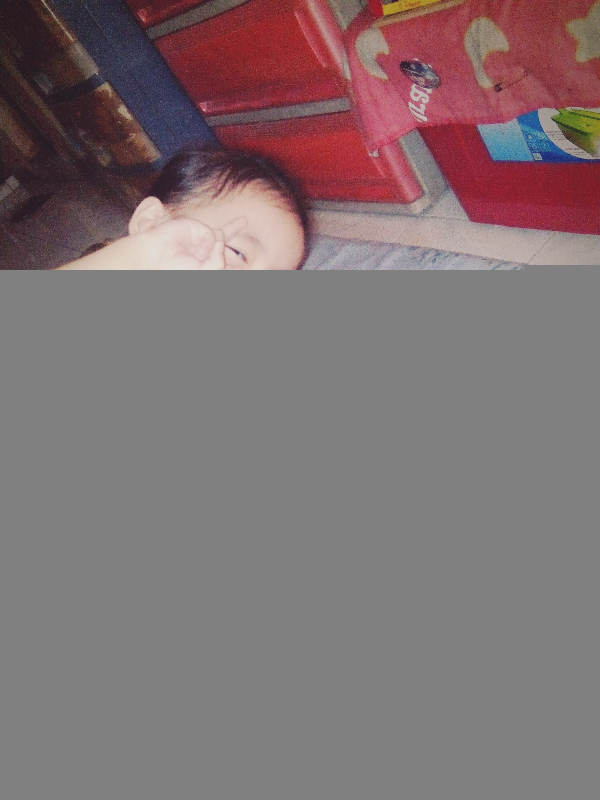 Distortion in Images: Half portion of images distorts from the original position.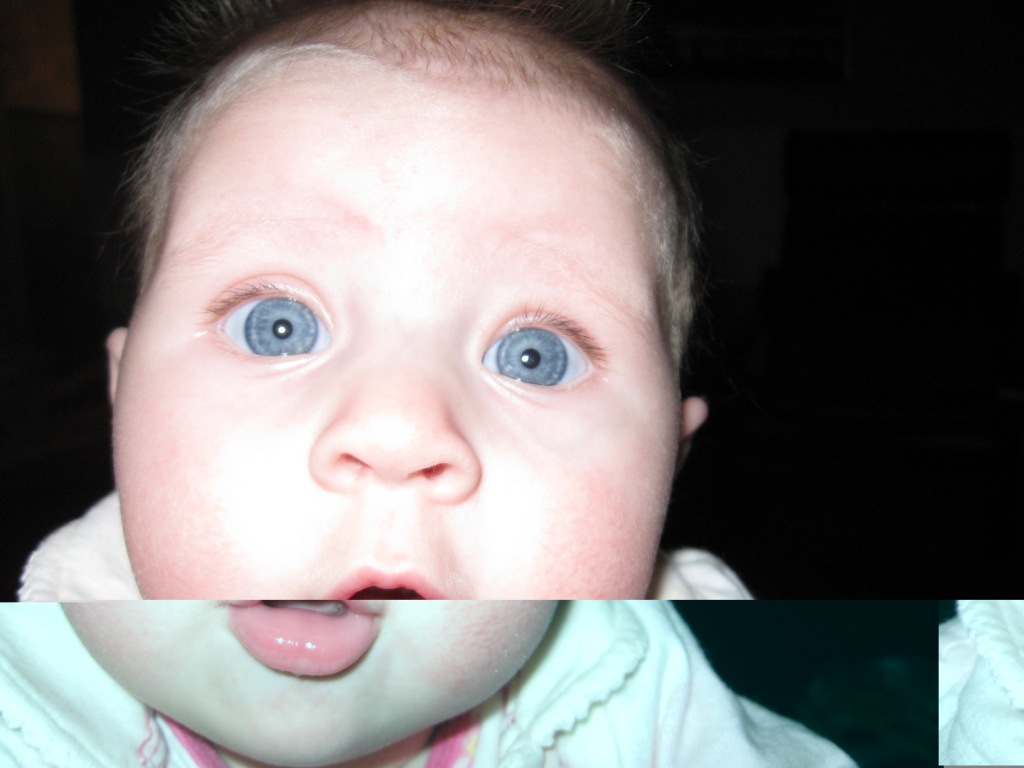 Horizontal lines over the picture: This is one more sign of image corruption. If you are facing this kind of issues, then use the best JPEG repair software.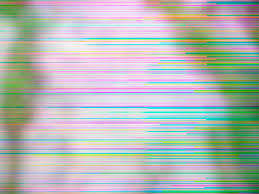 For any of the above types of corruption, Stellar Repair for Photo is the best professional jpeg image repair software to repair damaged or corrupted photos.
Conclusion:
Forget about photo corruption especially if are having JPEG file format. Be confident and use Stellar Repair for Photo software. When the company gives you a 30-day money back guarantee than there's no reason to hesitate, your money is totally safe!!