Summary: Want the best photo editor to creatively enhance your photos like a pro? This post shares the best photo editing software for beginners and professional photographers, illustrators and graphic designers. You can use them to improve your pictures and showcase your creative best.
With numerous photo editing software choices and loads of impressive features, often deciding over the right one becomes a mammoth's task. As a beginner, professional or a photo enthusiast, you may have varied requirements.
But for sure you want to choose the best photo editor that gives creative uplift to your photos like a pro. Here we recommend to select a photo editing tool based on your specific needs. As a professional photographer, illustrator or designer, you may want an advanced tool with cutting-edge features. Amateurs or general users may need it to creatively enhance their personal photos to share on Instagram, Facebook or Pinterest etc. At the same time user-friendliness and budget may also be your concern. While for some a free photo editor with basic features may suffice.
Addressing the varied needs, here we bring the best photo editing software for Windows and Mac, which you can use as per the professional or common needs.
Best Photo Editing Software — Top 7 Picks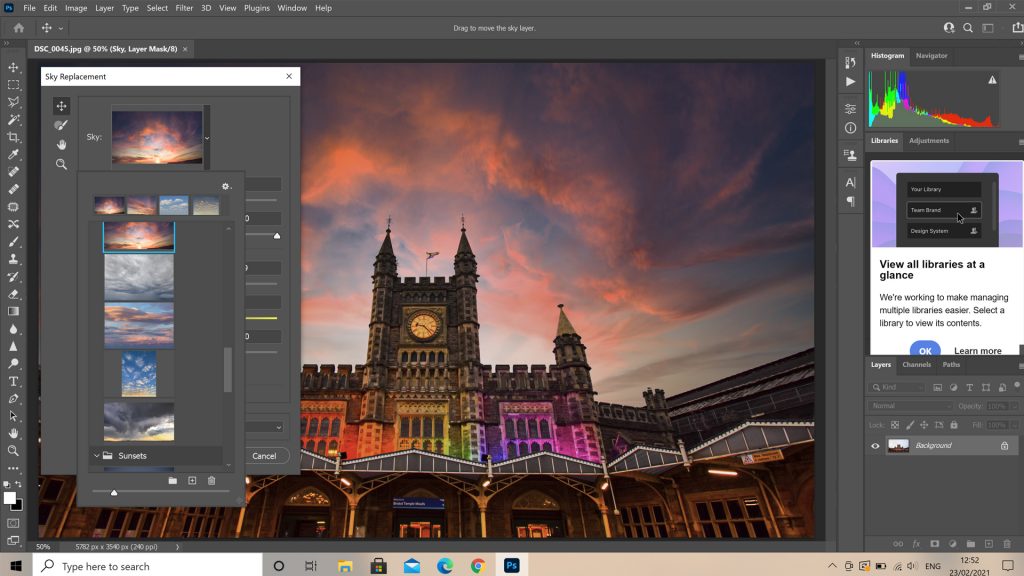 Support: Windows PC, macOS, and iOS
Adobe Photoshop is the most robust and ever improving photo editing software. Its every new release brings in more features, making it smarter and faster.
Photoshop allows you to do host of actions on your images. You can transform your pictures using retouch, recolor, compositing, layering, typography, digital painting, animation, 3D modeling, and graphic design and a lot more.
You can also share your photo editing project through livestream. It has the option to sync your work to Creative Cloud account. This helps to access your project and pick editing from where you left in Photoshop, on any device from anywhere. You don't need to import or export the project and can thus protect yourself from lost or deleted Photoshop files situation usually occurring due to managing PSD files across devices.
Go for the seven-day free trial, before purchasing full version.
Pros
Cutting-edge features
Smart photo correction tools
Can change photos to 3D designs
Option to sync work with cloud
Automatically back up your photos
Cons
Expensive
Beginners or infrequent users may find it hard to use
No option to buy perpetual license, only subscription-based plans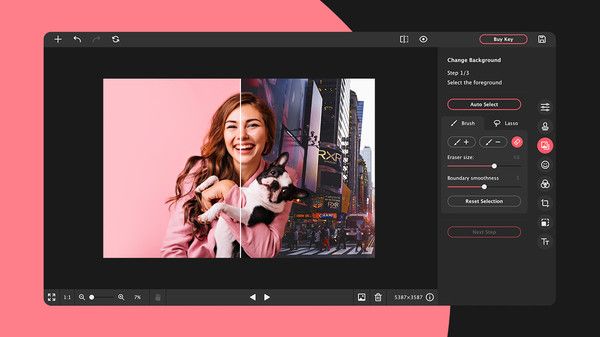 Support: Windows, Mac, iOS and Android.
If you are looking for a simpler and quick photo editing software to spruce up your photos and upload on Instagram or Facebook, then choose Movavi Picverse. The program has both software and online free photo editor program.
The online Picverse program has basic photo editing features like colors correction, contrast, filters, set background etc. Whereas, Movavi Picverse software is a professional photo editor with more advanced features for PC and Mac.
Movavi Picverse has an intuitive GUI with several smart features. You can retouch blemishes, add effects, filter, crop, rotate, merge, change photo backgrounds, get rid of blurry images, insert text on photos, and do more.
The photo editor software offers special effects, light correction, color correction and HDR lighting. You can easily fix photos shot in dim light or with wrong ISO setting.
The free version of Movavi Picverse allows you to save up to 10 photos with watermark.
Pros
Easy to use
Includes all basic photo editing features
Over 100 effects and filters
RAW format support
Cons
No photo organizational tools
No image sharing features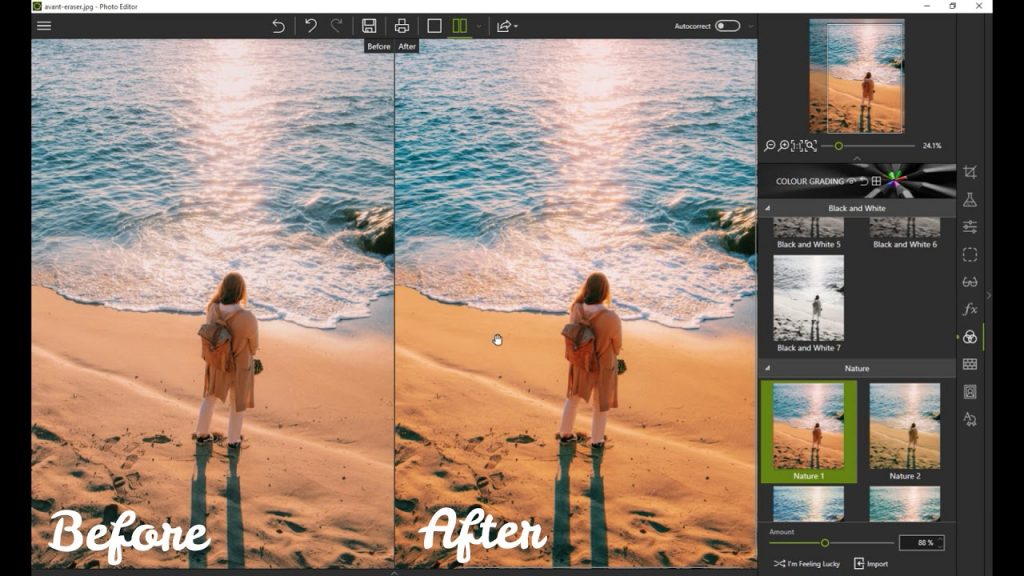 Support: Windows, Mac, and Android
User-friendly InPixio Photo Studio 10 software can edit photos like a pro. You can add effects, change background, filters, retouch, crop, cut & paste, adjust contrast, do red-eye correction, and remove unwanted elements from your pictures.
With its photomontage feature you can create impressive collage of events. Insert photo cutouts from different pictures with smooth contours and create a flawless composition. You can also share your photos and montages on Facebook, Twitter, Flickr with InPixio. The software can supports editing of uncompressed RAW files.
The free version of InPixio offers the basic editing features. In order to enjoy the advanced features, upgrade to the pro version of Photo Studio 10. InPixio is also available for Android phones.
Pros
Easy to use
Creates photomontage
Automatic one-click image correction
RAW file support
Cons
Free version doesn't have all features
Autocorrect features may be flawed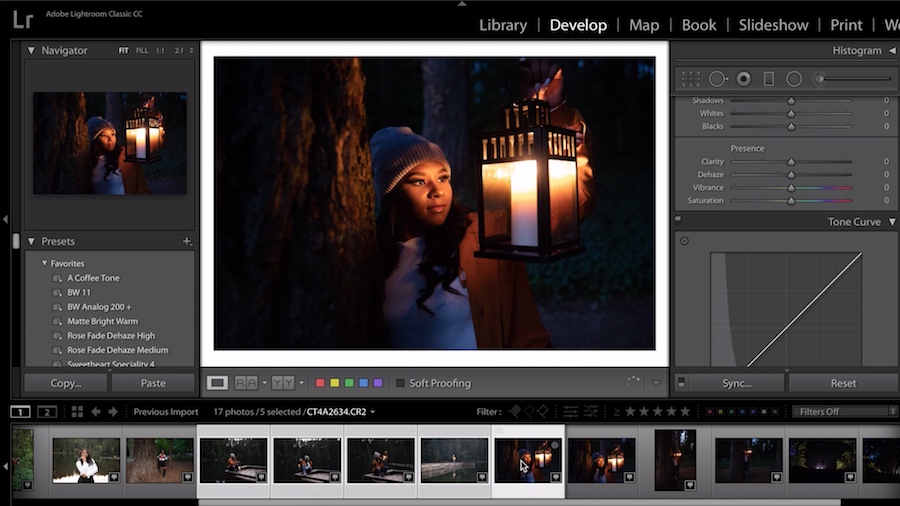 Support: Windows, Mac, iOS, and Android
Like all Adobe products, Lightroom stands out as an advanced photo editor for professional photographers and designers. It not only helps to work on the fine details, but can also smartly organize your photos library, save your work in cloud, and lets you share on social media platforms.
You can enhance photos using numerous Lightroom presets for filters, effects, retouch, color correction, composition, layers, etc. Along with the essential photo editing, Lightroom is designed to incorporate innovative features. HDR merging, profile calibration, flat-field correction, multi-layer composites, color controls for shadows, custom raw file import, and graphical watermark are some of its appealing aspects.
Try the software using the free version available for seven days.
Pros
Multiple advanced features
RAW profiles and filters
AI-powered photo organizational tool
Cons
Expensive
No printing option
No option to buy perpetual license, only subscription-based plans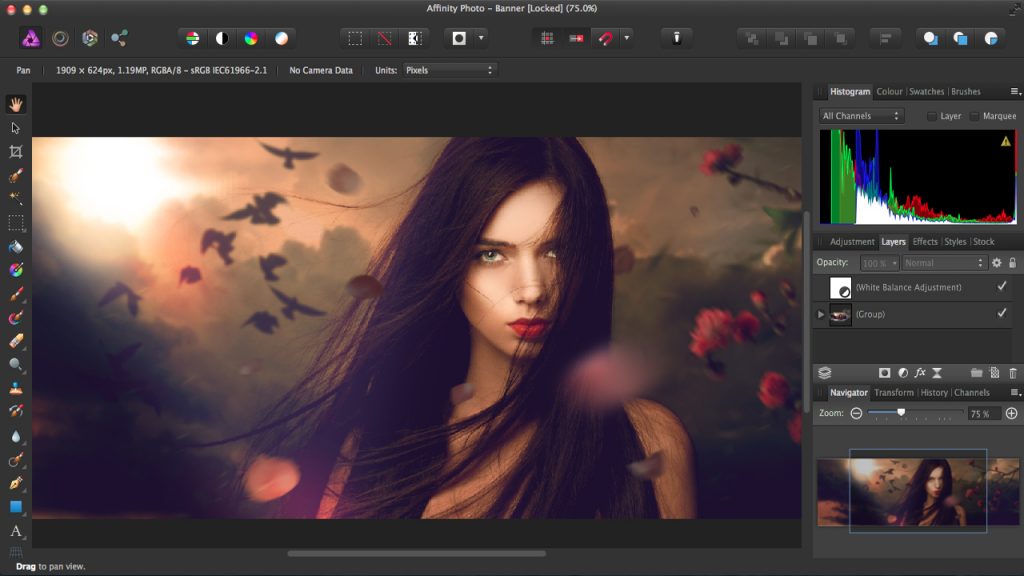 Support: Windows, Mac and iOS
Another Photo editing software for PC, Mac and iPad that qualifies for creative features is Affinity Photo. At a glance, it brings look and feel of Photoshop. Whether RAW file editing, HDR merging, 360 image editing, panorama stitching, batch processing, PSD editing, digital painting, non-destructive live filter layering, Affinity Photo can do all these and a lot more. You get to enjoy many features like in Adobe Photoshop but at a lesser price.
The software efficiently does basic image editing such as crop, cut, sharpening, color corrections, patch or blemish removal tools, retouch, effects, etc., to enhance photos. You can create complex compositions using its library of adjustments, effects, and filters.
Affinity Photo provides a 90-day free trial of photo editing on Mac and Windows.
Pros
Multiple advanced features
Intuitive and easy to use
Real-time preview
RAW file support
Fast to load
Cons
Limited lens-profile corrections
No plugin support
No sharing option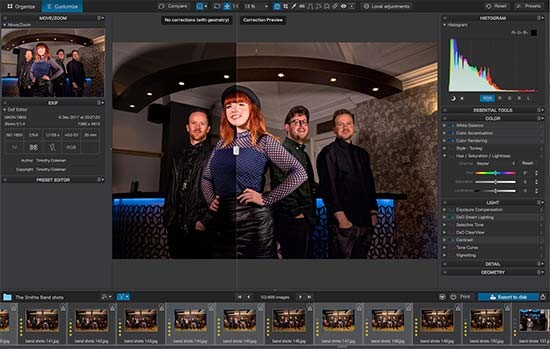 Support: Windows and Mac
Developed by DxO, PhotoLab 4 offers all the necessary photo editing tools. It is intuitive and easy to use with many user-friendly features.
The software is known for its DeepPRIME technology that uses artificial intelligence (AI) to reduce digital noise in photos. DxO Smart Workspace helps to manage workspace by displaying your favorite tools in the project along with edit history panel and batch file rename options.
The software offers about 40 presets, optical correction tools to recover hidden details in photos, exposure balance to add depth, smart brush tools, photo repair mode to remove blemishes and unwanted elements, copy & paste feature, and RAW processing etc.
You can edit and transfer RAW images between Lightroom Classic and DxO PhotoLab. Unlike Adobe editing tools, PhotoLab can be purchased. It has no subscription plan.
A 30-day free trial version is available.
Pros
DeepPRIME noise reduction technology
User-friendly features
Excellent auto correction
Supports RAW files processing
Cons
Limited workflow tools
DeepPRIME processing often takes longer
Absence of Fujifilm RAW files support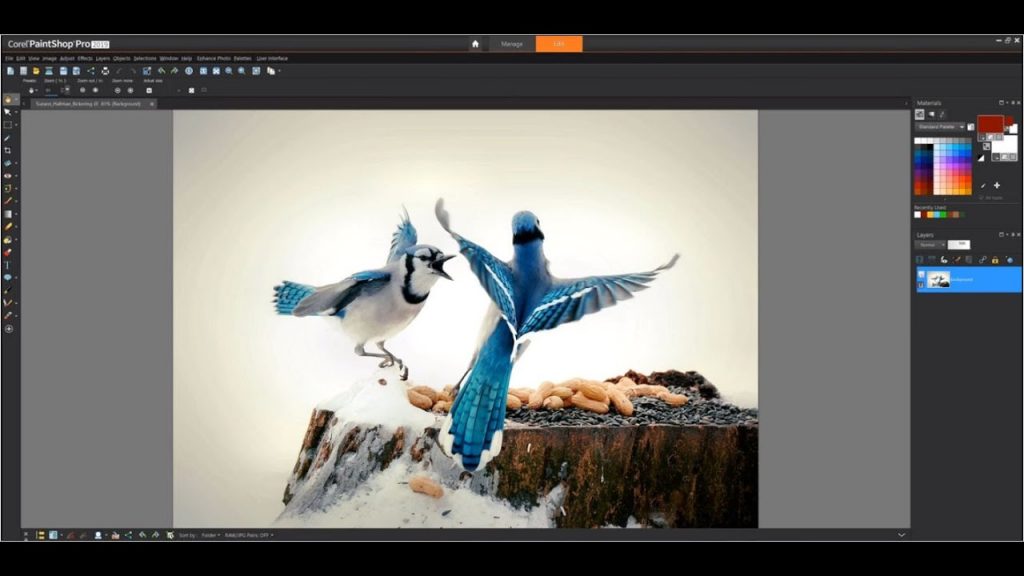 Support: Windows
Corel PaintShop Pro is an easy-to-use photo editing software preferably for beginners and semi-professionals. You can quickly edit photos choosing from many presets, retouch options, color corrections, 3D effects, filters, brushes, and backgrounds to creatively transform photos.
It can replace unwanted areas, create artistic effects and illustrations, merge layers, masking, combine elements from different images into one picture, convert photos to animation, and more. Its customized workspaces, menu system, toolbars, preferences, and preview options help to work on a project as per your comfort.
Corel PaintShop Pro is worth trying if you want a budget option with certain pro photo editing features. The developer offers 30-day free trial of the photo editor tool.
Pros
Inexpensive
Edits both raster and vector images
RAW photo editing
Email option present
Cons
No macOS version
Limited AI features
Finally, Best 7 Photo Editing Software for all users
Adobe Photoshop
Movavi Picverse
InPixio
Adobe Lightroom
Affinity Photo
Dxo Photo Lab
Corel Paintshop Pro
Here we have listed some of the best photo editing software for all skill levels, whether beginners or professionals.However, its recommended to first go for the free trail offered by these tools. This helps to assess the capabilities and ease-of-use as per your skill level.
Affiliate Disclosure: Stellar promotes third party software under affiliate relationship with the third party developer and we use affiliate links. That means that when you will decide to buy third party software from our website, we may earn a small commission from the developer at no extra cost to you.