Best Ways to Identify and Repair Corrupted Data Files in QuickBooks
Corruption within a QuickBooks® Desktop (QBDT) data file, typically the ones that are used infrequently, may go unnoticed until it reaches a severe level – the data stored on the file gets damaged or lost. Needless to say, such a situation could be panicking, especially when the corrupt file has crucial data. And so, it becomes imperative for you to identify telltale signs of QuickBooks® data file corruption.
How to identify corruption in QuickBooks data file?
Some conditions that can help you determine corruption in QuickBooks data file are:
QuickBooks Desktop crashes/freezes
QuickBooks keeps crashing or freezing when attempting to download and install latest updates.
A problem in opening QuickBooks company file
QuickBooks data file behaves strangely and won't open in a multi-user environment.
QuickBooks backup restore failed
While restoring a backup of your company file, you may receive any one of the following error messages:
Error: Failed.
Restore Failed. This is an Invalid Format of a Post QuickBooks 2007 Backup File
Error: Restore failed. Can't remove the log file
Balance Sheet out of balance in accrual basis
QuickBooks desktop balance sheet is out of balance. The value of total assets differs from the sum of the liabilities and equity.
Importing accountant's changes results in errors
You receive errors and unexpected results after importing accountant's changes to a QBDT company file. For instance, the due date on transactions created in Accountant's copy is changed or removed after importing the changes.
Best methods to repair corrupt QuickBooks data file
Now that you know how you can identify corruption in QuickBooks data file, let's explore the best methods that can be used to repair QuickBooks data file corruption:
Method 1 – Verify and rebuild data
Intuit recommends running the built-in Rebuild and Verify Data Utility tools to fix QuickBooks errors. The tools help repair and notify about any data damage within a QuickBooks data file.
Follow these steps to rebuild data:
Step 1: Click File > Utilities > Rebuild Data
Step 2: In the QuickBooks Information window, click OK
Step 3: When prompted save a backup, click Yes. (Note: Your system may display 'QuickBooks is not responding' error message. But, until you can see your mouse cursor move, the Rebuild process is still ongoing. Just wait for the process to complete.)
Step 4: Once Rebuild has completed, click OK.
Follow these steps to verify data:
Step 1: Click File > Utilities > Verify Data.
Step 2: If you receive a message 'QuickBooks detected no problem with your data', click OK. You may continue using your QuickBooks data file.
Step 3: If Verify finds some problem with your company file, click View Errors or Rebuild Now.
Step 4: Once data is fixed, hit the Close button.
For detailed information on utilizing the Rebuild and Verify Data Utility tools, refer to this link.
Limitations of Rebuild Data Utility Tool:
The Rebuild data command, typically when running across a network, may cause irreparable damage to the QuickBooks file you want to repair.
It might not deliver the expected outcome.
Method 2 – Use Software for Faster, Precise & Risk-free File Repair Capabilities
If the above method fails, or you are looking for a quick to implement a solution to fix file corruption, use a specialized QuickBooks repair tool for efficient and faster results.
Stellar Repair for QuickBooks Software is purpose-built to repair severely damaged and corrupt QuickBooks® data files in the most convenient and risk-free manner possible.

Key Features:
Fixes all errors that appear while opening QuickBooks® data files
Recovers all components of QBW file including company, customers, vendors, and employees
Supports advanced repair from QuickBooks Backup (QBB) file
Previews recoverable QBW file data
Rich and intuitive GUI helps repair QuickBooks® data files in three simple steps:
Step 1: Select the file you want to repair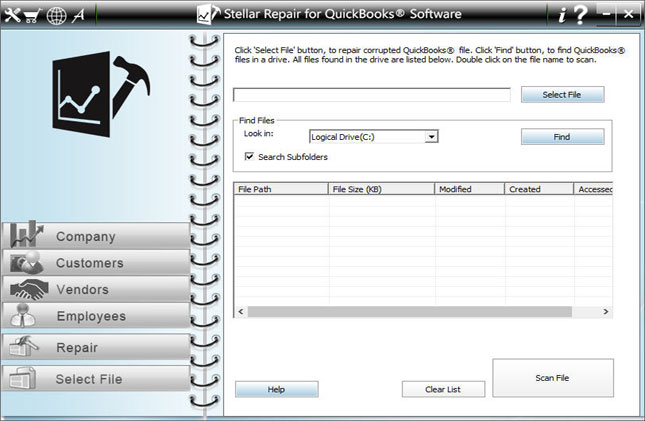 Step 2: Scan the file, and preview the recoverable data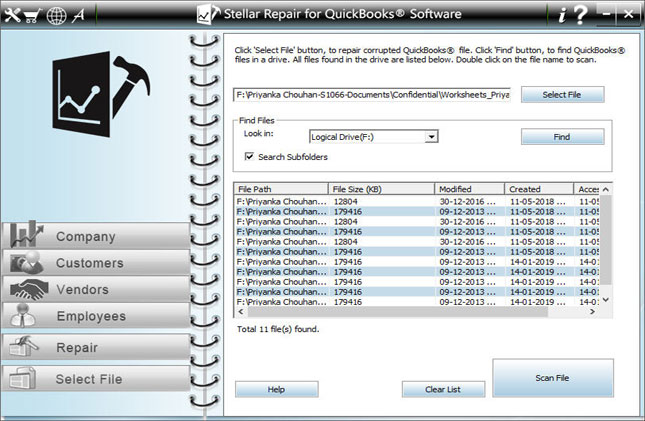 Step 3: Save the repaired file at the desired location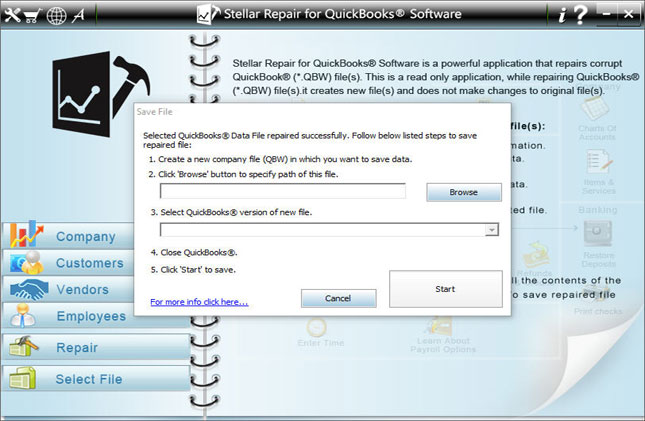 NOTE: Use the trial version of the software to scan the corrupt QuickBooks® data files and preview the recoverable data. Once you are able to ascertain the software's effectiveness, you can save the recoverable data by activating the software.
Method 3 – Fix QBW file issues by using free tools
QuickBooks offers some free tools that can be used for data repair and data recovery of corrupt/damaged QBW files, such as:
QuickBooks File Doctor
This QuickBooks repair tool can help identify and fix internal issues such as header corruption in the QuickBooks company file. It also helps detect and resolve networking issues caused by multi-user setups.
Pros:
Fix 6000-series errors that you may receive while opening your QBW file.
Resolves networking errors like H202, H303, and H505.
Cons:
It usually doesn't work on a QuickBooks file larger than 2GB
QuickBooks Install Diagnostic Tool
The QuickBooks Install Diagnostic tool, also known as QBInstall tool, as the name suggests helps resolve installation-related issues.
Pros:
Detects and fix issues with .NET framework, C++, MSXML, and other QB components.
Resolves 'QuickBooks has stopped working' issue.
Cons:
The scope of error recovery is limited.
Use QuickBooks Auto Data Recovery for data recovery
Auto Data Recovery (ADR) is a feature of QuickBooks Desktop that can help recover all or the majority of your lost or corrupt data.
Pros:
Restores lost transactions of your company file
Cons:
The restored transactions are not up to date
Wrapping up
This post outlined some signs of QuickBooks file corruption and described methods that can be used to repair corrupt or damaged QuickBooks data file.
But, keep in mind, what happened once can happen again. You may experience problems with your QuickBooks data file again. Below are a few key considerations that can help you prevent corruption in the data file:
Back up multiple company files: Create multiple backup copies of your QuickBooks Desktop data file and save them to different locations.
Condense your QuickBooks file: Although there is no limit on the size of your QuickBooks data file, but a large-sized file can cause QuickBooks performance issues. Also, it increases chances of file corruption. However, you can reduce your file's overall size and minimize the risk of corruption by using QuickBooks Condense Data utility.
Use professional-grade servers and workstations: This will help you optimize QuickBooks Desktop performance and prevent QuickBooks from shutting down abruptly.