Summary: This post summarizes how users can resolve 'Cannot open default email folders' error that crops up while launching MS Outlook. It further suggests how Stellar Converter for OST can be used to fix Outlook OST file issues.
MS Outlook, though the most used emailing client across the globe, is quite infamous for the cryptic errors that plague it. While on the one hand, Outlook users can't stop raving about its user-friendliness and wide range of features, on the other hand, popular technical forums are frequently flooded with queries wherein users are looking for solutions to its problems. Herein we're focusing on one such troublesome error of MS Outlook and the trick to fixing it with ease.
The error in focus
Sometimes when trying to launch MS Outlook, an error pops-up with the message:
"Cannot open your default email folders. The file xxxx.ost is not an offline folder file"
While experienced users may have seen this error before, novice and non-technical users might be baffled by it. Let us understand the error in greater detail.
In the above message, the name 'xxxx.ost' indicated the Offline Storage Table file (OST file) that is created by Outlook when it is working with the Exchange mailbox offline. Since this file is created automatically when Outlook connects to Exchange, users are often unaware of its existence.
The OST file stores an exact replica of Exchange mailbox on the local machine and allows users to work with their mailbox items seamlessly even if the connection with Exchange disrupts or the server experiences downtime. Whenever the server comes back online or the connection is re-established, all changes within the PST are merged with the Exchange account. As is evident, an OST file is quite an essential part of Outlook and any damage to it can cause unexpected Outlook behavior, including failure to launch properly.
Reasons behind the error
Before proceeding to the solution for the error, let us first try to understand the real cause behind it. The error in focus arises because of any of the following:
• OST file is damaged or corrupted, and cannot be recognized by Microsoft Outlook. There could be several reasons behind the corruption itself including Virus infection, Oversized OST, Abrupt termination of Outlook-Exchange connection, and more.
• Outlook cannot access the Exchange mailbox associated with the OST file or cannot synchronize the mailbox with the offline folders in the OST file. This could be since:
o The email account for accessing Exchange mailbox has been set incorrectly
o The email account for the Exchange mailbox has been deleted
o There are communication problems between the Outlook and the Exchange server
o You don't have an Exchange email account or your email account is based on POP3, IMAP, HTTP or mail servers other than Exchange server, but you've set it as Exchange-based by mistake
How to fix Outlook OST file issue
If you find yourself in a situation where your Outlook OST file has been damaged or turned corrupt, there are two ways in which you can deal with the problem.
1. Restore OST file from a recent backup
2. Repair Outlook OST file and extract all data from within it
Disaster doesn't warn before striking. Thus, if and when your OST file gets corrupt or damaged, you may not necessarily have a recent backup at hand. Thus, the best way to fix Outlook OST file issue is to repair Outlook OST file and extract all its data.
The easiest way to achieve OST file repair is by converting it to Outlook PST format, importing the PST into Outlook, and saving all data from it. To convert Outlook OST to PST format in a safe and accurate manner, use Stellar Converter for OST. This proficient tool lets you extract emails, contacts, calendars, notes & Journals from OST file and safely convert them into Outlook importable PST. In addition to PST, the product gives you the option to save selected email messages in MSG, EML, RTF, HTML, or PDF formats too.
Stellar Converter for OST Rating by MVP:


Reference: https://social.technet.microsoft.com/wiki/contents/articles/43966.microsoft-outlook-stellar-ost-to-pst-converter.aspx
Follow the steps below to convert inaccessible Outlook OST file into accessible PST file using this software:
1. Download, install and launch Stellar Converter for OST

The home screen of the software provides two options to initiate the process:
a. Click 'Browse' if you know the file location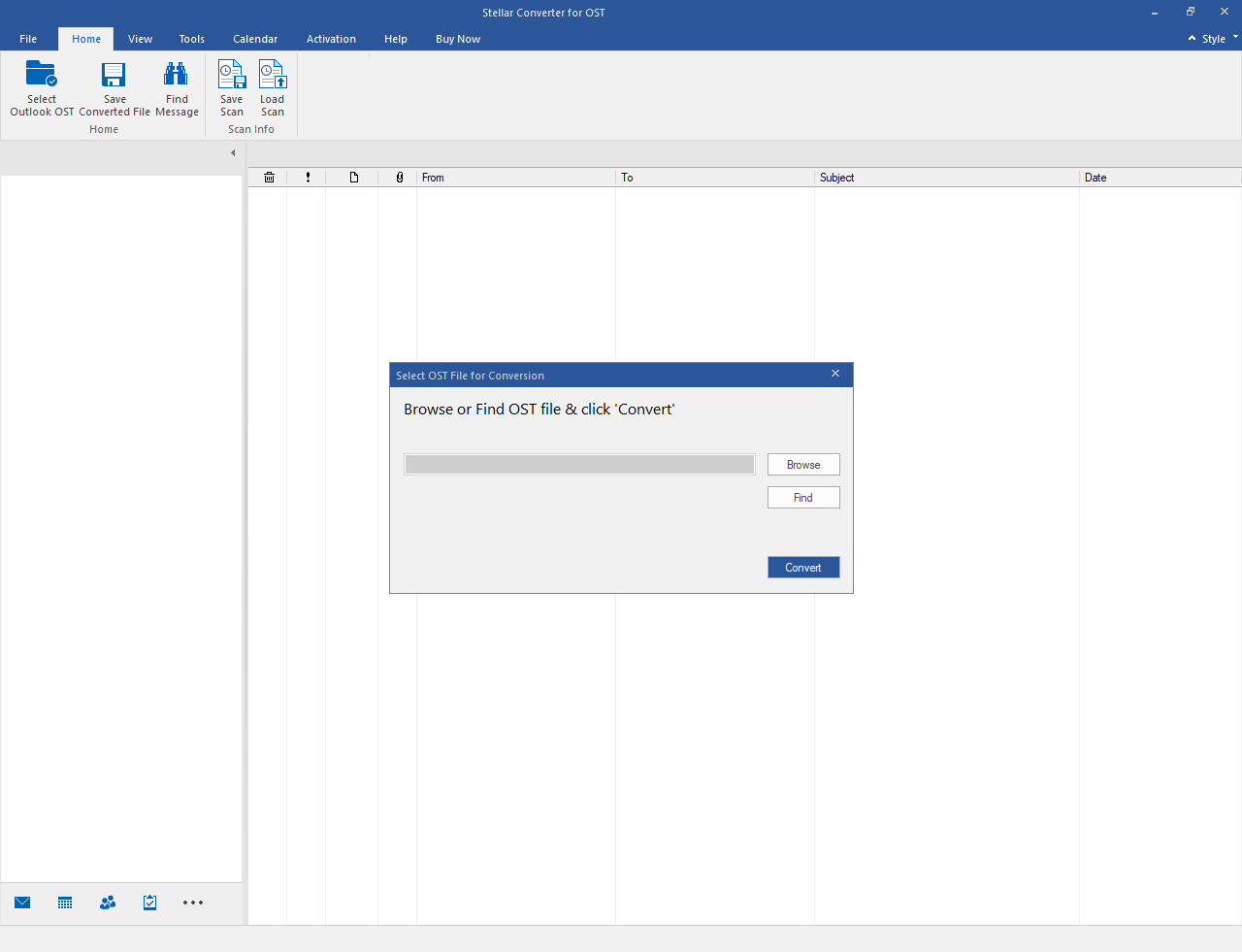 b. Click 'Find' if you're not sure where OST file is located
3. Once you've selected the OST file for conversion, click 'Convert' to initiate the process.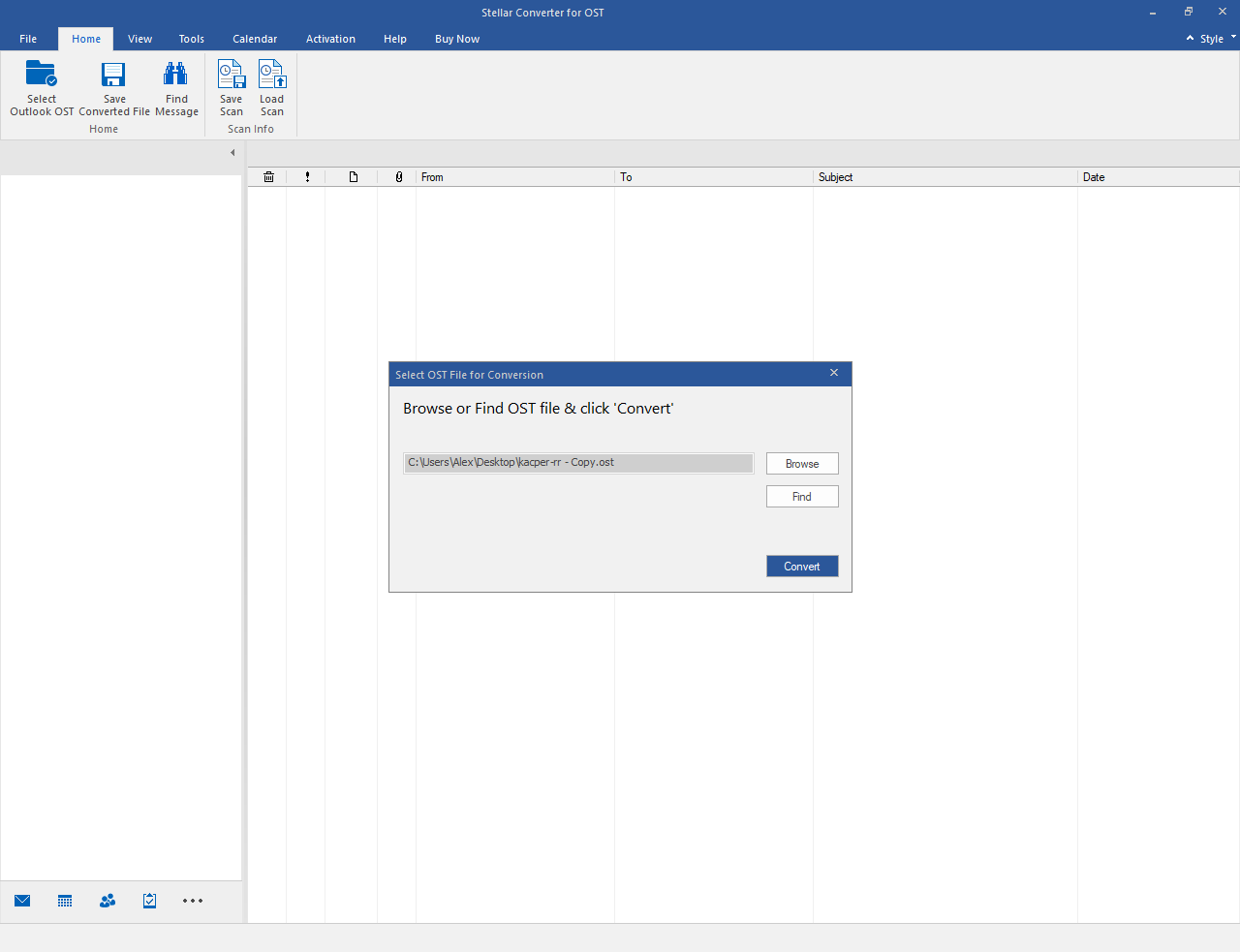 4. You can track scan status through the progress bar shown on the next screen. The time to scan the OST file depends on its size.
5. As items are discovered, they'll be populated within a tree-view list in the left hand panel of the software window. You can preview any item by clicking on it or selecting it using the Up / Down arrow keys.
6. Once you're satisfied with file preview, select the files/folders which you want to convert and click the 'Save Converted File' button from the 'File' menu.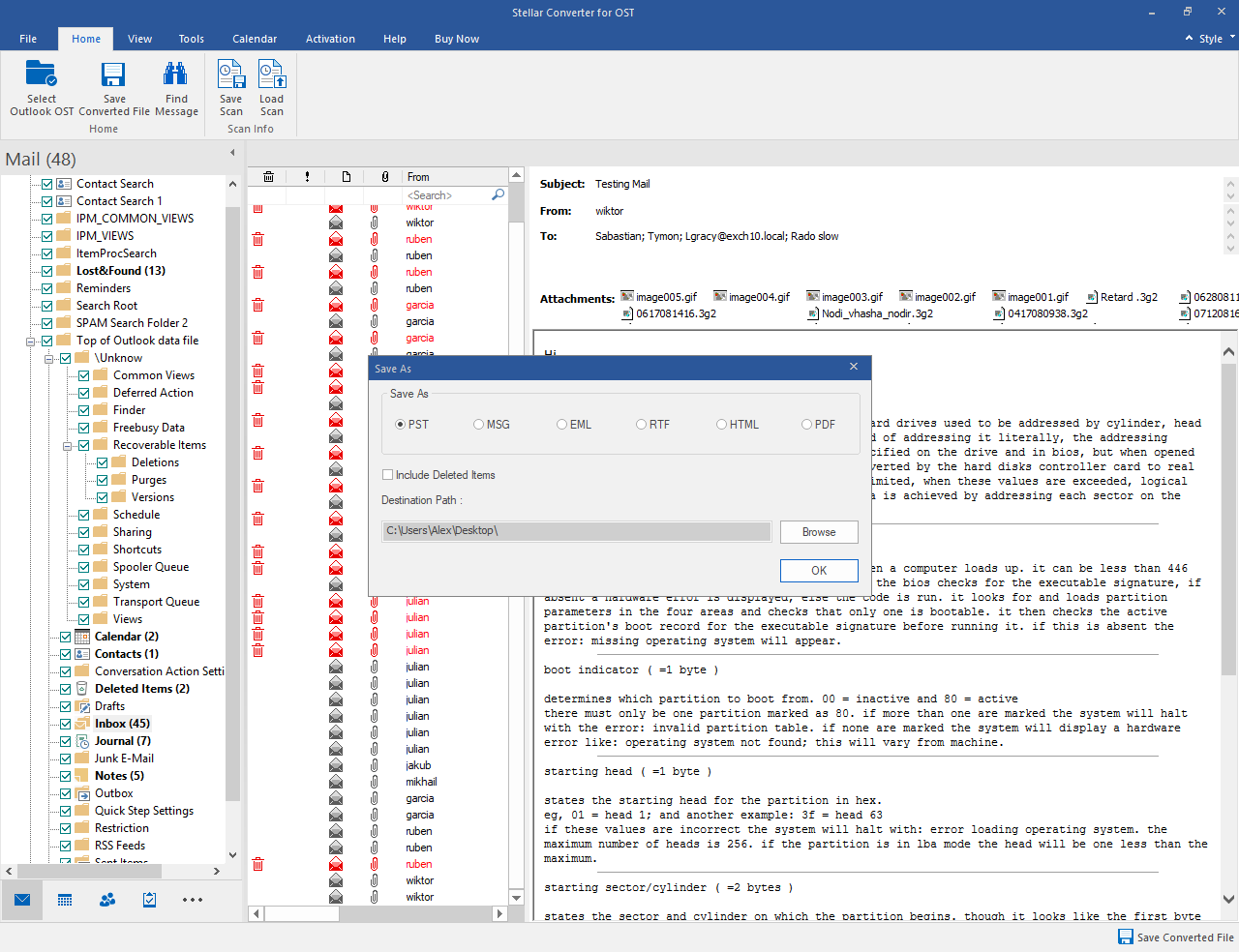 7. Select 'PST' from multiple saving options and choose the desired location where you want to save the converted file. Click 'OK' to convert.
The Final Word
Stellar Converter for OST is a safe and reliable solution to fix Outlook errors. The product expertly handles minor as well as major OST file issues and extracts all data from it to make your data accessible to you in no time.