Moving from a desktop email client, for example, Novell GroupWise to cloud for all emailing needs is an intelligent decision. This is because of the several advantages that cloud-based emailing applications provide. One significant benefit is that users can access the entire data anytime anywhere and on any device. A high-end example of cloud-based application is MS Office 365, which offers its users multiple benefits including any time, anywhere, and any device data accessibility. This blog discusses the method to export GroupWise Mailboxes to Office 365 and acquaints readers with Office 365 and its advantages.
Benefits of moving from GroupWise to Office 365 
MS Office 365 is a subscription-based online or cloud-based service providing MS Office applications, Exchange Online, Lync, SharePoint, and Microsoft Web Apps. Its advantages over on-premises installations like Novell GroupWise are as follows:
Extensive Accessibility – MS Office empowers users to access emails, documents, contacts, calendars and other data anytime, anywhere and on any device (desktop, laptop, or smartphone). It provides users with wide data accessibility.
Simple & Easy – MS Office 365 is cloud storage that is easy to understand. Users can learn it while using with a little effort.
Low-cost – With Office 365, the on-premises server is not required, due to which the costs involved in the development and maintenance of physical servers is drastically reduced, thus making MS Office 365 a low-cost and affordable investment.
Secure and Reliable – Office 365 has several security features embedded into it, thereby, keeps the saved data safe and ensures Office 365 a reliable storage.
Up & Running: As the name suggests MSOffice 365, Microsoft provides 24×7 support to this application to be up and running.
Migrating GroupWise mailboxes into Office 365
Now that you are acquainted with the Office 365 benefits, you can quickly start the process of exporting GroupWise mailboxes to Office 365. Use Stellar Converter for GroupWise Technician, an advanced version of Stellar Converter for GroupWise. With Technician version, you can export GroupWise mailbox data using Online, Cache, Remote, or Archive mode. You can export in Office 365 or other file formats that may be new or existing Outlook PST, PDF, HTML, EML, MSG, RTF, and PDF.
The software empowers users to export multiple mailboxes from a GroupWise server (all at once) while keeping their nested structure intact, through batch process. This ensures a fast and low-risk mailbox migration that is required to keep up with the stringent work deadlines. The user-friendly tool has multiple features, for instance, mailbox preview, selective email conversion, saving options, etc. to reduce the effort required for demanding jobs, such as exporting large mailboxes.
Software Features
Some of the exclusive features of the tool are as follows:
Exports emails, address book contacts, attachments, discussion notes, appointments, tasks, reminders, document references, etc.
Provides a preview of exported mailbox items before saving
Exports single or multiple GroupWise mailboxes simultaneously
Provides an advanced and improved method to login to GroupWise Server
Allows to export all or selected mailboxes, or specific folders on GroupWise Server
Software Support & Compatibility
Works with GroupWise 2018, 2014, 2012, 8.0, 7.0, 6.5, and 6.0

Supports MS Outlook 2019, 2016 and all lower versions

Compatible with Windows 10/8.1/8/7/Vista/Windows Server 8/Windows Server 3
Software Benefits
The multiple benefits that the software offers are as follows:
Easy-to-use and intuitive GUI
Ensures accurate and reliable export of GroupWise mailboxes
Provides greater flexibility and ease-of-use with multiple saving options
Software Working-Steps
Steps to migrate GroupWise mailboxes to Office 365 using Stellar Converter for GroupWise Technician software is as follows:
Download and install the software
The software launches automatically
Activate the software by the online or offline mode
Open Stellar Converter for GroupWise Technician
The tool's primary interface titled 'Connect to GroupWise Server' dialog box appears.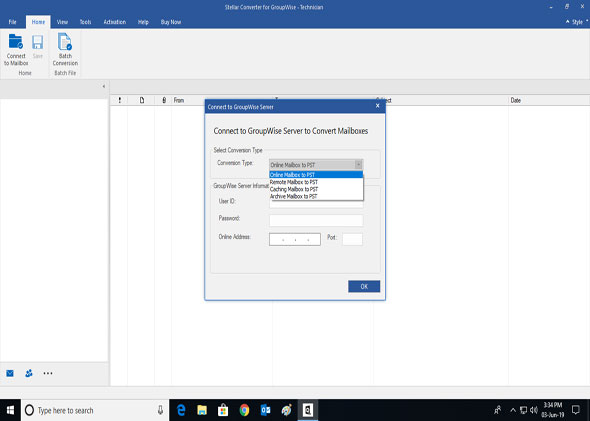 4. Choose between 'Connect to Single GroupWise mailbox' and 'Connect to Multiple GroupWise mailboxes'    option. Based on the choice, export single or multiple GroupWise mailboxes to Office 365.
    (I) To connect to a single mailbox, perform the following steps:
(i) Choose one from the four options: Online, Remote, Cache, and Archive mode
(ii) In the 'GroupWise Server Information' section, fill in the following details:
For Online mode, fill in the required User Id, Password, Online Address and Port number.
For Remote mode, enter the Password and Remote Mailbox Path
In Cache mode, the required details are User Id, Password, Online Address and Port No., & Caching Mailbox Path
In Archive mode, enter Archive Mailbox Path only
(II) To connect to all GroupWise mailboxes, perform the following:
(i)  Select 'Convert all GroupWise mailboxes to PST files'
(ii) Enter Proxy User Name, Password, and Online Address and Port in the 'GroupWise Server Information'  section
Now the GroupWise server is connected, and the software starts scanning. Next, a Preview window appears from which you can migrate all or selected mailbox data.
5. Select one, more, or all items in the left pane and then click on the 'Save' button from the 'File' menu.
'Save File Option' dialog box having multiple saving options displays. The saving options are PST, Office 365, MSG, EML, RTF, PDF, and HTML.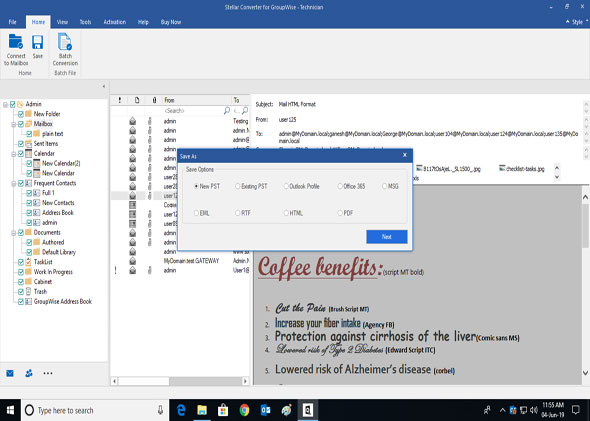 6. Choose 'Office 365' and click 'OK' both of which are present in the 'Save File Option' dialog box
7. Enter the Office 365 Login credentials – E-mail Id and Password and click on OK button.
Finally, the software exports GroupWise mailboxes into Office 365.
Prerequisites:
Before exporting GroupWise mailboxes to Office 365, it is essential to:
Create MS Office 365 user account
Install Office 2016, 2013 or Office 2010 with Service Pack 2. Only then, you can export GroupWise mailbox data
Note:
When exporting mailboxes from GroupWise to Office 365:
For Domain systems, you cannot export offline data to Office 365
You cannot export online mailbox data to office 365 but only the offline mailbox.
Conclusion
Stellar Converter for GroupWise Technician ensures the security of all mission-critical data stored in mailboxes by enabling mailbox or server authentication before migration. Thus, using this advanced software by Stellar Data Recovery is of great help to migrate GroupWise mailbox into Office 365.