Summary: Summary:Are you unable to format your hard drive? What is stopping you to format your drive? Get your all questions here in this guide post.

Scenario: You're on a sightseeing trip to a picturesque location and have a high-end DSLR with you. You love clicking pictures and at the end of each day, your 16GB memory card is almost full making it impossible to continue the next day without transferring the photos to another device. So each night you empty the memory card into an external hard drive via a borrowed laptop. Now, on returning from the trip you plug in the external hard drive to sort through the marvellous shots you took but you find a rather unpleasant surprise. Your PC refuses to let you access the photos and instead displays the message, "The hard drive not formatted, format it now?"
Such a situation could be very frustrating and heartbreaking. What was to be a memorable trip could turn into a waste in a fraction of a second. There's practically no option left for you but to format the hard drive in order to access it again. And it is common knowledge that formatting erases all data. So what do you do? Well, go ahead and format the external hard disk. And before you think that is absurd, let us assure your photos will still be safe afterwards and can be easily recovered.
Now that we have your attention, let's delve a little more deeply into the topic before moving to the trick to recover the formatted hard drive.
A brief look into hard drive formatting
External hard drives are extremely useful storage devices that make for excellent backup devices. They are portable, easy to plug-unplug into PCs and laptops and offer up to 5TB of extra space to store your crucial data, multimedia files, photos and more. Plus most modern external HDs come with quite fast transfer speeds that make them even more desirable.
Reasons prompting users to format hard disk
Every hard drive needs to be formatted once a while owing to several reasons. Some of them include:
In case of internal hard drives that are boot-up volumes, problems with the startup indicate boot manager or MBR issues. To rectify them, you may need to format the hard drive.
Often when hard drives are attacked by malicious viruses/malware that cannot be removed or quarantined, a complete format is the best option to wipe them clean.
To optimize the performance of hard drives, some people format them regularly each time they're full
If you need to use a hard drive on different operating systems such as Windows, Mac and Linux, you might need to format it each time.
Errors such as the one described in the scenario above are other sadder reasons why hard drive formatting is done.
Hard drive formatting – what happens in the background?
Quite a few of us understand hard drive formatting simply as erasing of all data on the drive. Technically, there's a lot more to it. Formatting causes the operating system to delete all sectors and header tables that store and provide access to your data on the drive. So when these sectors and tables are deleted, the hard drive no longer knows what is stored where, thus making it "invisible" and "inaccessible".
However, noticeably, the data itself isn't physically removed from the drive. Formatting just marks the space occupied by your data as "fit for overwriting". So until you store new data on a freshly formatted hard drive, there's a 100% probability to recover every bit of data that was stored on it prior to the format.
Role of data recovery software
You would have guessed it, but we'll assert it anyway. Here's where powerful Windows data recovery software like Stellar Data Recovery – Standard comes into the picture. This application comes as rescuers when your precious photos, music, videos, documents, and other files get deleted accidentally or in a frenzy to free up storage. They can even recover stuff from formatted internal and external hard disks and also perform partition recovery
Here's how you can use Stellar Data Recovery – Standard to recover formatted hard drive:

Download and install Stellar Data Recovery – Standard
If the hard drive you wish to recover is an external one, connect it to your PC. Launch the software and click on 'Drive Recovery' button on the main screen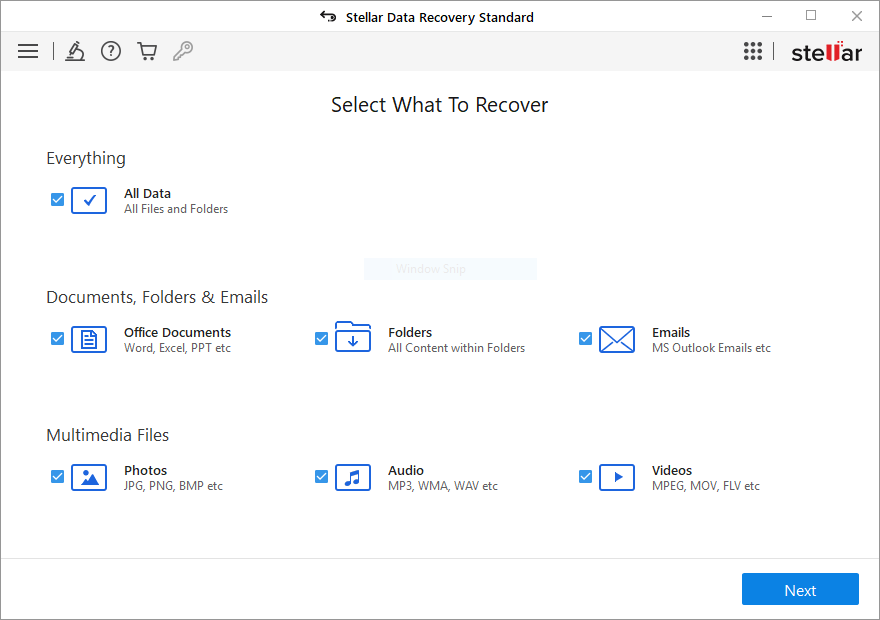 All drives on the system (including internal and external) will be listed. Select the drive to be recovered.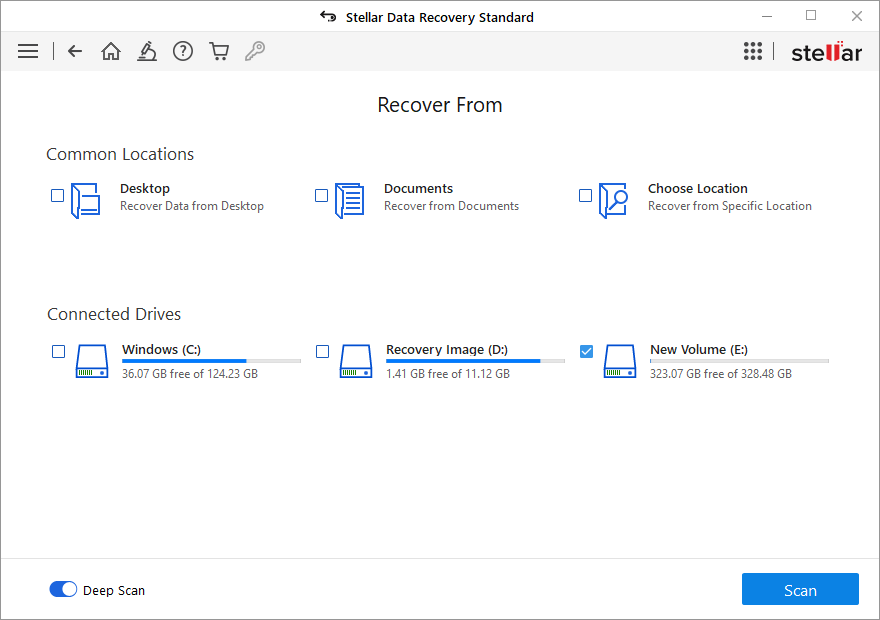 On the right corner of the software interface, just click on scan button to begin scanning.
The progress bar in the top-right pane shows the scan status. As files are discovered, the software prepares their tree-structured list in the left pane.
After finishing the scan, you see three tabs in the left pane that display all the recoverable files and folders in the selected volume.
Select a folder in the left pane to list all files in this folder in the bottom-right pane. Click a file to display its preview in the main interface.
Select the desired files and folders for recovery and click 'Recover' button at the bottom. This opens up the Select Destination dialog. In this dialog, browse for the desired location and then click 'OK'.
The software begins saving the selected files to your destination. You can observe the status of this task by viewing the two progress bars shown in the top-right pane.
Watch the video explaining the steps to recover data from formatted Hard Drive.
Wrapping it up
To keep safe from disasters like unexpected hard drive crash prompting for the format, always keep your data backed up. And the best practice would be to duplicate your data backups on different media. But if you still end up in this spot, remember not to write anything to the hard disk immediately after formatting and to rope in trustworthy data recovery software.