A Walk-through of the Features that Overhauled QuickBooks is intended to Offer
As you know, QuickBooks is an accounting software that is available in both desktop and online versions. The developer company, Intuit Inc., has been highlighting the significant features of QuickBooks Online, which now has come up with a revamped user interface (UI). The principal cause for UI overhauling is "pay one vendor page does not work properly when a particular vendor is selected. Also, it does not show the bills associates with the selected vendor – as reported by customers." Well, following are two overhauled areas in the new version:
A revamped UI (User Interface)
Well, in the revamped version of QuickBooks Online, user interface is given a brand new touch. If we compare this version with earlier ones having a classic style interface that nobody likes today, developers have put countless efforts into bringing out what customers indeed like to go for. Besides, the new version is designed while keeping many things in mind, viz. 'ease of navigation all the way through the product. After all, UI is the feature that creates a center of attentions for customers.
Improved Performance
One of the major issues encountered in previous version of QuickBooks Online is indecisive performance – as reported by many customers, many of the modules were not able to yield adequately. More precisely, if you move to QuickBooks Online, you certainly will desire for better or at least equivalent performance. However, things go even bad indeed. You do not get exactly what you have been intending for, as QuickBooks screen takes a while to refresh.
In fact, when it comes to business, no one can compromise with issues like performance of the product. Well, Intuit has been working to fix the issues, and has given much improvement in performance. In addition, you will get to see the following features in the new version:
Movable Modules on the Homepage
How about you being able to move the content or modules of a website in a manner you want them to be? Intuit has granted this feature in QuickBooks. Well, despite the aforementioned revamped features, revamped QuickBooks Online enable you to move the modules embedded on its homepage if you feel like. While in earlier versions, you had to click Customize button to be able to do the same. For this, just click and hold the desired module, drag the mouse to a new location, and then release the mouse click. Besides, the Customize button has been renamed to Add Content to Page, which lets you to add new modules.
Site Footer is no more available, except on Homepage
In the revamped QuickBooks Online, you no longer see site footer in the below section on each page, except on the homepage. After removing the footer, users not only get more free space on the screen to publish data representing their business, but they see more vertical space on Registration and other pages, which is confined to the business point of view. Besides, with the removal of the site footer, you no longer see the feedback link, which used to be there. Its new location is at the top right corner in the menu bar. However, the same is subject to change very soon.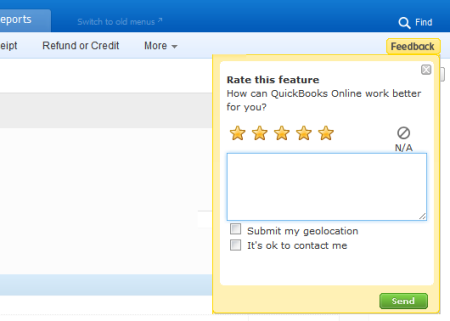 Enhanced Webpage Contrast
Many users have been complaining about too much brightness in QuickBooks Online web pages. Keeping the same thing in mind, Intuit is going to balance the brightness with contrast by bringing in some color tweaks. However, you still do not find the web pages containing many colors.
Addition of Invoice List Button
On the Invoice page, a button namely Invoice List has been introduced. This page helps you to select multiple invoices simultaneously and print them in a series. Likewise, it also features selecting and printing multiple Packing Slips.
Intuit App Center
QuickBooks Online now enables you to integrate it with some third party applications. For this, a separate menu is added to the top-right corner of the menu bar, which enables you to see the page linked to the Intuit App Center. The same menu also displays the applications you have registered with if they are available in the App Center. With a single user ID and password, App Center allows you to toggle among a number of apps. You can increase productivity with less consumption of time using certain apps like AuditMyBooks and Bill.com.
Access QuickBooks Online via SMS
Intuit brings a brand new way to access QuickBooks Online, which is via SMS. However, not every user will be able to access QuickBooks Online this way, whereas some users will be notified on their homepage footer for the same. To activate this service, user needs to use some commands. Since the feature is brand new, users will get to see many changes in it over time.
Managing the Session Expire Time when Untouched
QuickBooks Online now allows you to extend the inactive login session time after which you want it to be logged out automatically, as users have complaint regarding less login session time (i.e. 1 hour). Now, user can extend it up to even 3 hours. For this, navigate to Company > Preferences > Company sub section > Log out after inactivity. Once you are done selecting the time, click Save button. After that, you need to re-login to continue.
To run all the features, the browser you are using must be an updated version of the product. Well, when it comes to selecting a browser, people prefer using IE, Mozilla Firefox, and then Google Chrome. However, based on the browser, there can be compatibility issues. Thus, make sure you update your browser to the latest version.