How Do I Recover Data From a Formatted USB Drive?
USB flash drives have been around for a long while, and are widely used, particularly in offices. The USB flash drives revolutionized the way we carry data around. They're cheap, small in size (but large in storage), portable, faster, and mostly contain important files such as documents, presentations, photos, videos, etc. They facilitate an easy way of transferring and accessing data among multiple systems.
Did you know: The first ever commercially available USB flash drive was produced by a Singapore based company Trek Technology. Later that year, IBM came out with its DiskOnKey drive..
Since USB drives are connected and used with various systems frequently, chances of it getting infected are quite steep. Also, a common practice of improper ejection or sudden removal of flash drive often leads to file system error and drive corruption. Not to mention, accidental deletion and drive formatting is also quite common.
So, if you've accidentally formatted a USB drive, follow the steps given below to recover the data. At the end of this post, we also mention a few quick tips for safe use of USB drives and avoid instances of data loss.
Important Tip: When a USB drive gets corrupt or turns RAW, Windows prompts you to format it. Users generally click 'Format Disk' and end up losing their data. Therefore, next time if you see a pop up similar to the below screenshot, click 'Cancel', and immediately recover your data.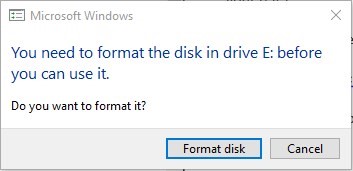 Recovering Data from a Formatted USB Drive
To recover data from a formatted USB drive, you need a data recovery software. There's no other way around.
However, it's important to note that recovery from a formatted drive is possible if the drive is 'Quick' formatted. It doesn't matter how many times but the drive should be 'Quick Format', which is the default format option in most OS.
Also, after formatting, you must stop using the drive immediately to avoid overwriting, as continued use can lead to data corruption and even permanent data loss beyond recovery.
Here're the steps to recover data from a formatted USB drive:
1. Connect the formatted USB drive to the PC.
2. Download, install and launch the Stellar Data Recovery Professional software.

3. Select the data you wish to recover. Click 'All Data' if you want to recover all file types and click 'Next.'
4. Select the USB drive from 'Connected Drives' list and turn on 'Deep Scan' toggle switch at bottom-left.
5. Click 'Scan' and wait for the scan to finish.
6. After the scan, the recoverable files are listed in the left 'Tree View' pane. You can click 'File Type' to sort the scan results.
7. Click on a file to see it's preview or click the checkbox to select the particular file or folder.
8. After selecting files, simply click the 'Recover' button. A new dialog box appears.
9. Click 'Browse' and choose a save location where you wish to save the recoverable files.
10. Click 'Start Saving', and the software will start saving the selected recoverable files at your desired location.
After recovering the files, you can format the drive if you wish or simply transfer the recovered files to the USB drive—where they actually belong.
To safeguard against future data loss due to such incidents, keep a backup copy of your data. Remember, data loss is inevitable and sudden.
Quick Tips to Safely Use a USB Drive & Prevent Data Loss
1. Keep a backup of your important files
2. Use antivirus and antimalware app on PC
3. Before removing the USB drive, right-click on it and select 'Eject'.
4. Click 'OK' to confirm (if prompted)
5. Use exFAT file system that is optimized for flash drives. It's compatible with macOS and Windows, and can store files larger than 4GB—a limitation in FAT32.
PRO TIP: Linux does not natively support exFAT. However, you can add support by entering this simple command in the terminal: sudo apt install exfat-fuse exfat-utils.
6. Keep the USB drive device drivers updated.
7. Keep a data recovery software handy.
Conclusion
USB drives are multipurpose storage devices that can be used for carrying and transferring data, installing OS, or as a portable OS. However, USB storage devices are prone to infection as they are often used with different systems. As a result, the drive becomes inaccessible due to a corrupt or infected file that can cause serious issues such as file system error and drive corruption. Improper drive ejection is also a major factor towards drive corruption.
While data can be retrieved from a corrupt drive by repairing it via error checking tool or utilities such as CHKDSK, people often end up formatting the drive- sometimes deliberately, but often accidentally that leads to permanent data loss.
However, with a data recovery tool equipped with deep (in-depth) scanning feature, you can quickly retrieve the lost, deleted, and formatted data even from a severely corrupt or RAW drive.