Fix Broken or Damaged Outlook (2007/2010/2013/2016/2019) Personal Folders (PST) File Instantly
This post highlights the causes behind Outlook 2007 / 2010 / 2013/ 2016 / 2019 PST file damage and suggests Stellar Repair for Outlook as the solution to repair the PST file.
MS Outlook stores mailbox data like Inbox Items, Sent Items, Deleted Items, Calendar entries, Contacts, Notes, Journal, etc in a local file known as Personal Storage Table (PST) file. Each Outlook profile has at least one PST file associated with it and this file is the single most critical file for any Outlook account holder.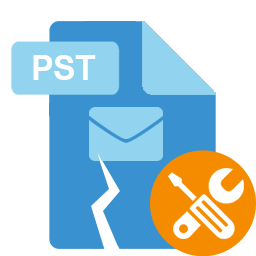 Any damage to this file could lead to improper behaviour on Outlook's part and also lead up to temporary or permanent data loss. Thus, understanding the reasons that could prove fatal for PSTs and also be knowing about easy ways to fix Outlook 2010/ 2013 /2016/ 2019 PST file is the best safeguard against threats.
Why MS Outlook PST files get damaged?
If Outlook takes too long to open up or hangs/freezes frequently, or experiences abrupt crashes, or often fails to launch altogether, it could mean your Outlook PST file is damaged. There could be several reasons behind PST file damage/corruption:
PST growing beyond its size limit
Abrupt termination of Outlook while you're accessing mailbox data
Virus / Malware infection to PST file
If the hard drive develops bad sectors and the PST is stored in one of such sectors it could become damaged
Faulty PST splitting / resizing operation
Errors while transferring PST from one computer on a network to another
If Outlook PST file is severely damaged, it often displays an error pop-up with an appropriate message informing you of PST file damage. In such a case, you should stop using Outlook immediately to make sure that no new data is being written to the PST. Once you've ensured that, try out the below-mentioned techniques to repair Outlook 2007/ 2010/ 2013/ 2016 corrupt file.
Manual Method to Fix Corrupt PST
Microsoft ships an inbuilt Inbox Repair Utility called ScanPST.exe with Outlook that can find and fix minor issues within damaged PSTs. To use this free utility, follow the below-mentioned steps:
Navigate to Outlook installation folder on your computer (different for each Outlook version)
Launch ScanPST.exe and click on the Browse button to find the faulty PST. If you're unaware of PST file's location but know that you have a single PST that is automatically created by Outlook, open up an explorer window and type the following command:
%appdata%\Microsoft\Outlook
          You should see your PST file in the list, usually called Outlook.pst.
Once the PST file has been opened within ScanPST.exe, click on 'Start' button to initiate file scan. The scan might take some time to complete depending on PST file size.
Once the scan completes, a report will be displayed with any errors that are found. Click on the 'Repair' button to fix the errors and click on 'OK' button when repair process completes.
Although ScanPST.exe utility fixes most minor issues with PST files, it has a few drawbacks:
It might be unable to fix major corruption issues within PST
It usually takes a long time to complete the repair process
Finding the location of faulty PST might not be simple for non-technical users
The easy way to fix Outlook PST
To overcome the limitations of ScanPST.exe tool and to repair Outlook 2007 corrupt file in the easiest way, use the safe and reliable Outlook 2013 PST repair tool Stellar Repair for Outlook. This tool fixes minor as well as major damage and corruption issues in Outlook 2007, 2010, and 2013 Outlook PSTs. It scans corrupt PST files and repairs it to extract all contents such as e-mails, attachments, contacts, calendars, tasks, notes and journals. The repaired email items are saved as a new usable PST which can be directly imported into MS Outlook.
This PST Repair tool from Stellar supports repair of encrypted and password-protected PST files and allows users to save selected recovered emails in EML, MSG, RTF, HTML, as well as PDF formats. Users can recover accidentally deleted emails and also easily 'Find' PST in case they're unaware of its location on the computer. With an interactive GUI, this tool makes repairing PST files easier than ever before.
The Way Forward – Stellar Repair for Outlook
Avoid wasting time on free yet incompetent Outlook PST repair tools and invest in the proficient software Stellar Repair for Outlook to fix all PST file issues.