Summary: Here are the quick fixes to resolve "Windows detected a hard disk problem" issue and solution to recover data from a failing hard disk drive using Stellar Data Recovery software.

"Windows detected a hard disk problem" is one of the most frequently asked questions on several tech posts and forums. Such hard disk error in Windows always comes up with many terrible consequences. It usually happens due to file system error, virus intrusion, disk errors, etc.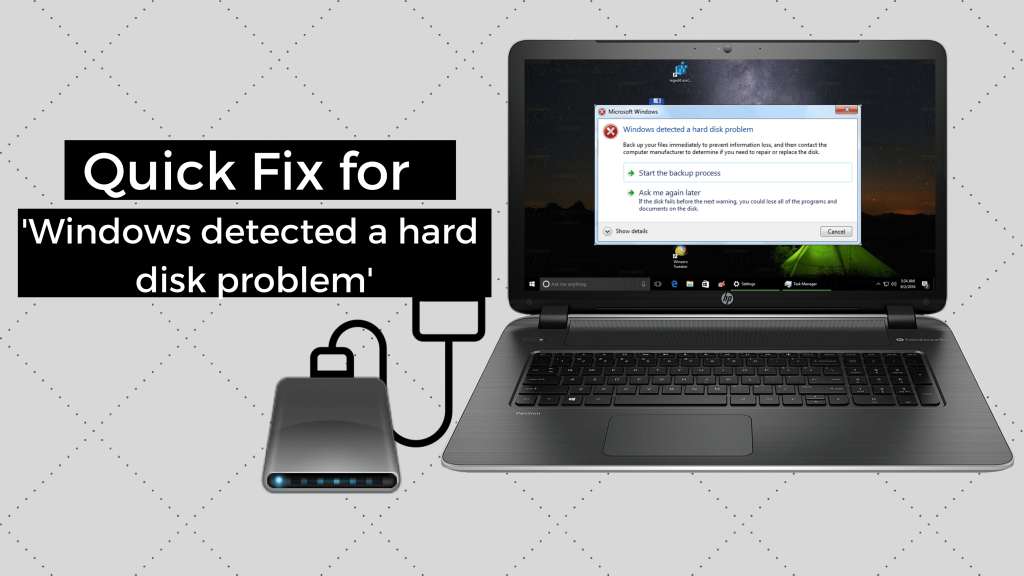 IMPORTANT NOTE: A few blog post on the internet suggests disabling 'Windows Detected a Hard Disk Problem' error message. However, we highly recommend not to follow such guides. Disabling the error message won't help; instead, it worsens the situation as you won't be able to know if your hard drive is suffering from an issue. This could be disastrous as you may lose entire data due to drive failure if appropriate steps are not taken to resolve the problem quickly.
There are Various Other Reasons for the Error:
System error such as registry error.
Hard disk failure.
Improper operations.
Virus or malware attack.
Drive removal without ejecting the volume(s).
Bad sectors on the hard drive.
The Consequence of a Failing Hard Disk:
Several difficulties strike when computer reports the "Windows detected a hard disk problem" error. Below are a few examples:
System files get corrupt.
System freezes frequently.
Hard disk drive encounters data loss.
PC turns into unbootable state or stops responding.
The system runs into trouble like Blue Screen of Death.
Solution For Data Recovery From a Failing Hard Disk
You can always fix problems detected by the hard disk but first, back up your files to prevent data loss. However, in case it is too late, and your hard drive has stopped working entirely, trust Editor's Choice Stellar Data Recovery Professional to get back the lost files.

The software comes with Drive Monitor utility. Use the inbuilt Monitor Drive option to check disk health, scan for bad sectors, and if required, clone the drive to safeguard data.
Follow the below troubleshooting solutions as a quick fix for the hard disk problem in Windows.
The solutions work for all hard drive whether it's an external hard disk that detects a problem and internal hard drive suffering from any problem.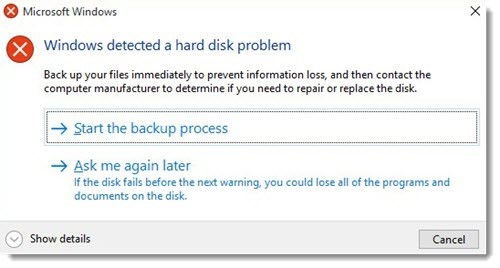 Case 1: Logical Disk Failure
Method 1: Run Disk Error Checking Utility or CHKDSK
The error checking tool checks and repairs hard disk error in Windows 10, 8.1, 8, and 7 for FAT (FAT16/FAT32) and NTFS file systems. Follow the below mentioned steps:
Close all the open applications.
Open the File Explorer by pressing Win + E command altogether.
Right-click on the affected drive and open 'Properties'.
In the Properties window, click the 'Tools' tab and then click on the 'Check' option listed under the Error-Checking column.
Click on the 'Scan Drive' option.
Alternatively, you can run CHKDSK scan via command prompt by typing chkdsk /f /r X: where X is the drive letter. After its successful completion, restart the system. Most probably, this fixes the detected problem with the hard drive.
Method 2: Run Anti-virus Program
Sometimes the reason for the error is virus or spyware; therefore, removing the malware can potentially resolve the issue. To address this, use a reliable antivirus or anti-malware app. Then scan the drive or volume to remove the spyware or malicious content.
Case 2: System Failure/Problem
Method 1: Use System File Checker (SFC)
System File Checker is a Windows inbuilt command line tool to check system file integrity. Here are the steps to use it:
Go to the Start button.
In the search bar, type cmd.
Right-click and choose the "Run as administrator" option.
Under the command prompt, enter sfc /scannow.
Press 'Enter'.
This fix is quick and efficient. The SFC scan rectifies system file integrity problems. It scans all the protected system files and replaces found corrupt or damaged system file with a backup copy from the cache.
NOTE: In some case, if the replaceable file copy is not found in the cache, the system will ask for a Windows installer or repair media to access the unavailable system file.
Method 2: Reinstall Windows
For all unresolved and re-occurring system problems, the best fix is to reinstall Windows operating system. Ensure complete system backup, and system partition has enough free space before reinstalling Windows.
Quick Tip to Prevent Windows Detected a Hard Disk Problem
Keep a backup of your critical data. Preferably, create at least two backups – one on cloud and another on a local external storage.
Run scheduled chkdsk scans to fix file system errors and hard drive problems.
Install a reliable antivirus or anti-malware protection.
Ensure proper ventilation to avoid drive overheating.
Use the 'Monitor Drive' tool in Stellar Data Recovery Professional to scan bad sectors and monitor the health of the connected drives on the go.
Always eject the drive volume before unplugging the external storage media.
Conclusion
The blog post highlights the possible reasons for "Windows detected a hard disk problem" error along with the result-driven solutions, and smart tips to get rid of it. But always keep in mind to take the backup of the data and if you don't have a backup ready, use Stellar Data Recovery Professional for Windows to recover the lost and deleted data.