Free Download: Photo Recovery Software to Recover Deleted Photos
Summary: Are you tired of losing your precious photos due to technical glitches or human errors? In this blog, we've highlighted the features of Stellar Photo Recovery tool to recover your lost/deleted pictures in just a few clicks.
You've just returned from a week-long trip to Europe and taken hundreds of pictures of the cities and landmarks you visited. However, when you transferred the photos to your computer, you accidentally deleted them from your camera's memory card.
Your heart sinks as you realize you've lost all the memories of your once-in-a-lifetime trip. But don't worry; all hope is not lost. With the help of photo recovery software, you can recover those lost photos and save them once again.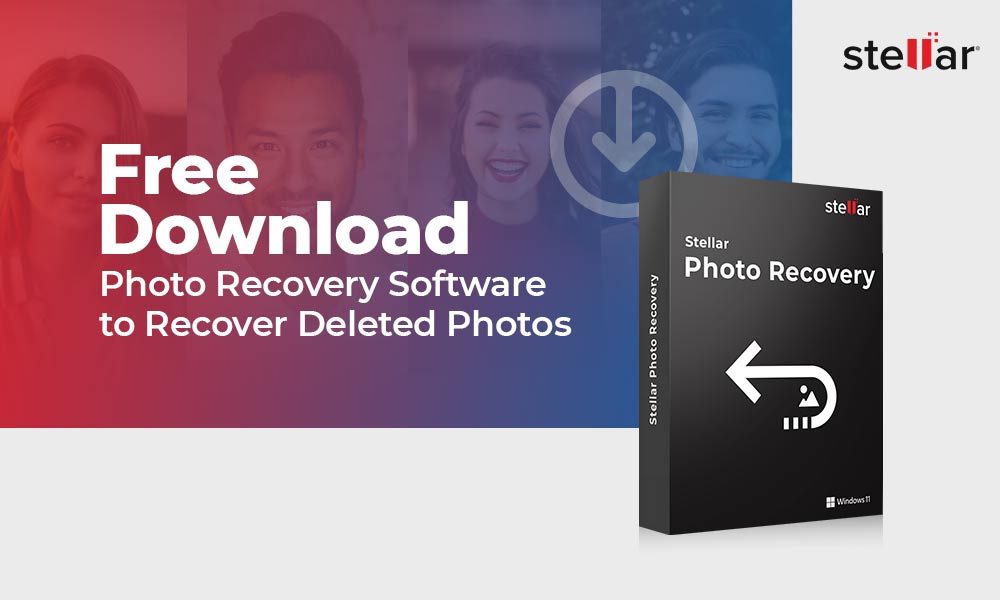 In this blog, you'll learn about the reasons for photo loss and how Stellar Photo Recovery can help you to restore them. So, let's get started.
What Are the Possible Reasons Behind Photo Deletion?
Before understanding the process of photo recovery, it's essential to know why they are getting deleted in the first place. Some of the most general reasons behind data loss are:
When You Delete Photos Accidentally: Users unintentionally delete photos by pressing the wrong button or mistakenly selecting the delete option. It can happen on various devices, such as smartphones, cameras, or computers.
Viruses and Malware Attacks: Malicious software can infect devices and cause harm, including the deletion or corruption of files, including photos. Viruses and malware can be transmitted through unsafe websites, email attachments, or downloading suspicious files.
When the Software Crashes: Software crashes or glitches can result in the loss of photos, if an application or operating system crashes while accessing or saving photos, it can lead to data loss if the files are not properly saved or backed up.
Formatting Errors: Formatting a storage device like a memory card or hard drive erases all the stored data, including photos. Formatting errors can happen due to human errors, improper device handling, or formatting issues.
Sudden Power Outages or Surges: Sudden power outages or surges can disrupt the normal functioning of devices and cause data loss. Photos written to a storage device when a power interruption occurs may become corrupted or deleted.
When Your Storage Device is Physically Damaged: Physical damage to storage devices, such as dropping a device, exposing it to water or extreme temperatures, or other physical accidents, can lead to data loss, including the deletion of photos. Damaged storage media may become unreadable or inaccessible, resulting in lost stored files.
Try Stellar Photo Recovery to Recover Your Lost Pictures
Stellar is one of the best tools to regain your lost data. Stellar Photo Recovery software can retrieve photos, audio, and video files lost because of virus attacks, sudden shutdown, formatting, deletion, corruption, inaccessible drives, etc. You can easily use this Photo Recovery Software to recover deleted photos.
The preview feature of Stellar Photo Recovery allows you to review the files before recovering them.
Core Features:
You can recover deleted photos from memory cards, flash drives, SSD, SD cards, HDDs, smartphones, and more.
It supports camera brands, including Sony, Canon, Samsung, Nikon, Olympus, Kodak, Fuji, Minolta, and more.
The tool supports drone cameras, mirrorless, and action – DJI, GoPro, Garmin, and others.
You can recover permanently or recently deleted images from media with sizes as massive as 18TB and more.
Supported OS: Windows 11, 10, 8.1, 8, 7, and macOS Ventura 13, Monterey 12, Big Sur 11, Catalina 10.15, 10.14, 10.13, 10.12 & 10.11 Mac Operating Systems.
Supported Image Types: ERF (EPSON ), K25 /KDC /DCR (Kodak), RAW (Panasonic), CR2 /CR3/CRW (Canon), MRW (Konica Minolta), SR2/ARW/ SRF (Sony), DNG, DJVU, PGM, Adobe EPS (Mac), RAF (Fujifilm), MOS/MEF (Mamiya), X3F (Sigma), Adobe EPS (Windows), etc.
Check out the list of file types supported by Stellar Photo Recovery.
Pros:
This photo recovery tool supports scanning a particular folder and exploring media files from the scan outcomes.
It requires three steps to retrieve lost media files from any device.
Quite simple to use.
A free version is also available.
Cons:
The standard edition doesn't allow the repair of damaged or corrupted images.
The free version lets you only preview the recoverable files.
Steps to Recover Deleted Photos with Stellar Photo Recovery
Retrieving photos with Stellar Photo Recovery is quite effortless. You don't have to be tech-savvy to use this tool. Here are some core steps to recover lost pictures:
Download and Installation: To start the process, you must download and install the tool on your PC.
Select Location: Connect the gadget from which you wish to retrieve photos to your system through a compatible port. It could be your camera, memory card, or USB drive.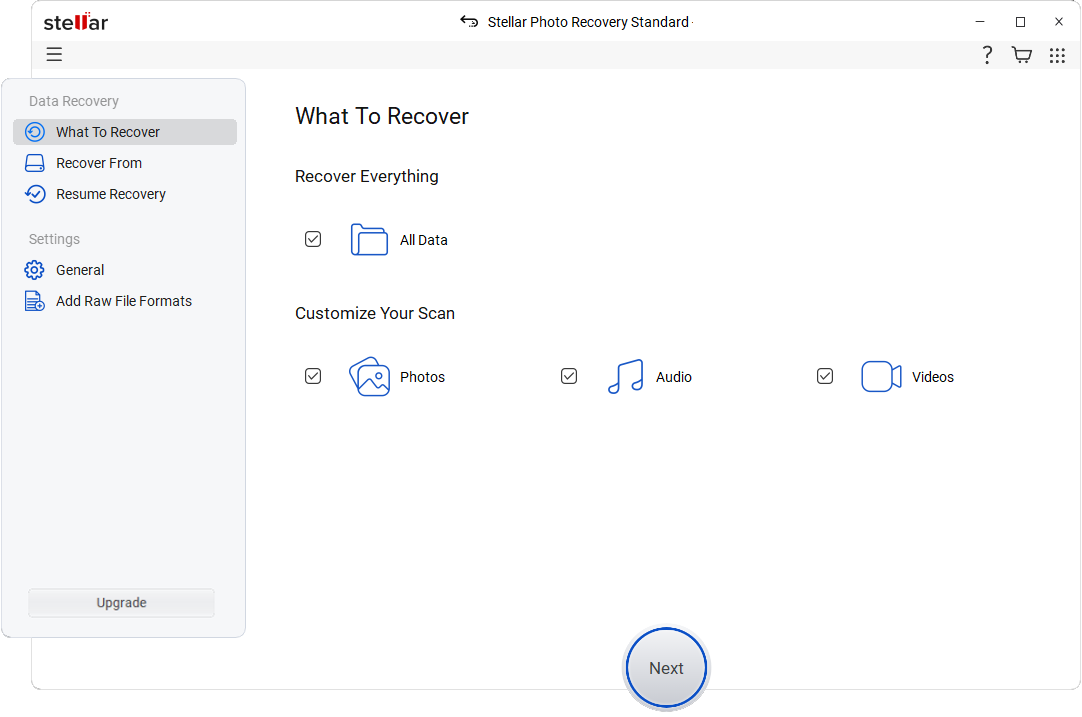 Preview the Files: Once the scanning is done, you can preview the recovered pictures before saving them. If you want to remove any of the files, deselect them.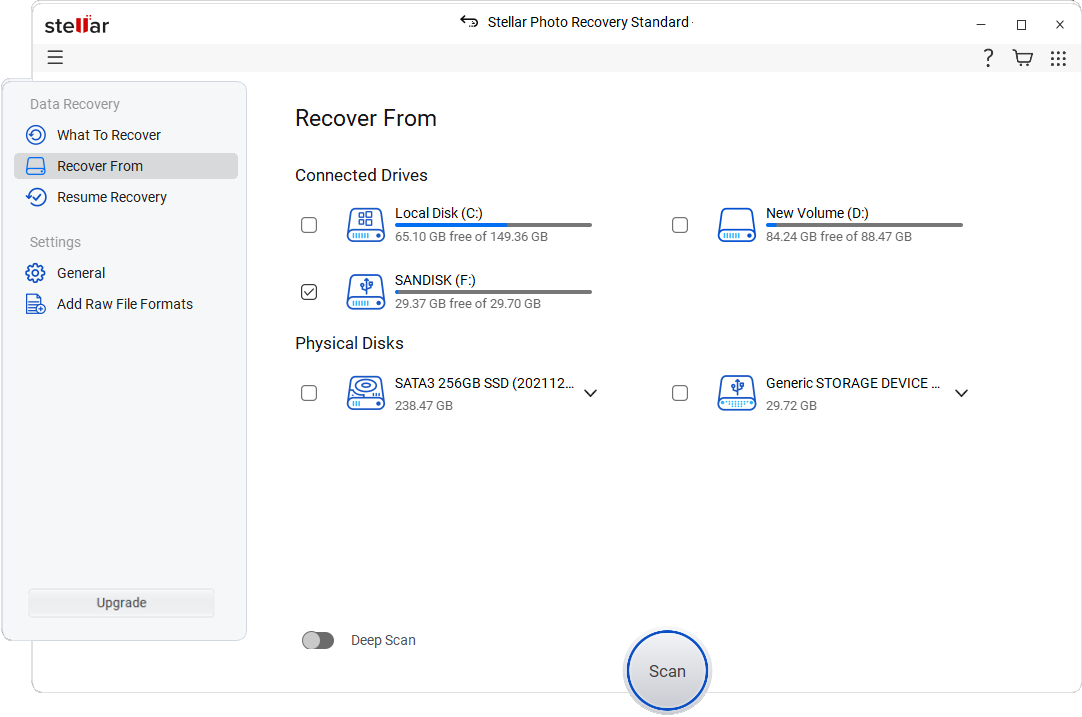 Recover: After choosing the files, hit the 'Recover' button and pick the destination folder to save your retrieved photos.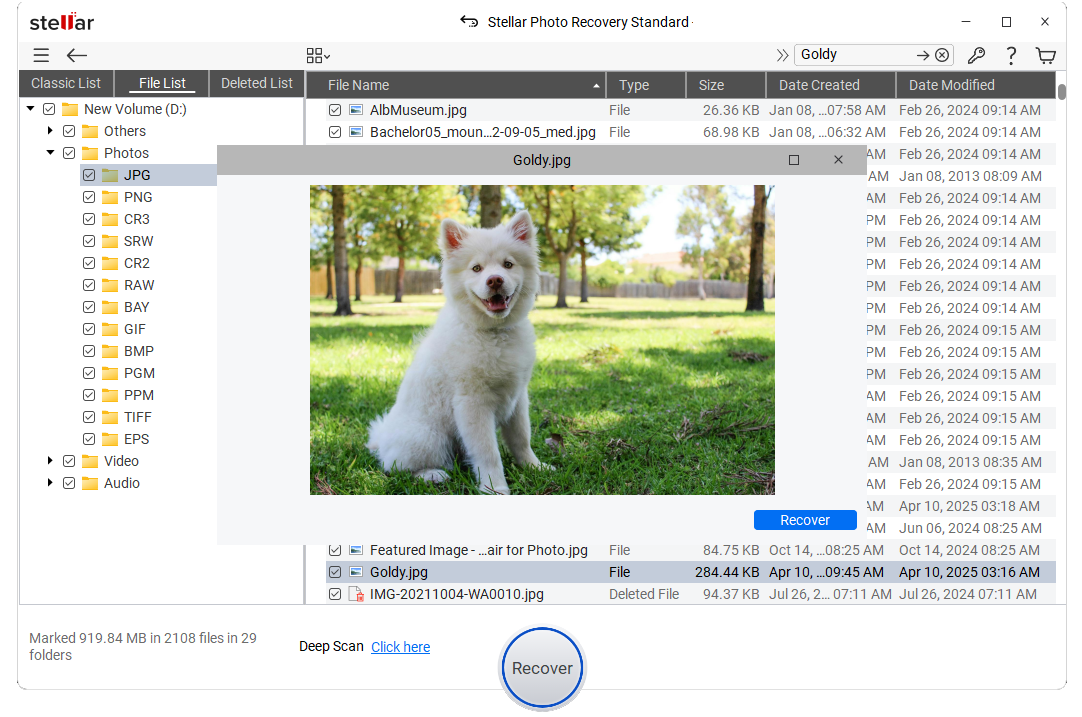 Finalize: After saving all the preferred media files, close the tool window, and eject your external device from the PC.
Later, you can see and access these recovered deleted photos like before.
Watch this video to know how to recover deleted photos with Stellar Photo Recovery.
Final Thoughts
In this blog, we've discussed one of the best tools, i.e. Stellar Photo Recovery, to get your lost pictures back. Whether you have accidentally deleted your photos, experienced a system failure, or suffered from memory card corruption, you can use this Photo Recovery Software to recover deleted photos in a few simple steps.
So, the next time you find yourself in a situation where you've lost your photos, don't panic. Free download the photo recovery tool and find the solution to your problem.
FAQs
How can I retrieve photos from the saved scan data file with Stellar Photo Recovery?
On the home screen, go to Advanced Settings > Resume Recovery icon. It will show all the saved scan files with .DAT extension. Choose the scan information and click on Add > Resume Recovery > Recover.
Can I save recovered photos on the same storage drive?
Yes, you can. But it's good not to save the retrieved photo, audio files, or videos on the same storage drive from which you lost the data.
Is it feasible to retrieve specific files once the scanning is done?
Yes, you can choose and recover particular files after scanning.