Acquiring the license key of software programs is the best way to take the benefit of all their features. Resorting to illegal means like serial cracks can often prove to be harmful as discussed in this post.
Novell GroupWise, though a competent emailing platform in itself, is outshined by Microsoft Outlook in aspects like user-friendliness, security, and feature set. That's the precise reason a number of GroupWise users have been making a switch to Outlook over the past few years despite the hassles associated with email migrations.
Talking about migration hassles, usually, exporting mailbox items from one client to another takes a lot of planning, test runs, time, and patience. And the manual process to do has its data loss risks too. So it is advisable to use automated tools for the purpose. While there are a number of products available to convert GroupWise to Outlook PST, they are often a bit too pricey for the average user. And this is what drives users to search for serial cracks with which they can register GroupWise to PST tools and complete their work.
Wanting something at an affordable price isn't wrong, but resorting to illegal means to get it definitely is. Serial cracks are like a virus that's been troubling at the technology industry from the inside out. And most people go along with them without realizing the full extent of what they're doing. Read on to find out why you should avoid using cracked versions of the software.
The hazards of using cracked software
Using cracked software is illegal. Everything you download from the Internet can be tracked and you may find yourself being served a notice over buying pirated software.
Cracked software doesn't upgrade with bug fixes, patches, and new features which legitimate software does.
You aren't entitled to get support for cracked software from the vendor in case any problem arises while using it. That applies to warranty too.
This is the biggest risk of cracked/pirated software. You can never be sure whether the serial crack you're downloading is actually what you want or some kind of malware disguised as an application. So while you think you're being clever and saving some money, you're actually putting your computer at risk.
The thought of getting your hands on free software can seem intriguing but frankly, it is one of the riskiest things out there. Plus, if you thought that no-one can question you for downloading pirated software since there's no evidence that you did it, think again! Every activity you do on the Internet is recorded at your service provider's end for internal purposes and if required, the authorities can get a hold of what you downloaded and when.
Activate your product
The best way to use any product for free is through its legitimate trial or demo version. Such demo versions are designed for users to test out the working of software, and that's where you can take benefit. Use the trial version of your desired software and if you like it, register it to obtain access to its full features and support.
Now getting back to our point of discussion, converting GroupWise data to Outlook PST format can be made easy through automated software. And the best application for the job is Stellar Converter for GroupWise. Armed with powerful scanning and conversion algorithms, this software lets you easily export all your mailbox items from Novell GroupWise to Outlook PST. Download the demo version of the product and use it to scan and preview mailbox items before conversion. If you can see all your data in the preview window, you can be assured that it will be converted safely and accurately, without any data loss or modification to the original format.
Once you decide that you wish to purchase it, follow these steps to activate GroupWise to PST converter:
Launch the software and from the Registration, menu click on Register
In the window that opens, choose I don't have the registration key if you've not purchased the serial key, else choose I have the registration key
Click OK
If you don't have the registration key:

Clicking OK above will take you to the tool's website. Purchase the product key. It will be sent to the email id you provide.
Thereafter, from the software's interface go to the Online Registration option
In the dialog box that opens, type the Registration Key and click Register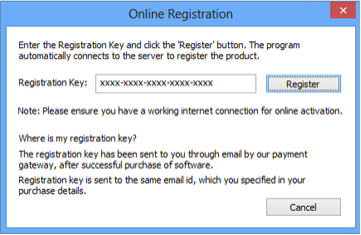 d. When the registration process completes, an appropriate confirmation message will be displayed.
5. If you have the registration key:
Select I have the registration key and click OK it will open the Register window
Select Online Registration if you have an Internet connection and click OK.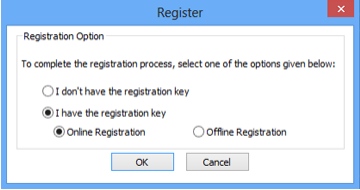 In the Online Registration dialog box that appears, type the key where prompted and click on Register
When the registration process completes, an appropriate confirmation message will be displayed.

Select Offline Registration if you aren't connected to the Internet and click OK. Then:

In the Offline Registration dialog box that appears you will find a Registration ID displayed and an empty field for License Key. Mail the Registration ID to support@stellarinfo.com. They will send you a License Key after verifying your Registration ID.
Thereafter, again open the Register window from the software interface and select I have registration key
Select Offline Registration and click OK 
Enter License Key where prompted and click on Register
When the registration process completes, an appropriate confirmation message will be displayed.

A few last lines
Avoid downloading software cracks at all costs. Use only legitimate software for purposes as sensitive as email migrations. Follow the steps mentioned above to smoothly register your copy of Stellar Converter for GroupWise.