GIVEAWAY – Photo Recovery Software
Many a times, we come across numerous posts on various social media platforms, forums, and other discussions platforms that read extensively about sudden loss or deletion of our memorable photos, images, songs, videos from digital camera, SD cards, smartphones, camcorders, etc. Reasons can be anything, which include; accidental deletion, memory card formatting, virus infection, card inaccessibility etc. In most of the cases, it is the users' mistake, for which the photos get permanently deleted from the storage media.
This Giveaway is Closed.
But, what we think to be permanently deleted is not the exact case!
At a time of crisis, our primes concern is more about the ways to regain them, rather than brooding over how they were deleted. Many of us will be amazed to know that there are software to get back all your lost or deleted multimedia content from your digital camera or SD card or other similar device.
Hence, instead of just forgetting the case and cursing oneself for a while, does not solve. In fact, an efficient photo recovery software is the basic requirement that every photo enthusiast must have with his or her photography kit.
Photo recovery software is a real lifesaver. For photographers, for whom photography is their breath and blood, it can get them away from many urgent and troubled situation, when they cannot afford losing their days' or weeks' of hard work just to unprecedented deletion or loss.
The investment in a good photo recovery tool in comparison to its benefit is negligible. No one would ever want to lose the old memories captured in the form of digital images. The software runs smart algorithms that scan the storage media and find out all deleted and lost images for you.
With a view to spread awareness among all photo enthusiasts, Stellar Data Recovery has introduced Stellar Phoenix Photo Recovery Giveaway Contest. Five lucky winners will receive a lifetime license to our flagship Photo Recovery Software.
How to Participate
All you need to do is to Share this article from your facebook, Google Plus, Twitter, or LinkedIn profile
Do comment describing any photo loss situation, you have encountered ever or have heard of. Also, narrate how you dealt with the situation to recover the lost memories
Submit your Comment to Us
Procedure of Participation –
Ensuring the comments and sharing done through your profile, we would take your profile for lucky draw.
We request you to kindly post your comment in the following manner.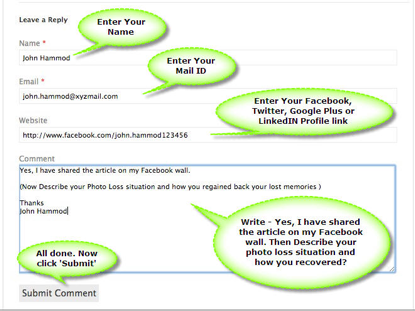 Once you submit the comment, it will go into moderation. It will go live after we find it suitable for publishing. Please note that Stellar Data Recovery reserves the right to reject the comments those do not comply with the guidelines of the Giveaway.
The Giveaway offer will be valid till 2nd March 2014. So, Do Not Wait!
Share this Giveaway as many times as you may to your Facebook wall, Google+ profile, Twitter, or LinkedIn profile and leave your comments, thoughts on Photo Recovery Software & Data Loss.
5 lucky winners will be announced on 5th March 2014
Check out Facebook.com/stellarinfo.com for the announcement.
Stay Tuned.
& Enjoy Happy Photo Recovery…