Summary – This blog highlights the launch of "BitRaser" — a data erasure tool developed by Stellar Data Recovery on World Environment Day 2017. It speaks of the benefits of BitRaser as an "environment-friendly" software.
With technology becoming more sophisticated by the day, so is the increase of e-waste produced with up to 41 million tons of electronics disposed of year on year. This puts the environment at risk, from global warming to marine pollution and soil pollution to viable consumption. Further, it also leads to a potential security threat for both Enterprises and Individuals. Improperly disposed of IT assets may get into the hands of wrongdoers, whereby users' or Enterprises' sensitive information gets exposed, therefore, rendering the data as vulnerable.
Keeping the World's Environment Safe & Healthy with BitRaser
This is where the need for BitRaser arises. This managed and certified software erases data from hard drives and other storage devices permanently beyond the scope of recovery for the purpose of data destruction. Also, it has the capability to fulfil both internal as well as external corporate audit requirements with traceable reporting.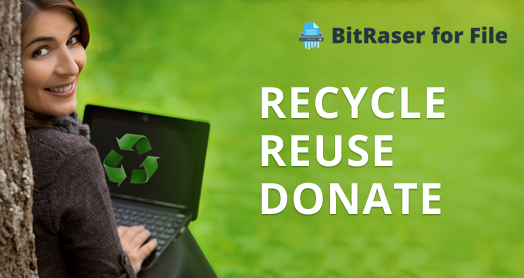 On June 5th, 2017, Stellar is all set to launch this software. With this, the data storage devices that are in a high use in the era of technology can be reused, donated, reallocated, or returned without leaving any chance for data theft or leakage. Hence, the life span of these storage devices increases, thereby, contributing to a greener environment.
BitRaser provides the following data erasure benefits:
Erases data from hard drives without leaving any scope for recovery
Erases data from multiple drives simultaneously
Erases data from hard drives at high speed
Erase data in bulk from mobile devices
Manages erasure of all hard drives placed over a network
Extends lifespan of hard drives or other devices
Provides long-term environmental benefits
Abides by 24 internationally recognized data erasure algorithms
Generates erasure reports and certificates for the purpose of audit trails
Shredding/Degaussing Vs BitRaser – Data Erasure Software
Other ways of data destruction from data storage devices is through shredding and degaussing. However, these methods render the devices useless because of physical destruction. Further, they produce electronic wastes that end in landfills where toxic metals seep into the soil or water and contaminate the environment. Also, these data destruction methods harm the environment and have devastating consequences on the eco-system. Therefore, instead of shredding and degaussing, you can use "BitRaser" to erase data permanently and contribute to keeping the environment clean and safe for all.
Final Thoughts!
On the eve of World Environment Day 2017, let's pledge to keep our Environment Clean & Green with BitRaser. It is Stellar Data Recovery's contribution towards minimizing the increasing rate of e-waste, which has become hazardous to the eco-system. Providing long-term environmental benefits, it is the best-fit for permanently erasing data and keeping the environment free of e-waste instead of degaussing/shredding.
Developed by Stellar Data Recovery® which is an ISO 27001:2013 certified organization, it has served over 2 million satisfied clients across 190 countries. Successfully tested by the Ministry of Electronics and Information Technology (STQC), BitRaser is available for file erasure, hard drive erasure, bulk drive erasure and for erasing mobile devices.
Therefore, on this World Environment Day, 2017, leverage the Safe & Reliable BitRaser to keep your environment Clean and Green.