Summary: In this blog, you will learn about the importance of the permanent erasure of your sensitive files. You'll also explore BitRaser File Eraser, a comprehensive tool to permanently wipe any data from your Windows, Mac, iPhone, or any storage media.
Are you looking to permanently erase files on your Windows, Mac and iPhone devices? If yes, then the obvious option is to use the delete functionality in the respective device. Your PC, Windows, or mobile device like iPhone has a built-in delete/format setting that can delete the selected data for you.
However, deleting files does not mean wiping them permanently from the system.
When you format the hard drive of your device, the data vanishes, and you believe that the data has been erased. The data does vanish, but it isn't erased. Formatting (or deleting using system settings) is not an efficient way to remove data as the data is still present in your PC. A data recovery software is a special class of software that is designed to trace and recover such deleted data.
The first question now is,why do you need permanent erasure at all? To understand it, let's consider a scenario.
You decide to format your old Mac before selling it. After formatting, you feel assured that the job is done. The person who gets hold of your Mac now runs a data recovery software, and all the data that you thought was deleted is restored right back in your system. The consequences can be disastrous if the person decides to misuse your data. E.g. he can sell your confidential data, access your online accounts (social media, bank accounts, etc.)
Erasure is crucial as it protects you from such harm. By securely destroying your data, you prevent any unlawful usage of your sensitive information. Let's go back to the previous question.
How can you perform Permanent Erasure?
A secure and permanent way to erase data from your Mac, PC, iPhone, or any other storage media is a file erasure software. A file erasure software works by overwriting on top of your data once or multiple times. This way, the data becomes unreadable and beyond the scope of data recovery software.
A recommended file erasure software is BitRaser File Eraser, which securely and permanently wipes the contents of your storage media. It is an efficient DIY tool, with an interactive interface that deletes any data, beyond the scope of recovery.
How to use BitRaser File Eraser to erase files permanently?
In the passage below, we will see how to use BitRaser to wipe data from your Windows PC, Mac, or from an iPhone device.
A. How to use BitRaser File Eraser to delete your files from Mac hard drive?
1. Install and launch BitRaser File Eraser for Mac.
2. Select the Files & Folders option from the main interface. Click Next.
The left pane of the window displays all the volumes on the computer, and the right pane lists the files/folders of the selected volume.
3. Select the desired files to be deleted.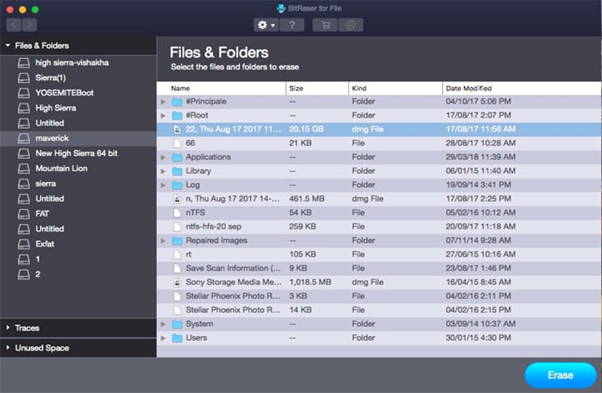 4. FromPreferences, select the appropriate erasing option for secure deletion and click the Erase button.
5. The Confirm Erasure dialog box appears. Click Confirm Erasure to erase files/folders permanently from your Mac hard drive.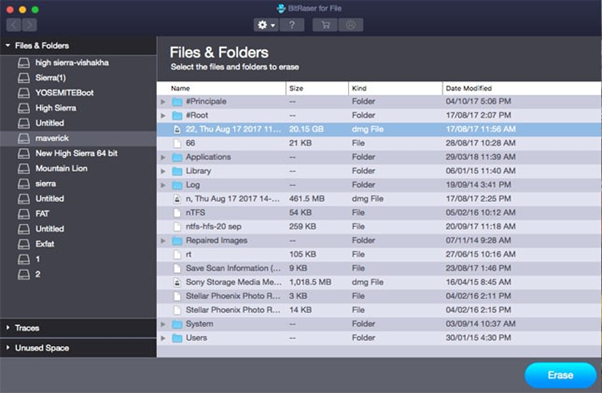 A message will display after the successful completion of the erasure process.
Note: Once the erasure is completed, you must restart your system.
B. How to use BitRaser File Eraser to delete your files from Windows hard drive
Run BitRaser File Eraser
Explore the BitRaser File Eraser screen on your PC [Image 1]. You can view the list of items you can delete using the software in the main menu.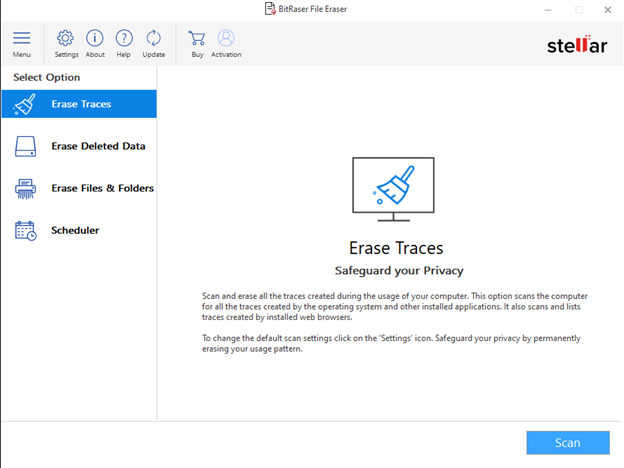 4. Click on Erase File & Folder, the third option on the left pane.
5. You can delete files and folders in your hard drive in two ways. You can either search and erase a specific file you want to target or you can manually add them. To use the Search & Erase option, click on Search & Erase link on bottom side of the screen.
6. Once the selected file displays on the screen, click "Erase Now"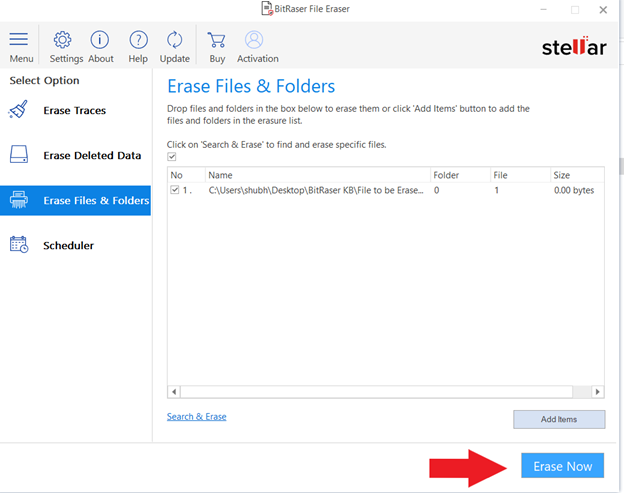 7. A dialog box will appear, asking you to confirm the Erasure process. Click on Proceed.
8. The software will complete the Erasure process and you will receive a confirmation screen. Click on Ok button to close the process.
C. How to erase files from your iPhone
Stellar Toolkit for iPhone is specialized software, designed to erase your data on iPhone and iPad. It permanently resets iPhone by erasing all your settings, passcodes, passwords, log-in details, call history, notes, messages, photos, videos, chats, reminders, browsing history, Safari Bookmarks, and other data.
The tool securely and permanently removes already deleted data beyond the scope of recovery. It also allows you to erase third-party apps data as well, such as data and cache of Facebook, WhatsApp, Spotify, Netflix, Instagram, Amazon, etc., from your iOS device. It works on all latest iPhones and supports up to iOS 13.2.
Steps:
Download Stellar Toolkit for iPhone and launch the software.
Click on the Erase Data button.
Next, select the device from which you want to erase the data.
Click on the Erase button.
The tool will wipe the contents of your iPhone. A dialog box will appear, confirming the erasure.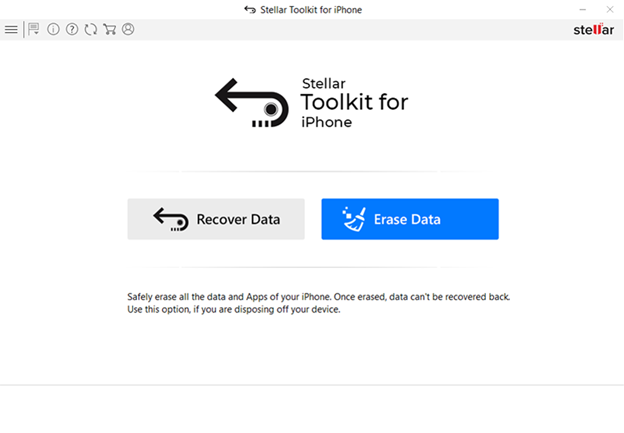 Summing up
Erasure has its importance, and if you are looking for a secure and permanent erasure option for your PC, Mac, or iPhone device, you should go for a file erasure software. The software will protect you against unauthorized access to your data. BitRaser File Eraser and Stellar Toolkit for iPhone is a recommended product in this category, which is designed to comprehensively wipe all types of data from the hard drive of any storage media.