How to Fix Not Responding Hard Drive
Summary: In a worst-case scenario, if a hard drive can't be repaired, we have mentioned how you can get back your data safely from such hard drives with the help of Stellar Data Recovery software.

An external hard drive may stop responding on Windows due to problems related to the system or storage hardware and software. In some cases, trying a different port or PC may work. But if it doesn't, do not try to repair the drive by using any third-party drive or partition manager software such as Disk Management in Windows. Instead, follow this comprehensive guide to repair your 'not responding' hard drive without any risk of data loss.
Possible Causes for Hard Drive Not Responding
Bad sectors
File system errors
Virus and Malware infection or corrupt file (Virus or Malware).
Damaged device driver issue
Overheating
SMART errors
Mechanical or physical error
How to Fix the External Hard Disk Is Not Detected Issue?
You can follow these steps to fix the problem with your hard drive.
1. Inspect Hard Drive
Carefully inspect your hard disk for any physical damage. If it looks fine, connect it to your PC and observe the drive for any screeching or clicking noise.
Check the connecting wire or cable for damage or loose connection.
Get closer to the connected drive and check if the drive is on and rotating continuously. It should not stop and run intermittently. If that is the case, there could be some internal mechanical problem or software related error.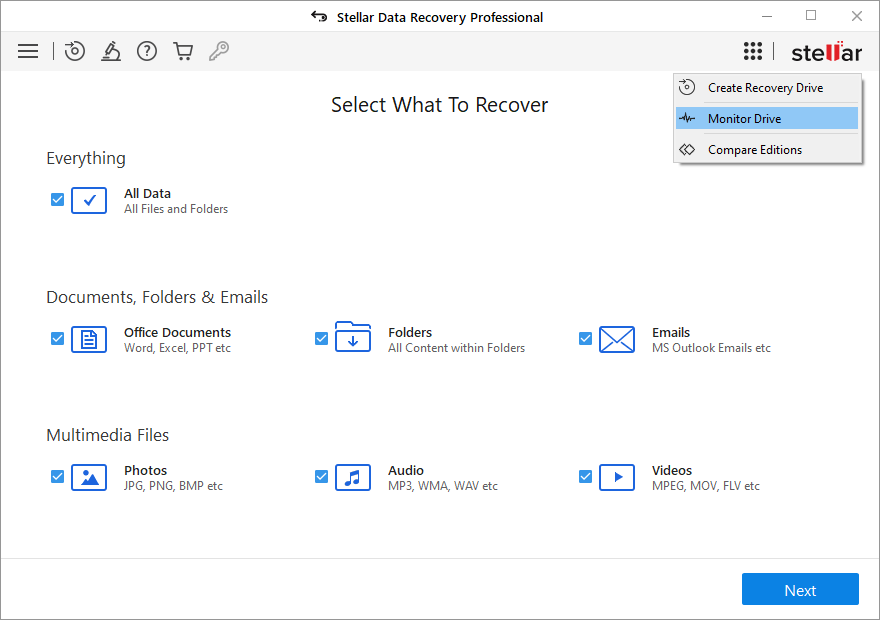 Choose 'Monitor Drive' under the 'Waffle icon' to check the disk health and temperature. Make sure the drive is not overheating and health status is good. Further, click 'Smart Status' and check the SMART attributes for any warning signs.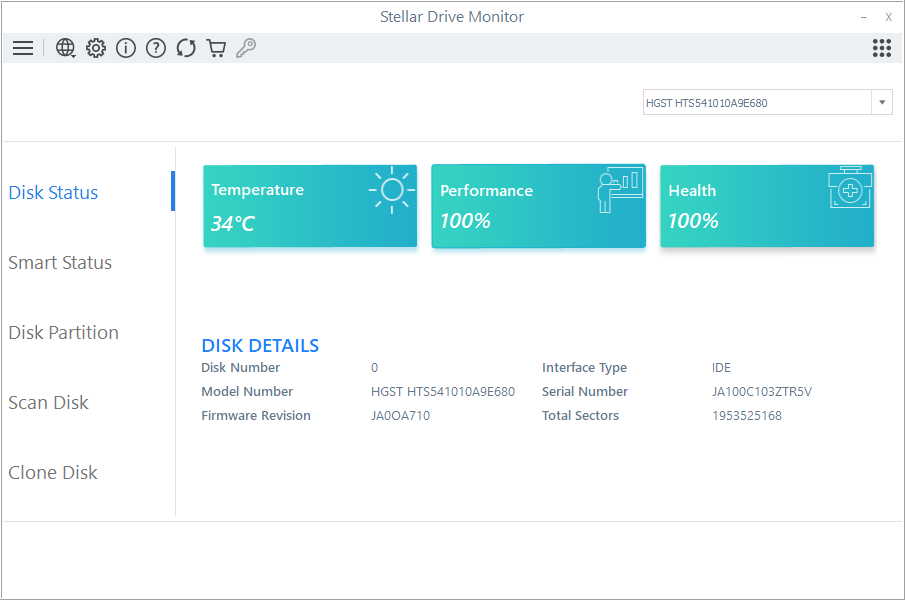 You may also scan the drive to check bad sectors, which might be the reason why the drive is not responding or stops responding.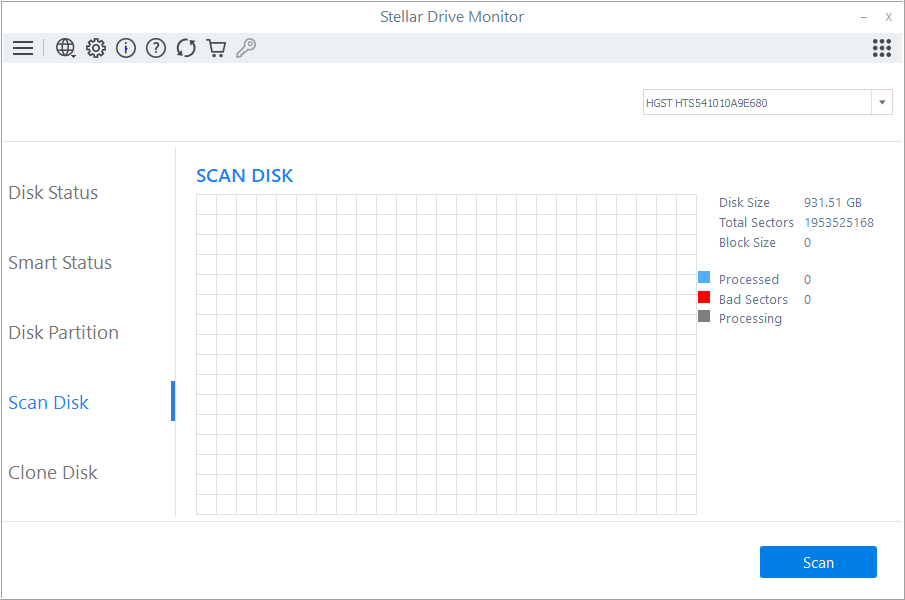 If the health is poor, click 'Clone Disk' and watch this video to create a disk clone of your failing hard drive.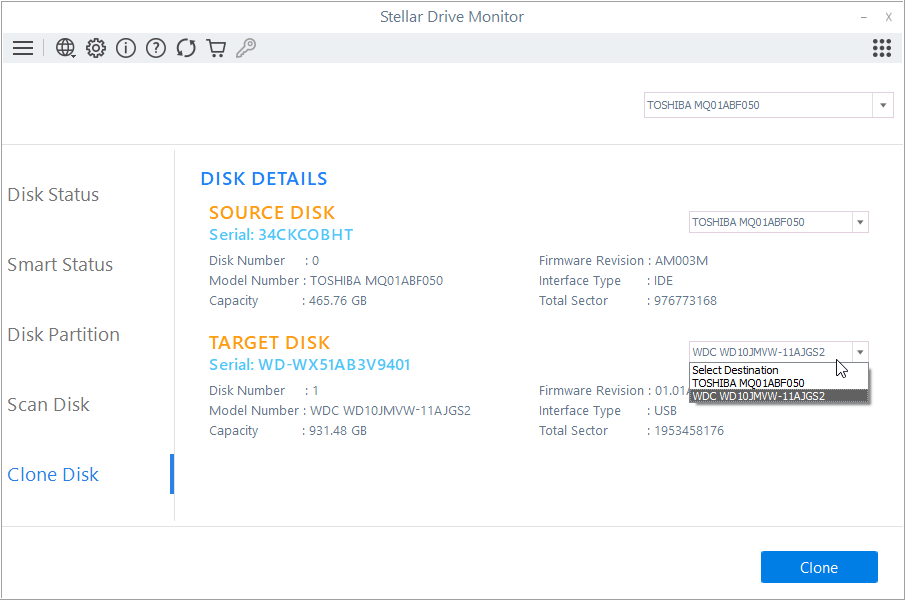 CAUTION: If the data is critical and you don't want to risk permanent data loss, you must use a powerful DIY data recovery software such as Stellar Data Recovery Professional. Post recovery, you can go ahead and perform various checks and fixes discussed in this post and other sites, including drive formatting without worrying about data loss.
2. Run CHKDSK
File system errors are caused by improper disk usage, virus/malware infection, and buildup of bad sectors in the hard drive due to logical or physical damage.
CHKDSK is a command-line based Windows utility that checks the hard disk integrity, repairs various file system errors, and tries to recover readable information from bad sectors. Running CHKDSK scan may fix your corrupt or RAW hard disk, which could be a reason why your hard disk is not responding.
Follow these steps to run the CHKDSK scan on your affected hard disk:
Connect the drive to a different Windows PC and press 'Windows + Q'.
Type CMD, then right-click on Command Prompt and choose 'Run as Administrator'.
Type chkdsk X: /r /f in the command prompt windows and press the 'Enter' key.
Replace letter X with your external hard drive letter /r & /f are the CHKDSK parameters.
This begins CHKDSK scan, verification, and repair process. When finished, restart system and reconnect the external hard drive to the PC. Check if you can access it.
3. Use an Antivirus & Anti-Malware Tool
When a virus or malware infects the external drive, it can cause some serious trouble that can lead to data loss. If a hard drive stops responding, it could be a corrupt or virus/malware infected file on the hard drive that must be removed to fix the drive error.
You can use Windows Defender tool in Windows or leverage a reliable third-party antivirus and anti-malware tool to quarantine the infected file(s).
4. Re-Install the Drivers
Sometimes, due to corruption and damage to the disk device drivers, you may experience this issue. You can easily fix this by re-installing or updating device drivers via 'Device Manager'. The steps are as follow,
Press 'Windows+S' and type 'Device Manager'.
Click on 'Device Manager'.
Expand 'Disk Drives' and right-click on your external hard drive name.
Choose 'Uninstall'. Click the 'OK' button to confirm uninstallation.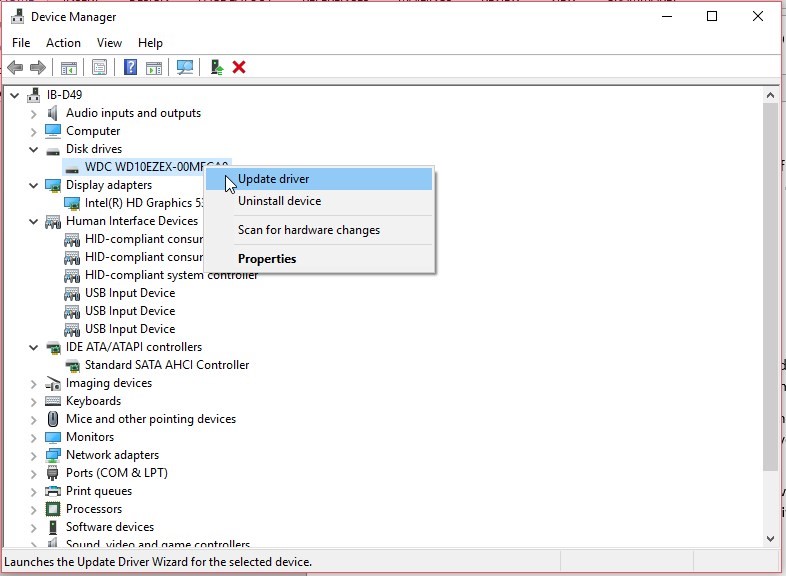 Now restart the system. You may also disconnect the drive and then connect it after a few seconds to begin device driver installation.
Then open File Explorer and check the drive
If this doesn't work, go to your hard drive manufacturer's website and download the latest drivers available for your hard drive model. Install them manually and restart the system.
5. Format the Disk
Use Disk Management tool or DISKPART utility to full format the drive. You may also choose to low-level format your affected hard disk by using HDD LLF tool.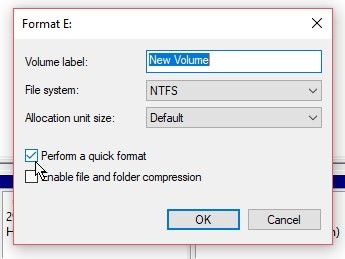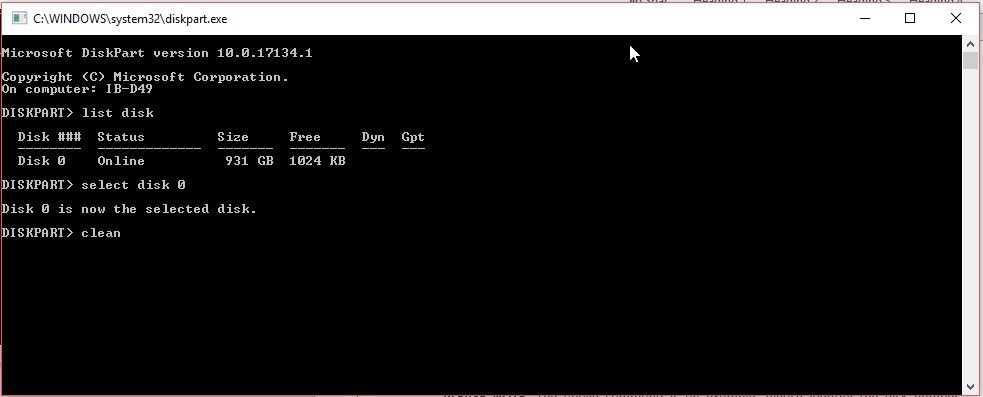 While full format or low level formatting will take a while to complete, it will fix most disk errors and clean the drive from pesky malware or virus infected files.
In case the drive is still not repaired and data recovery software did not work, immediately contact a data recovery expert. There is a possibility of hardware or mechanical failure, which can't be fixed by a user and requires expert help.
Conclusion
Keep your system protected by installing a trusted antivirus or anti-malware software. Run scheduled CHKDSK scans and leverage a SMART drive monitoring utility to monitor your system drive or external hard drive health on the go. This will help you prevent most common disk errors that may cause issues such as hard drive is not responding.
Above all, keep a regular backup of all your important files.
But if such error occurs, start by inspecting the drive physically and then leverage a DIY data recovery software such as Stellar Data Recovery Professional. It comes equipped with a SMART drive monitor utility that lets you known hard disk health status and whether it requires replacement. The software will also help you restore data from such hard drives that stop responding due to corruption and file system errors.
If the data is critical and more important than the disk, follow this guide and immediately get back data from your Windows-based hard drive.