How to Fix the New Bug in Apple macOS Ventura that Breaks Third-Party Security Tools
Introduced at WWDC 2023, Apple's new macOS 13 Ventura operating system opens the door to new multitasking features, renovates several apps, and enhances the platform's overall capabilities. Despite all the new improvements, such significant modifications may come with several bugs and issues that slip through the initial tests and reach the product release. This article, however, is focused on fixing the newly found Apple macOS Ventura bug.
Accordingly, the latest macOS release is causing a problem that cuts off third-party applications from the critical access they require to function correctly.
The problem prohibits "Full Disk Access" and directly impacts security applications such as malware scanners, monitoring tools, and every product that relies on Full Disk Access. This setting allows applications access to private user data such as mail, messages, Safari files, etc., making it one of the most significant permissions on an OS.
Users must only consider allowing this access to trusted products; therefore, Apple requires multiple steps of authentication before granting this permission to avoid unwillingly allowing a malicious program to control your data.
Trusted security tools, however, require Full Disk Access to grant them system visibility; otherwise, they can't run scans and look for suspicious activity, leaving them paralyzed. Although there's a way around this problem, many users may not notice anything's wrong or even have the technical knowledge to fix it.
The article below helps you understand the issue and offers several solutions to fix it.
What Causes the Full Access Disk Permission Bug in macOS Ventura?
In the 11th version of Ventura developer beta, released on October 11th, Apple conducted vulnerability patches to eliminate certain flaws that had been flagged by that time. However, the changes accidentally caused a new defect that seemed to interfere with Full Disk Access.
Accordingly, Apple announced that the problem is under heavy examination and will resolve in the next software update. There are no further announcements to declare the exact date of the next update, and users need to be made aware their security tools are neutral.
If you use third-party security tools, such as antiviruses, and you update to macOS Ventura, check the product to see if there are any visible errors. If so, use the solutions below to work around it.
How Do I Fix the Full Access Disk Permission Bug After the New Update?
Despite the significance of the bug, the procedure for fixing it is relatively simple once you know what to do. Follow the steps below to work around the bug and fix it:
Go to System Settings through Launchpad, or locate Apple Logo at the top left corner of your screen, click on it, and then select System Settings.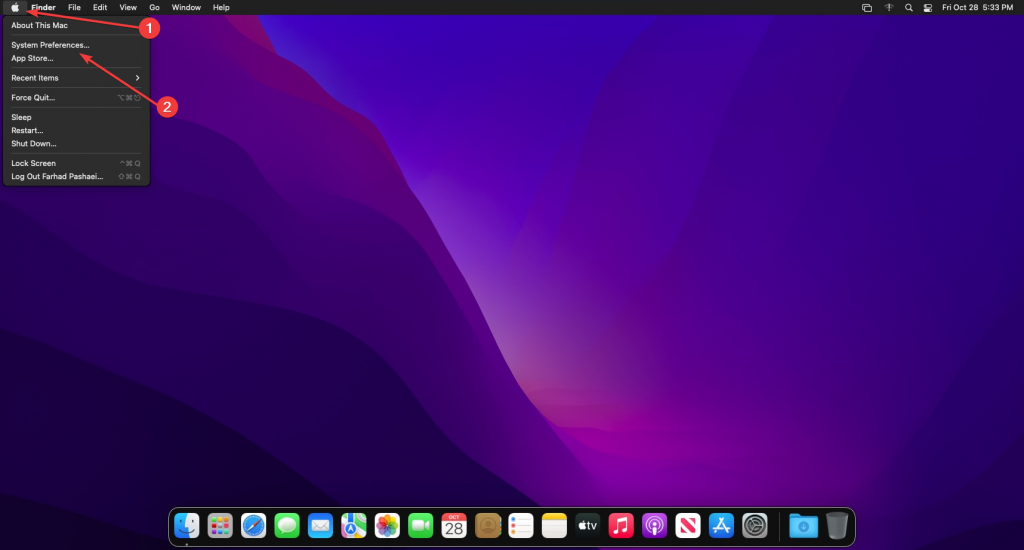 Open Security & Privacy, click on the Privacy tab, then scroll down to Full Disk Access.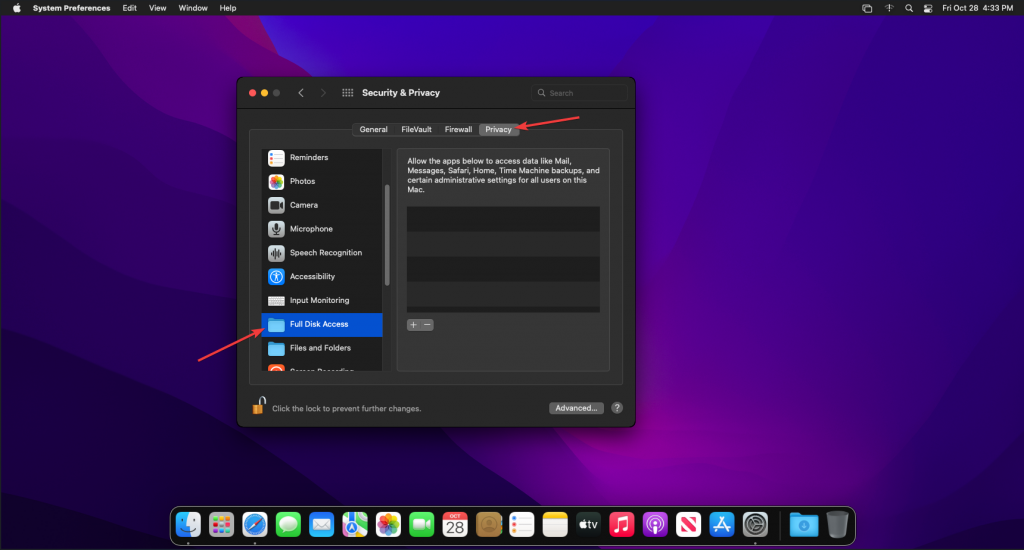 Next, click on the Lock icon and enter your password to gain access to the menu.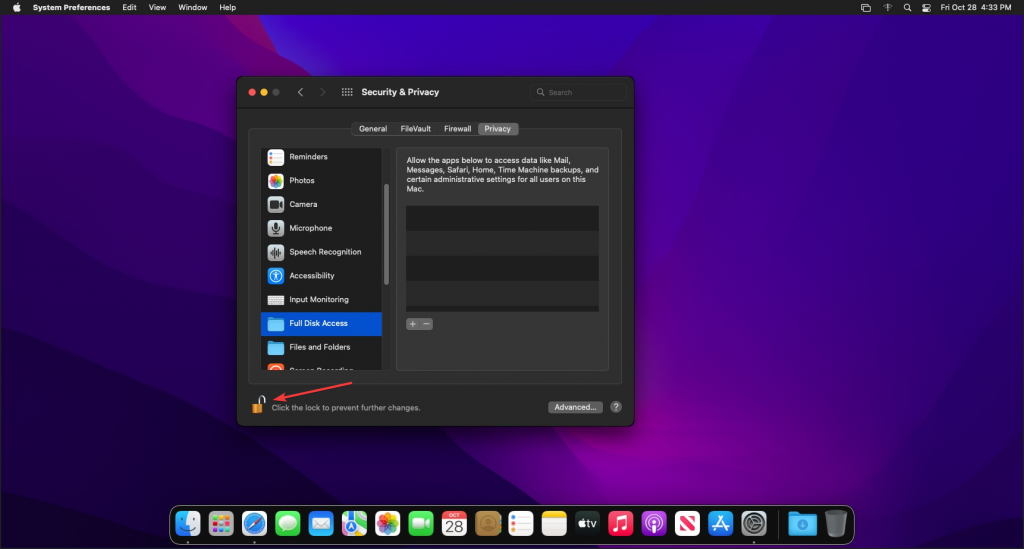 To prevent further access to faulty security services, uncheck the box next to them.
Once you have made the changes, click the Lock icon in the bottom left again to save the changes.
After that, repeat the process and recheck the necessary boxes to grant permission once more. Now you've fixed the problem.
You can also remove the app your Mac is having issues with from the Full Disk Access menu by clicking on the minus.
Next, run the app and enable its protection services.
Then, go back to the Security & Privacy tool to grant Full Disk Access permission using the toggle to fix the issue. Now you've successfully fixed the Apple macOS Ventura bug.
Is it Safe to Upgrade to macOS Ventura?
Although updating to Ventura isn't going to be as substantial as it was with macOS Monterey, it does bring multiple valuable features to Apple computers. The freshly designed multitasking "Stage Manager" catches your eye, and a native function to use your iPhone as a webcam is relatively handy. Several features are also added to Messages, Photos, Mail, and many other applications.
The bottom line is that the update improves the mac experience. macOS Ventura is loaded with valuable features and improvements, and if you have a product that's compatible with the new OS, there's no reason why you shouldn't go for it. Check out the paragraph below to ensure the ultimate mac experience.
Top Two Apps to Maximize Ventura Experience
One of the most significant parts of having an Apple computer is the vast ecosystem of unique Mac applications and tools that allows you to boost productivity and make the most out of your computer.
Such tools are available both on App Store or on trusted third-party websites provided by app developers, and many are free. So, take advantage of the list below to make the most of your freshly updated OS.
Alfred Productivity App for Mac
Alfred is the ultimate application launcher that helps you automate tasks and launch advanced features that Siri can't handle on its own yet. So, it fills in for your native voice assistant!
You can use Alfred to create workflows, perform calculations, run web searches, and many more.
Stellar Data Recovery for Mac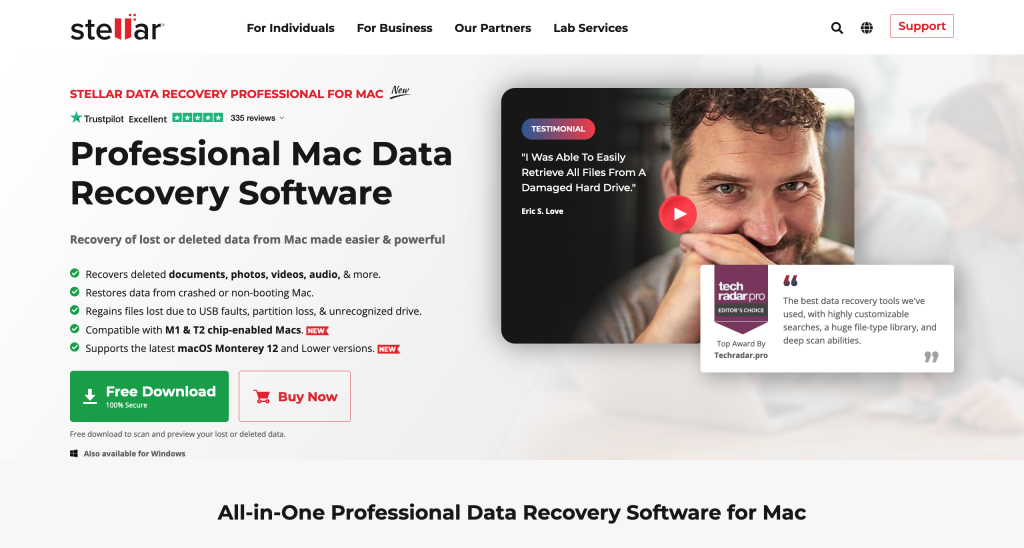 Stellar Data Recovery is one of the finest data recovery software in the world. It allows users to retrieve removed, lost, and unavailable data from storage devices. This includes hard drives, flash drives, memory cards, etc. Stellar Data recovery software offers three plans, and you order each one according to your needs. These include Professional, Premium, and Technician Stellar Data Recovery Plans for Mac, and each choice adds more advanced features than the other.
Some features may include retrieving and recovering files from emptied trash, formatting APFS/HFS+/Mac drives, non-booting computers, and monitoring drive health, among other things.
If you've lost your data after updating to the macOS Ventura or removed any important files by accident before the update, we recommend you follow the steps below.
How to Install Stellar Data Recovery software?
Installing Stellar Recovery Data is straightforward and only takes a few minutes. You can use the guide below to install the product on every mac-operating device:
First, download Stellar Data Recovery software.
Double-click on the downloaded file to extract the file.
After that, open the extracted file by double-clicking on it.
Drag the Stellar Data Recovery icon to the application folder in your Finder.
Stellar Data Recovery is now successfully installed.
How to Recover Data using Stellar Data Recovery software?
After installing Stellar Data Recovery, you can conveniently restore all the data that you're looking for, and all you need to do is to follow the steps below:
Open Stellar Data Recovery software from Launchpad or click on Finder, open the application folder, locate Stellar Data Recovery, and double-click on it.
Select the file types you would like to recover and click on next.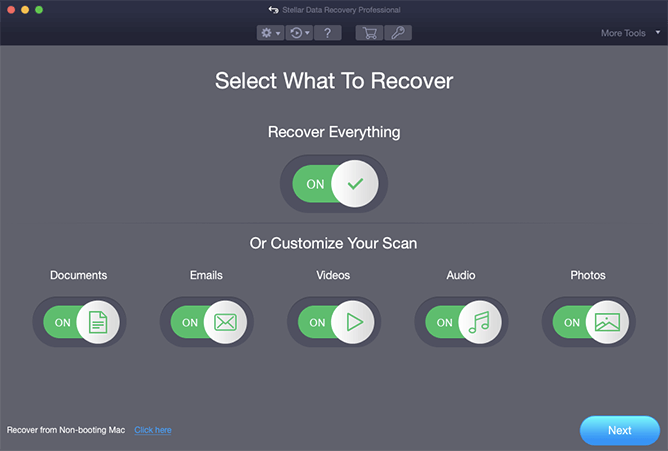 Choose the storage drive where you lost the data.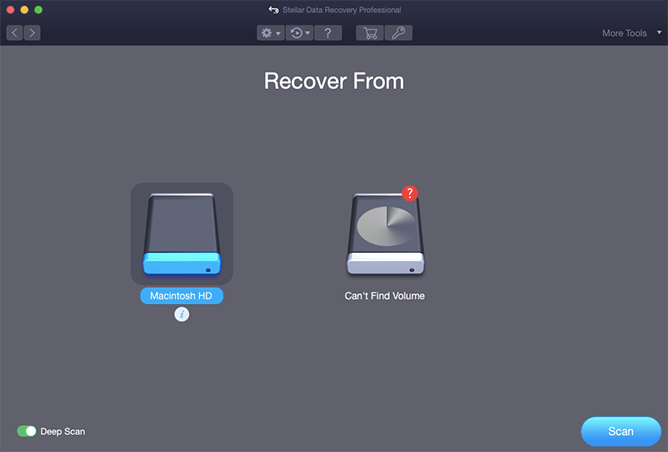 Click on Scan and let the software relocate the lost files.
Preview the found data and recover the desired data from the storage drive.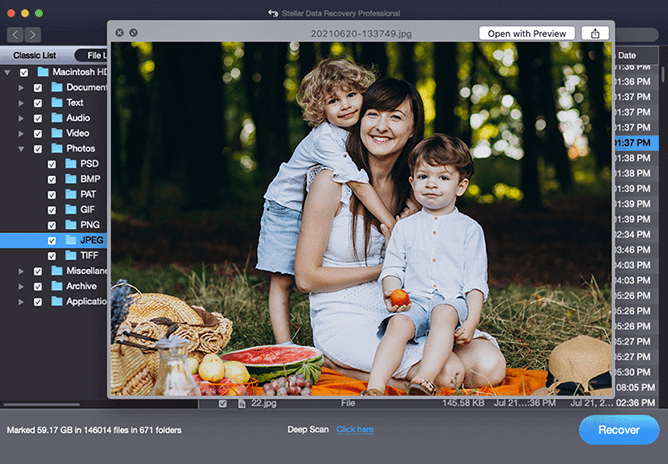 Conclusion
There are often quite a few bugs and problems in every major software update, especially in operating systems, and macOS is no exception. The latest mac update was released on October 24th and came down with a significant flaw that stopped security products from functioning correctly.
The new OS doesn't allow Full Disk Access, which makes your security tools and malware detectors incapable of scanning your hard drive and locating possible threats. Apple has promised to fix the issue in further updates, but in the meantime, you can use the method in this article to fix the Apple macOS Ventura bug.
When did Ventura Mac come out?
macOS Ventura was released at WWDC 2023 on October 24th.
Does macOS Ventura run on my Mac?
Apple's new macOS doesn't support products released before 2017.
Should I upgrade Ventura?
Although the OS is safe and loaded with new features, it's usually recommended to wait for a few follow-up updates before updating your OS.
Is Stellar Data Recovery software capable of recovering any type of file?
Absolutely. Stellar Data Recovery for Mac is capable of recovering any file format. If the file format you need isn't very common, you can add it yourself to the software.