MBOX is a common mailbox file format used by email clients like PocoMail, Thunderbird, Eudora, etc. Microsoft Outlook, on the other hand, is a suite of services that include email, contacts, tasks, calendar and more. Outlook, being highly refined on functionality and with its rich feature set, has seen widespread adoption. And that explains migration of users from other platforms such as MBOX clients to Outlook. Office 365 (cloud) further adds to the sheen and appeal of the application.
So, in this blog post, we'll share an easy way to migrate MBOX files to Outlook 2019, 2016, 2013, and 2010.
But before that let's go through a few need scenarios as to when an MBOX user would need to open MBOX file in Microsoft Outlook—
When a user is upgrading to Office 365, their mailbox has to be in PST format. MBOX format mailboxes can't be directly exported to Office 365 and thus, need to be first converted to PST format
When moving emails from Mac to a Windows PC, a change from MBOX file format to Outlook PST is needed.
When upgrading from the obsolete Eudora to Outlook 2016 or 2019, MBOX to PST conversion is needed.
If an organization is moving its emailing architecture to Exchange, a conversion of all mailboxes from MBOX format to PST would be needed.
These are the key reasons due to which the need for converting MBOX file format to Outlook PST format arises.
Now, let us quickly progress to the procedure for MBOX to PST conversion.
How to convert and open MBOX into Outlook PST
No direct method is available to open MBOX files into Outlook compatible PST files. You would require a commercial software such as Stellar Converter for MBOX which can quickly convert the file while keeping all your mailbox data intact.
Here's how you can use this software to convert MBOX to Outlook PST format:
Download, install, and launch Stellar Converter for MBOX. You will see the options to download either the Demo version or the licensed version. The demo version will let you scan your mailbox file and preview convertible data. To save converted file you will need to purchase the license.

After launching the software, you will see the home screen of the software. Here, you will be required to select the source mail client from the drop-down. The source mail client will be that you select will be converted to Outlook PST file.
Once you've selected the source mail client, click on 'Select File' and browse to locate the mailbox file you wish to convert. If you want to convert multiple MBOX files at once, click on 'Select Identity Folder' and browse to select the folder. If you don't know the location of the source file on the system, click on 'Find File' to locate it conveniently. Once you've selected the file, click on 'Convert' to initiate the scanning process.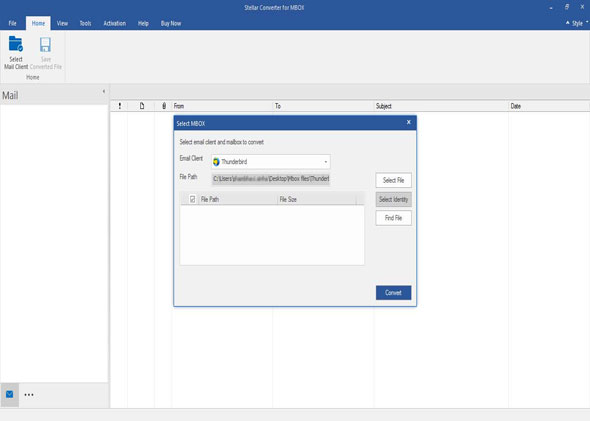 The next screen shows the progress of the scan. As items are discovered, they're populated in a tree-view list in the software's left hand panel. To preview any item before saving, click on it and it will be opened in the right-hand panel.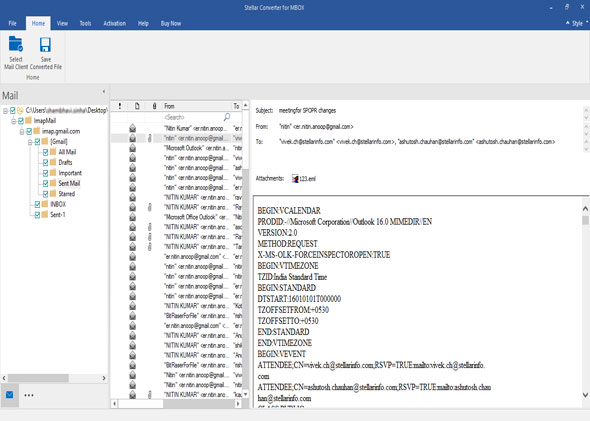 If you're satisfied with the file preview, click on the 'Save' button from the main menu. Select the output format from the dialog box that appears.

With the Soho version of the software, you will have the option to save the converted file as New PST, Existing PST, EML, or MSG.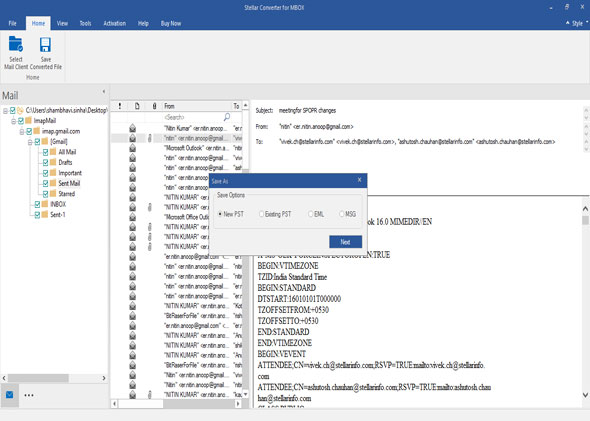 With the Technician version of the software, you will have the option to save the converted file as New PST, Existing PST, MSG, RTF, Office 365, PDF, EML, or HTML.
Once you've selected output format, the converted file will be saved at the default saving location within a couple of seconds. You can view the file by clicking on 'Open Containing Folder' link in the completion dialog box that appears.
Once the MBOX file has been converted to PST format, you can import it directly into Outlook 2019, 2016, 2013, or 2010 to access all your mailbox information easily.
Wrapping it up
Migrating mailbox data from MBOX to PST format can be a tough task. Fortunately, products like Stellar Converter for MBOX can make the process easier and hassle-free. You can scan and open MBOX file and preview convertible data in Outlook format with the demo version of the software. If satisfied with the preview, you can purchase the license and save the converted file within a few seconds.