How to Recover Deleted Large Files from Mac Storage Drive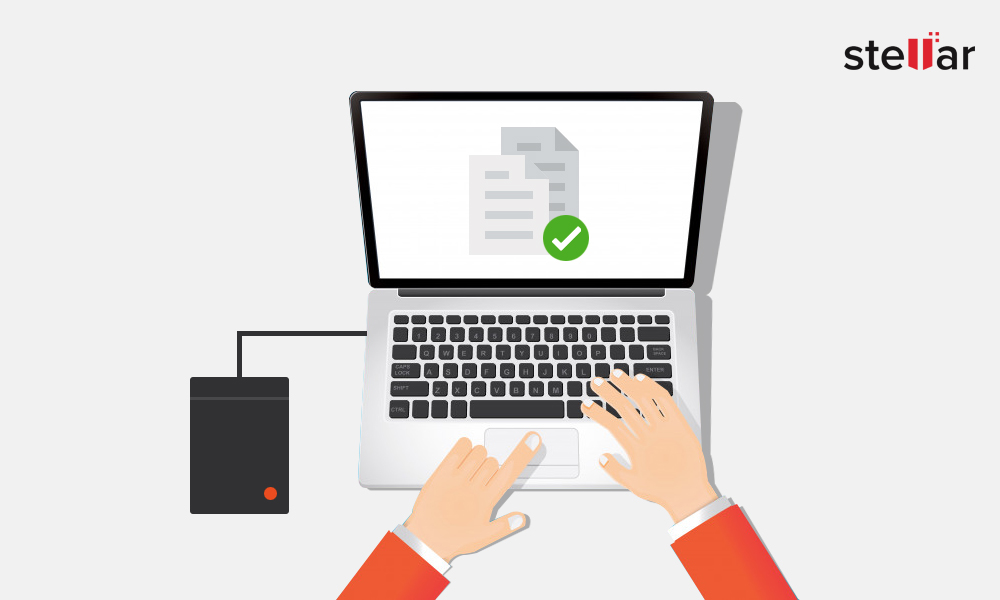 If you use a Mac for professional video editing, then you will agree that managing large video editing files of several gigabytes becomes unwieldy. Copying these massive data or backing them to Time Machine takes plenty of time.
The worst event occurs when you accidentally move these large video editing files like your iMovie, Photoshop (PSD), iTunes, & Adobe Premiere to Trash and then Empty Trash. Or else, bypass Trash by using Delete Immediately functionality of macOS. These operations result in permanent deletion of large files on Mac.
Getting your valuable files irreversibly deleted in such a manner is like losing your hard earned money, which is emotionally taxing. Other large files such as software setup, 4K videos, HD-MOVs, PDFs, presentations, etc. are also at a risk of permanent deletion. In such a situation, don't panic and read on to learn how to recover permanently deleted large files on Mac.

Recover Deleted Large Files Free on Mac
Method 1: By Using Time Machine
If you've used your Time Machine utility to set up a backup drive and kept it connected to your Mac to perform an automated incremental backup, then you can restore your deleted large files immediately from the backup drive. The details are mentioned next:
Ensure your Time Machine backup drive is connected to your Mac.
On the top Menu Bar, go to Time Machine > Enter Time Machine to launch the application.
Use the timeline on the edge of Time Machine to get a snapshot of the drive that existed on that date & time. Or else, click the up arrow to go past the time when the file wasn't deleted.
To find the deleted large file from a window, type the name of the file on the Search field then move through time by keeping your focus to the changes on the selected file.
Once you locate the file, preview by using Space Bar to ensure it's the one you're looking for.
Click Restore to save your file back to its original location. Otherwise, select the file and control-click to choose any other option.
But, what if you haven't backed up your Mac yet. Or, Time Machine took the last incremental backup before the creation of the large files and their subsequent deletion. Or worse, if the Time Machine backup file is corrupt. There are plenty of untoward incidents. In such dire situations, you can rely on a data recovery software for Mac to recover deleted large data on your Mac.
Method 2: By Using Mac Data Recovery Software
First off, you should see where exactly your large files got deleted. If they are deleted from an external storage drive, then proceed to the recovery process. Else, disable the system integrity protection (SIP) on macOS Mojave or High Sierra to allow a recovery software to work on the startup disk.
Perform the following data recovery steps to recover deleted large mp4, project, or other files on Mac:
(i) Download and install *free trial of Stellar Data Recovery Professional on your MacBook, iMac, or Mac mini. Get the free installation files from following download link:

(ii) Toggle on the required file types or go for Recover Everything. Then, click Next.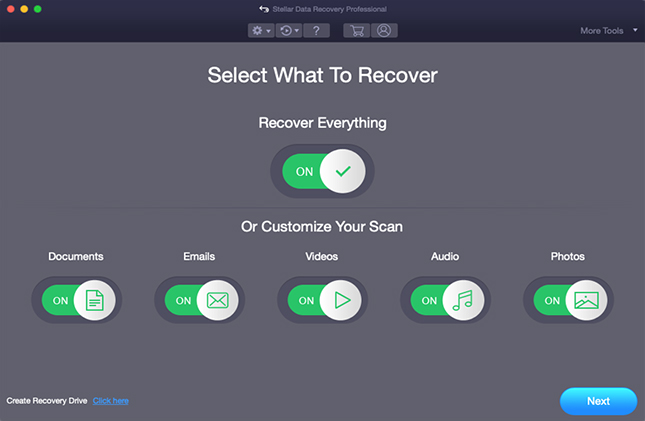 (iii) Select the location wherein data loss occurred and click Scan.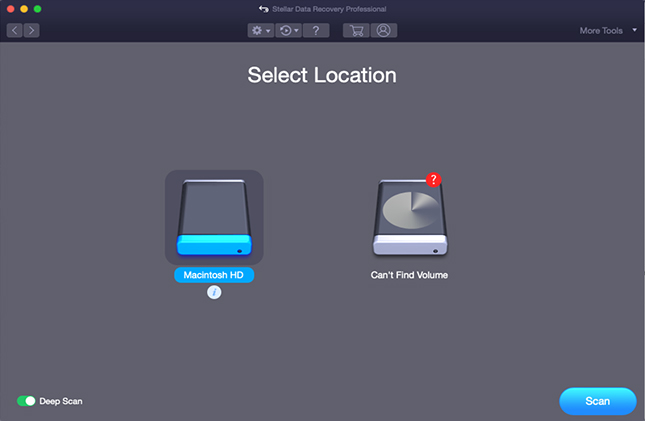 (iv) After the scan completes, preview a scanned file by double-clicking on it.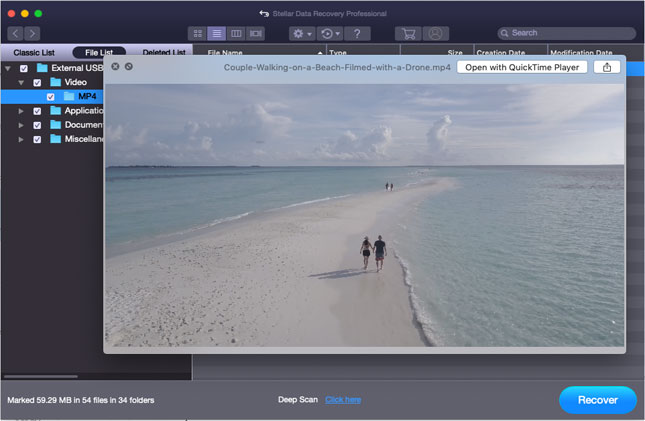 (v) Select the recoverable large files from the list on the left side and click Recover.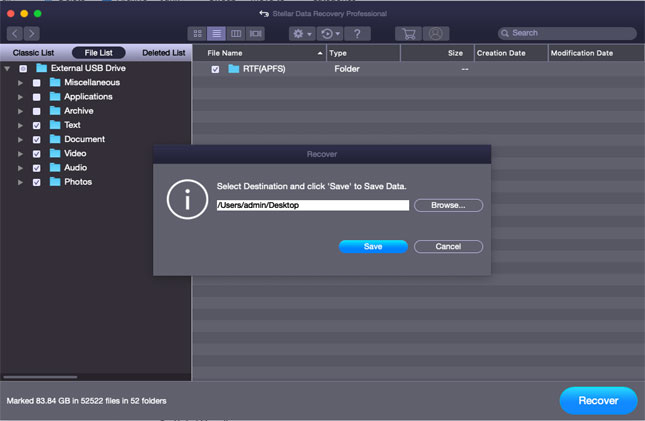 (vi) Click Browse to specify the location to save the file and click Save. Let the software to recover the large files on the specified save destination.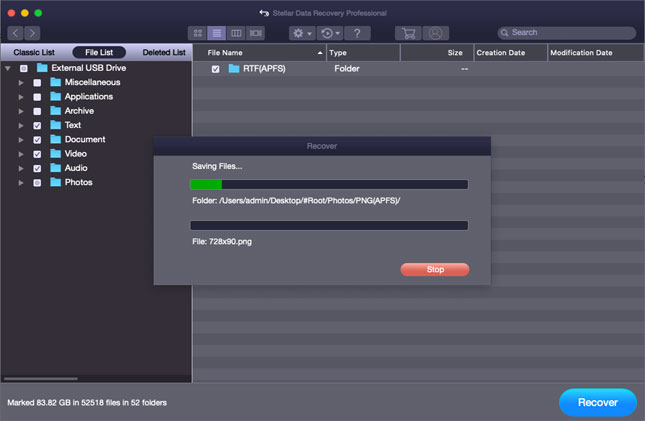 *Free trial of Stellar Data Recovery Professional for Mac allows you to scan the storage location and preview recoverable deleted large files. To unlock all the features, register the Mac recovery application.
Conclusion
Large files are seldom easy to handle on Mac or any other system. So, be careful before deleting any large video or photo files in case you've opted Delete Immediately. Doing so bypasses Trash and removes the files permanently, with virtually no chances of manual recovery!
Nevertheless, not all is lost in such a situation if you have Time Machine backup. In case of no or obsolete backup, you can retrieve such permanently deleted files by using a reliable Mac data recovery software.
Stellar Data Recovery Professional for Mac is a proven data recovery utility that recovers permanently deleted large files in a few clicks. It is highly intuitive with an impressive GUI. The software supports all known file types and recovers Photoshop, iTunes, or iMovie files with ease.