"Hi there! My GoPro studio automatically imports new files while camera is connected to the computer. Last time I didn't need to import files in GoPro Studio. So I stopped the auto import and it prompted me to maintain or delete the files. I was trying to delete only the imported files, but ended up damaging all my photos and videos on the memory card. Tried to restore with a number of online tools but to no avail. Files are still on the card (size- corrected) but it's impossible to play them."
"I went to Lake Tahoe. I took many photos and a few videos using my GO Pro HERO 3 Black with a recently purchased SanDisk 64GB micro SD. But I accidentally deleted some of the important footage and pictures while transferring them from Micro SD card to my Windows 10 PC. I've used several data recovery programs but I can't seem to recover them. Does anyone have any tips on how to recover the additional files?"
GoPro cameras are popular for capturing aerial shots and high-quality videos. From skydiving to rock-climbing, these cameras accompany you on adventures of all sorts. No wonder, your GoPro is one of your prized possessions and so are the photos & videos shot with it. And, certainly you can't even think about losing such precious photos. But, what if you accidentally delete your pictures or lose them due to other reasons, as mentioned below? Don't Panic! Read on to know the best method to recover deleted photos from GoPro Camera 64 GB micro SD card.
Reasons behind Photo Loss from Micro SD Card Used In GoPro Camera
Some of GoPro models such as HERO 7, HERO6, Fusion, HERO5, or HERO4 automatically import photos from camera onto computer via GoPro App. After copying photos to the system, they automatically get deleted from the camera SD card (if 'Automatic Delete' option is already turned on under camera setup preferences).
Pictures may also get deleted or lost due to accidental formatting of the SD Card.
Nevertheless, technical glitches and human errors can still occur, which can make you lose your precious pictures from the micro SD card of your GoPro Camera:
Improper transfer or copying process of files from Micro SD card to your system
Accidental deletion or formatting of SD Card
Corruption in the camera SD card
Removing the SD card from camera or computer while in use
Caution: Stop using your Go Pro Micro SD Card to recover your lost photos. Continuously using the Micro SD card after losing your media files from it can overwrite the space thereby reducing the chances of recovery.
Methods to Recover Deleted Photos from GoPro Camera Micro SD Card
There are two methods to get your favorite pictures back:
Retrieve Pictures from GoPro Plus & Quik App Backup
Restore Photos with Best Photo Recovery Software
Method 1: Restore GoPro Photos from GoPro Plus Cloud Media Library & Quik App Backup
If you accidentally deleted your pictures from GoPro Camera SD Card, and have Go Pro Plus activated to keep your pictures and videos uploaded to cloud, you can easily access your pictures from GoPro Plus Cloud Media Library.
Note: GoPro Plus is a subscription-based service, which includes unlimited cloud storage and help you backup and access your Go Pro photos and videos anywhere.
Four Ways to Recover Deleted Go Pro Photos from Go Pro Plus
1. GoPro for Mobile (formerly Capture)
Follow the given steps to get your photos back from Go Pro Plus Mobile App
Download GoPro app on your Android and connect it to Wi-Fi.
Open the app. From menu bar, tap on Media > Cloud.
Select the pictures you want to retrieve and tap on Download
2. Go Pro Quik App
You can also try retrieving your pictures using Quik app. Follow the below given steps:
Install Go Pro Quik app on your phone and connect it to Wi-Fi.
Tap on 'Create a New Video' option.
Select 'Go Pro Plus' and import your lost photos from Go Pro Plus Cloud Media Library.
3. GoPro Quik Desktop
Photo recovery through Quik app for Desktop is also another method to get your photos back:
Download and launch GoPro Quik app for Desktop.
Log in to your GoPro
Choose pictures you want to restore and click Download and save it on your PC.
4. Web GoPro Plus Cloud Media Library
You can also just login on PLUS.GOPRO.COM or GoPro.com with your GoPro Plus account and retrieve pictures you want.
Method 2: Recover Deleted Pictures with Photo Recovery Software
Whether you lost your precious pictures due to accidental deletion, SD card corruption, formatting or other reasons, as mentioned above, using a reliable photo recovery tool such as Stellar Photo Recovery software is the best option. This DIY software can restore lost pictures from any type of HDD, SSDs, USB Drives, Micro SD, SD Cards, etc.  The software can recover photos & videos from the Encrypted HDD, SSD, flash drive, or SD card, etc. Follow the given process to recover deleted pictures from 64 GB micro SD Card of Go Pro Camera:
Connect your micro SD card to your system with the help of a card reader.
Download, install and run Stellar Photo Recovery on your system.
Select the SD card from Recover Photo, Audio & Video screen and click Scan.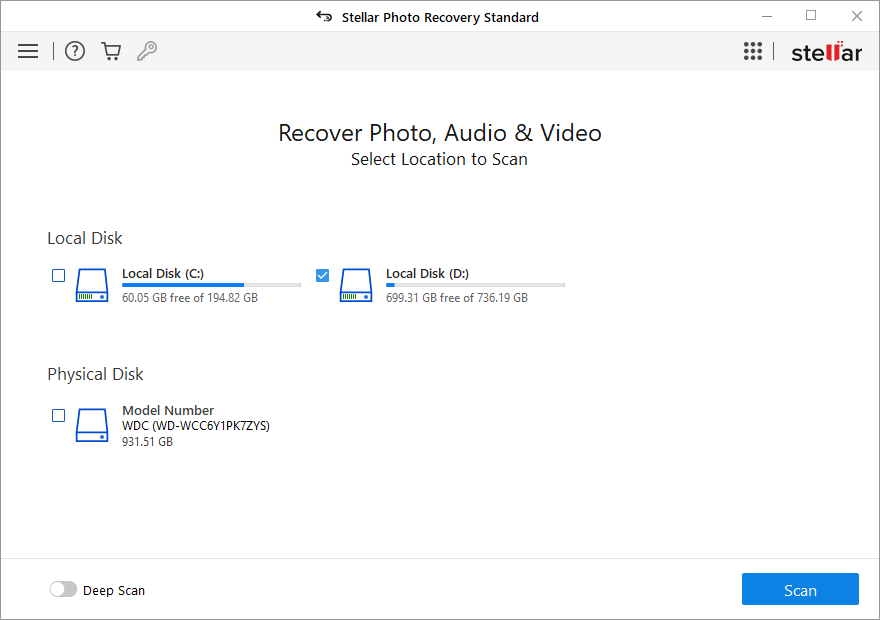 Once the scan process is completed, scanned photos can be viewed in three panes– 'File Type', 'Tree View' and Deleted List'. You can also preview the scanned files.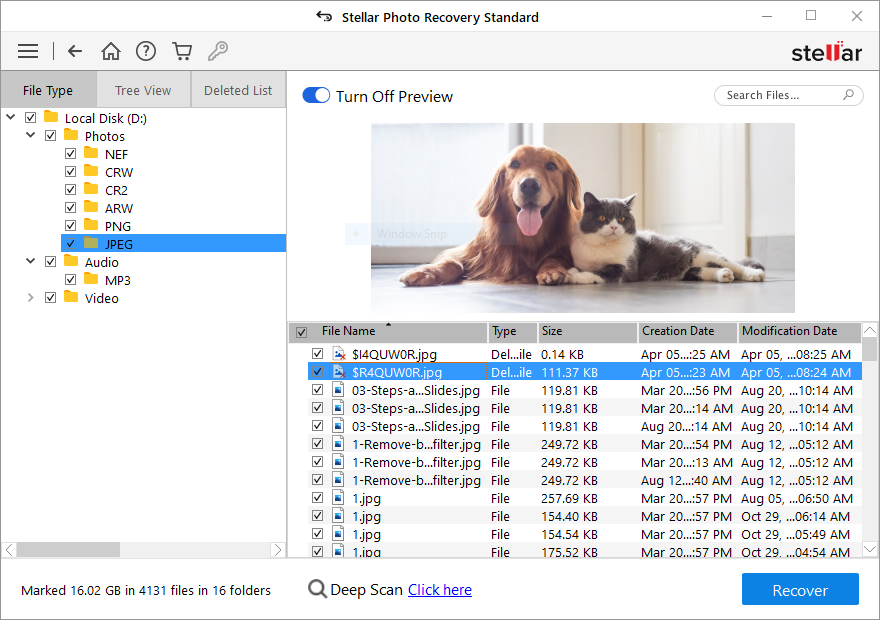 Select the photos that you want to retrieve and click Recover.
Click Browse and choose the desired location, and click Start Saving to save your recovered pictures.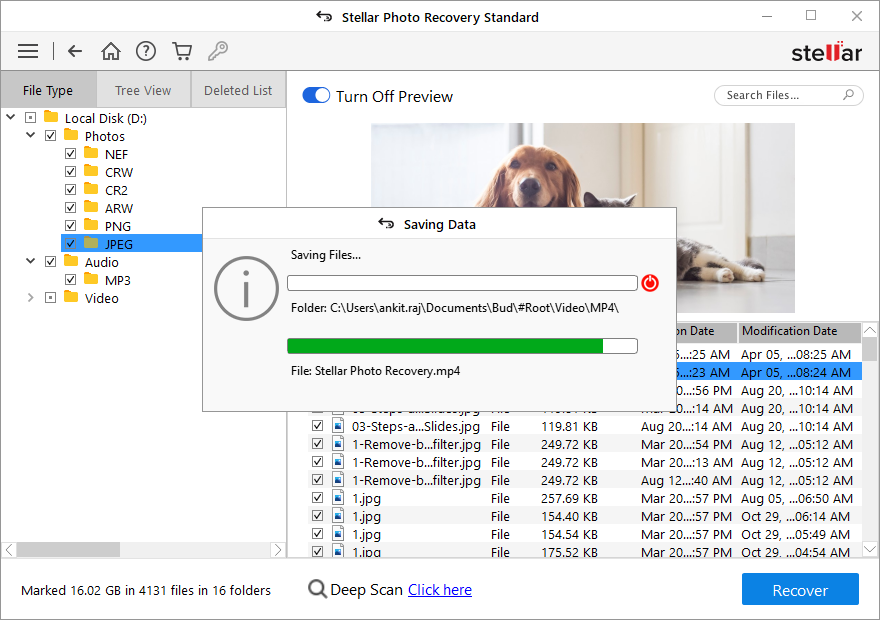 [Caution: Avoid saving your restored photos in the affected micro SD Card/drive/volume/partition/SD card from which you lost pictures to avoid overwriting.]
Conclusion
Your Go Pro camera can capture shots that can't be captured by ordinary digital cameras. Undoubtedly, losing precious pictures & videos shot with a Go Pro camera can be heart breaking. Hence, in order to get your photos back, you may try recovering them from Go Pro Plus Cloud Media Library, Quik App and Go Pro app, given if you already have a backup of your photos. However, if you do not have adequate backup, using the best photo recovery tool such as Stellar Photo Recovery is the finest approach. The software can easily get back your favorite pictures from formatted or corrupt micro SD card as well.
If you have any query or suggestion, do let us know in the comment box below!
Want to evaluate before buying? Download the demo version here.