Microsoft releases two major Windows 10 updates each year that bring a host of new features and refinements to improve system performance, productivity, and stability. However, a recent Windows 10 October 2018 update (version 1809) turned out to be a nightmare for many users.
Several Windows 10 users reported that documents and important files from their user profiles went missing after installing the update that was rolled out in the first week of Oct 2018.
An agonized Windows 10 user who lost several critical files after upgrading to Windows 10, version 1809 update, wrote following on the Microsoft's support forum:
I have just updated my windows using the October update (10, version 1809) it deleted all my files of 23 years in amount of 220gb. This is unbelievable, I have been using Microsoft products since 1995 and nothing like that ever happened to me.

Files were located at C:/Users/rober/Documents/

This location is still present, with no files. All of files deleted.

I am extremely upset. Not sure what to do….please let me know.
Microsoft has confirmed the issue with a note on their support site that says,
"We have paused the rollout of the Windows 10 October 2018 Update (version 1809)* for all users as we investigate isolated reports of users missing some files after updating."
However, a tweet from Rafael Rivera (MVP) reveals that Microsoft overlooked the issue.
See the below screenshot of the reports posted on Microsoft's Feedback hub.
As a precaution, Microsoft has advised the affected of the downloaded version 1809 of Windows 10 Oct update to minimize use of their devices immediately. If you have manually downloaded the update, don't install it and wait for the new update to arrive.
This is a timely advice because if you continue to use an affected PC, you may overwrite the deleted data beyond the scope of recovery that may otherwise be possible with a data recovery software.
Further, in one of the recent posts on Windows blog, Microsoft's John Cable briefly explained the reasons behind this software glitch. He mentioned that the problem was with the 'Known Folder Redirection (KFR)'— a tool used to store the files destined for folders like Desktop, Documents, Videos, Pictures to a different location such as a folder on another volume.
The Windows 10 1809 October 2018 update was introduced with a new code to remove empty and duplicate known folders. The change got combined with another change in the update sequence and resulted in deletion of the original (old) folder location and content, instead of deleting empty or duplicate folders.
Microsoft has confirmed that the issue is now fixed and it will soon re-release the official Windows 10 October 2018 update after further validation.
Microsoft has further asked users to get in touch with its support team to help resolve the issue.
Here's How to Get Back Your Deleted Files after Windows 10 October Update
While it's not guaranteed, but users in isolated forums have reported that data recovery software with deep scan* utility did help them recover a significant volume of their missing data that was deleted after the Windows 10 (version 1809) October 2018 update.
Microsoft MVPs like Greg Carmack have recommended trying out data recovery software as the first solution to get back missing files without further damaging or overwriting them. And technically, that's the only secure way you can get access to your deleted files with minimum system and disk usage.
*Deep Scan thoroughly inspects every individual sector on a storage drive for traces of lost and deleted data based on unique file signatures. Thus, deep scan significantly improves the chances of deleted and lost data recovery.
Again, the probability of recovery depends on how promptly you implement a data recovery software and how often did you use your PC after losing the data.
Steps to Recover your Data Lost After Windows 10 1809 October Update
Download and install Stellar Data Recovery Professional on your Windows PC. While installing, Click 'Browse' and choose an install location on a different volume. Do not install the software in C: drive.

Tip: You can choose an external USB flash drive as install location.
Launch the software, choose 'All Data' and click 'Next'.
Click 'Choose Location' and then browse C:\Users\YourUserName folder. E.g. C:\Users\Eric.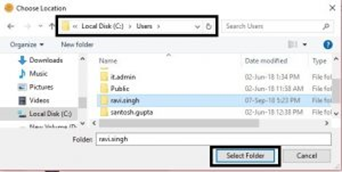 Click 'Select Folder' and then click 'Scan'.
After the scan, your lost and deleted files are listed in the left Tree View Pane. You can expand the tree and locate lost files. Use the search option and filters to locate deleted files quickly.
In case the deleted files aren't visible, click 'Click Here' link at the bottom of the software window to run 'Deep Scan'. This will thoroughly scan each sector on your drive for deleted and lost data.
Click on 'Deleted List' in the left pane and choose the files you wish to recover. Again you can use the search option to locate files.
Tip: You can click on a recovered file to see its preview before saving it.
After selecting the files, click 'Recover.'
Click 'Browse' and choose a save location on a different volume or drive.
Click 'Start Saving' and your data will be saved at your desired location. If you find any problem during the recovery process, reach out to the customer support team via chat, call, or email for further help.
Conclusion
Losing (forever) those outdoor holiday photos, decades of curated family videos, or that rare music collection is nothing short of emotional trauma – a situation that's hard to come over and unfortunate, but quite possible!
With the amount of data stored on personal computers and storage drives, there's always a reason that could thrust you into a permanent data loss situation. Some of them unheard of…
For instance, the recent Windows 10 version 1809 Oct 2018 update— a large number of users worldwide downloaded and installed the update to wake up to a shocking reality. Many of them had lost several GBs of data without the slightest hint of the disaster. Forums are full of queries asking for help on restoring the deleted data, which is possible if you act promptly and use an advanced data recovery software such as Stellar Data Recovery Professional.
The software restores deleted files with 'Deep Scan', and is recommended by experts as the first solution to recover your data without damaging it further. Plus, the software lets you image and clone your Windows drive, and thus, you can use it as a dependable companion for all your present and future Windows data recovery and backup needs.