How to Recover Lost or Deleted Data from Mac Desktop Location
Summary: The objective of this blog is to share well-known methods that can help distressed users recover lost, missing, or deleted data from Mac desktop location.

You might have removed or deleted an important file or a folder accidentally. Sometimes, even an expert falls prey to accidental deletion. However, if you are a savvy user then you must have the Mac backup by your side. Isn't?

No worries if you couldn't create a Mac backup on time. Make sure you avail the free trial of Mac data recovery software. Get a trial run of the following partition recovery software for your Mac for preliminary analysis.
Apple recently announced an upcoming 'macOS Mojave' that will be released by this fall and will bring a new feature—along with tons of other features—to our macOS desktop called 'Stacks'. Apple has added this new feature to manage up our messy desktop. This feature was much needed because, at times, when we decide to clean up our Mac Desktop (usually when there's no space left on the desktop screen), we end up selecting & deleting important files along with the unwanted ones.
However, you can always restore your deleted files from the Trash unless you've emptied it too. Moreover, if you've used the 'Command + Shift + Option + Delete' key combination to delete files & folders, then only a data recovery tool for macOS can help you get them back.
To err is human; as a fact, 'human-errors' is the foremost cause for data loss. Virus and malware infections can also remove macOS files & folders including the one stored on the desktop. Few system cleaner apps, especially the ones that are available for free, may clean up your desktop files that haven't been used for a long time.
So how do you prevent this? Most importantly, can you recover lost data from Mac desktop? If yes, then how? Read on to know the answer.
Data Recovery from Mac Desktop
You can recover your lost data with the help of backup – the easiest & efficient way. The macOS & OS X comes with a built-in backup feature called Time Machine. If you have been creating backups, you can quickly restore the deleted desktop files with just a few clicks. However, if there is no backup available, you can always rely on a professional data recovery tool such as the Stellar Data Recovery Professional for Mac. It is a completely DIY (Do-It-Yourself) tool to recover lost data such as documents, emails, photos, videos, etc. from Desktop, Trash, Download folders, System folders, and more.
The Stellar Data Recovery for Mac tool is easy to use and helps you recover lost data from Mac Desktop, Solid State Drives, External Storage Drives including Time Machine & Encrypted drives, and Boot Camp Partitions.
Follow these steps to recover lost data from Mac Desktop:
I. Download & install Stellar Data Recovery Professional for Mac

II. Launch the software from the Application folder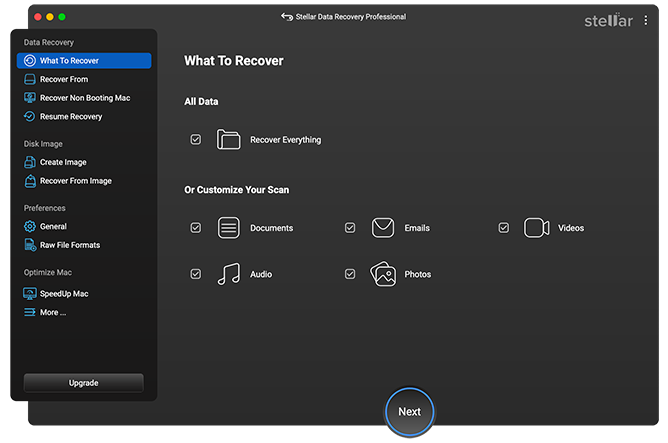 III. Under 'Select What To Recover', turn on 'Recover Everything' toggle switch or you can customize your scan by turning on/off individual toggle switch below the File types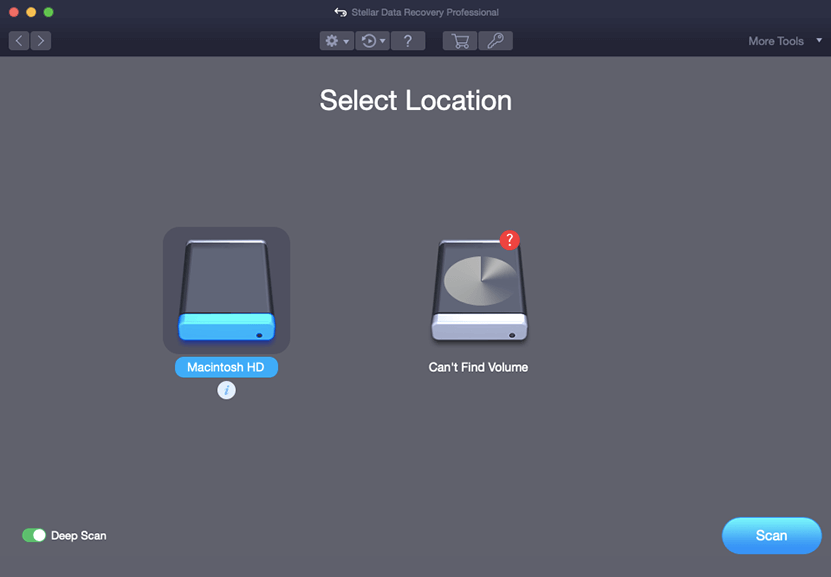 IV. Then click 'Next'. Choose Macintosh HD drive from the listed ones & turn on 'Deep Scan' toggle switch that appears at the bottom-left corner of the software window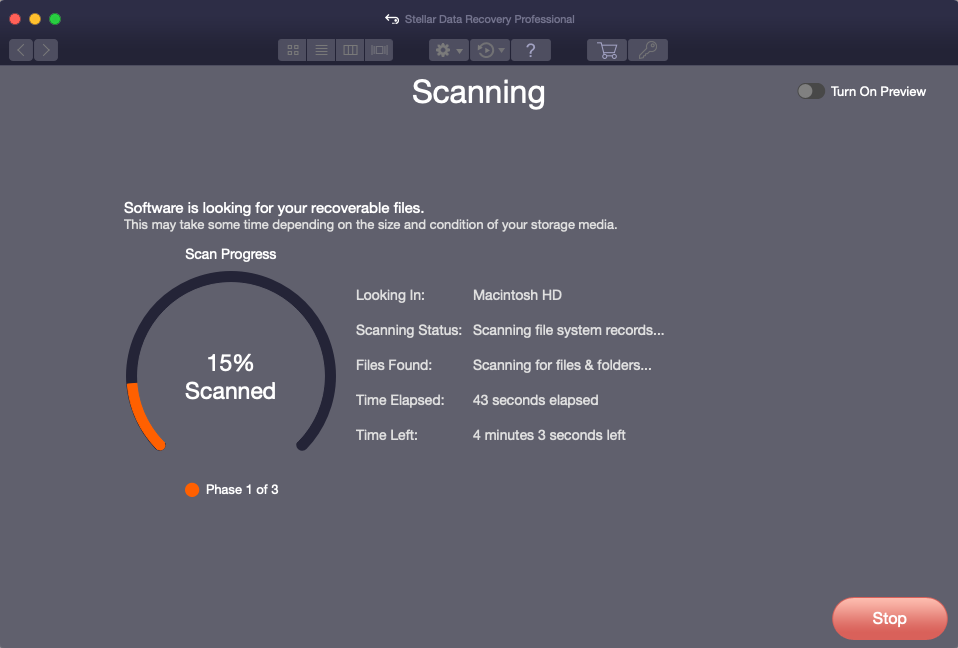 V. Click 'Scan' and wait till the scan is finished. Click 'OK' when scan is completed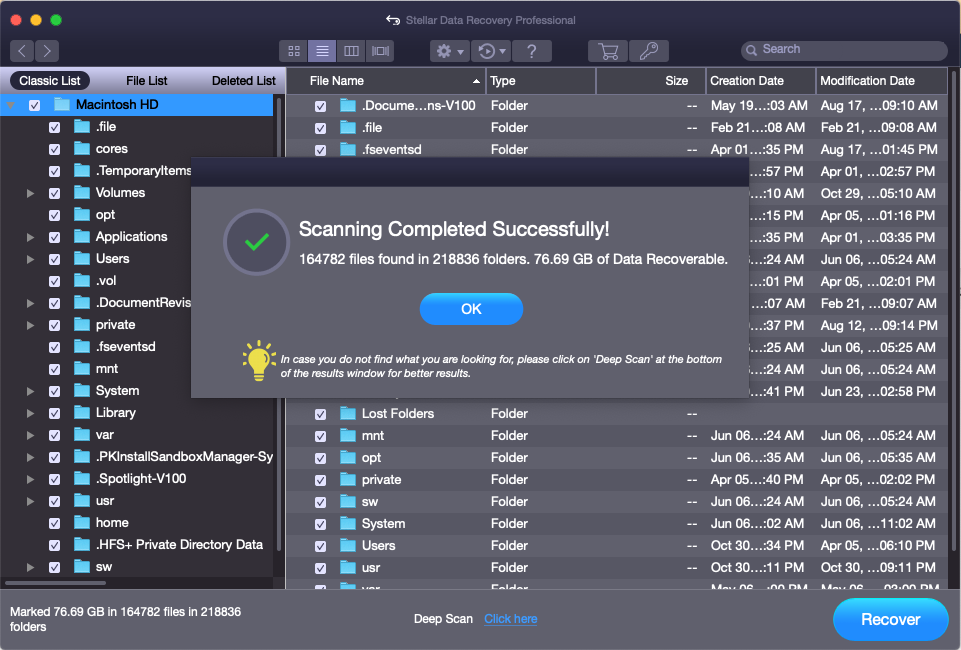 VI. After the scan, all the scanned folders are listed under the left 'Classic List' pane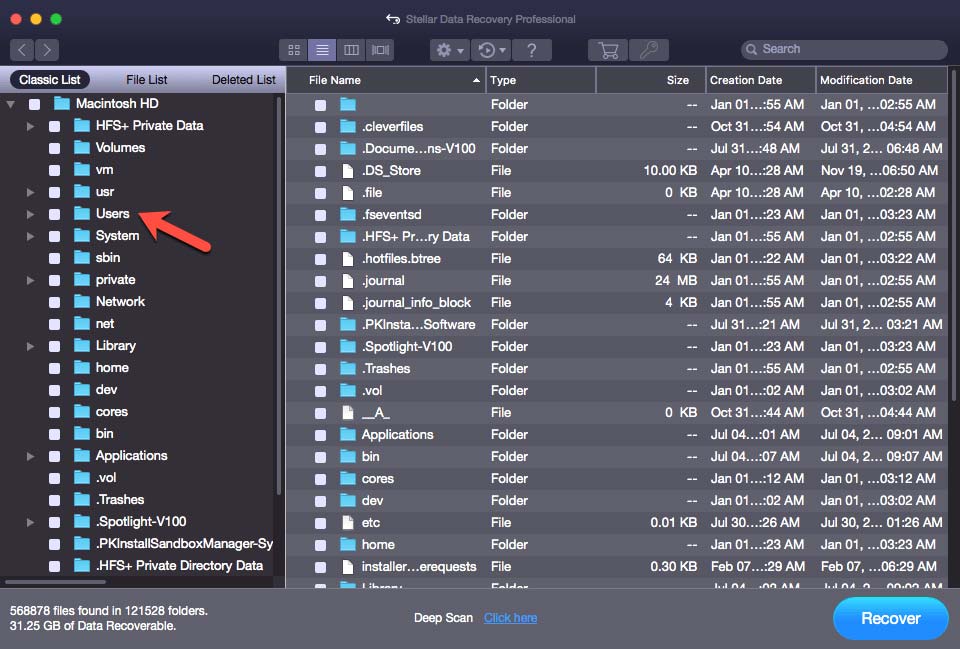 VIII. Click the 'Users' folder. On the right panel, all the scanned folders & files under Users are listed
IX. Double-click your 'Username' and again double-click the 'Desktop' folder to display all the scanned files & folders from the Desktop—whether hidden or deleted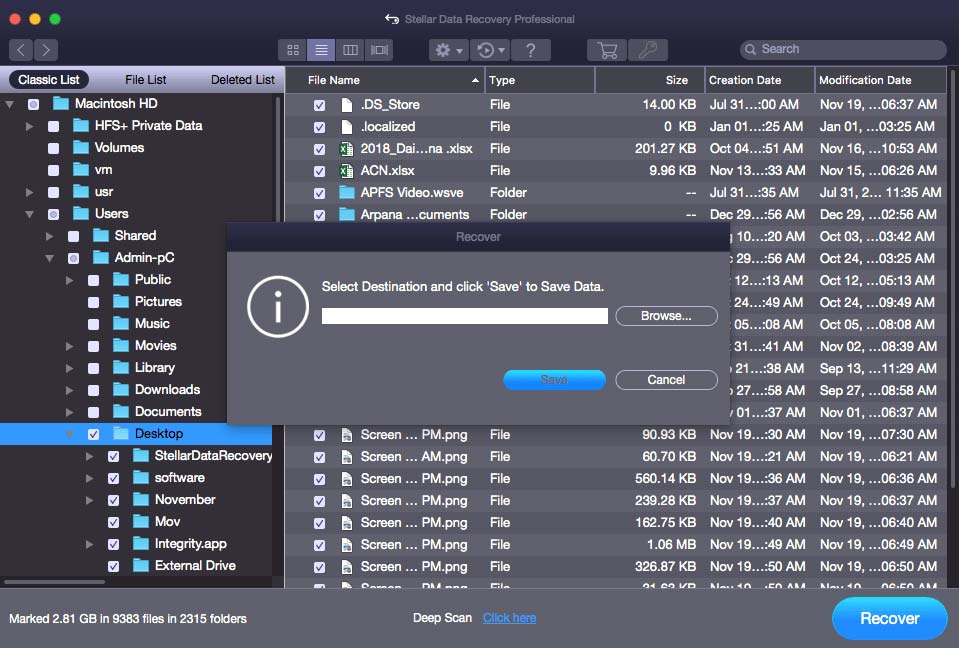 X. Click the checkbox of files & folders that you want to recover, then click 'Recover'. A new dialog box appears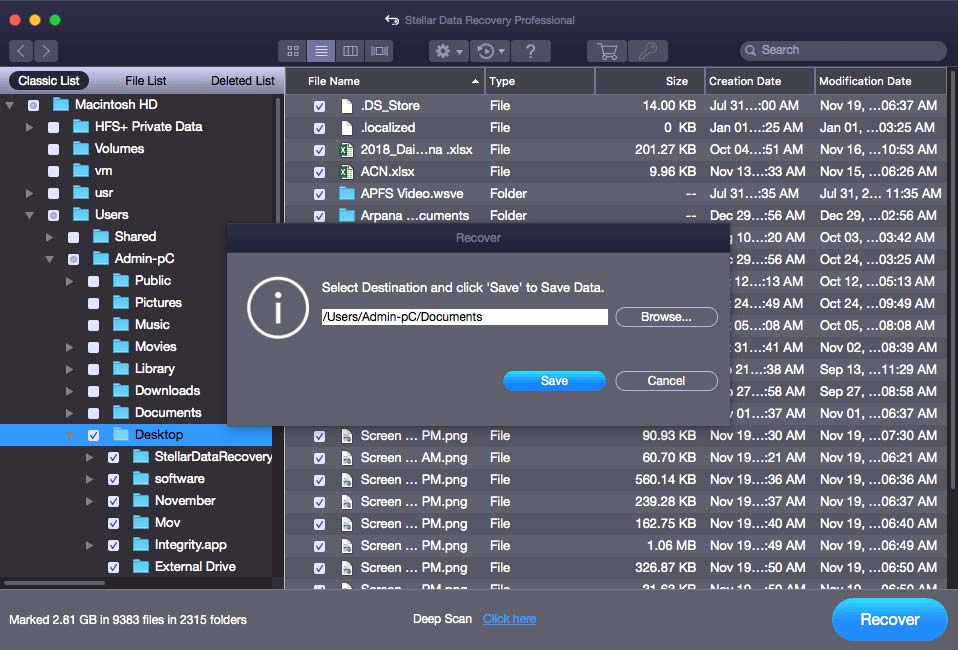 XI. Click 'Browse' and select a location where you want to save the recoverable Desktop data
NOTE: Do not select Macintosh HD as the save location. Either use an external storage drive or choose a different volume of your internal storage drive to avoid overwriting of files. As a safety feature, Stellar Data Recovery for Mac doesn't let you to choose the recovery drive as a save location.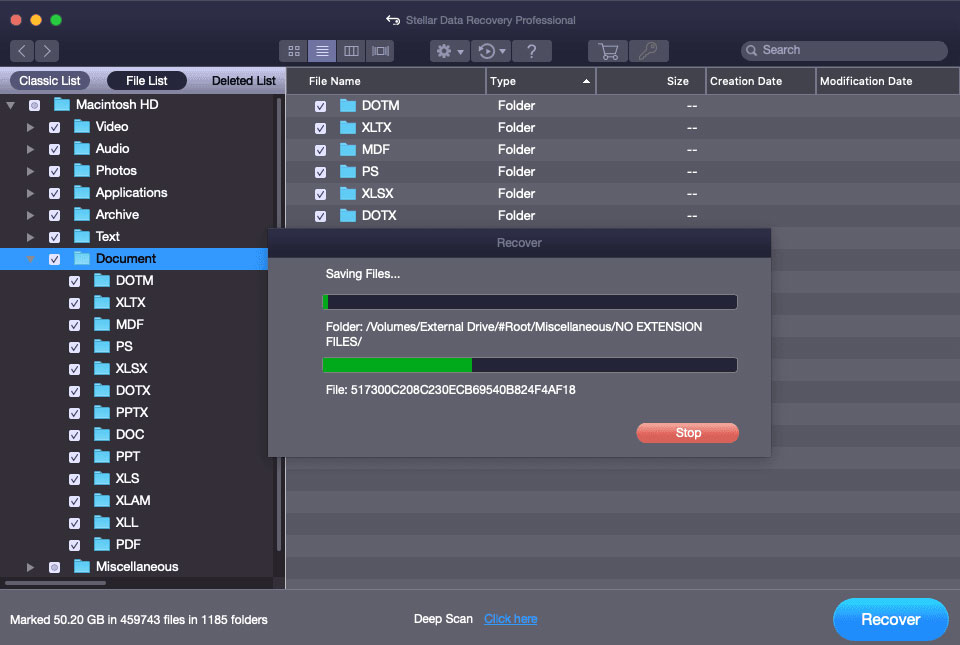 XII. Click 'Start Saving' and wait till the software saves your recoverable data at your desired location
Conclusion
We discussed the reasons why and how files from desktop get deleted and what are the steps a user should take to recover lost data from the macOS desktop. The best way to save yourself from any data disaster—whether it's caused by virus or malware attack such as ransomware, accidental deletion, or due to use of a file cleaner app—is by creating a scheduled backup of your Mac. For backup, you can use Time Machine in macOS.
However, if you don't have any backups available, you can still retrieve your lost data using a reliable recovery tool like Stellar Data Recovery Professional for Mac that lets you recover files & folder from deleted partitions, corrupt volumes, and formatted or inaccessible Mac drives. Also, you can customize the scan and recover lost Time Machine backup with the help of its intuitive user interface.