Summary: This post tells about different way to recover lost video files after rendering. Learn how you can recover your lost video files after rendering through manual approach and with Stellar Photo Recovery software.
Sometimes, a situation may occur when you are rendering a video using a video editing software, say Final Cut Pro X and then you shut down the computer. The next day when you are back at the system, you are shocked to find out that the rendered videos are missing from the folder!
Or else you created rendered audio and video files but accidentally pressed F12. All your rendered video files are lost. You do not have a backup either.
Is there a way to recover lost video files after rendering?
The answer is 'Yes.' Video loss after rendering is a common problem faced by videographers, be an amateur or professionals. They render videos to make them smooth and vivid using video editing software such as Adobe Premiere, Windows MovieMaker, or Final Cut Pro X etc. But the rendered files may get lost, deleted or corrupt during the course of editing, transferring or saving them.
The video rendering process is often tedious and time taking as it involves arrangement and alignment of several video elements like audio files, animations and special effects. But solution exists and read on to find out the ways to recover lost video files after rendering.
Ways to recover lost rendered video files
Manual Solutions
DIY Software Solution
1. Manual solutions to restore lost rendered videos
Once you realize that you have lost the videos after rendering, first thing is to check your drive condition where you saved your videos after rendering. This is important so as to rule out the partition or drive issue, where you saved the videos. To inspect the drive health run Check Disk (CHKDSK), the Microsoft hard disk scanning and repair utility.
Steps to CHKDSK in Windows 10
Open File Explorer
Click on This PC
Right-click the hard drive which is to be checked
Click on Properties
Click Tools
In Error-Checking box, click on Check. CHKDSK starts to run on Windows 10
The Check Disk will correct the hard disk partition errors or bad sectors, if any. Next try below manual ways to recover lost rendered videos:
Search via Windows File Explorer
Windows keeps the record for each file and directory on which you work. Use this feature to find your lost videos in the recently modified files.
Steps to search using Windows File Explorer:
Open Windows File Explorer
Type datemodified: in the search box on the top right corner
'Select a date or date range' window appears. Choose the date or date range for when you rendered the video files. The process takes some time to complete depending on the date range you choose.
This will list all the recent files on which you worked. Just select your video files from the list and save at the desired destination.
Search via Quick Access
You can also view your recently modified files in the File Explorer in Windows 10. Click on Quick Access. It will display the Recent Files you modified. Find your rendered videos in the list, then you can select and save them.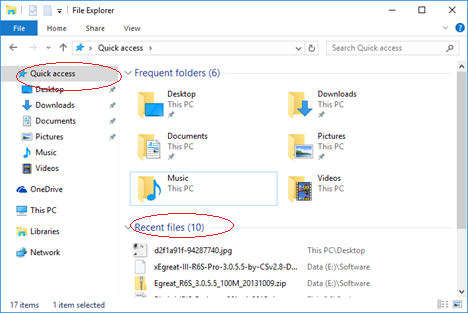 Figure: Recent Files under Quick Access
Look into Recycle Bin
If not permanently deleted, the lost files could be in your Recycle Bin. Check for your rendered video files in the Recycle Bin. Right click on the found file and 'Restore' to the original location.
What if the above-rendered video recovery methods fail?
Do not worry. You still have a sure shot mechanism to recover the lost rendered videos. Use a professional third-party recovery software – Stellar Photo Recovery. It is one of the most effective and simple to use solution to get back lost rendered videos. The tool is compatible with both Mac and Windows systems.
2. Follow the easy steps given below to recover lost rendered videos with Stellar Photo Recovery
Launch Stellar Photo Recovery Software.
Select the location from where you want to recover. Click Scan to start the scanning process
A dialog box of 'Scanning Completed Successfully!'. You can preview them in the right pane. If you do not see the required videos in the list, opt for Deep Scan option at the bottom.
Click Recover. You can also choose to recover only the selective files – select videos that you need, right click, and click Recover.
In the dialog box, specify the location to save the image files. Click Save. All the files get saved at the specified location.
Now you can watch the recovered video (that was lost earlier while rendering)
Causes leading to video loss after rendering?
The video rendering involves the creation of temporary video and audio files for segments of a visual sequence. Video rendering is a hardware-demanding technique in terms of RAM memory, hard drive storage, CPU, and graphics card. There are possibilities that you may lose certain files while rendering your valuable videos or after the process due to any of the hardware or logical issue. It might be a virus attack, accidental deletion or formatting of the drive that can lead to loss of your rendered videos. Even when Windows does not shutdown properly after you finish the video editing, you might lose your rendered video files
Dos' when rendering videos
Always have backup of video files
Ensure ample space in your hard disk to save all the rendered video files and prevent video files loss
To know more watch the video
Tips to Repair Corrupt Video Files While Rendering
During the process of video rendering, there is a possibility that some of your video files may get corrupt or do not save properly. The videos might freeze, flicker, show sound error or frame /header corruption etc. An easy way out is to repair the corrupt rendered video files of MOV, MP4, M4V, 3G2, 3GP and F4V formats through the Stellar Repair for Video
To know more watch this video
Conclusion
It is common problem to lose videos at the time of rendering; in all such instances, if you are unable to restore lost rendered video files through above-mentioned utilities present in your system, do not fret over the situation. Stellar Photo Recovery software comes to your rescue with assured success when you lose any of your valuable videos. This software is sspecially developed to recover all types of lost or deleted multimedia files including videos, music and photos. It will delight you, being the trusted choice of millions of users around the globe.