Recover upto 100% Deleted Files from iPhone 6 16 GB, 64 GB and 128 GB
Summary: This post describes data loss scenarios from iPhone 6 and suggests some tips by which users can recover up to 100% deleted files. It also recommends the use of Stellar Data Recovery for iPhone for successful iPhone 6 data recovery.
iPhone 6 probably had thousands of takers even before its official launch. It indeed is the most popular iPhone model of all time, and rightfully so, thanks to the advanced feature set and improvements in design. That said, deciding whether to buy iPhone 6 or iPhone 6 Plus is probably one of the toughest decisions a user has to take, owing to the improvements in camera and video capabilities, App Store apps, and functionalities. But the fundamental thing that marks the difference between the models is the storage space, and that's what influences the difference in the prices too.
iPhone 6 Storage – which option should you go for?
Both iPhone and iPhone 6 are available with three storage options – 16GB, 64GB, and 128GB. Each GB of additional storage comes at a price of $100. From that point of view, you get the most worth for your money with the 128 GB model. But, if the screen size, iCloud storage capacity, etc. are aspects that matter more to you, you might prefer a lower storage space model. Plus, you should also keep in mind how you use the iPhone before deciding on the storage space. Do you capture a lot of photos or videos, install games or apps? Then iPhone would be the best bet!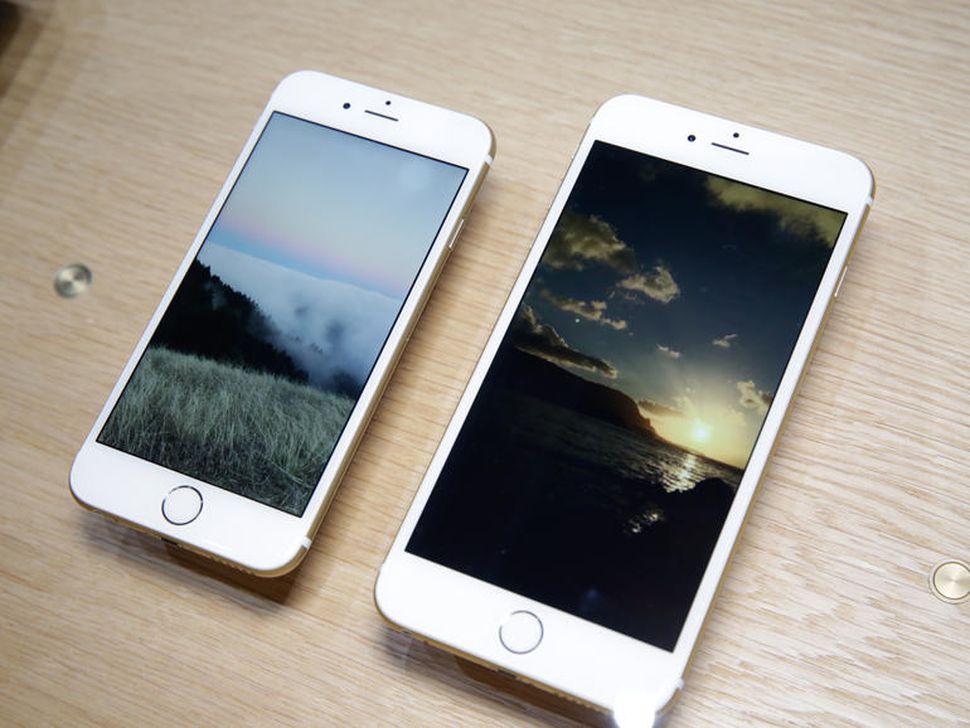 With iPhone having a high tier iCloud Drive storage subscription, the 16GB model may serve as a good option. With iPhone 6, Apple moved beyond the 32 GB storage option and offered 64 GB for just $100 more. So, for almost all purposes, the 64 GB model should be another option. But, if you don't like iCloud storage, don't want to have to depend on data connections to access your data, and also want excellent functionalities in your phone, you may also opt for the 128 GB model, provided if price is a secondary option for you.
Data deletion from iPhone 6
Regardless of the storage option or functionality you go for, technology may show its downside when you least expect it. And that's no exception for iPhone 6 too. There are several situations that can leave you with accidental loss of data on iPhone 6:
Missing data after upgrading iOS
Accidental deletion of data during iTunes backup or restore
Loss of data resulting from making device jailbreak
Accidental formatting of device storage
Corruption of the device's file system
Loss of photos and media from Camera Roll, Photo Stream, etc.
Accidental deletion of Contacts, Call history, Voice Memo, messages, notes, etc.
Complete iPhone 6 Data Recovery is Possible
Have you ever found yourself facing iPhone 6 data loss and given up thinking that the data is lost forever? Well, the good news is that even after data deletion, you can perform up to 100% iPhone 6 data recovery. This is because when data is deleted from iPhone, it doesn't get erased from the storage, only the pointer to it gets deleted. With the right techniques, you can recover all your data safely and intact. Just follow the below mentioned tips:
Stop using the iPhone immediately to avoid writing any new data to the storage
Make sure nothing is being downloaded to the iPhone in the background
Avoid upgrading your iPhone if you suspect data loss
Download Stellar Data Recovery for iPhone and use it to recover up to 100% data
 How to Perform Data Recovery on iPhone 6?
Stellar Data Recovery for iPhone is an easy-to-use application that helps you recover deleted data from your iPhone including deleted Camera Roll, Photo Stream, Contacts, Call history, Voice Memo, messages, notes, etc. It deftly recovers deleted data from iTunes, iCloud backup files, WhatsApp Messages, WhatsApp attachments, etc. With this one tool, you can be rest assured that you'll never have to face permanent data loss from your iPhone 6 or iPhone 6 Plus.
Below is the procedure to recover up to 100% deleted files using this product:
Step 1) Download, install and launch Stellar Data Recovery from iPhone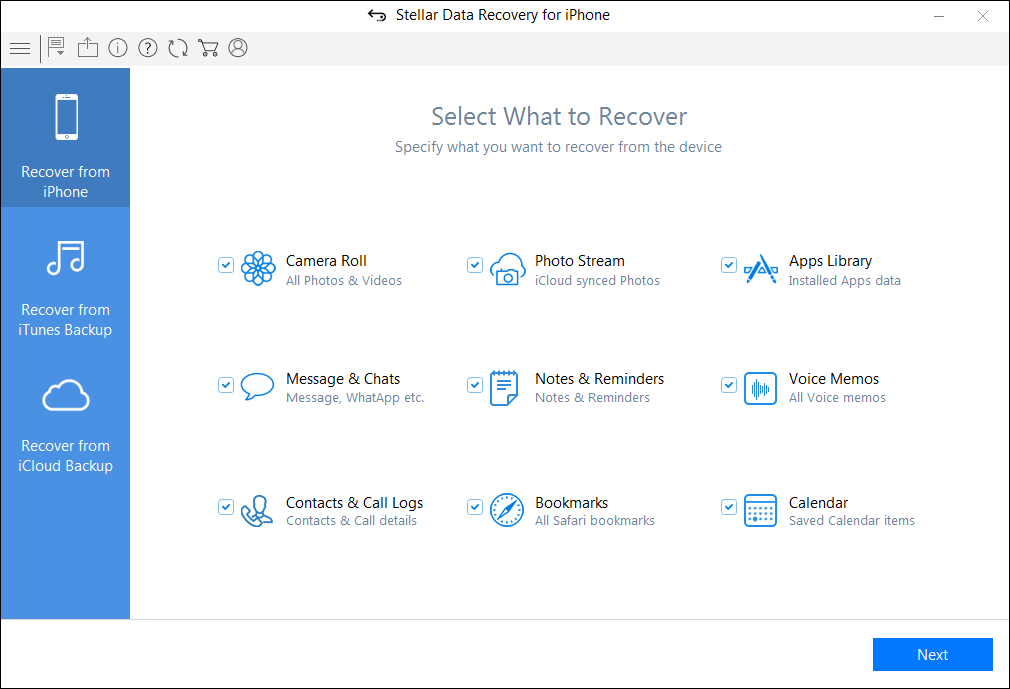 Step 2) On the software's home screen you'll find 4 options:
Recover from iPhone
Recover from iTunes Backup
Recover from iCloud Backup
Import file to iPhone (Win)
Choose the appropriate option to proceed
Step 3) Connect your iOS device to the computer. The software will show you all connected devices. Now select 'Recovery from iPhone' option to start analyzing the device.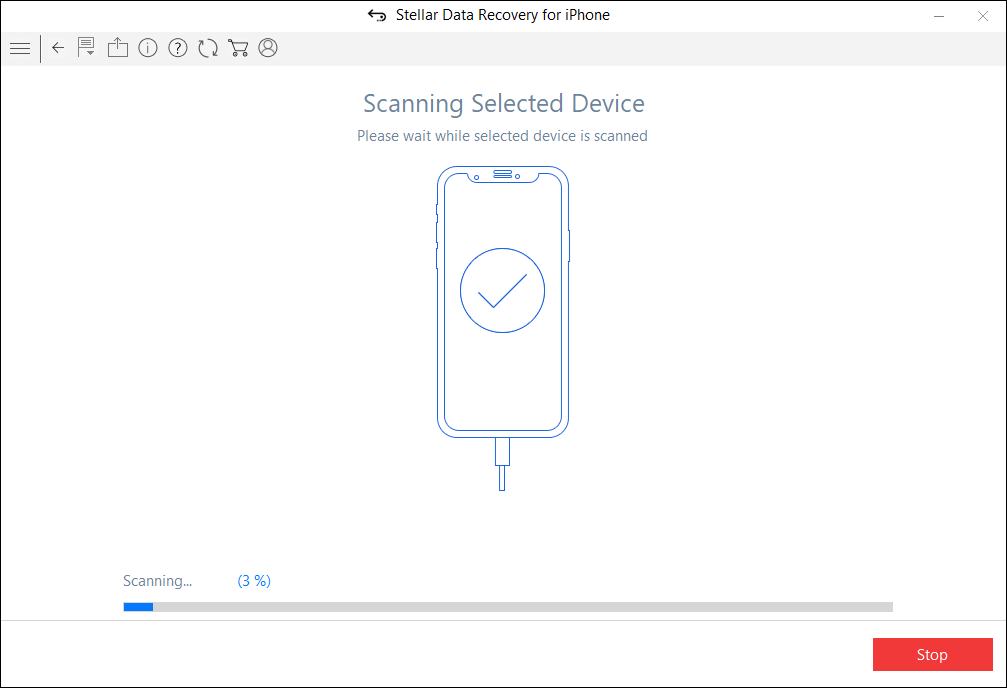 Step 4) Once the scan completes, all recoverable data will be displayed in a tree-view list in the left hand panel of the software window.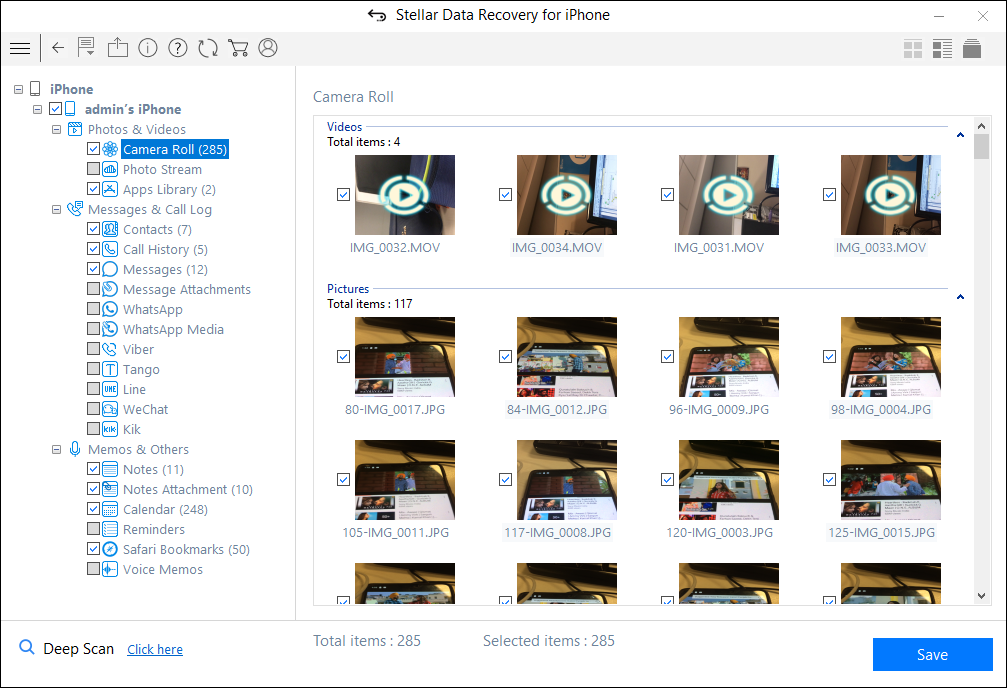 Step 5) Click on any supported file type under the listed iOS device to see its preview.
Step 6) Select the files you wish to save and click on the 'Save'
Step 7) You'll be prompted to select between two options:
Save to computer
Save to iPhone
Select your preferred location and click on 'Ok' button. [Read More "How-to" Articles on iPhone Data Recovery]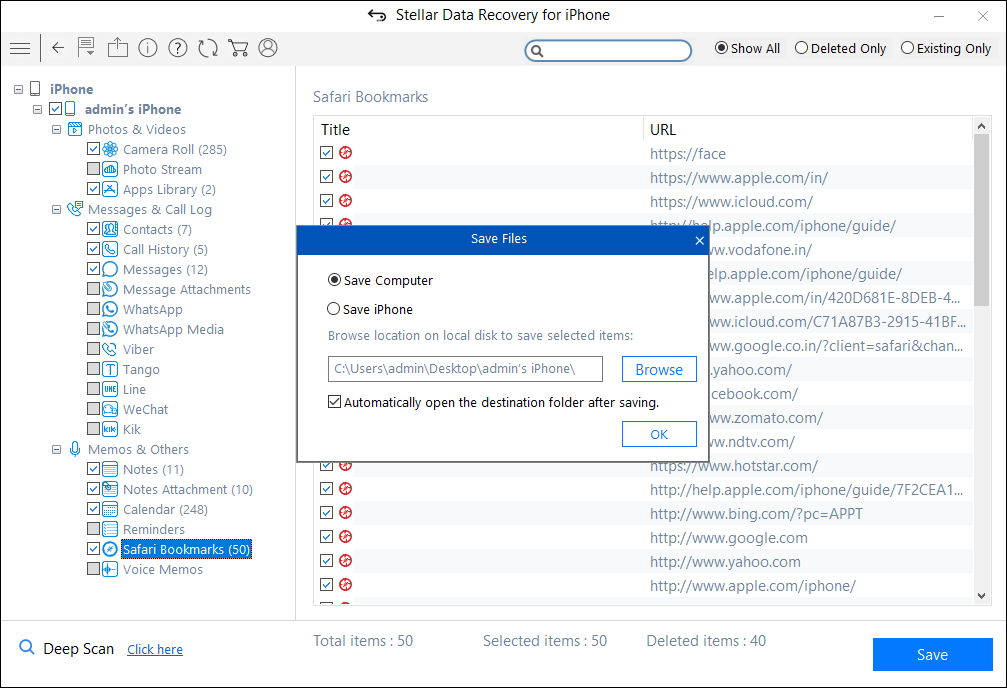 [UPDATE] The software supports recovery from the series of iPhone 14, 13, 12, 11, XS, XS Plus, XR, X, 8,  7,  7s,  6s,  6 Plus,  6,  5s,  5c,  5,  4s,  4.
Concluding Lines
Now that you know the capabilities of Stellar Data Recovery for iPhone, you may leverage it when you face such a situation. Trust this comprehensive product to help you recover up to 100% deleted iPhone data.