Summary: Know the tried and true methods to fix iPhone update error 4000 that appears when trying to update iPhone to iOS 14. This post is a personal experience of the writer who recently witnessed error 4000 during her iPhone iOS update.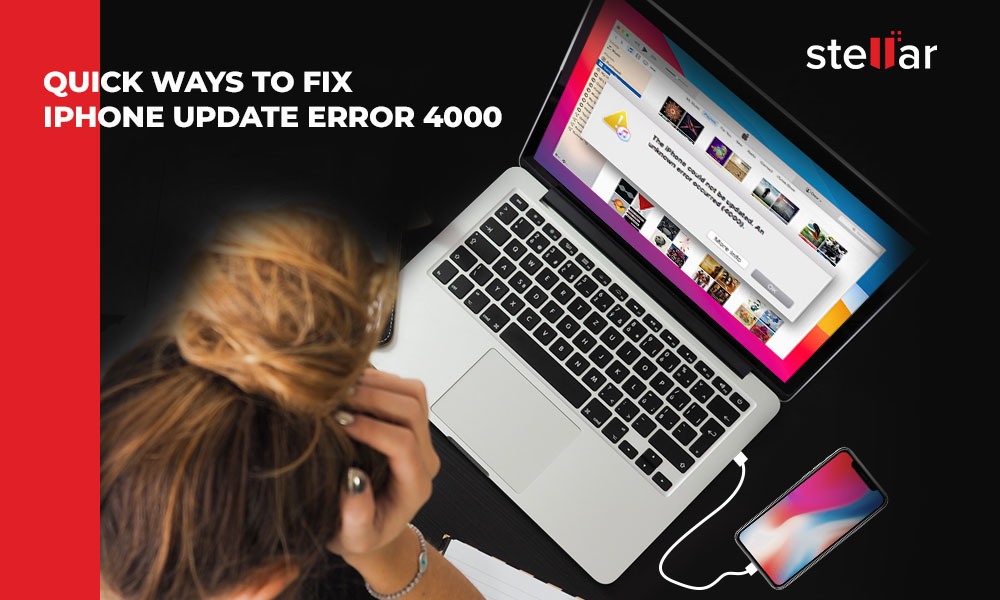 For the past few days, I have been struggling to update my iPhone XR from iOS 13.5 to iOS 14.1 using iTunes. I kept on getting the error – 'The iPhone could not be updated. An unknown error (4000) occurred.'
While looking for solutions, I found there was no specific reason for this error. It could be an iTunes bug, outdated software, or even a faulty USB issue. The error 4000 is mostly reported while updating iPhone to iOS 14 versions. I realised there's no fixed solution to the iOS update error as everyone is sharing different workarounds in forums. I tried various solutions and fortunately was able to fix error 4000 on iPhone after trying a couple of fixes.
If you are also facing iPhone could not be updated error 4000, this post would help you to fix the problem quickly. Here, I will share with you only the proven methods that successfully fixed iPhone update error 4000 for users around the world.
Read on…
1. Restart your computer and iPhone
Shut down your computer and iPhone and restart. Now try to update iOS on your device. Most of the times this fixes error 4000 in iTunes.
2. Update iTunes
This method worked in my case. If you are using an old iTunes version, it will cause glitches during the iOS update. Check and install the latest iTunes version on Windows or macOS.
To update iTunes on Windows PC, open Microsoft Store. Navigate to More options > Downloads and updates > Get updates. If you have Mac machine, open iTunes. From the menu go to Help > Check for Updates.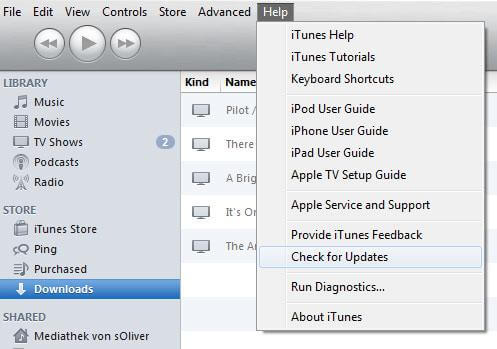 Now, connect iPhone to computer and update iOS. iTunes should not throw error downloading iOS 14 or other.
3. Update your computer operating system
Software updates fix bugs and glitches. When you are unable to update iOS with iTunes, try again by installing the latest macOS or Windows update.
4. Use a different port or cable
The problem could be in the USB port or cable you are using to plug iPhone to computer. Try by connecting your iPhone or iPad to a different USB port on your computer. If you still receive error 4000, change the USB cable.
5. Charge your iPhone
Interestingly, this hack fixed iTunes error 4000 for users updating iOS 13.5 to 14.1. So ensure your iPhone battery is completely charged when initiating iPhone update with iTunes.
6. Disable security apps
Antivirus and firewall are necessary for your digital security. However, sometimes, the security apps prevent downloading software updates. If the above methods could not fix error 4000, once turn off antivirus on your system. Now check if you are able to update iOS with iTunes without any problem.
Once your iOS is updated, don't forget to enable antivirus or other security software on computer.
7. Use another computer to update iOS
Try to launch iTunes on a different computer. It may be possible that the current computer drivers or third-party apps are preventing iTunes to connect with Apple server, hence showing error 4000.
You can use up to 5 systems to access your iTunes account. To authorize another computer, open iTunes on it. Go to menu bar and follow Account > Authorizations > Authorize This Computer. Next, enter your Apple ID and password and click Authorize.
8. Disable the iPhone Passcode
Although this method may seem strange but many users shared in forums how they fixed error 4000 on iPhone.
Go to iPhone Settings > Touch ID & Passcode > Turn Passcode Off. Restart the device and try updating it to iOS 14 or above.
9. Reinstall iTunes
When all the above methods fail to resolve iPhone update error 4000, uninstall and then reinstall iTunes. Make sure to backup your data in iTunes before uninstalling iTunes. Follow the given steps to reinstall iTunes.
Now check if this resolved error 4000 in iTunes.
TIP: In case you lost iPhone photos, videos, contacts, messages, WhatsApp chats, etc., while reinstalling iTunes or forget to take backup, an iPhone recovery software like Stellar Data Recovery for iPhone is a good way to get back all the deleted data. However, you should first try the free version of the tool to be assured about the successful recovery.
Finally,
I was excited about the new iOS upgrade. Apple always has something new and gripping to offer. However, the iPhone update error 4000 is a spoiler. More so, as there is no specific cause or solution to the problem confirmed by Apple. Fortunately, I could fix iPhone error 4000 simply by updating my iTunes.
If you are unable to upgrade iPhone due to error 4000 in iTunes, try the given methods here. One of which should work.
Hope you found this post helpful. In case there is some other solution to the problem that worked for you do share with our readers in the comment box.